KEY FACTORS SHAPING ARTIFICIAL SWEETENERS MARKET
Artificial Sweeteners to Aid Water Pollution Management
Artificial sweeteners are found in several products that help in maintaining sufficient calorie intake. Such products range from yogurt to diet soda. However, artificial sweeteners also have applications beyond maintenance of human health.
Sucralose, a type of artificial sweetener, is largely used as a tracer in water pollution management as it does not easily degrade. It has a major role in identifying pollution hot spots as well as possible source of contamination, which assists in management of pollution levels. This ability is essential to maintain and regulate the quality of water, including potable and surface water.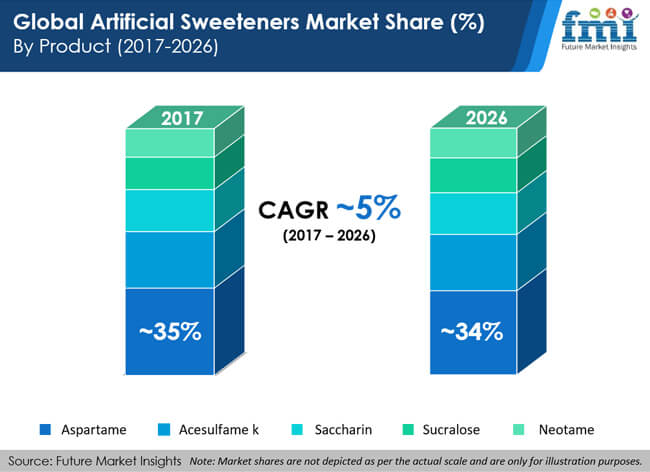 Increasing Usage in Food & Beverage Industry to Propel Growth
Artificial sweeteners have almost replaced sugar in the beverage segment, specifically in carbonated beverages. Properties of artificial sweeteners such as natural profile and clean label are driving the artificial sweeteners market. Additionally, in soft drinks, the quantity of sugar used is reduced without affecting appearance and taste, which enables manufacturers in the beverage industry to replace sugar with artificial sweeteners.
Artificial sweeteners are widely used in bakery, confectionery, and dairy products. As usage of artificial sweeteners reduces production costs and leads to better economy of scale, the artificial sweeteners market is expected gain momentum through the forecast period of 2019-2026.
Diabetic Patients Show Preference for Artificial Sweeteners
In 2016, the incidence of obesity among adults in the U.S. was nearly 40%, according to the CDC. This means that more than 93 million adults were living with obesity. Consumers with obesity suffer from high levels of diabetes, cholesterol, blood pressure, and risk of heart diseases. Management of obesity requires strict dietary changes. More than 30 million people in the U.S., accounting for an astonishing 9.4% of the country's population, had diabetes in 2015, according to the National Diabetes Statistics Report, published in 2019 by Centers for Disease Control and Prevention.
Type 2 diabetes is the most common form. Health-conscious consumers prefer sugar-free, fat-free, and gluten-free products as a preventive measure against these diseases. Additionally, rise in consumption of artificial sweeteners by diabetes-inflicted consumers is anticipated to boost demand for artificial sweeteners.
Strategic Marketing to Play Key Role in Boosting Sales
Consumers hold a great deal of admiration and respect for actors, sports players, and famous individuals from various fields. These celebrities endorse various artificial sweetener brands. As a result, individuals easily trust these brands and are persuaded to buy these products. This imitation of influential personalities largely drives sales and bolsters artificial sweeteners market revenue.
Sugar free, brand that is quite popular in the artificial sweetener market in India, is promoted by Parineeti Chopra and Sanjeev Kapoor, which boosts sales
Increasing Usage in Pharmaceutical Industry Anticipated to Boost Revenue
Sucralose is a commonly used artificial sweetener in the pharmaceutical industry. Liquid and chewable medications that are usually very unpleasant in taste are made easier to ingest with the addition of sucralose. Sucralose is affordable, does not leave an aftertaste, and can act as a preservative and antioxidant while it enhancing viscosity of liquid medications. As a result, sucralose is expected to grow rapidly in the product type segment with a CAGR of ~6% in the forecast period (2017-2026).
ARTIFICIAL SWEETENERS MARKET STRUCTURE ANALYSIS
The global artificial sweeteners market is fragmented on account of the presence of numerous local and regional players dominating the market.
Key players operating in the artificial sweeteners market are increasing their presence in the global market through strategies like mergers, acquisitions, and alliances with local or medium-scale companies in the artificial sweeteners market. These players are also launching new products to cater to changing demands from consumers.
Some of the major players in the artificial sweeteners market are Nestlé S.A., Tate & Lyle PLC, Wilmar International Limited, Ingredion Incorporated, E.I Dupont De Numours and Company, Cargill Inc., Associated British Foods Plc., Archer Daniels Midland Company, Ajinomoto Corporation Inc., Raizen S.A., and many others.
Food & Beverage Industry Gobbles 70% Revenue Share
Many nutrition studies and research decry the hazards of sugar and its contribution in prevalence of various lifestyle diseases have had a significant impact on the use of artificial sweeteners in the food & beverage industry. In 2018, artificial sweeteners worth US$ 9.5 billion were consumed by the global food & beverage industry, accounting for nearly 71% revenue share of the artificial sweeteners market.
While stakeholders in the food & beverage industry remain the target customers for market players, pharmaceuticals industry is also expected to emerge as a preeminent consumer of artificial sweeteners in the coming years. Leading market players are expected to foray into the pharmaceuticals industry with innovative pharmaceutical sweetening agents to capture new growth opportunities in this landscape.
Asia Pacific excluding Japan Leads the Pack
Consumers' awareness about the negative health effects of consuming sugar remains the linchpin of the regional market for artificial sweeteners, in both developing and developed economies. Yet, with a mounting number of consumers, especially the young population, making healthier food choices than ever, the demand for artificial sweeteners is significantly high in the Asia Pacific region excluding Japan (APEJ).
The region accounts for more than one-fourth revenue share of the global market, and will continue to create profitable sales opportunities for artificial sweetener manufacturers in the coming years.
Aspartame Remains Sought-after
Aspartame is one of the most commonly used ingredient in artificial sweeteners, as it is much sweeter than sugar and thereby, more cost-efficient than any other artificial sweeteners. Furthermore, its use as a tabletop sweetener is boosting the direct sales of aspartame. Manufacturers in the artificial sweeteners market are also aiming to target pharmaceutical manufacturers to meet the increasing demand for aspartame as a flavouring and sweetening agent in medicines.
However, ambiguities about the carcinogenic properties of aspartame may impact its demand in the coming years, which is likely to triggering market players to resort to newer ingredients of artificial sweeteners.
How Growth will Unfold
Consumers' inclination towards diet drinks has been influencing the sales of artificial sweeteners as sweetening as well as flavouring agents in the beverage industry. Increasing sales 'sugar-free' soft drinks remains among the leading driving engines for the growth of the artificial sweeteners market in the beverage industry.
However, their applications in baked goods and confectionery products are expected to encourage manufacturers to diversify their product range to suit the changing end user demands. By 2026, the consumption of artificial sweeteners in beverages and bakery goods are expected to hold equal revenue share of the global market.
ARTIFICIAL SWEETENERS MARKET TAXONOMY
The global artificial sweeteners market is segmented in detail to cover every aspect of the market and present complete market intelligence to readers.
Product
Aspartame
Acesulfame k
Saccharin
Sucralose
Neotame
End User
Food and Beverages
Pharmaceuticals
Direct Sales
Other Applications
Application
Bakery Goods
Sweet Spreads
Confectionery and Chewing Gums
Beverages
Dairy Products
Others
Region
North America
Latin America
Europe
Japan
APEJ
MEA
Need specific information?
Talk Show:
The Rise of Intelligent Packaging
Personalized, Connected and Sustainable
November 18, 2021
11:00-11:45 AM PST (USA & Canada)
This is a LIVE session