An Incisive, In-depth Analysis on the Artificial Turf Market
This study offers a comprehensive, 360 degree analysis on the Artificial Turf market, bringing to fore insights that can help stakeholders identify the opportunities as well as challenges. It tracks the global Artificial Turf market across key regions, and offers in-depth commentary and accurate quantitative insights. The study also includes incisive competitive landscape analysis, and provides key recommendations to market players on winning imperatives and successful strategies.
The global artificial turf market is expected to grow at a significant rate during the forecast period
The manufacturers operating in the global artificial turf market are focusing on the introduction of new application specific product offerings in order to better address customer requirements. The strategy of expansion has been adopted by key players who are increasing their production capacities to cater to the increasing demand for artificial grass from various application. APEJ is expected to register significant growth and is expected to be the most attractive region due to emerging economies such as India and China. China is estimated to hold approximately one-half of the market value share. The global artificial turf market is expected to register significant Year-on-Year growth throughout the projected period.
Extensive use of artificial grass turfs in various applications is expected to create robust growth in the global artificial turf market
One of the significant factors that is increasing the growth of the global artificial turf market is wide use of artificial grass turfs for application of landscaping. The artificial grass turf is in great demand for landscaping commercial and residential and commercial properties across the globe. Other factors that are responsible for the growth of the global market for artificial turf are remarkable rise in the number of sports events, unfavorable conditions of climate for natural grass to grow and increasing need for water conservation. These days artificial grass turfs are being used in various applications such as hotels & airports, theme parks and some other commercial properties due to environmental concerns, development of sports activities and growing prices of water. These are some of the factors which are responsible for the growth of the global market.
There is an increasing popularity of sports events across the globe and this the most important factor behind unprecedented growth of the global market for artificial turf during the assessed period. Some of the biggest events organized in Western Europe region, such as Champion League Matches and European Championship Qualifiers are likely to create robust growth in the global market for artificial growth. Artificial grass is also used in indoor sports as well as to decorate balconies, rooftops and around pools in various countries. Besides growing preference for artificial grass instead of natural grass is another factor that is boosting the growth of the global market for artificial turf.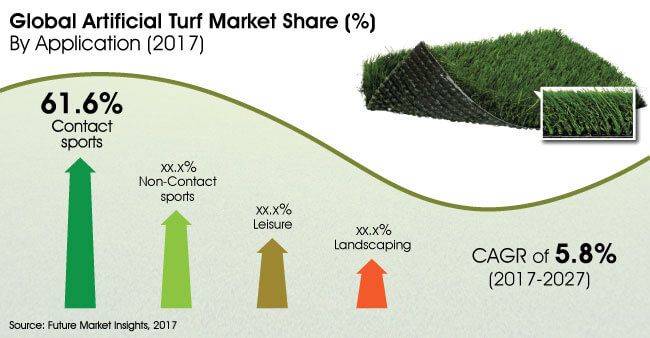 Non-contact sports segment is estimated to gain traction over the forecast period
Non-Contact Sports segment is estimated to have accounted for a 17.1% revenue share in the global artificial turf market by 2017 end and is expected to gain 80 BPS by the end of the year of assessment, 2027. On the other hand, substantial demand from contact sports is expected to drive the growth of the artificial turf market during projected period. The contact sports segment is expected to dominate the global artificial turf market throughout the forecast period. It grabbed 61.6% share in the total market in 2017, and was valued at US$ 2,341.1 Mn and is estimated to reach a value of US$ 4,118.7 Mn by the end of the year of assessment, while expanding with a value CAGR of 5.8% over the forecast period.
We have published a new report on the global artificial turf market for the projected period of 10-years i.e. between 2017 and 2027. The uniqueness of this report lies in the market share analysis and while working extensively on this, our expert team of analysts have covered expert validation, product mapping, segmental revenue and company financials. The company share analysis represents estimated market share for manufacturers and suppliers of artificial turfs based on their segmental revenue and product offerings. The market share analysis is subject to volatility due to recent divestments, expansions and mergers & acquisitions of players in the market.
Artificial Turf Market: Market Share Analysis
We have validated the data through several primary interviews with industry experts and exhaustive secondary research. The product mapping of artificial turf manufacturers in the respective business segments of the company has been done to give the crystal clear market share scenario to our existing and potential clients. We have also mentioned the breakdown of the global key players' businesses into segments under which they operate in the global artificial turf market. Accordingly, we have also calculated the annual revenue for each segment. Recording and analysing the overall annual revenue of key artificial turf manufacturers was carried out for the year 2016 on the basis of annual reports and secondary research
Forecast Assumptions and Market Sizing
When developing the market forecast, we have started by sizing the current market, which forms the basis for forecasting how the market is anticipated to perform in future. We have considered the product-wise Weighted Average Selling Price (ASP) to deduce market values at a regional level. We have used the bottom-up approach to counter-validate the reached numbers and End-Use Industry application-wise market numbers, while top-down approach has been used to assess market numbers for each pigment type. Macroeconomic indicators, such as GDP, manufacturing sector growth, global trade statistics and household final expenditure have been considered. All values for market size are in US$ Mn (US Dollar-Million) and volume data are in units unless specified otherwise. BPS sum may not be equal to 100, due to rounding off of numbers.
Market Segmentation
By Infill Materials

By Application

By Region

Contact Sports

Non-Contact Sports

Leisure

Landscaping

North America

Latin America

Eastern Europe

Western Europe

Asia Pacific excl. Japan

(APEJ)

Middle East & Africa (MEA)

Japan
Research Methodology
We have adopted systematic research approach while inspecting this report. In-depth secondary research is used to arrive at an overall market size, top industry players, top products and industry associations. Our analysts have formulated a detailed discussion guide in order to conduct interviews. We also have conducted interviews with industry experts, industry players, distributors and retailers. Data is validated by triangulation method, wherein primary, secondary, and Future Market Insight's analysis contribute to the final data. We have also analysed annual reports of various companies, investor presentations, SEC filings, reports and press releases associated with the artificial turf market to fetch substantial information about the market size, trends, opportunity, drivers, restraints and to analyse key players.
The "why" to invest in this research report
This market has been thoroughly analysed to gain actionable intelligence on each and every segment that portrays a 3600 view of the entire artificial turf market. The analysis is based on strong research approach that takes this research to a next level of accuracy that can support the reader in gaining substantial advantage against the changing market dynamics and gain competitive advantage in the years to follow. This research report gives a deep dive into the artificial turf market that adds feel and flavour to the research acumen portrayed in this study.
COVID -19 : Impact Analysis
Request the coronavirus impact analysis across industries and markets
Request Covid -19 Impact
CASE STUDIES
See how our work makes an impact.
At FMI, we design strategies that are adaptive, impactful, and implementable.