Sweetener Market Outlook
The sweetener market is anticipated to grow at a steady pace during the forecast period. One of the crucial growth influencers for the sweetener market is the widespread use of sugar-free and calorie-neutral food and beverages. Growing demand for on-the-go drinks such as juice, coffee, and tea, among others is likely to unlock favourable opportunities for the sweetener market during the forecast period.
One of the latest trends witnessed in the global sweetener market is the rise in the production of organic sweeteners. Companies operating in the sweetener market are diversifying their product portfolio by reading the consumers' sentiments about organic honey, organic sugar, stevia, and more. Such products are found to be reducing blood-sugar levels. In addition, several studies have found that stevia has a high degree of digestive tolerance with low carbohydrate content. Such a blend of health without compromising on the taste of sugar could bring prodigious prospects for the sweetener market growth.
Besides organic sweeteners, there is a huge market for artificial sweeteners. For instance, sucralose and aspartame are common additives utilised for sweetening a wide range of food and beverage products. Such products, similar to natural and organic sweeteners, hold zero calories, which makes it popular as an additive for people watching their weight. However, long-term usage of artificial sweetener might lead to diabetes, cancer, and similar health issues.
During the COVID-19 crisis, the sweetener market is likely to witness a stagnation, owing to the limited availability of products in supermarkets. Besides this, increased focus on improving health and immunity might lead to the shift towards natural sweeteners like honey and jaggery. As a result, natural sweeteners are likely to uphold relatively more share than artificial sweeteners in the sweetener market during the forecast period.
Consumer reluctance in adopting sugar-alternative products and regulatory concerns are restraining the growth of the global sweetener market
A major factor hampering revenue growth of the global sweetener market is the stringent regulatory norms regarding the use of artificial sweeteners as a food ingredient. This is due to side effects such as allergic reactions, improper functioning of the digestive system and other health-related issues. Although cultivation and consumption of novel sweeteners such as stevia are increasing at a rapid pace, various end-use industries such as confectionery, bakery and others are witnessing a slow adoption of sweeteners as a food ingredient. This is due to limited regulatory approvals by various legislator bodies keeping in mind the health concerns of consumers across the globe.
After-taste of sucrose alternative sweetener products and the high prices of low-calorie sweeteners is restricting acceptance of these products among consumers and thus restricting market growth to a certain extent. Lack of consumer awareness and acceptance of natural ingredients as an alternative to sugar in products such as confectionery, snacks, dairy products and others has resulted in low consumption of sugar-alternative sweeteners that include other healthy natural sweeteners, artificial sweeteners, novel sweeteners and sugar alcohols.
Investments by key players in low-calorie sweeteners, cost optimisation and process standardisation are the new trends in the global sweetener market
The novel sweetener and artificial sweetener market have few buyers and sellers in the global market, and hence companies are focussing on cost optimisation in order to increase productivity and market share. Moreover, manufacturing non-sugar and low-calorie sweeteners involves a standard extraction process. Companies in the global sweetener market have patent extraction processes for the same. This is further supported by stringent government regulations due to health issues.
Increasing investments by companies coupled with geographical expansion by market players has led to high competitiveness in the global sweetener market report. In addition to this, increased brand awareness of products dealing with specific issues such as obesity curtailment, nutritive advantages and health benefits is expected to drive demand for artificial sweeteners and novel sweeteners specifically stevia extracts in the near future.
Food and beverages segment anticipated to account for a relatively high value share in the global sweetener market over the forecast period
The food and beverages segment is expected to account for around 70% share in terms of value throughout the forecast period. This segment is anticipated to register a significant CAGR of 3.2% in terms of value. The sweet spreads sub-segment of the food and beverages segment is expected to witness an increase in revenue share by 2027 end owing to increasing popularity of sweet spreads among consumers. This sub-segment is estimated to account for about 14% revenue share of the global sweetener market by 2017 end.
The sweet spreads segment is the fastest growing sub-segment and is expected to be valued at close to US$ 12 Bn in 2017 and will reach a market valuation of about US$ 14 Bn by 2027 end. This is attributed to increasing demand for sweet spreads and its increasing popularity among consumers.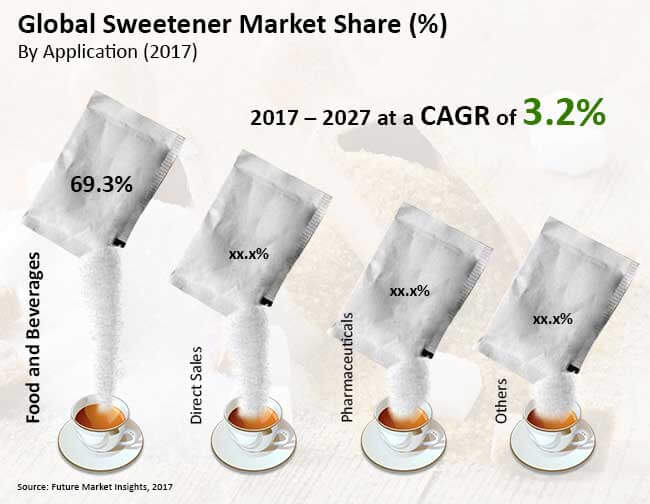 Owing to increasing exports and manufacturing of food and beverage products, the related segment is expected to expand at a high CAGR in North America
By the end of 2027, the food and beverages segment in the North America sweetener market is projected to reach more than US$ 18 Bn, expanding at a CAGR of 3.0% over the forecast period and revenue is expected to increase 1.3x by 2027 end as compared to 2017. The food and beverages segment is estimated to account for a little more than 70% value share in the North America sweetener market size by 2017 end and is expected to show little growth in the value share by 2027 over 2017.
Sweetener Market Report Scope
Attribute

Details

Forecast Period

2012-2016

Historical Data Available for

2017-2027

Market Analysis

US$ Mn for Value and MT for Volume

Key Regions Covered

North America, Western Europe, Eastern Europe, Latin America, Asia Pacific Excl. Japan, Japan, and Middle East & Africa (MEA)

Key Countries Covered

U.S, Canada, Mexico, Brazil, Rest of Latin America, Argentina, Germany, United Kingdom, France, Italy, Spain, Nordic Region, Rest of Europe, Russia, Poland, Rest of Eastern Europe, China, India, ASEAN, Australia, New Zealand, Rest of APEJ, Japan, GCC, South Africa, and Rest of MEA

Key Segments Covered

Application, Product Type, Region

Key Companies Profiled

Carl Kühne KG (GmbH & Co.)
Castelo Alimentos S/A
Aspall Cyder Ltd
White house foods
Spectrum Organic Products, LLC
Higher Nature Limited.
Vitane Pharmaceuticals, Inc.
The Kraft Heinz company
Bragg Live Food Products, Inc.
Swanson Health Products, Inc.
Solana Gold Organics
Amfac, Inc.(American Garden)
Mautner Markhof Feinkost GmbH
GNC holdings inc
Eden Foods, Inc.
Pompeian, Inc.
NutraMarks, Inc.
Eden Nuganics
Viva Naturals
Health Connection Wholefoods.

Report Coverage

Market Overview, Key Market Trends, Key Success Factors, Demand Analysis, Market Background, COVID-19 Analysis, Segmental Analysis, Regional Profiling, Market Structure & Competition Analysis

Customization & Pricing
Key Questions Answered by the Report
What is the size of the sweetener market?

The sweetener market is expected to reach a US$ 14 billion value by 2027. The growth rate for the sweetener market is estimated at 3.2% CAGR between 2017 and 2027.

Which is the largest market for sweetener?

North America remains the dominant market for sweeteners. Growing food and beverage processing and export activities in the region are the primary influencers in the region.

Which are the top companies in sweetener market?

PureCircle, Cargill Inc., Ingredion Inc., Tate & Lyle, Stevia First Corp. are among the leading market players in the global sweeteners market.

What are the uses of sweetener?

Sweeteners are finding increased use in the food and beverage processing and pharma sectors. The market is also gaining traction through direct consumer sales for home consumption applications.

In which forms are sweetener available?

Manufacturers produce sweeteners in five variants – novel, natural, sugar alcohol, sucrose, and artificial sweeteners. The demand for novel and artificial sweeteners is higher, supported by government health regulations on food and beverage formulations.

What is the outlook on North America sweetener market?

North America is reflecting fast growth on the back of company investments towards patented extraction processes and strict regulations from agencies like the FDA.

What is the present and future market potential for low-calorie sweeteners in the near future?

The strict norms on the use of artificial sweeteners as an ingredient is a key factor challenging growth, owing to potential health side effects. While novel sweeteners such as stevia are gaining in production adoption has been slow. Aftertaste issues, and lack of awareness about low-calorie sweeteners hinder adoption.
Sweetener Market: Segmentation
Different types of sweeteners
novel sweeteners
natural sweeteners
sugar alcohol
sucrose
artificial sweeteners
various industries
food & beverage (sweet spreads, bakery goods, beverages, dairy products, confectionery & chewing gums and others)
direct sales
pharmaceuticals
others.
Different regions
Eastern Europe
Japan
Middle-East & Africa (MEA)
Latin America
Asia-Pacific excluding Japan (APEJ)
Western Europe
North America
Need specific information?