An Incisive, In-depth Analysis on the Elemental Sulfur Market
This study offers a comprehensive, 360 degree analysis on the Elemental Sulfur market, bringing to fore insights that can help stakeholders identify the opportunities as well as challenges. It tracks the global Elemental Sulfur market across key regions, and offers in-depth commentary and accurate quantitative insights. The study also includes incisive competitive landscape analysis, and provides key recommendations to market players on winning imperatives and successful strategies.
Agrochemicals and Chemicals & Petroleum Refining application segments will witness significant growth throughout the forecast period
In terms of application of elemental sulphur, the Agrochemicals segment dominates the global market and is estimated to represent around US$ 3,000 Mn or more than 50% share of the total market in 2017. The Agrochemicals segment is expected to reach a market valuation in excess of US$ 4,000 Mn by 2027 end, expanding at a CAGR of 3.1% in terms of value over the forecast period. Consumption of elemental sulphur for agrochemical applications, especially in phosphate fertilisers, is expected to grow steadily throughout the forecast period. The segment is anticipated to represent a market attractiveness index of 3.2 over the forecast period. Increasing phosphate fertiliser consumption and production along with new capacity addition across the globe is expected to boost the demand for elemental sulphur. The Chemical & Petroleum Refining application segment is estimated to account for a little under 25% revenue share of the global elemental sulphur market by 2017 end and is expected to gain 120 BPS in its market share by 2027 over 2017.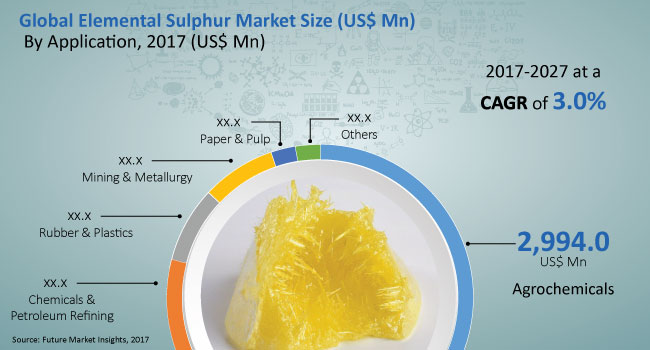 Increasing demand for elemental sulphur in agricultural products is expected to drive global market growth
China and India are the most populated countries in the world and as a result, there is a rapidly increasing demand for food and agricultural products in these nations. This creates a necessity to produce maximum yield with the available agricultural land. The demand for fertilisers is escalating to sustain the increase in food production. In APEJ, China and India are the major consumer markets for fertilisers. The two countries together accounted for over 55% share in the global fertiliser market in terms of consumption in 2015. Thus rising demand for fertilisers coupled with an increase in the production of fertilisers in the APEJ region will result in an increase in demand for elemental sulphur over the forecast period.
Sulphuric acid finds application in the production of various metals such as copper, zinc and nickel. Among these, the production of copper dominates the sulphuric acid market in terms of consumption in the mining application. This rise in production of metals in the North America region, especially in the U.S. has significantly impacted the consumption of sulphuric acid for the leaching of metals from their oxide ores. A growing use of elemental sulphur in the mining operation is creating a positive impact on the global elemental sulphur market.
Around 90% of elemental sulphur produced is utilised for the production of sulphuric acid, which finds applications in chemicals, petroleum refining, automobile batteries and metal leaching, among others. Within the chemicals industry, increasing consumption of sulphuric acid for waste water treatment, ph control and other applications will help drive the demand for elemental sulphur, thereby boosting revenue growth of the global market.
The use of elemental sulphur for agrochemicals is projected to remain lucrative both in terms of market share and CAGR index in Europe
The use of elemental sulphur for agrochemicals is expected to remain dominant throughout the forecast period in Western Europe. The mining and metallurgy application segment is expected to hold a relatively small share and expand at a low CAGR as compared to other application segments. In Eastern Europe, the paper and pulp application segment is also projected to create significant growth opportunities during the course of the decade. Moreover, applications such as chemicals and petroleum refining and rubber and plastics are also projected to remain lucrative over the forecast period.
Our new report "Elemental Sulphur Market: Global Industry Analysis 2012 – 2016 and Opportunity Assessment, 2017-2027" throws light on the long-term strategies adopted by key players in the global elemental sulphur market. Leading suppliers of elemental sulphur are channelizing efforts towards developing partnerships with end users such as fertiliser manufacturers, in order to better address the demand and specific requirements in the market. Development of long-term partnerships with supply chain participants seems to be a tried and tested strategy adopted by players in this market. According to our analysts, a large part of global elemental sulphur output is obtained as a by-product from oil and gas sources. Efforts on the part of oil & gas producers towards improving efficiency and efficacy of desulphurization have been witnessed in the recent past in order to reduce the overall operational cost and ensure profitability during times of lower selling prices. The APEJ region is a key market that accounts for a large share in the global elemental sulphur market. The market in APEJ is likely to register a relatively high CAGR over the assessment period and is anticipated to represent high growth opportunities in the global elemental sulphur market owing to sustained demand from the growing end-use industries in the region coupled with the shifting of manufacturing bases to China.
We have also observed that GDP growth is estimated to have a moderate impact on market growth, while consumption of fertilisers especially phosphate fertilisers is projected to have a strong impact on the global elemental sulphur market. On a similar note, the production of sulphuric acid, which is the primary application of elemental sulphur is predicted to have a strong impact on market growth. Our report provides a brief information on natural gas that is more efficient and cleaner as compared to conventional fuels such as coal and petroleum products and finds widespread use in industrial and energy related applications.
Report Description
In this report, we have focussed on highlighting the numerous developments that are likely to take place in the global elemental sulphur market in the coming decade. Our analysts have studied the market extensively and have identified the various drivers, restraints, and trends that are expected to influence the global elemental sulphur market during the forecast period and consequently the business operations of the leading as well as second-in-line players functioning in the global elemental sulphur market. Through extensive research, our analysts have studied how the different market dynamics are likely to impact the current environment and future scenario of the global elemental sulphur market, thereby providing useful insights to market players to plan their differentiating strategies capable of evolving with the changing market landscape.
Research Methodology
We have adopted a systematic research approach while inspecting this market in detail. In-depth secondary research is used to arrive at the overall market size, top industry players, top products and industry associations. Our analysts have formulated a detailed discussion guide in order to conduct expert and in-depth interviews with industry experts, key market players, distributors and retailers. Data thus acquired is validated using the triangulation method, wherein primary and secondary research data along with Future Market Insights' analysis contributes to the final gathered data. We have also analysed the various companies' annual reports, investor presentations, SEC filings and press releases extensively to fetch substantial information pertaining to the market size, trends, opportunities, drivers and restraints.
Market Segmentation
Application

Region

Source

Agrochemicals

Chemical & Petroleum Refining

Rubber & Plastics

Mining & Metallurgy

Paper & Pulp

Others

North America

Latin America

Western Europe

Eastern Europe

APEJ

Japan

MEA

Gas Based

Oil Based

Mining

Others
COVID -19 : Impact Analysis
Request the coronavirus impact analysis across industries and markets
Request Covid -19 Impact
CASE STUDIES
See how our work makes an impact.
At FMI, we design strategies that are adaptive, impactful, and implementable.