Ecotourism Market By Type (Nature & Wildlife, Cultural, Rural), Tour (Independent Traveller, Tour Group, Package Traveller), Tourist (Domestic, International), Consumer Orientation (Men, Women, Children), Age Group (15-25 Years, 26-35 Years, 36-45 Years) & Region - Forecast to 2021 - 2031
Ecotourism Market - Analysis, Outlook, Growth, Trends, Forecasts
December 2021

REP-GB-32

367 pages
Ecotourism Market Snapshot
[367 Pages Report] The global ecotourism market is projected to grow by 15% CAGR between 2021 and 2031. In 2021, the marke tvalue will surpass US$ 17 Bn, finds Future Market Insights (FMI) in its latest study.
| | |
| --- | --- |
| Attribute | Details |
| Estimated Ecotourism Market Size 2021 | US$ 17 Bn |
| Value CAGR (2021-2031) | ~15% |
| Ecotourism Market Top Players Share in 2021. | 4%-7% |
The global ecotourism market contributed significantly towards the overall tourism market growth in the last couple of years. Availabiliy of ecotourism packages, encompassing nature and wildlife as well as generic services is an equivalent contributor to the total global ecotourism market growth.
National investment towards expansion of ecotourism infrastructure in non-conventional locations is motivating the demand for ecotourism. Also, an increase in arrivals and in currency value is driving ecotourism wallet, which is expected to bolster the growth of the market in the forthcoming years.
As per the FMI analysis, the ecotourism market contributes nearly 3%-8% of the global travel & tourism market.
Ecotourism Market Outlook 2021-2031 Compared to Growth Registered in 2016-2020
Government organizations like World Tourism Organization are promoting the leisure industry intending to attract diverse tourist groups from around the world. Such initiatives undertaken by international organizations are driving the market.
In order to preserve the environment and position themselves as leaders among the green holiday destinations in the world, countries, like UAE, have adopted various initiatives and sustainability projects.
For instance, UAE's Ministry of Climate Change and Environment (MoCCAE) has launched projects that aim at increasing the footfall of eco-tourists in the country. As a result of these projects, in 2017, the country has witnessed a 6.5% increment in tourist numbers compared to 2016.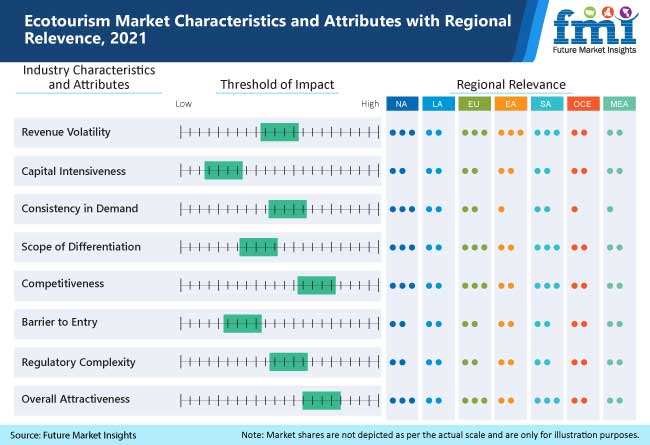 How is Eco-longing Tourism Contributing Towards Ecotourism Market Growth?
Tourists can enjoy Eco tours in many forms. There are many ways to make the trip more sustainable. For instance, eco-loging tourism is expanding its penetration in the market. Eco-tourist choose accommodations that are built by keeping sustainability and environment-friendly attributes in mind. In eco-loging tourism, one can enjoy stay at various locations from eco-resorts to natural settings or from hostels to hotels made with sustainable materials. Even there is a good opportunity for them to enjou various eco-tourism activities such as hiking, kayaking or bird watching to the tourist.
People are better aware about ecotourism thanks to improved access to information via internet and various awareness campaigns launched by governments. Ecotourism allows preservation of natural environment while facilitating sustainable development for the local communities.
Also, many countries are converting their respective cities into ecotourism destinations that not only generate job opportunities but also preserve nature, local culture, and wildlife. Examples of some of these are Dubai, Doha, and Manama.
In the coming years, the demand for eco-longing tourism is expected to rise, creating a conducive environment for ecotourism market growth.
How Will Improvement in Regional Infrastructure Drive Ecotourism Industry?
Many countries such as the UK, UAE, the US, Qatar, France, Oman, and others are investing in upgrading their airports to prepare for the arrival/departure of a large number of tourists in the future.
Moreover, these countries have been working to restore some of their heritage sites, along with infrastructure. Art galleries in Qatar and the UAE have also been working on bringing novel works and exhibits. Such types of developments intended to attract tourists and will aid the ecotourism market growth.
Also, historical sites are among the most popular attractions for eco-tourists. The Saudi Geological Survey revealed that some of the historical caves in the region are 30 million years old. 250 caves have been discovered in Saudi Arabia, which is propelling ecotourism in the country.
How are the Public Transportation and Security Challenges Affecting the Growth of the Ecotourism Market?
Public transport systems in many countries are inferior as compared to developed countries. However, the counties like Saudi Arabia, Qatar, Oman and others are working to address this issue through some large-scale investments.
On the other hand, the security challenge remain biggest concerns for these countries, however, the governments of many nations have started addressing this issue since it directly affects the number of tourists visiting the county.
Ecotourism Market Country-wise Insights
What is the US and Canada Ecotourism Market Outlook?
As per the FMI analysis, North America is dominating the global ecotourism market space and is anticipated to continue leading throughou the forecast period. Ecotourism in American countries like the US and Canada is a large sector that serves thousands of local and international Eco tourists throughout the year. Eco tourists visit the U.S. to see historic landmarks, entertainment venues, natural wonders and national parks like Wrangell-St. Elias National Park & Preserve.
Furthermore, the US and Canada are developed countries and the per capita income of the people is high. Besides this, both U.S. and Canadian citizens are highly aware about the benefits of ecotourism. So a large number of people can afford to travel to a foreign land. Moreover, principles and behaviors of eco-tourism are slowly becoming more widespread in the US.
The US has many Eco tourist attractions, as the country has a long tradition of ecotourism on public and private lands and waters from coast to coast. In the US, people can enjoy the sunny beach on one side of the country, while ice-covered mountains on the other side of the country at the same point in time.
What makes Europe A Key Ecotourism Market?
Germany, France, Belgium, the Netherlands, Poland and the Czech Republic have a significant share of outbound trips with nature and ecology as the primary attractions. These countries are considered as the most relevant ecotourism markets in Europe.
The demand for ecotourism is high and will continue to grow in the region as Europe is famous for historical monuments, universities, museums and spectacular cities. Not only is ecotourism increasing in the region but also the interest of people towards sustainable accommodation is growing.
For instance, as per booking.com interest of people towards sustainable accommodation increased from 65% in 2017 to 68% in 2018. This gives the opportunity to the key players in the hospitality sector to remodify their facilities and attract more eco-tourists.
What will India Ecotourism Market Fare?
Ecotourism plays a vital role in sustainable development in the country. Ecotourism stimulates economic growth. It works as a catalyst, improving the economy of the country. In India, ecotourism provides jobs to the local people, helps in the reduction of the carbon footprint. National parks, green spaces, and wildlife sanctuaries in India have emerged as key destinations for ecotourism internationally.
Ecotourism is a thriving industry in the country as the regional government passes the budgets to save the resplendent natural beauty. India has several zoological parks, lush green jungles, wildlife sanctuaries, biological parks, mighty mountains and tea plantations in its kitty, which will help in the growth of the ecotourism market.
Ecotourism Market Category-wise Insights
Which Ecotourism Type is More Preferred Worldwide?
The nature & wildlife type ecotourism market is expected to register high growth during the forecast period as this type of tour is most common among people. Nature & wildlife tourists are taking part in excursions to exotic and endangered areas intending to increase awareness about nature and support conservation. Nature & wildlife tours also involve many adventure activities like treks in which hiking, rock climbing, rafting, caving, sailing, bird watching and swimming etc.
Which Age Group is More Likely to Register High Ecotourism Demand?
The number of eco-tourists in the age group of 26-35 years is likely to increase significantly. People within this age group are liklier to change their travelling behavior. They prefer green and low carbon footprint holidays.
Also, millennials as generation are more conscious regarding the importance of sustainable tourism practices. High demand for sustainable accommodation to reduce the environmental impact of tourism and adoption of best green practices are more common among tourists aged 25 years to 35 years.
Which Tourist Type Will Account for Maximum Ecotourism Market Share?
In terms of tourist type, outbound or international travelling is more preferred in the market. Nowadays the tour and travel market is awash with the really convenient plane, train, bus tickets and travel packages. Furthermore, many people like to travel abroad to interact with people of different cultures, nationalities and religions. This helps people to learn new languages, culture and many more things with new connections.
Ecotourism Market Competitive Landscape
Market players are adopting various strategies to navigate through a highly competitive environment. With an aim to gain a competitive edge, some of the leading eco-tourism market players are focusing on merger and acquisition. Companies are also actively engaging in strategic collaborations and partnerships to gain a competitive advantage.
For instance, Big Five Tours & Expeditions Inc. was incorporated in Nairobi, Kenya, and thereafter shifted its head office from Kenya to Florida, U.S. The company offers customized luxury, and adventure tours for travelers around the globe. The company also launched several websites for sustainable travel around the world, which include galapagos.com (Latin America), safaritours.com (Africa), and visibleasia.com (Asia).
Scope of Report
Attribute

Details

Forecast Period

2021-2031

Historical Data Available for

2016-2020

Market Analysis

USD Million for Value

Key Regions Covered

North America, Latin America, Europe, East Asia, South Asia, Oceania, Middle East & Africa

Key Countries Covered

US, Canada, Germany, U.K., France, Italy, Spain, China, Japan, South Korea, India, Thailand, Malaysia, Indonesia, Australia, New Zealand, GCC Countries, Northern Africa, South Africa

Key Segments Covered

Type, Tour Type, Tourist, Consumer Orientation, Age Group and Region

Key Companies Profiled

Eco Travel and Tourism LLC
G Adventures
Greenloons LLC
Responsible Travel
Steppes Travel
Windmill Holidays
Frosch International Travel
Aracari
Midnight Sun Travel,
Adventure Alternative Ltd
Farhat Tours & Transfers S.P.C.
Tropical Rainforest Education and Exploration
Intrepid Travel
GeTS Holidays
Royal Arabian Destination Management
TRUE ECUADOR TRAVEL
Great Canadian Trails
Others

Report Coverage

Market Forecast, Company Share Analysis, Competition Intelligence, DROT Analysis, Market Dynamics and Challenges, and Strategic Growth Initiatives

Customization & Pricing

Available upon Request
Key Questions Answered in the Report
How big is the ecotourism market?

The global ecotourism market value stands at US$ 17 Bn in 2021.

Which is the most lucrative market for ecotourism?

North America currently leads the global market for ecotourism. Within North America, the U.S. is expected to spearhead growth.

Who are the leading ecotourism market players?

Eco Travel and Tourism LLC, Big Five Tours & Expeditions Inc., G Adventures, Praxis Holidays LLP, Greenloons LLC, Aracari, Adventure Alternative Ltd, Responsible Travel, Steppes Travel, Great Canadian Trails, Tropical Rainforest Education and Exploration, Windmill Holidays, Farhat Tours & Transfers S.P.C., Intrepid Travel, Frosch International Travel, GeTS Holidays, Midnight Sun Travel, TRUE ECUADOR TRAVEL, and Royal Arabian Destination Management are some of the leading market players, contributing nearly 2%-4% share to the global ecotourism market.

What are the key ecotourism market drivers?

Investment in ecotourism, presence of diverse ethnic groups, ecotourism benefits, increasing competition, initiatives to boost touristic appeal, environment sustenance, improvements in regional infrastructure/ historic sites undertaken by government will continue driving the ecotourism market.

Which is the top-selling ecotourism type?

Natural and wildlife ecotourism will emerge as the most popular category within the ecotourism market.

Which age group exhibits higher ecotourism demand?

The demand for ecotourim will be considerably high among people aged between 26 and 35 years.
World's Most Profilic Intelligence Engine
Get Access To The World's Largest Market Research Database.
Sign Up Now
Global Ecotourism Market by Category
By Type:
Nature & Wildlife
Cultural
Rural
By Tour Type:
Independent Traveler
Tour Group
Package Traveler
By Tourist Type:
By Consumer Orientation:
By Age Group:
15-25 Years
26-35 Years
36-45 Years
46-55 Years
66-75 Years
By Region:
North America
Latin America
Europe
East Asia
South Asia
Oceania
Middle East and Africa
Need specific information?
Our Clients