Interactive Whiteboards Market Outlook & Key Findings
The global market is estimated to record a market value worth more than US$ 400 Mn by the end of 2020 with increasing significance of e-learning and virtual learning environments
Procurement of interactive whiteboards for educational use is the primary contributor to the growth of the global interactive whiteboards market
Assembled interactive whiteboards with integrated software and collaborative tools for operational applications to drive adoption
COVID-19 pandemic to boost adoption of interactive whiteboards nationwide lockdowns and social distancing measures disrupts schools and colleges
Interactive Whiteboards See Rapid Downloads with Overnight Shift to Virtual Learning Environments
The education industry is the primary contributor to the growth of the global interactive whiteboards market. High demand for smart learning and smart classrooms is being observed on a global level as students, educational institutes, and teachers grapple to adapt to the ongoing COVID-19 pandemic.
Interactive whiteboards have the ability to mimic connected computers and laptops on large interactive screens, which enables students and teachers to access a large pool of data and information available on the Internet.
This attribute has made it an ideal e–learning and virtual learning tool, boosting is quick uptake in areas of remote learnings. End-users operating in educational institutes and organizations are making huge investments to procure interactive whiteboards in bulk, making them an integral part of institutional infrastructure.
Such installations are expected to enhance the attractiveness of institutes, mobilize learning, expand its reach, and in effect boost the market.
Demand for smart education in light of mounting student debt and issues arising out of it is projected to put this tool in the limelight. The pandemic has offered the market a perfect timing to prove its potential in tuition continuity at affordable costs.
High Selling Prices in Developing Economies of Europe and the Middle East and Africa (MEA)
The Average Selling Prices (ASPs) of interactive whiteboards products in the MEA region are observed to be the highest among all the regional markets. The interactive whiteboards market in Southeast Asia and Pacific region reported the lowest selling prices.
The weighted ASP for electromagnetic interactive whiteboards in MEA is around 1.4 times higher than for the same product in Southeast Asia and Pacific.
Meanwhile, the weighted ASP of infrared interactive whiteboards in Europe and MEA markets are 1.1 times the ASP in Southeast Asia and Pacific.
Market participants are catering to the high demand for interactive whiteboards and touch boards from the developing nations of Latin America and Europe, owing to the accelerated growth in the regional education sectors. Vendors are trying to harness this demand to enhance their revenue generation by strategically increasing selling prices.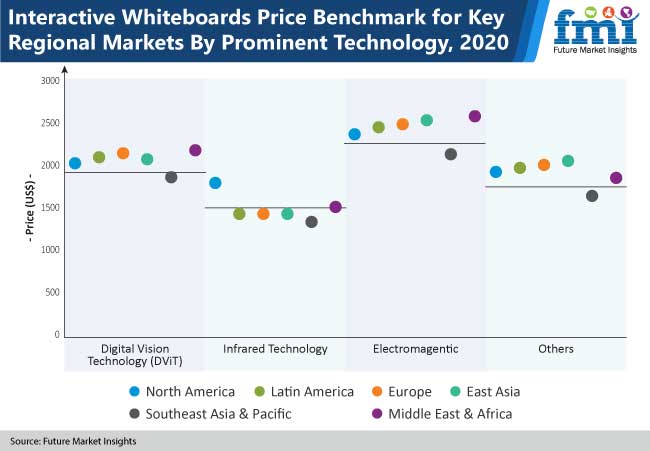 Promoting Smart Learning Practices by National Governments Educates Masses
Government across the globe are motivating educational institutions to introduce smart classroom programs in order to improve learning outcomes and train their students with advanced technical skills. Flexibility of time and space in virtual classrooms has attracted a large number of institutes to this new age of learning.
Vendors and governments are incorporating collaborative efforts in their unique way to achieve this common goal. For instance, the Turkish government is embarking on a high investment education technology project under the banner of "FAITH". This project is aimed at providing smart tablets and computer access to every student in grade 5 to grade 12 and equip every classroom with interactive whiteboards.
Easy operation to a stylus and touch has made these whiteboards ideal for corporate spaces as well. A mass shift to remote working that has pushed corporates to go virtual with conferences has also fueled the uptake of interactive whiteboards in recent times.
With features such as saving and printing, an interactive whiteboard cleverly replaces physical documentation or taking notes. Such attributes have ensured seamless integration of interactive whiteboards across many verticals that demand training.
COVID-19 Impacts Interactive Whiteboard Market Positively
Governments across the globe trying to ensure spread of COVID-19 legislated stringent nationwide lockdowns. Authorities are requesting citizens to incorporate social distancing measures, which caused a mayhem in the education industry, resulting in deferred admission, delayed exams, and no clarity about the next academic year.
With strict lockdowns in effect, citizens of these countries are staying indoors and avoiding high pubic throughput venues. Students and corporate employees are required to work from home and attend lectures and meeting online.
In such times, provision of video communication Platform-as-a-Service (PaaS) is enabling teachers, students and corporate employees to operate from home. Stalwarts such as Harvard and Yale to small NGOs running schools for free, each one is transitioning to a virtual classroom.
Thus, in the coming months as the world tries to cope with COVID-19, a large student community is expected take online classes, probably setting a precedent for new system of education.
Interactive whiteboards will be used in combination with other collaborative services. In the coming days, analysts anticipate that this transition will result in a debate about whether tuition fee structure of brick and mortar institutes is justified if education can occur over distances through smart devices. The real impact of COVID-19 on interactive whiteboards market will unfold in the near future as response to the pandemic changes with every new case.
Emerging Technologies are Replacing Projector-based Interactive Whiteboards
Introduction of interactive displays and interactive portable projectors with more advanced features, including high resolution, better touch, and improved durability, than interactive whiteboards are challenging market growth.
These alternative technologies are marketed at almost the same price range and their dominance of is driven by the fact that end users prefer better touch and high resolution for quick responses.
Some of the key manufacturers and providers of these advanced interactive solutions include Mimio (MimioTeach Interactive System), Epson America Inc. (Epson BrightLink), BenQ (BenQ PointWrite interactive projectors), and Smart Technologies (Interactive Flat Panel displays).
Lack of Supporting Equipment and Infrastructure Restricting Market Growth
In countries of Africa and the Middle East, access to computers, tablets, and smartphones is still at a very nascent stage. Thus, lack of supporting equipment make it difficult for students to be acquainted with classrooms, let alone virtual ones. This has been significant area of challenge for the market.
The minimal exposure to education still remains through conventional classrooms that run operate on pen and paper for teaching and learning. In recent times, slight penetration of technology and educational aids have brought in computer and projector units, which remains a long way from interactive whiteboard system.
Thus, developing and underdeveloped economies, poor education standards, gender discrimination towards educating girl child, and war-stricken zones all pose a tough challenge to usage of interactive whiteboards.
Competitors Focus on Innovation Strategies to Stay Ahead
Well-established vendors operating in the global interactive whiteboards market are focusing on offering innovative software and collaborative tools for end users looking to upgrade their existing interactive whiteboard systems.
For instance, SMART Technologies Inc. launched SMART Notebook Maestro software, as a part of the SMART Notebook Software platform enables teachers to remotely control the content that their students can view.
This software can be run over any interactive screen with the help of an iPad device that is connected to the company's interactive whiteboard system.
Other key players are launching interactive whiteboards systems have already integrated innovative connectivity features. For instance, Promethean World plc. launched upgraded new ActivBoard Touch interactive whiteboards that support up to six simultaneous touches.
This product was built with an intention to support group interactivity among students, which enables them to interact with each other on the basis of the content displayed on board and also share ideas and work on a project together.
Following are the key players operating in the global interactive whiteboards market –
Xiamen Interactive Technology Co., Ltd
SMART Technologies ULC
PROMETHEAN LIMITED
Boxlight
Genee World Ltd
I3 SOLUTIONS
Ricoh
Starboard Solution
TRIUMPH BOARD a.s.
Sharp Corporation
Hitachi Interactive Solutions
ELMO Company Limited
BenQ
Seiko Epson Corporation
InFocus Corporation
Others Join Bandwagon as Interactive Whiteboards Add Value to Virtual Meetings
Though end-users operating in the education industry are the primary contributors to the growth of the global market, they are not the only ones procuring the interactive whiteboard solutions.
Other industries contributing to market growth include the corporate sector, healthcare, and military and defense, where they are used for training programs, seminars, and presentations.
In the corporate sector, interactive whiteboards are being used to conduct orientations, presentations, and boardroom meetings. Interactive whiteboard solutions have proven to enhance training practices and improve the overall learning experience of users.
In other supplication segments, the corporate sector is the most dominant segment, which is expected to account for more than 90% share of the whole "other application" segment, followed by the healthcare, military and defense industry with contribution worth around 2%–3%.
As more and more operations go remote, the demand for interactive whiteboards will soar. Its ability to add value to virtual meetings will solve the challenges of remote interactions, where explaining concepts remains a perpetual challenge.
World's Most Profilic Intelligence Engine
Get Access To The World's Largest Market Research Database. Ngage with a revolutionary intelligence engine that scale and pricing that flexes as per your needs
Sign Up Now
Key Segments Covered
Solution
Hardware
Software
Collaborative Tools
Type
Resistive
Capacitive
Electromagnetic
Laser Scan
Ultrasound
Infrared
Size
Below 50 in
50 in – 79 in
79 in – 89 in
89 in – 99 in
Above 99 in
Application
Corporate
Educational
Others
Operating System
Region
North America
Latin America
Europe
East Asia
Southeast Asia and Pacific
Middle East and Africa
Need specific information?