Mosquito Repellent Candles Market Value to Surpass US$ 67.6 Mn in 2027
Globally, the World Health Organization (WHO) reports that there are more than 1 billion cases and more than 1 million deaths from vector-borne diseases annually. It also estimates that rising global temperatures, as well as altered precipitation and humidity linked to climate change, could significantly alter vector-borne diseases and their effect on human populations is making epidemics more difficult to predict and control. Natural or herb-based insect repellant are estimated to surge product penetration in tropical and sub-tropical regions. Consequently, people are looking forward to preventive measures for vector-borne diseases in their houses. According to Centres for Disease Control and Prevention, mosquito repellent candles are highly effective to prevent mosquitoes up to a distance of 1.0 meter. Accordingly, it is anticipated that increasing vector-borne diseases spread to impetus market growth. Exhibiting a moderate CAGR of ~9% yearly growth in revenues, the global mosquito repellent candles market will surpass US$ 67.6 Mn mark in 2027. This FMI study reveals that the market will grow at a steady pace during 2019 – 2027.
What are future prospects of the mosquito repellent candles market?
There will be steady growth in the demand for mosquito repellent candles over the next decade, with market value increasing from US$ 34.4 Mn in 2019 at a CAGR of over 8.7% to reach US$ 67.3 Mn in 2027.
How innovative mosquito repellent candles will create new value-adding business opportunities for market players?
Innovative mosquito repellent candles with improved efficiency is anticipated to witness high growth in forecasted years. Launch of innovative products that suffice the consumer's requirements will expand the product offerings to generate lucrative opportunities in the market.
Which mosquito repellent candles will have the largest sales growth in the next five years?
Natural/Organic mosquito repellent candles is expected to hold a dominant position throughout the forecasted years. The pleasant fragrance produced by natural mosquito repellent candles is attracting consumers, thereby increasing sales of the products.
What revenues can market stakeholders derive from online sales over the next decade?
In 2019, mosquito repellent candles worth over US$ 7.9 Mn were sold through e-commerce platforms, and the number is set to maintain an average 10% annual increase during the forecast period (2019-2028).
Which region is expected to lead global sales of mosquito repellent candles?
North America region is anticipated to forefront of the global mosquito repellent candles market, with sales projected to grow at a CAGR of 7.8% during the predefined timeframe.
Which companies are investing significantly in the development of innovative products?
Investors continue to remain bullish in industry behemoths such as United Industries, Murphy's Naturals, Spectrum Brands, Inc., and Yankee Candle Company, bringing innovative products into the marketplace. It is pertinent to note that a large number of new players are also vying for a pie of this lucrative market.
Residential Segment Holds Dominance with 67% Share in 2018
Driven by changing lifestyle and rapid urbanization, residential segment is expected to hold about 67% of the market revenue. Higher number of households as compared to number of commercial buildings is a factor responsible for high adoption of mosquito repellent candles in residential segment. However, commercial sector is expected to offer lucrative opportunities during the forecast period. There is zero tolerance for pests such as mosquitoes and flies in commercial sector. Commercial sector is abided by stringent rules and regulations on pest control. . In hospitality sector, mosquito repellent candles serves dual purpose of preventing mosquitoes through scented surroundings. Other commercial sectors such as spas have growing demand for natural mosquito repellent candles. There is an increasing trend of scented mosquito repellent candles with essential oils that create a refreshing and calm environment. This trend is anticipated to fuel the growth of mosquito repellent candles in the commercial sector. Amognst other mosquito repellent products, mosquito lamps are witnessing a boost owing to the increased perevelence of mosquito borne diseases. The rising risk of diseases such as yeloow fever, dengue, malaria, etc, among the common people is leading consumers to focus on mosquito killing products which is boosting the demand for mosquito repellant products.
Developed Countries to Drive the Growth of Mosquito Repellent Candles Market
According to FMI analysis, more than 60% of the mosquito repellent candles market is driven by the developed countries of North America and Europe. The high literacy rate of these regions results in smart consumers who show immense interest in knowing about the products they use. Besides, Asia Pacific is forecasted to be one of the emerging regions for the mosquito repellent candles market. Increasing population is one of the primary factors affecting the sales of the mosquito repellent candle.
Natural Products Serve as Suitable Substitute for Chemicals
Increasing demand for new and innovative products containing natural ingredients is likely to give significant growth opportunities to the natural ingredient mosquito repellents candles market in the next few years. Manufacturers operating in the market are constantly engaged in extensive research and development activities to develop safer products. Examples include conceal candles manufactured by BioSensory Inc. and Yankee Candle Company
Natural Mosquito Repellent Candles holds leading revenue share
Synthetic Mosquito Repellent Candles to showcase noteworthy CAGR
Residential segment has high adoption of mosquito repellent candl
Demand for product at commercial segment is on rise
E-commerce to remain top in distribution channel
Supermarket / Hypermarket is expected to show a high CAGR
Direct Sales Channel is expected to find opportunities in commercial sector.
How Growth will Unfold
The growth of the mosquito repellent candles is significantly dependent on their increasing adoption in the rural areas. Increased product penetration in untapped developing regions has helped key companies to significantly increase their revenue. Overall, the pest constrol services are witnessing a significant adoption in the residential sector as compared to commercial and agricultural sectors, due to growing concerns for hygienic environment and increasing diseases associated with insects. Although awareness among the consumers is being generated, majority of developing countries are unaware of availability of mosquito repellent candles. Moreover, it is estimated that about 23% of rural population only use insect repellent products. Hence, penetration of mosquito repellent candle market is meagre. It indicates that market players need to create more consumer education programs in developing regions to make the population aware on effectiveness of mosquito repellent candles.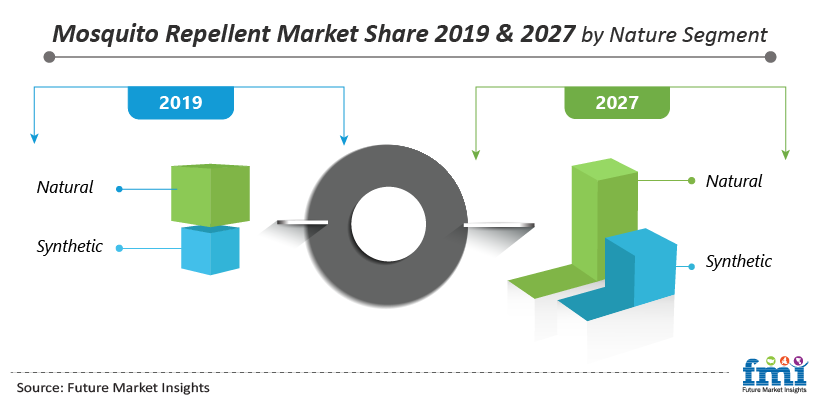 * This data is only a representation. Actual data may vary and will be available in report.
Click Here To Know How The Growth Will Unfold
Custom Market Research Services
FMI offers custom market research services that help clients to get information on their business scenario required where syndicated solutions are not enough.
Overview
Mosquito Repellent Candles Market: Global Industry Analysis 2014-2018 and Opportunity Assessment 2019 - 2028
A new market study published by FMI on the mosquito repellent candles market offers global industry analysis for 2014-2018 and opportunity assessment for 2019-2028. The report offers a broad assessment of the most significant market dynamics. After conducting in-depth research on the historic as well as current growth factors of the mosquito repellent candles market, growth prospects of the market have been obtained with maximum precision.
Mosquito Repellent Candles Market Taxonomy
The global mosquito repellent candles market is segmented in detail to cover every aspect of the market and present a complete market intelligence approach to readers.
Sales Channel
Direct Sales
E-commerce
Supermarket/Hypermarket
Drug Stores
Convenience Stores
Department Stores
Other Sales Channels
Region
North America
Latin America
Europe
South Asia & Pacific
East Asia
Middle East and Africa
How the research was conducted?
Primary Research
C - Level Executives
Marketing Directors
Sales Heads
Production Managers
Distributors Heads
Sales Executives
Product Manufacturers
Distributors
Traders
Industry Experts
End Users
Current Market Dynamics and Challenges
Market Characteristics
Market Performance and Growth Quadrants
Competition Structure and Market Structure
Strategic Growth Initiatives
Near-term and long-term market growth prospects
Market Segment Splits and Authenticity
Opinions on Market Projections and Validity of Assumptions
Secondary Research
International Associations and Publications

Food and Drug Administration (FDA)
World Health Organization (WHO)
American Academy of Pediatrics
National Pest Management Association (NPMA)
Association Of American Pesticide Control Officials
The International Biocontrol Manufacturers' Association (IBMA)
The International HCH & Pesticides Association (IHPA).
PMFAI
Japan Biocontrol Association
United States Environmental Protection Agency
South African Bioproduct Organisation (SABO)

Company Press Releases
Annual Reports and Investor Presentations
Research Papers
Government Websites and Publications
Trade Websites
Primary Interview Splits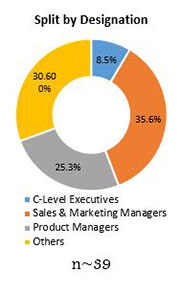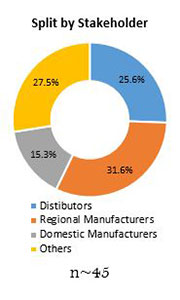 To Learn More About our Comprehensive Perspective on Mosquito Repellent Candles Market,
Get in touch
COVID -19 : Impact Analysis
Request the coronavirus impact analysis across industries and markets
Request Covid -19 Impact
CASE STUDIES
See how our work makes an impact.
At FMI, we design strategies that are adaptive, impactful, and implementable.