Natural Insect Repellent Market By Product (Sprays/Aerosol, Creams, Essential Oils, Liquid Vaporizers), Ingredient (Oil of Lemon Eucalyptus, Citronella Oil, Catnip Oil, Soybean Oil), Distribution Channel (Online, Offline), Pest Targeted (Mosquitoes, Flies, Ticks) & Region - Forecast to 2019 - 2029
Natural Insect Repellent Market - Analysis, Outlook, Growth, Trends, Forecasts
January 2020

REP-GB-10884

340 pages
Sprays/ Aerosols Remain Bestselling Category
Sprays/ aerosols continues to witness sustainable demand, with sales poised to exceed the US$ 1 Bn mark during the latter half of the forecast period. An upsurge in camping and recreational activities in tandem with ease of use and compactness of sprays/ aerosols are contributing to their significant share in global market revenue.
Witnessing a healthy adoption rate, essential oils are also garnering huge attention of market players as they carry numerous health benefits as well as are registered with government agencies including, the US Environmental Protection Agency (EPA).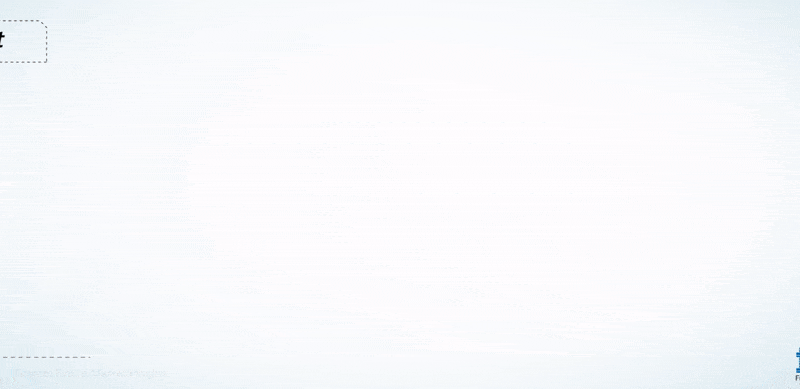 Developing Regional Markets Offering Worthwhile Growth Prospects
The accelerated shift towards organic and herbal products along with government-funded campaigns are gauging the natural insect repellent market in the developed regions of North America and Europe. There is an increasing trend of scented mosquito repellent candles with essential oils that create a refereshing and calm environment. While both the developed markets account for about a half share of global market value, market players are also eyeing significant sales opportunities in the developing regions - Asia, and Middle East & Africa (MEA). This is attributed to the prevalence of vector-borne diseases such as malaria which, in turn, is propelling several awareness programs and initiatives including, #MakeIndiaMalariaFree.
Integrated Marketing Media to Shape Stakeholders' Bottom Lines
In a bid to tap the untapped geographies, market players must realign their strategies by promoting natural insect repellents via integrated marketing communications including, newspapers, hoardings, and online mediums. While the printed media and TVs are the conventional way of promotion and advertisement, social media platforms – Instagram, and Twitter, are also becoming a major source of information with the proliferation of internet. Stakeholders must target these online mediums for inflated consumer base.
How Growth will Unfold
Oil of lemon eucalyptus will remain the preferred ingredient in natural insect repellents throughout the period of projection, followed by citronella oil. While both the ingredients account for nearly 60% share of total revenue, they will lose their share to other ingredients such as catnip and soybean oils due to their shorter protection time and possible side effects.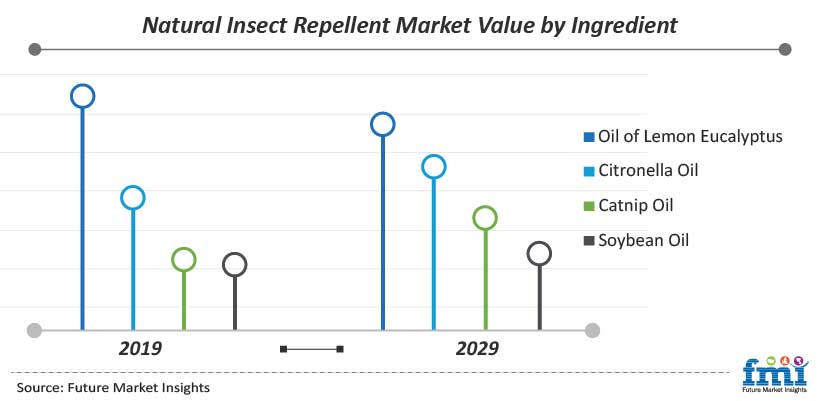 FREQUENTLY ASKED QUESTIONS ABOUT NATURAL INSECT REPELLENT MARKET
What are future prospects of the natural insect repellent market?
There will be steady growth in the demand for natural insect repellent over the next decade. The market value will witness a healthy CAGR during 2019 - 2029, reaching beyond US$ 3 Bn by 2029 end.
How innovative natural insect repellents will create new value-adding business opportunities for market players?
Consumers are looking for insect repellents that are less toxic, easy to use and effective for longer hours. Thus, market players have potential opportunities to formulate products using a variety of natural ingredients that consumers are already awareness for their medicinal properties such as catnip oil, citronlle oil, and other essential oils.
Which natural insect repellent will have the largest sales growth in the next five years?
Oil of eucalyptus oil is estimated to account larger market share among all natural ingredients used in insect repellents. However, use of other natural ingredients is expected to grow at a higher CAGR over the forecasted years.
What revenues can market stakeholders derive from online sales over the next decade?
In 2018, natural insect repellent worth over US$ 685 Mn were sold through E-commerce platforms, and the number is set to maintain an average 9% annual increase during the forecast period (2019-2029).
Which region is expected to lead global sales of natural insect repellent?
Asia Pacific region is anticipated to forefront of the global natural insect repellent market, with sales projected to grow at a CAGR of 8% during the predefined timeframe.
Which companies are investing significantly in the development of innovative products?
Investors continue to remain bullish in industry behemoths such as S.C. Johnson Company, Dabur India Pvt. Ltd., and Godrej Consumer Products Ltd., bringing innovative products into the marketplace. It is pertinent to note that a large number of new players are also vying for a pie of this lucrative market.
World's Most Profilic Intelligence Engine
Get Access To The World's Largest Market Research Database.
Sign Up Now
NATURAL INSECT REPELLENT MARKET TAXONOMY
The global natural insect repellent market is segmented in detail to cover every aspect of the market and present a complete market intelligence approach to readers.
Product
Sprays/Aerosol
Creams
Essential Oils
Liquid Vaporizers
Other Products
Ingredient
Oil of Lemon Eucalyptus
Citronella Oil
Catnip Oil
Soybean Oil
Other Ingredients
Distribution Channel
Online
Offline

Organized Retail
Unorganized Retail
Pest Targeted
Mosquitoes
Flies
Ticks
Others
Region
North America
Latin America
Europe
South Asia
East Asia
Oceania
Middle East and Africa
Need specific information?
Our Clients