An Incisive, In-depth Analysis on the Natural Food Colours Market
This study offers a comprehensive, 360 degree analysis on the Natural Food Colours market, bringing to fore insights that can help stakeholders identify the opportunities as well as challenges. It tracks the global Natural Food Colours market across key regions, and offers in-depth commentary and accurate quantitative insights. The study also includes incisive competitive landscape analysis, and provides key recommendations to market players on winning imperatives and successful strategies.
Beverages Mainstay for Natural Food Colours, while Packaged Food Closes in
The global food industry is becoming more consumer-centric and changing rapidly. As consumer needs and eating habits are increasingly evolving, food manufacturers are hard pressed to make decisions about which segments of consumers to serve and which new trends to prioritize. This is according to Future Market Insights' Natural Food Colours Market Report that explores a distinct move towards natural ingredients, especially within food colours.
The natural food colours market is estimated to be valued at US$ 7.7 Bn in 2019, and grow at relatively high pace as compared to synthetic colours market. In recent past, aversion of consumers towards synthetic and chemical-based products has been evident, and with it the demand for natural food colours is moving on an upward swing. This growth is attractive for market players primarily focused on natural sources of colours, while synthetic colour manufacturers are struggling to switch and fulfil the newer demands.
Several companies such as McCormick & Company, Inc. are filing colour additive petition (CAP) for the expanded safe use of natural food colours across various countries. Regulatory bodies such as FDA are therefore amending colour additive regulations. Subsequently, faster approval of natural food colours is expected to decelerate sales of artificial food colours.
Demand Bolstered by Notable Changes in Beverages Industry
In 2018, natural food colours of around US$ 2.3 billion were sold for application in beverages. Today, as focus shifts towards convenience food and beverages, a step change in innovation is noticeable in the beverage industry to tap into newer consumer trends. In addition to rapid increase in demand for ready-to-drink and on-the-go drinks, consumers' inquisitiveness about ingredients and their sourcing is increasing. Expected to account for one third share by 2029, recent changes in the beverage industry will continue to influence the growth of natural food colours market.
In the processed food sector, colour is one of the important aspects, and goes a significant way towards determining the success or failure of new product launches. Key players in the natural food colours market are therefore focusing on capitalizing on rapidly growing demand for packaged food and frozen products. Further, flavour innovations are trending in the dairy industry which is expected to weigh on same scale as growing demand for natural food colours.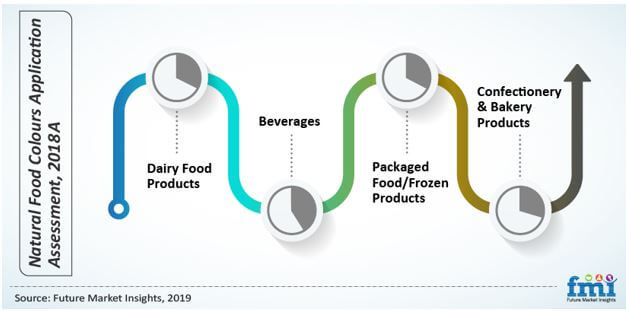 Asia Pacific Promises Lucrative Growth Opportunities
Growth prospects of the natural food colours market continue to remain high in Asia Pacific, with China emerging as the largest exporter. Rapid uptake of natural food colours in new product development can be attributed to pervasiveness of food safety scandals in the region. In North America, natural food colours appeared on the scene, with implementation of strict rules to prohibit the use of harmful synthetic colours containing lead, arsenic, and mercury. Continuous efforts of confectionery brands in North America to phase out all artificial colours from their product portfolio will continue to work to the advantage of market players.
Carotenoid Takes Centre Stage with 95% Revenue Share
Ease-of-use, superior stability, enhanced appearance and greater consumer appeal have resulted in carotenoid accounting for major share of manufacturers' bottom lines. As natural food colours worth US$ 7.3 Bn sold in 2018 were based on carotenoid, manufacturers are specifically focused on this category. However, with growing demand for natural blues and green shades in beverages and confectionery, sales of spirulina extracts are expected to grow at a higher rate than carotenoid in the future. A number of key market players are further tapping superfood spirulina for its antioxidant properties, high nutrient content, and vibrant colour to deliver 100% natural and clean label food colours. As the next big wave of innovation in the natural food colours market is set to focus on providing consumers with health and functional benefits, volume sales of carmine are expected to witness its lowest during the period 2019-2029. Apart from effects of carmine to consumers with bug allergies, the rise of vegan culture is projected to represent a potential challenge to the sales of carmine, despite its 'natural' status.
Demand in MEA Ascending Despite High Price Point
High pricing of natural food colours in countries of Middle East & Africa has restricted the market expansion in the region. Significant dependency on imports in Middle East and unfavourable climatic conditions in sub-Saharan Africa to establish manufacturing facilities have resulted in relative high price of natural food colours as compared to other regions. Despite the high price, the ban on quinoline yellow and tartrazine in most drinks and products in the UAE are projected to push transition to natural food colours, and subsequently fuel market growth. Lower average price in North America can be attributed to increasing focus on identification of new botanical sources to improve shade range and final cost. In addition, greater adoption of new technologies in extraction, processing, and stability enhancement has played an essential role in overcoming cost-in-use challenges, thereby improving the final pricing.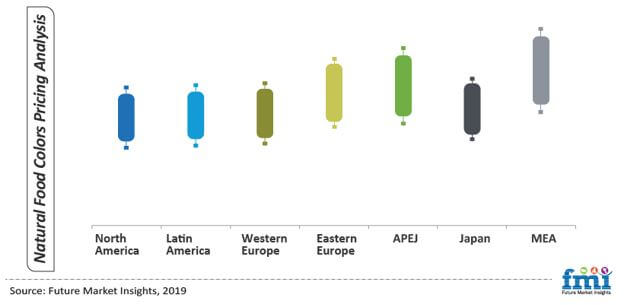 Future Market Insights offers a 10-year forecast of the Global Natural Food Colours Market between 2018 and 2028. In terms of value, the market is expected to register a CAGR of 6.5% during the forecast period. This study demonstrates market dynamics and trends in global natural food colours market that are expected to influence the current environment and future status of the natural food colours market over the forecast period.
Report description
This Future Market Insights report examines the Global Natural Food Colours Market for the period 2018–2028. It provides historical data of 2013 along with estimated data for 2018, and forecast data up to 2028 in terms of value (US$ Mn) and volume (MT). The primary objective of the report is to offer insights into developments in market that are significantly influencing the demand for natural food colours. Increasing consumer consciousness and preference for clean label and natural products is identified as the primary driver for natural food colours globally. A few other market drivers include growing number of government approvals for natural pigments, increasing demand for clean label food products for children and development of shelf stable natural colour solutions.
The natural food colours market is segmented as follows:
By Pigment Type

By Application

By Region
This report covers the global natural food colours market performance in terms of value and volume contribution. The report also includes FMI's analysis of key trends, drivers and restraints in each of the seven regions/countries, which are influencing the natural food colours market currently. Furthermore, the report gives a complete region/country-wise analysis of 2018 & 2028 estimates of the total natural food colours revenue and consumption. Porter's five forces model, cost structure analysis, PEST analysis & scenario forecast of every region/country is included in this report to better equip clients with crystal-clear decision-making insights.
Based on application segmentation, the global natural food colours market is segmented into dairy food products, beverages, packaged food/frozen food products, confectionery and bakery products and others. Beverages segment is predicted to dominate the market in terms of value and volume contribution throughout the forecast period. Natural food colours find profound applications in meat products. This is supported by the development of new product formulations, which are more stable and temperature compatible in case of meat products. For instance, usage of yellow colour for soft drinks, meat, pork, and bakery items is gaining significant prominence among end use companies in Japan. Apart from aforementioned applications, the 'gardenia yellow' colour is used in noodles, rice cakes, and other food and beverages products.
Based on regional segmentation, Asia Pacific and North America are estimated to collectively account for more than half the total share of the global natural food colours market, which is expected to increase potentially by 2028 end. MEA is another significant regional market, which is projected to register the highest CAGR in terms of value and volume among other regions in the global natural food colours market during the forecast period.
For analyzing the market size in terms of volume, the per capita consumption of natural food colours in major consuming regions have been considered. The data modeling approach has been carried out by analyzing the total acreage of source crop/feedstock planted, average yield, amount consumed directly v/s amount used for processing into extract used in the production of natural food colours and its derivatives, etc. Weighted average selling price for natural food colours was considered to estimate the market size of natural food colours in major consuming countries. These prices were captured in their respective countries and then converted into USD to offer forecasts in one consistent currency standard.
A number of primary and secondary sources were consulted during the course of the study. Secondary sources include Factiva, and Hoovers, and company annual reports and publications. The report provides detailed competitive and company profiles of key participants operating in the global market.
Some of the key market players covered in this report are GNT International B.V., Roha Dyechem Pvt. Ltd., D.D. Williamson & Co., Inc., Kalsec Inc., Chr. Hansen A/S, Archer Daniels Midland Company, Adama Agricultural Solutions Ltd. (LycoRed), Naturex S.A., Sensient Technologies Corporation and Symrise AG, Dohler GmbH, McCormick and Company, DDW The Color House Corporation, Aakash Chemicals and Dye Stuffs, San-Ei Gen F.F.I Inc., AFIS (Australian Food Ingredient Suppliers), GNT International B.V, and Adama Agricultural Solutions Ltd. Natural food colour manufacturers are aimed towards improving their collection and sourcing process. This is further supported by agreements with local participants across different regions. Also, companies are focused towards proliferating product portfolio in accordance with customers of varied applications. Nowadays, consumers are getting increasingly inclined towards products that impart looks along with better taste. Thus, in order to drive attention of consumer towards particular products, manufacturers are increasingly developing blended solutions, which offer both better taste and appearance.
Key Segments Covered
Analysis by Pigment Type
Carotenoid

Beta carotene

Annatto

Lutein

Lycopene

Curcumin

Anthocyanin

Paprika extract

Spirulina extract

Chlorophyll

Carmine
Analysis by Application
Dairy Food Products

Beverages

Packaged Food/Frozen Products

Confectionery and Bakery Products

Others
Key Regions/Countries Covered
North America

Latin America

Brazil

Rest of Latin America

Western Europe

U.K.

France

Germany

Spain

Italy

Rest of Western Europe

Eastern Europe

Russia

Rest of Eastern Europe

Asia Pacific Excluding Japan (APEJ)

China

India

Australia & New Zealand

Rest Of APEJ

Japan

Middle East & Africa

GCC countries

South Africa

Rest of MEA
COVID -19 : Impact Analysis
Request the coronavirus impact analysis across industries and markets
Request Covid -19 Impact
CASE STUDIES
See how our work makes an impact.
At FMI, we design strategies that are adaptive, impactful, and implementable.