Natural Antioxidants Market - Key Research Findings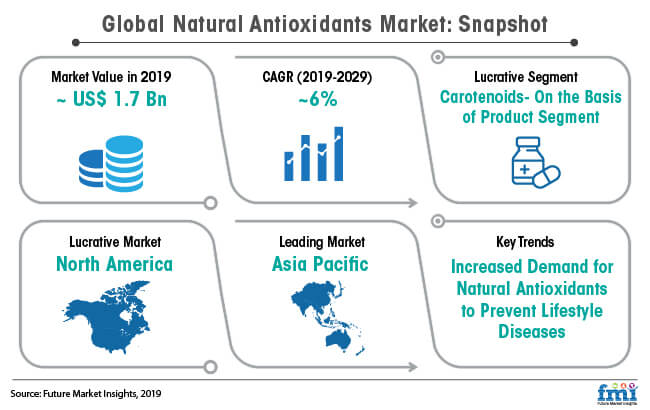 The global natural antioxidants market revenue is set to reach ~US$ 1.7 Bn in 2019.
The natural antioxidants market is expected to grow at a CAGR of ~6% during the forecast period of 2019-2029.
Asia-Pacific holds the major share and is expected to be the largest market for natural antioxidants, with sales estimated to reach ~US$ 3 Bn in by 2029-end.

Growth of natural antioxidants market in Asia Pacific can be highly attributed to increasing demand for nutraceuticals and dietary supplements, and growing awareness about the health benefits of natural antioxidants in the region, particularly in China and India.

The natural antioxidants market in North America and Europe is expected to register a high growth rate in the coming years, owing to a remarkable hike in the consumption of nutritional supplements in these regions. In addition, increasing interest in the consumption of natural products is expected to bolster the demand for natural antioxidants across these regions.
Growing application of natural antioxidants in nutraceuticals are anticipated to result in increased market share. Revenues from sales of natural antioxidants for use in nutraceuticals, food, and beverages is likely to account for more than half of the market share by 2029-end. Further, the application of natural antioxidants in the meat processing industry is anticipated to remain constant in the coming years.
Key Factors Shaping the Natural Antioxidants Market
Growing Awareness of Lifestyle Diseases

The rise in prevalence of lifestyle diseases such as obesity, cardiovascular diseases, diabetes, and other non-communicable diseases (NCDs) has become one of the major concerns for consumers across the globe. Consumer awareness towards adopting healthy habits is causing radical changes in their dietary patterns, which has escalated the demand for natural antioxidants over the years.

Weight-conscious consumers are becoming more critical of their daily calorie intake, and are willing to consume food product which is high in nutrition and low in calories. Multiple research projects have concluded that natural antioxidants are beneficial in enhancing health issues such as cardiovascular diseases, diabetes, and other non-communicable diseases (NCDs).

This has turned the consumers to put more focus on the consumption of antioxidants in their regular diet. Further, health enthusiasts and fitness freaks are more inclined towards organic and natural antioxidants as a prominent ingredient in their food and beverages as well as dietary supplements. The result is likely to lead to robust growth of the natural antioxidants market in the years ahead.

Deeper Understanding of Preventative Healthcare

Majority of global animal farms are shifting towards alternative additives, including natural antioxidants, toxic binders, and organic acids, to prevent feedstock contamination. The usage of these alternative options also helps reduce the anti-microbial drug resistance levels from feed-to-food models. It must be noted that AMR levels have reached alarming proportions across the world, leading to human beings responding poorly to either first or second-line disease treatments.

Moreover, a major share of the population tends to consume natural antioxidants to boost their immune health, as oxidative stress remains one of the major factors associated with dysregulation of the immune system and leads to several diseases. These factors are propelling the consumers to take preventive measures, thereby creating huge space for the healthy growth of natural antioxidants over the forecast period.

Food Manufacturers Identifying and Leveraging the Potential of Natural Antioxidants

Manufacturers in the global food and beverage industry are looking for opportunities to incorporate natural antioxidants in their end products for enhanced nutritional value. Further, players are emphasizing to provide improved natural and organic ingredient-based products to cater to the burgeoning demand of health enthusiasts.

In the present scenario, manufacturers are focused on sustaining in an ever-growing competitive market by adopting 'better for you' strategy. Many food manufacturers are taking initiatives to offer natural food with high nutritional benefits to meet the growing demand for natural-based ingredients food products from consumers.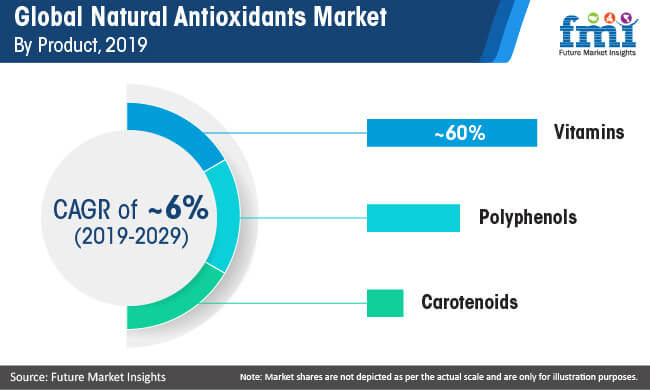 Natural Antioxidants Market Structure Analysis
Global natural antioxidants market represents a fairly consolidated competition landscape, where the majority of key players are investing in R&D to lower the production cost of natural antioxidants.
Key players operating in the global natural antioxidants market include BASF SE, Ajinomoto Co Inc, Naturex S.A., Adisseo France SAS, The Archer Daniels Midland Company, I. du Pont de Nemours and Company, A & B Ingredients Inc, Hansen A/S, Koninklijke DSM N.V., Cargill, and Ingredients Inc.
Addressing Oxidation of Fats in Food and Food Processing Techniques
Natural antioxidants reverse the oxidation of fats via various processes - oxygen eradication, free radical decrement, or renewal of primary antioxidants, delivering better outcomes versus synthetics antioxidants in a majority of cases. Natural antioxidants exhibit low volatility and high stability at high temperatures, offering better aid to food production techniques, including frying, cooking or baking. In addition, natural antioxidants prove to be more efficient in shielding the final product – a property known as "Carry Through".
Natural antioxidants showcase greater lipid and water solubility as compared to their synthetic rivals. Natural antioxidants, including tocopherol, and ascorbic acid, pose no impact on the aroma and aesthetics of the final product. Tocopherol present in crude vegetable oils prevails the oil processing methods and exists in required amounts to deliver oxidative resilience in the final products. Natural antioxidants counter cellular damage chiefly by scavenging free radicals.
Natural antioxidants are consolidating their places as additives in the food & beverage industry across the world. Health authorities – the FDA, and the EFSA - are giving green signal to the usage of natural antioxidants in food products, unlike synthetic antioxidants, which confront strict regulations.
Skin Protection Abilities of Natural Antioxidants Find their Way in the Cosmetics Space
Natural phenolic compounds offer a broad array of benefits in the arena of cosmetics, including antioxidant, antimicrobial, anti-inflammatory, or anti-aging. Anti-aging cosmetics incorporate formulations affluent in phenolic antioxidants as a defense mechanism against reactive oxygen species (ROS).
Polyphenols, derived from green tea extract, reverse the aging process when mixed in creams and lotions. , present in tomatoes, and broccoli, finds purpose in skincare products to ward off wrinkles, and pores owing to high free radical scavenging property.
Retinol enhances skin tone and decreases dark spots by promoting the production of collagens throughout the body. Alpha-hydroxy Acids (AHAs) - lactic acid, citric acid, and tartaric acid – eliminates acne, and irregular skin color. Salicylic acid penetrates the pores, diminishing blackheads and whiteheads with relatively less irritation - a commonplace in over-the-counter and prescription products for acne treatment.
Surging Demand for Organic Products in APAC Capture Attention of Market Players
Countries, including Australia and New Zealand, utilize sodium metabisulphite (SMBS) to sustain the quality of fresh sausages, yet the synthetic antioxidant results in the loss of vitamin B1. As such, regulatory authorities are imposing limitations on the application of artificial antioxidants, leaving manufacturers of natural antioxidants in high spirits. In addition, the production and launch of vegan food products in Australia are boosting three-folds, which is likely to raise the demand for plant-based antioxidants.
The prominence of organic beauty products is evident in China and India, where the consumers are shifting away from chemical-based cosmetics due to potential side effects. A notable rise in the sales of anti-aging creams and growing interest among male consumers towards grooming and personal care are paving the way for natural antioxidants in the cosmetics sphere.
'Synergism' and 'Innovation' - Key Factors Defining Stakeholders' Strategies
Leveraging a primary natural antioxidant is insufficient to tick all the boxes. For instance, rosemary extract (E-392) majorly used in food performs well in animal fats, yet delivers unwelcomed odor and aroma. Studies find that the coupling of two or more natural antioxidants in a majority of cases performs better.
As such, market players are offering a combination of tocopherol and rosemary extract. In addition, tocopherol is paired with citric acid or isopropyl citrate to obtain optimum efficacy.
In order to minimize food wastage, players in the food industry are extracting natural antioxidants from the bran layer of cereal plants, which otherwise is discarded. Although research highlight the inefficiency of bran-derived natural antioxidants versus existing natural antioxidants, continuous R&D to unleash full capabilities of bran-derived natural antioxidants are surging.
How Growth Will Unfold
Consumers across the globe are showing high preference for food ingredients imparting affluent nutritional benefits. The consciousness regarding health and wellness is influencing consumers to follow a healthy regime. Research suggest that a majority of consumers find natural antioxidants in food & beverages highly appealing, while a third of consumers keep a constant eye on natural ingredients in the products.
The trend of 'vegan' and 'clean label' is significantly encroaching the mindsets of a large proportion of individuals. As a consequence, natural antioxidants extracted from plants are spectated a major uplift. Realizing fast-paced and sedentary lifestyles of consumers, insufficient intake of nutrients becomes imminent. As such, consumers rely on natural oxidants in the form of medicines to fulfill the daily intake of nutrients, including vitamin C.
Chemical-based cosmetics are subject to potential after-effects – a factor driving customers to shift to natural cosmetics products. With increasing need to maintain healthy skin without toxic effects intensifying, skincare products encompassing natural antioxidants are becoming a product of choice.
Key Segment
Product
Vitamins
Carotenoids
Polyphenols
Nature
Source
Fruits & Vegetables
Herbs & Spices
Microalgae & Seaweed
End-Use
Food & Beverages

Meat, Fish & Poultry
Spice & Condiments
Oil, Fat & Margarine
Packaged Food
Bakery & Confectionery
Others

Cosmetics
Nutraceuticals
Pharmaceuticals
Feed Industry
Region
North America
Latin America
Europe
Asia Pacific
Middle East & Africa
Need specific information?