About the Report
The rising prevalence of several infectious diseases has necessitated innovation in the skincare market. According to the World Health Organization (WHO), the prevalence of chronic diseases was expected to increase by 57.0% by 2020, which indicated that a significant percentage of the population would suffer from chronic ailments. Also, the global outbreak of pandemics such as H1N1, Ebola, and others are boosting the requirement of different hand and skin hygiene products such as hand sanitizers, which is indicative of growth opportunities for the market.
In its new study, ESOMAR-certified market research and consulting firm Future Market Insights (FMI) offers insights about key factors driving demand for skincare products. The report tracks the global sales of skincare products in 20+ high-growth markets, along with analyzing the impact COVID-19 has had on skincare products in general, and skin cleansers, hand sanitisers, skin conditioners and surgical scrubs in particular.
How Historical and Future Outlook for Skincare Market Match Up?
The increasing climate change and global warming have augmented the use of skincare products. Owing to growing dusty & dry weather and harsh sunlight, skin becomes too dry, dark, and crack. The increasing number of industries has led to increasing pollution levels in cities, which may cause bad effects on the skin, thus making people want more to use skin-care products for protection. Skincare products such as skin cleansers and skin conditioners are helpful in cleansing and conditioning skin and protecting it from pollution.
Consequently, growing awareness regarding the harmful effects of harsh climate changes, combined with growing knowledge about different chemicals and compounds to treat certain skin-related problems is considerably driving the skincare market growth. Similarly, increasing cases of hospital-acquired diseases such as surgical site infection (SSI) is projected to create a new opportunity for the market. According to FMI's analysis, cancer diagnostics sales have grown at an 8.1% CAGR between 2016 and 2020.
The COVID-19 pandemic has bolstered the sales of hand sanitisers. Government initiatives aimed at creating awareness among people about the use of hand sanitizers also are boosting the market. For instance, the Centers for Disease Control & Prevention (CDC) suggests the usage of alcohol-based hand sanitisers with over 70.0% isopropanol or 60.0% ethanol as the favoured form of maintaining hand hygiene in healthcare sites.
As per CDC, hand sanitisers containing alcohols are effective in preventing the spread of COVID-19, as alcohol attacks and destroys the protein envelope that surrounds coronaviruses. Moreover, the demand for hand sanitisers is expected to surge the skincare market globally. FMI expects the global skincare market to grow at an 8.1% CAGR through 2021-2031.
How are Social Media & Innovative Online Campaigns Reshaping Skincare Market?
The global skincare market has been considerably aided by progressions in digital marketing. Many skincare brands have arranged innovative online campaigns and are adopting various social media marketing strategies to engage with customers as well as to reach them.
The success in digital content has permitted skincare brands to step away from the beauty counter and market their products in new ways. Social media also supports skincare brands to create stronger networks with current and new viewers by posting engaging contents that convey a brand's concept and idea to consumers.
Social media opened new paths for discussing skincare products, routines, and trends. YouTube and Instagram content is aiding skincare brands to capitalize on the power of visual practices – a strategy that showed profitability for skincare products.
What Are The Opportunities In The Skincare Market?
Increasing preference for healthy and natural ingredients and growing demand for personal hygiene and self-care products are creating lucrative opportunities in the skincare market. Increasing worries about the adverse effects of chemicals on the skin, triggering skin allergies, irritation, and skin dullness, have been important factors fuelling the demand for herbal ingredients in skincare products.
The increasing knowledge about the benefits of herbal skincare has encouraged consumers to pursue sustainable, eco-friendly, and natural skincare products that come with better product component transparency. Stringent regulations encouraging natural product use in the skincare industry are also expected to create growth opportunities for skincare manufacturer.
Similarly, due to the COVID-19 pandemic, people have become more conscious about hygiene and cleanliness. They are more inclined towards keeping a germ-free environment around them. Similarly, increasing self-care spending is creating opportunities for skincare manufacturer.
What are the Factors Restraining Skincare Market Growth?
Health hazards associated with chemical ingredients in hand sanitisers and surgical scrubs are hampering the global skincare market. A high concentration of alcohol and frequent use of hand sanitizer and surgical scrubs may cause a hazardous effect on the skin. Thus, hand sanitisers and surgical scrubs pose an extensive variety of health risks such as sensitization, irritation, and carcinogenicity and physical hazards like flammability, explosibility and corrosion, which is restraining market growth.
Besides this, a restricted supply chain due to the COVID-19 is o expected to restraint market growth. Increasing demand for skincare products and lower volume of raw materials with compromised production have negatively affected the trade balance. Supply experienced a downward trend in mid of second quarter of 2020 owing to the lockdowns and low-scale production.
What Are Key Trend In Skincare Market?
The growing need for self-care or health-promoting products, and increasing market consolidation activities are the key trends impacting the skincare market. Consumer preference towards health & wellness and innovation in a product such as the addition of fragrances in the hand sanitizer's formulation is anticipated to drive the growth of the market.
The ability of social media to more rapidly and uniquely empowering and inform consumers and the capability of new technology to streamline the strangely difficult consumers' choices when they interact with skincare brands will bode well for the market.
Moreover, progress in living standards, increase in health expenditure, the surge in awareness about personal hygiene, and support from associations such as FDA, WHO, and others, who are stressing the need for sanitation will drive growth in the coming years.
How increasing surgical site infection (SSI) supplements market growth?
According to the Centers for Disease Control and Prevention (CDC), surgical site infection (SSI) is associated with an operational procedure that occurs at or nearby the surgical opening within 30 days of the surgery, or within 90 days and is a most common avoidable problem after surgery by taking appropriate care. SSIs occur in 2% to 4% of all patients continuing inpatient surgical procedures. Though the majority of infections are curable with antibiotics, SSIs remain an important cause of morbidity and mortality after surgery.
SSIs are also the important reason for readmissions to the hospital following surgery and around 3% of patients who diminish an SSI die as a result. Surgical scrubbing is an essential process required to reduce the risk of contamination by microorganisms during operational processes.
A surgical scrub is used to remove transient microorganisms and dirt from the hands, nails, and forearms of the surgeon, reduces the resident microbial and inhibit reverberation growth of microorganisms. The rising prevalence of surgical site infections (SSIs), increasing awareness among healthcare professionals regarding cleaning increases the demand for surgical scrubs. However, increasing demand for surgical scrubs is expected to support the growth of the skincare market.
Country-wise Insights
Why is Demand for Skincare Products High in the U.S.?
The U.S. holds the largest share in the North American market due to its greater consumer base and heavy consumption. As a result of the COVID-19 outbreak, an increasing number of consumers in the U.S. are spending on precautionary measures such as hand sanitizers, skin cleansers, and others.
The increasing consumption of skincare products also is related to concerns pertaining to health and safety. Besides this, rising awareness among consumers about synthetic chemicals will impact the sales of skincare products in the U.S. Additionally, the presence of key players in the U.S. has been enabling growth in the market.
Are Government Initiatives Key to Growth In U.K.?
The Government of the U.K. is taking serious steps to prevent the occurrence of surgical site infections in the country. HCAI & AMR departments across hospitals are running SSI surveillance services. They are providing hospitals with a protocol and tools for analyzing data on surgical site infections. Thus, the increasing preventive measures and efforts taken by the government for SSI control.
This also has led to the increasing consumption of surgical scrubs in the U.K. Furthermore, increase in awareness among people regarding hygiene practices and good health will propel the market growth in the country. Owing to the outbreak of COVID-19, the usage of skincare products like hand sanitizers is increasing in various healthcare settings and educational institutes.
Rising Disposable Income to Fuel Demand in China
Growing disposable income has a substantial effect on the expansion of the market in China. Consumers in China are therefore more willing to spend on proper healthcare management. The per capita disposable income of China was around US$ 4,961 in 2020, which is more than twice of 2010. Favourable healthcare insurance and increasing disposable income will result in increasing sales of skincare in China. The China market is expected to witness significant growth at a CAGR of around 8.3%.
What are the Restrains that South Africa Face in Skincare Market?
The outbreak of Covid-19 has serious threats to the population. Lack of awareness of diseases and lack of proper treatment leads to the high prevalence of these diseases. Furthermore, poor per capita healthcare expenditure of the country, skincare market may experience restrained the market growth. Due to financial burden, governments fail to provide proper treatment and are unable to create awareness among the population, which may impact the usage of skincare and infection prevention products. The market in South Africa is expected to witness slow growth at a CAGR of just around 8.7%.
Category-wise Insights
What is the Potential of Hand Sanitizers in infections control?
An increasing number of infective diseases, growing concerns associated with hand hygiene, increasing spending on healthcare infrastructure and changing the sedentary lifestyle of the people are some of the key factors expected to increase the demand for hand sanitizers.
Hand sanitizers can be applied directly without water, which is an advantage over conventional handwashing products. Similarly, leading manufacturers such as Procter and Gamble, and Unilever have been offering hand sanitizers in convenient packagings such as mini bottles, and sachet which can easily be carried in a bag or a pocket by the users. These factors have broadened the scope of the skincare market. As per the report, the rising demand from hospitals, clinics, and other healthcare centers will continue driving growth in the market.
Why Do Liquid-Based Skincare Products Dominate The Market?
The COVID-19 pandemic has augmented the significance of washing hands as a cost-effective and simple solution to reduce the spread of disease. The WHO highlighted the need to focus on longer-term uptake to form handwashing habits. Numerous government organizations are designing campaigns to propagate hand washing as a key practice to curb the spread of any infection.
This, in turn, is expected to fuel the demand for liquid skincare products such as skin cleansers and hand sanitizers. In terms of volume, the liquid-based skincare market in North America s showed incremental growth during the forecast period.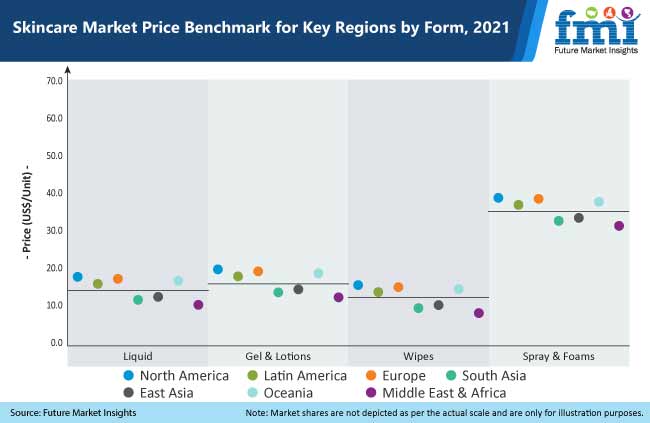 Competitive Landscape
Some of the key players are increasingly on various market consolidation activities such as a merger, acquisition, supply distribution partnerships, and launching new products leading to high competitiveness in the market.
For instance, in 2019, Unilever acquired personal-care business Lenor Japan to strengthen a skincare business with a presence in Japan and China.
Key manufacturers are keen to expand the market footprint of their key products as well as solutions to end-users. For instance, key manufacturers nowadays also offer personalized solution based on the various end-user requirement.
For instance, In 2021, PDI opened New Global Headquarters in Bergen County, New Jersey to accelerate innovation in healthcare and infection prevention. The aim was for creating a new multi-functional platform that supports continued advancements in infection prevention.
In 2020, Ecolab Unveils has expanded its presence by inaugurating Luce Letartre Research Center in Sainghin-en-Mélantois, on the north side of France to fast-track the ability of the company to launch innovative products for infection prevention in the healthcare sector. Similarly, GOJO took important steps to expand its capacity and to increases the sales of PURELL sanitizer, wipes, soap, and surface spray by new manufacturing operations in Maple Heights and Navarre, Ohio in 2020.
Some of the leading companies operating in the market are:
3M Company
Cardinal Health, Inc.
Ecolab
Reckitt Benckiser Group PLC
Carrollclean
Johnson & Johnson Consumer Inc.
PDI, Inc.
Pal International
PSK Pharma Pvt. Ltd.
Metrex Research, LLC.
Gojo Industries, Inc.
Unilever
Steris Plc.
Procter & Gamble
*The list is not exhaustive, and only for representational purposes. Full competitive intelligence with SWOT analysis available in the report.
Scope of the Report
| | |
| --- | --- |
| Attribute | Details |
| Forecast Period | 2021-2031 |
| Historical Data Available for | 2016-2020 |
| Market Analysis | USD Million for Value |
| Key Regions Covered | North America, Latin America, Europe, East Asia, South Asia, Oceania Middle East & Africa |
| Key Countries Covered | US, Canada, Germany, U.K., France, Italy, Spain, Poland, Russia, China, Japan, South Korea, India, Thailand, Malaysia, Indonesia, Australia, New Zealand, GCC Countries, Turkey, South Africa |
| Key Segments Covered | Product, Form, End-user and Region |
| Report Coverage | Market Forecast, Competition Intelligence, DROT Analysis, Market Dynamics and Challenges, Strategic Growth Initiatives |
| Customization & Pricing | |
Key Questions Answered in the Report
Which is the most lucrative market for skincare products?

The US currently leads the North American market for skincare products. Sales in the US will be over 85% in the total North America demand throughout the forecast period.

Which is the most used type of product in the skincare market?

Hand sanitizers are dominating the market for skincare as the leading product category. The rising prevalence of various skin infections, gastrointestinal and respiratory diseases will increase the use of hand sanitizers as a safety method to prevent the risk of infection.

Who is the Leading End User of Skin Care Products?

Hospitals are leading the end-user segment of the skincare market, owing to their high consumption of skincare products.
Skincare Market by Category
Product
Skin Cleansers
Hand Sanitizers
Surgical Scrubs
Skin Conditioners
Other
Form
Liquid
Gel & Lotions
Wipes
Spray & Foams
End-user
Hospitals
Clinics
Ambulatory Surgical Centers
Diagnostic Laboratories
Reference Laboratories
Rehabilitation Centers
Long Term Care Centers
Critical Care Centers
Pharmaceutical & Biotechnology Companies
Academics and Research Institutes
Homecare Settings
Region
North America
Latin America
Europe
East Asia
South Asia
Oceania
The Middle East and Africa (MEA)
Need specific information?