Incontinence Skincare Products Market Outlook& Key Findings
Incontinence skincare products market, which was valued at US$ 2 Bn in 2020 is expected to surpass US$ 4 Bn by 2030
Incontinence skincare products market will show stability in growth rate. Future Market Insights (FMI) forecasts it to expand at a CAGR of 6% between 2020 and 2030
Women are expected to comprise more lucrative demography considering the incidence of incontinence is relatively higher among them than men
Creams meant for incontinence skincare will witness high demand, yet gels and oils will remain dominant, contributing higher share in terms of revenue
East Asia will emerge as an attractive market, showcasing high demand for incontinence skincare products
Negligence towards skincare problems arising due to urinary incontinence and social stigma associated with the disorder might hamper growth
Spurring Sales of Incontinence Skincare Products Linked to Higher Incidence of the Condition Worldwide
Incontinence, also described as an involuntary loss of urine is commonly witnessed among geriatric population. Studies also suggest that the prevalence is often greater among women. Incontinence might result in skin irritation, which is either ignored or hidden often due to stigma associated with these conditions.
Through improvement in campaigns and product developments, some of the leading institutions are aiming at eliminating stigma associated with incontinence. Awareness campaigns are designed to help consumers realize the importance of proper skincare. These initiatives benefited the companies offering associated products, including incontinence skincare product manufacturers.
Resultantly, the incontinence skincare market is gaining pace, a trend that FMI projects to continue through the course of the report's forecast period. Driven by the rising cases of incontinence, inflammatory bowel diseases, ulcerative colitis, and other diseases, the demand for incontinence skincare products will surge. FMI has estimated the market's overall value to surpass US$ 2 Bn by 2020.
Initiatives Aimed at Removing Stigma around Incontinence Skincare Products will Bolster Sales Prospects
The rate of undiagnosed incontinence has worsened over the years. Studies suggest the unawareness regarding adult incontinence is still widespread. Coupled with this, hesitance to purchase products for incontinence skincare from local stores continues to hinder growth.
Some of the leading brands are attempting to improve their market position by carrying out various promotional activities. The focus is no longer limited to advertising the product rather it has shifted to educating consumers the importance of incontinence skincare.
A well-known incontinence brand called TENA by Svenska Cellulosa AB is a case in point. It has introduced numerous campaigns such as "Keep Control" aimed for men and "Tena Twist" especially aimed at spreading awareness about women.
Their efforts are positively reflecting in higher sales proceeds. Spurred by the rising demand, FMI projects the global incontinence skincare market to reach a valuation of above US$ 4 Bn by the end of 2030.
Dominance of Early Movers will Continue
North America is expected to dominate the global incontinence skincare products market. According to FMI, North America and Europe will cumulatively account for nearly 45% of the global market.
The U.S. will hold over 80% of the incontinence skincare products market in North America. Changing consumer perception and presence of favorable demographic will support the growth of the market in the region.
North America also offers significant opportunities for investment and product development. However, high growth prospects have made competition witnessed in the region fiercer. Although overall this may positively influence product innovations, prevalence of a high degree of competition may create challenges for the future.
As leading brands use various promotional strategies and price cuts to gain edge, it would drive down product prices thus impacting their profit percentage. Nonetheless, North America's aging population will continue supporting the expansion of the market.
The emplacement of North America in the product life cycle (PLC) chart below indicates that the market is gradually headed towards saturation. Meanwhile, South Asia and Pacific will continue exhibiting high demand.
In East Asia the market will gain from the rising aging population in countries such as China and Japan.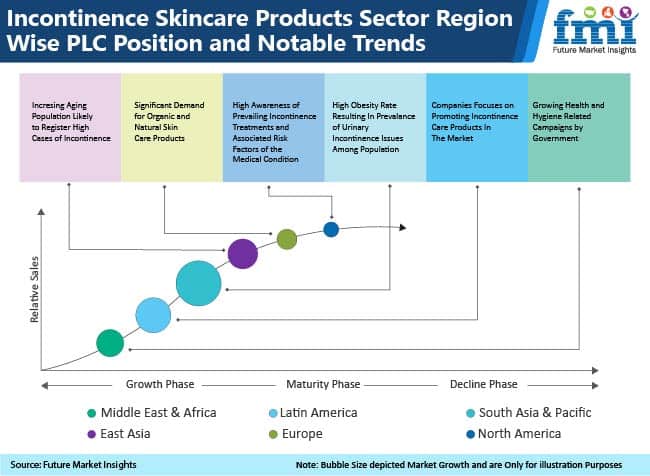 Improvement in Product Development Targeting Younger Consumers to Drive Growth
Incontinence can cause various medical problems such as severe skin irritation and redness. When skin is constantly exposed to urine water it becomes susceptible to germs and bacterial infections.
The involuntary flow results in moisture, which further breeds germs and bacteria. The medical condition can turn severe for those on wheelchair or bed-ridden. Frequently using incontinence personal care products is advised to such patients to foster better personal care.
FMI projects the demand for incontinence products to significantly rise among geriatric consumers. However, the prevalence of urinary incontinence has surged among younger population, encouraging market players to create advertising campaigns targeting them.
There is also increasing focus on offering products in thinner and more discreet packaging. They are attempting to make their products appear more stylish and less medical to help normalize the category.
Ecommerce Sales are expected to Surge as More Consumers Migrate to Online Channels
Ecommerce is expected to emerge as a crucial sales channel for the incontinence skincare products market. A majority of consumers look for better discretion when it comes to purchasing these products. Online platforms help them to discreetly purchase incontinence skincare products thus eliminating hesitance rising from the associated stigma.
FMI forecasts an increasing number of adult consumers to migrate to online channels, as they allow price comparisons beside various other benefits. This trend is particularly high in North America and Europe. The rising penetration of internet in Asia Pacific is also expected to boost sales in high potential markets such and India and China.
Market Players Aim at Taking Control via Expansion Strategies
Thanks to product developments and innovations carried out by leading market players, incontinence skincare products have showed positive results. FMI finds private labels to be at a better position in the market.
These brands are able to draw consumer attention, especially those displaying higher price sensitivity and limited purchase power. Taking cue from their efforts some of the leading companies are offering additional value and focusing on product differentiation to stay relevant in the market.
With commodity perception about incontinence skincare products evolving, both established players are private label companies are likely to see improved sales prospects. Higher focus on maintaining an expansive product portfolio to cater to a wider section of the population.
Besides this, realizing the potential of private labels, some of the leading brands are focusing on various expansion strategies. For instance, Svenska Cellulosa AB is diversifying its presence in the market by adding new businesses to its existing lines through acquisition.
Recently in April 2020, Svenska Cellulosa AB announced the acquisition of Novioscan, a Dutch company that develops technology that monitors bladder and facilitates continence control.
Ignorance Regarding the Medical Condition will Continue Challenging Growth
Social stigma surrounding urinary incontinence and skin care products aimed at treating infections it causes is hampering the overall sales of the market. Apart from this, high prevalence of undiagnosed cases and ignorance about incontinence disorder is creating challenges for the market.
Lack of awareness is however being tackled by some of the leading players. They are launching diverse campaigns and adverts to create awareness about the medical condition and education consumers about the importance of maintaining proper hygiene. Such efforts are likely to help market players mitigate the aforementioned challenge.
Leading Suppliers in Incontinence Skincare Products Market
The incontinence skincare products market is witnessing dynamic changes due to the entry of new players offering natural products. The increase in the number of players, affordable pricing, modified packaging, and increasing digital and social media presence are driving the market. FMI profiles some of the leading players in the market, which include:
North America
Kimberly-Clark Corp
Hollister Incorporated
McKesson Corporation
Europe
GAMA Healthcare Ltd
Vernacare Ltd
Svenska Cellulosa AB
Attends Healthcare Group Limited
ConvaTec Group PLC
*The list is not exhaustive, and only for representational purposes. Full competitive intelligence with SWOT analysis available in the report
Incontinence Skincare Products Market: The Way Forward
Growth predictions for the global incontinence skincare products market remains positive, especially on account of the rising aging population worldwide. FMI's forecast of the market to rise at a CAGR of 6% between 2020 and 2030 is supported by various facts and findings.
Firstly, use of incontinence skincare products is more common among aging population since the prevalence of urinary incontinence is higher among this demography. However, rising incidence among women and younger adults has compelled manufacturers to focus increasingly on product packaging.
As a result companies are altering their campaigns to suit the sensibilities of younger generation. Besides convenience, sustainability has come under the spotlight. Market players are therefore compelled to derive raw materials from natural sources and make their packaging recyclable to create better appeal among consumers.
According to FMI, manufacturers will increasingly target middle to high-income consumers. This might spur launches of high value product that look and feed luxurious. Evolving preferences of consumers and their desire to trade up to premium goods are fuelling demand for premiumization.
Steered by diverse consumer preferences, market players are likely to increasingly focus on expanding their product portfolio. Due to the rising cases of infections more attention will be given towards ensuring the availability of essential medical supplies. This would also result in higher demand for incontinence skincare products
Key Segments
Product Type
Creams
Lotions
Washes/ Cleansers
Gels/Oils
Wipes
End User
Price Range
Economy Range
Mid-Range
Premium
Sales Channel
Wholesalers and Distributors
Online Retailers
Hypermarkets and Supermarkets
Specialty Stores
Pharmacies/ Drug Stores
Convenience Stores
Other Sales Channel
Region
North America
Latin America
Europe
East Asia
South Asia & Pacific
MEA
Need specific information?
Talk Show:
The Rise of Intelligent Packaging
Personalized, Connected and Sustainable
November 18, 2021
11:00-11:45 AM PST (USA & Canada)
This is a LIVE session