About the Report
Adult incontinence is not an unknown health concern, in fact, besides ageing, health conditions such as obesity, posttraumatic stress disorder (PTSD), child birth are other incontinence causative factors demanding attention. Reusable incontinence products are in high demand, consideringthe focus on both sustainability and improving patient care.
ESOMAR-certified consulting and market research firm Future Market Insights (FMI) offers detail insights about key drivers and factors driving the demand for reusable incontinence products. The study tracks down global sales of reusable incontinence productsin 20+ high growth markets, along with the COVID-19 analysis on the industry in general.
How the Historical and Future Outlook of Reusable Incontinence Products Market Match Up?
Disposable personal hygiene products had brought a revolution in the personal care products market, prioritizing hygiene, good intimate health and, ease and comfort.Disposable absorbent hygiene products evolution facilitated superior performance, augmenting the convenience of daily lives. On the hindsight, the use of disposable hygiene pads has addressed safety concerns on chemical exposure.
Significant efforts have been incorporated to assess the potential risks associated with use of hygiene pads.Additionally, the regulatory classifications of absorbent products including baby diapers, adult diapers and feminine hygiene pads vary across countries, and are regulated by different disciplines.
Companies are illustrating that a more sustainable approach to continence product provision currently depends on a reduction in use of single-use products, use of longer-lasting versions, and their substitution with reusable alternatives, thereby driving the market for reusable incontinence products.
Millennials give prime importance to the relationship with brand and the ecological factor each brand is contributing. Since, ethical and environmental standards are highly appreciated by the generation, the market seems promising.
These are few aspects that are expected to drive growth and reshape the future trends in reusable incontinence productsduring the forecast period. FMI projects the global reusable incontinence productsmarket to grow at CAGR of 5.9% throughout the forecast period 2021-2031.
How is Prevalence of Chronic Bladder-related Diseases Affecting Reusable Incontinence Products Sales?
Urinary incontinence, the involuntary loss of urine, is a highly prevalent condition in older people aged 60 years and above. Increasing prevalence of chronic disease such as bladder cancer, kidney disease, endocrine and urological disorders are in turn driving demand for reusable incontinence products. In the elderly, the potential for a substantial impact on general health, including issues such as incontinence, is also associated with a significant psychological burden.
Age above 40 years, multiparity, postmenopausal status, body mass index more than 25, history of diabetes and asthma, and habit of taking tea, tobacco, pan, and betel are risk factors found to be associated with increased prevalence of urinary incontinence.Although absorbent products such as pads and adult diapers are available for incontinence; reusable pads such made of cloth with a rayon or polyester core helps urine absorb and are thus being preferred.
What is the Commercial Potential of Product Innovation?
Increasing consumer preference for pull-up pants, pads & liners is expected to help the market gain momentum. These incontinence products are typically used by customers who stay at home and pursue an active lifestyle. Around 51 million women in the U.S. experience bladder leakage due to childbirth and diabetes. In 2015, Kimberly-Clark launched new Silhouette Active Fit briefs, which are relatively inconspicuous and enable the user to carry out daily activities unhindered.
Millennials wield an incredible amount of buying power, redefining consumer behavior patterns. Since this particular demographic craves challenges and experiences, it is most likely that this section, more than any other demographic, will seek customization and personalization. Besides, social media is gaining importance. The younger generation is hyper-influenced by word-of-mouth marketing and is social media influencers are also a key influence, promoting sustainable products, thereby augmenting the growth of the technologically advanced products.There is potential for reusable products to be of a higher quality, but there is a need for greater innovation and investment in reusable materials and designs for continence care.
How is Reluctance towards Adoption of Incontinence Products Challenging the Growth?
Bladder control and capacity tends to decrease with increasing age, increasing frequency of urination and can lead to incontinence problems which most of the people reluctant to discuss with doctors. Psychological barriers may hamper demand for incontinence products to a certain extent.
Younger women sometimes have urinary leakage toward the end of pregnancy and for a time afterward. But more serious incontinence typically affects older adults. It occurs more often in women than in men — and some estimates show that nearly a third of women deal with urinary leakage after the age of 50.
However, most people don't want to wear diapers for adults. Wearing absorbent underwear can bring relief and a greater sense of confidence, as a relief, the quality of the absorbent products on the market for adults has improved immensely over years, which might reduce the impact of this challenge over the market demand.
Country-wise Insights
What is the Impact on Online Retailing Expansion on German Reusable Incontinence Market?
Internet penetration has been surging year-on-year in various parts of the globe. It enables customers to gain easy access to information about various incontinence products available in the market. This factor has encouraged various manufacturers to promote and sell products through various e-Commerce and social media sites.According to the results of an e-commerce consumer study conducted by the Federal Association of German E-Commerce and Mail Order Business (bevh), e-commerce turnover in 2019 rose by a full eleven per cent as compared to 2019.
E-Commerce is now gaining popularity among retailers to monitor consumers' shopping preferences and experiences. There are also many local and domestic players entering online platforms to sell insoles by offering the convenience of one-click solutions, home deliveries, and various other attractive features to customers.A more important fact is that a considerable section of new e-Commerce users intend to continue with online retailing. This omni-channel shift during lockdown has been driving sales mostly across the personal care and hygiene categories.
How big is the Opportunity for Reusable Incontinence Products Market inUS?
As per the FMI analysis, North America is one of the leading regions within the global market and is anticipated to continue throughout the course or duration of forecast period.According a study conducted by U.S department of Health and Human Services, around 26 million of people in the U.S. suffer from urinary incontinence; of these 60% are reluctant to discuss the problem with physicians, which leads to decrease in consumption of incontinence products.
Overactive Baldder (OAB) is often thought to predominantly affect women, although epidemiological studies suggest that its frequency is similar among community-dwelling adult men and women, at 16.0% and 16.9%, respectively. Many women are not aware that OAB is a pathophysiologic disorder related to the bladder or that the bladder is a muscle; restricting the use of incontinence products such as adult diapers and liners.
Is French Reusable Incontinence Products Market gaining from Focus on Personal Hygiene?
Consumption of personal hygiene products is growing supported by increase disposable income across the globe. A significant change has been observed in lower and middle income countries in terms of living standards, disposable income and urbanization. Western Europe's cosmetics and toiletries market growth is up by almost 4% in euro terms.
Growing awareness among physicians and patients regarding benefits of urinary products is driving the demand for reusable incontinence products. Players in the market are focusing on increasing awareness about incontinence products through various apps and awareness campaigns.In 2014, SCA launched a new mobile app- TENA Recommender – to support caregivers who are looking after their love ones suffering from incontinence and are not familiar with incontinence care products.
Consumers are more aware of personal health conditions and consumer spending on convenient personal hygiene products is on a rise. As a matter of fact, a considerable section of consumers have shifted to reusable products thrashing the use of disposable alternatives.
What are the Factors Affecting Reusable Incontinence Products' Sales in China?
China has the world's largest population, with a figure equivalent to 18.47% of the total world population. The countrytops the list of countries (and dependencies) by population. Nearly 25% of the Chinese population marks an age of 55 years and above. The overall UI prevalence rates reported in adult Chinese women ranged from 8.7 to 69.8%, representing 43–349 million women, respectively.
In terms of product types, underwear style products comprise ~55-60% of the market while pads represent an approximate 10% of sales. The increasing size of the elderly population continues to promise opportunities for growth in the adult incontinence market.
Will Affordability and Cost-effectiveness Fuel Demand in India Reusable Incontinence Products Market?
Buying adult diapers or other adult incontinence products comes at a cost, and in India, there is often little to no government assistance or subsidies available. India's economy is growing rapidly owing to its expanding population with a fast-growing youth ratio and middle class, and market and manufacturing supporting policies, therefore restructuring the urban consumption patterns and habits.
Affordability and disposal issues have hindered the disposable incontinence market in India. In rural areas, cloth diapers are still very popular, so converting parents to using disposable goods has been challenging for the industry. However, the urban market is experiencing a shift in pattern due to the hike in online purchasing of these products.
Category-wise Insights
Which Product Category is projected to Exhibit High Growth?
Reusable briefs dominate the reusable incontinence products' demand and are expected to register a significant growth during the forecast period.Prevalence of urinary incontinence among elderly people is high and such increased cases of urinary incontinence have uplifted the demand for more convenient options like reusable briefs.Men are being targeted by the launch of adult style pant diapers. Pant style diapers are popular because of their design and convenience.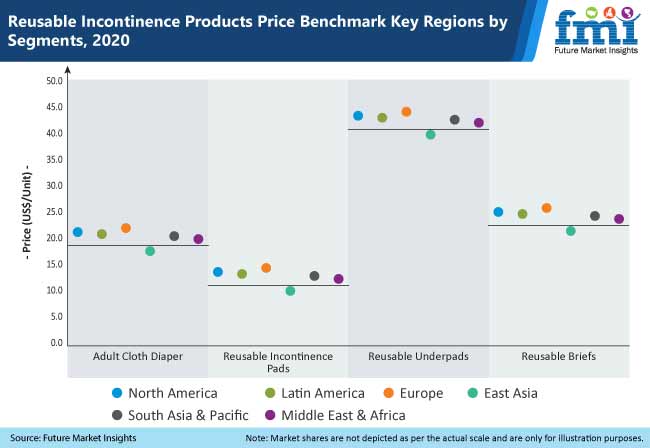 How are Companies Tapping the Demand from Men's Section?
In men, incontinence can be brought about by medical conditions like an enlarged prostate, diabetes, and Parkinson's disease, and is common after some types of prostate surgery, too. Incontinence pads, a larger guard and absorbent underwear are gaining demand as a result and thus, driving the market.
Various companies are actively focusing on increasing awareness and in turn breaking social stigma associated with incontinence through various campaigns and adverts.Also, major players are developing relatively inconspicuous incontinence products such as urinary sheath systems in order to ensure minimal hindrance to daily tasks of patients.Companies are conducting various social activities and advertising their adult incontinence products on TV and online in order to remove social taboos and normalize urine incontinence problem in society.
According to the analysis of FMI, themen reusable incontinence products category is expected to reach an approximate 40% market share by 2031.
How is the Premium Category faring in the Market?
Premium adult incontinence underwear is gaining demand across the globe.Companies are developing cutting-edge new materials that make the products similar to underwear, not a diaper. The premium quality cotton-like fabric used holds snugly in place without bulking up under pants or dresses and the double-stitching in the leg area provides exceptional protection and odor reduction, promising leak reduction.
Will Small Size Category of Reusable Incontinence Products Exhibit Higher Sales Sales?
Disposable diapers contain numerous chemicals such as fragrances, chlorine and polymerachrylates.Cloth diapers use 66% less natural resources than disposable diapers' ecological footprint. Cloth diapers are a great choice for kids, be it on the economic front or for the environment, besides its impact on kids'skin.
Millennial parenting is quite a contrast to the older generation, be it in terms of investment, purchase patterns, or sustainability approach.A very prominent aspect is that millennials seek out healthier, more natural alternatives and willingly pay premium prices for the same.
Premiumization is being increasingly opted by middle to higher income population groups.New parents have become more concerned about the sensitivity of their family's skin and exposure to chemicals. Rising income has resulted in couples being able to afford premium products that address all concerns.
How is Online Retailing Benefitting the Revenue?
Low product penetration attracts players at different scales and many choose to take a position in online sales, as the internet continues to place an important influence in sales and marketing.Various factors define a company's need for a separate platform for the online presence of incontinence products. Most of the established companies have developed omni-channel retailing for improved sales.
In case of a startup, cost and resource perspectivereinstate the priority of direct to sales channel and an online platform.Stay-at-home and socializing restrictions have dramatically affected the dynamics of online retailing. The improved retailing system is highly efficient and is expected to uplift the market demand based on its convenience factor.
Competitive Landscape
Reusable incontinence products are taking away the spotlight from disposable incontinence products. Since, manufacturers are increasingly adopting discreet, innovative and sustainable packaging to comply with the consumer requirements; brand promotion is taking place on a parallel path.
Absorbent core technology is getting more advanced. Huge, fluffy materials have been replaced with super-absorbent polymers to keep materials thin, elasticized, and conforming to the body.Consumers are extremely conscious about the products they are using, such as organic clothing.
Some of the leading companies operating in the market are:
The Proctor & Gamble Company
MediFabrik SRL
Cardinal Health, Inc.
Essity AB
Medline Industries, Inc.
Ontex International N.V.
Attindas Hygiene Partners
Activ Medical Disposable
Paul Hartmann AG
Nexwear
Prime Life Fibers
Royal Medical Solutions, Inc.
Abena Group
Unicharm Corporation
Prevail
Dryloch Technologies NV
*The list is not exhaustive, and only for representational purposes. Full competitive intelligence with SWOT analysis available in the report.
Scope of the Report
Attribute

Details

Forecast Period

2021-2031

Historical Data Available for

2016-2020

Market Analysis

USD Million for value and '000 Units for Volume

Key Regions Covered

North America, Latin America, Europe, East Asia, South Asia, Oceania Middle East & Africa

Key Countries Covered

US, Canada, Germany, France, Italy, Spain, China, Japan, South Korea, India, Thailand, Malaysia, Indonesia, Australia, New Zealand, GCC Countries, , Northern Africa, South Africa

Key Segments Covered

Product Type, Sales Channel, End User, Size, Price Range, and Region

Key Companies Profiled

Kimberly-Clark Corporation
The Proctor & Gamble Company
MediFabrik SRL
Cardinal Health, Inc.
Essity AB
Medline Industries, Inc.
Ontex International N.V.
Attindas Hygiene Partners
Activ Medical Disposable
Paul Hartmann AG
Nexwear
Prime Life Fibers
Royal Medical Solutions, Inc.
Abena Group
Unicharm Corporation
Prevail
Dryloch Technologies NV

Report Coverage

Market Forecast, brand share analysis, competition intelligence, DROT analysis, Market Dynamics and Challenges, Strategic Growth Initiatives

Customization & Pricing
Key Questions Answered in the Report
Which is the most lucrative market for reusable incontinence products?

North America currently leads the global market for reusable incontinence products. Within the region, the U.S. has emerged as a key market for sales.

Which is the top-selling reusable incontinence product?

As per FMI, reusable briefs aredominating salesand are most likely to witness an impressive growth trajectory over the forecast period.

Which is the preferred channelforreusable incontinence productssales?

Sales through drug stores and direct sales still account for a notable share in the market. Online sales and modern trade channel are further expected to register high CAGR during the forecast period.

Which are some of the leading companies offering reusable incontinence products?

Some of the leading companies offering reusable incontinence productsinclude Kimberly-Clark Corporation, The Proctor & Gamble Company, MediFabrik SRL, Cardinal Health, Inc., Essity AB, Medline Industries, Inc., Ontex International N.V., Attindas Hygiene Partners, Activ Medical Disposable, Paul Hartmann AG, Nexwear, Prime Life Fibers, Royal Medical Solutions, Inc., Abena Group, Unicharm Corporation, Prevail, and Dryloch Technologies NV.

Which are the key factorsdriving sales ofreusable incontinence products?

Consumers today are well informed and can easily access information about prices, product characteristics and labeling which means that the brands operating in the market need to be more transparent. Sustainability is the recent and most important parameter for scaling products within the industry. These trends are expected to have considerable impact on reusable incontinence products sales.
Reusable Incontinence Products Market by Category
Product Type
Adult Cloth Diaper
Reusable Incontinence Pads
Reusable Underpads
Reusable Briefs
End User
Men Reusable Incontinence Products
WomenReusable Incontinence Products
KidsReusable Incontinence Products
Price Range
Mass/ Economic (US$ 10-75) Reusable Incontinence Products
Premium (US$ 75 & Above)Reusable Incontinence Products
Size
SmallReusable Incontinence Products
MediumReusable Incontinence Products
LargeReusable Incontinence Products
X-Large Reusable Incontinence Products
Sales Channel
Direct Sales
Hypermarkets/ Supermarkets
Convenience Stores
Departmental Stores
Mono brand Stores
Specialty Stores
Drug Stores
Online Retailing
Others
Region
North America
Latin America
Europe
East Asia
South Asia
Oceania
Middle East and Africa (MEA)
Need specific information?