Key Growth Influencers
Celebrity Endorsements to Evoke Consumers' Interest
The recent past has witnessed immense popularity of men's skincare products, by attracting consumers of all age groups. The overall world's population was around 7.7 Bn in 2019, of which 50.4% are male, which provides manufacturers lucrative opportunities to target men's skincare products, and this in turn, is expected to boost the growth of the men's skincare products market over the forecast period. Additionally, changing men's attitudes towards skincare products and their benefits have led manufacturers to develop novel products, specifically for men.
An emerging trend in the men's skincare products market has been an increasing number of key players appointing various celebrities from the field of sports and films to endorse their products, with an objective to influence customers. For instance, L'Oréal announced a partnership with David Beckham for the promotion and launch of their brand 'HOUSE 99'.
E-commerce Expansion
Increasing prevalence of E-commerce and the growing internet penetration for selling FMCG products in North America and Asia Pacific have surged the growth of B2C in the consumer goods sector. Over the years, consumers' behavior has drastically changed, and they are more inclined towards researching products online and purchasing various products such as skin care and shave care through E-commerce. Internet retailing accounts for ~5% of male grooming products distribution.
In order to capitalize on millennial that are tech-savvy, companies engaged with consumers through social media and other digital avenues will advertise their products and increase market share via online sales channels.
Rising Demand for Natural and Organic Products
Awareness surrounding health consciousness are some of the major reasons that compel consumers to opt for natural and organic personal care products. To target this untapped group, companies are developing novel products with natural ingredients, which in turn, is expected to boost the demand for men's grooming products in the near future.
For instance, Brickell Men's Products and Organic Male OM4 companies develop, manufacture, and offer a wide variety of natural & organic skincare and other grooming products for men.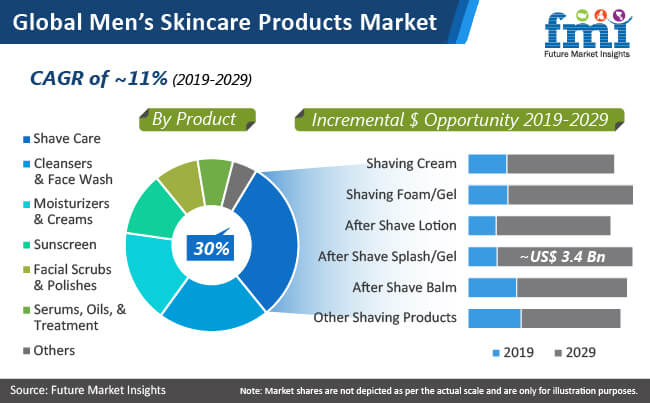 Market Structure Analysis
The global men's skincare products market represents a fairly consolidated competition landscape, where majority of key players maintain their strategic focus on partnerships and joint ventures, targeting a firmer global footprint.
Leading manufacturers of men's skincare products are currently prioritizing R&D and new product launches to resonate with the booming consumption of natural ingredients in North America, Europe, and China.
Mergers and acquisitions are also identified as key developmental strategies adopted by manufacturers of men's skincare products.
Deeper understanding of market trends and preferential shifts of product source from conventional to organic segments across various regions are likely to create a bottleneck for prominent players, looking forward to untapped opportunities in the men's skincare products market.
Men's Skincare Products Market - An Emerging Disruptor in Beauty Industry
With a wealth of male oriented brands in the marketplace and an increasing number of men engaging in grooming regime, the men's skincare products market is going from a non-entity to multibillion dollar business. As male consumers are no longer limiting themselves to traditional men grooming products which includes beard grooming, manufactures are prioritizing new product launches, aggressive marketing, and subscription box services. In addition, rising number of indie brands are vying for a pie of this lucrative market.
The skincare industry, like many other industries, has long been a multibillion dollar market that caters to wellness and aesthetics needs of consumers. However, similar to beauty and fashion industries, advertising of skincare products is heavily one sided. Women continue to be recipients of the majority of skincare marketing through TV ads, magazines, and recent social media campaigns.
In 2018, men collectively spent US$ 9.5 Bn in skincare products, growing at a rate of 8% in 2019. This new report tracks emergence of new trends in men's grooming, moving beyond the grooming kit that only consisted of a comb, deodorant, hair gel, and shaving items.
Shave Care at Forefront, Serum and Oils Close in
In recent years, men are increasingly proving to be a lucrative market for skincare products and beard grooming products. Currently, shave care accounts for 30% of total sales of men's skincare products and is expected to progress on a significant pace in the near future. Pre-shave and Post-shave care products are also gaining traction amognst the consumers. Shaving foam or gel remains highly sought-after in shave care category and will remain in demand against shaving cream.
Manufacturers are also tapping relatively newer categories such as sunscreen, moisturizers, creams, facial scrubs, and polishes specifically designed for men. Brands are set to up their 'claims game' in case of non-conventional products such as serums, oils, and treatments that account for a relatively low revenue share in the current scenario. Swift penetration of E-commerce will further complement growing accessibility of such products.
Tapping Asia Markets - The Underdog
The massive gap between market sizing of men's skincare products market and that of women's will decrease over time and the growth prospects remain high particularly in developed markets of North America and Europe. These regions continue to flourish owing to extended grooming routine of high-income male consumers, specifically baby boomers.
Armed with far more access to information than before, men's skincare products are also gaining traction in Asian markets. Manufacturers in Asia Pacific are thus leveraging increasing consumer affluence and E-commerce boom to enter the mainstream.
'Ingredient-first' Approach - Key Growth Influencer
Despite its smaller size than women's beauty sphere, the men's grooming industry is undergoing a transformation. From which ingredients are used and how ingredients are sourced to how products are marketed and where they are sold, the men's skincare products market will respond to the consumers' quest.
Emerging trend of herbal beauty, greater awareness of benefits of self-care through organic products, rise in demand for clean labels, and gender neutral marketing will be the key winning imperatives for men's skincare products market players. The market is moving beyond traditional male marketing tactics and the surge in number of beauty blogs and social influencers advocates for a more transparent exposure that encourages conscious consumerism. High-quality ingredients will thus be a priority for manufacturers of men's skincare products.
How Growth Will Unfold
Pricing continues to be a decisive factor in shaping consumer choices in men's skincare products market and thus, mid-range products will see relatively high sales, especially in Asian countries. Premium products, on the other hand, are gaining momentum in Europe and North America.
Baby boomers are specifically pushing the luxury category. Manufacturers with high risk appetite and investors in premium category will find profits in developed markets. Whereas, brands introducing economy range products in low-income countries will win in the long run.
World's Most Profilic Intelligence Engine
Get Access To The World's Largest Market Research Database. Ngage with a revolutionary intelligence engine that scale and pricing that flexes as per your needs
Sign Up Now
Key Segment
Product
Cleansers & Face Wash
Moisturizers & Creams
Serums, Oils, & Treatment
Shave Care

Shaving Cream
Shaving Foam/Gel
After Shave Lotion
After Shave Splash/Gel
After Shave Balm
Others Shaving Products

Facial Scrubs & Polishes
Others
Skin
Oily Skin
Dry Skin
Sensitive Skin
Combination Skin
Normal Skin
Price Range
Economy
Mid-Range
Premium
Source
Sales Channel
Specialty Stores
Multi-brand Stores
Discount Stores
Salon/Grooming Clubs
Drug Stores & Pharmacies
Online Retailers
Other Sales Channel
Region
North America
Latin America
South Asia
East Asia
MEA
Need specific information?