Keeping Up with Evolving Consumer Trends
Over the years, artificial food preservatives had revolutionized the F&B industry to ensure longer shelf life of food products. Beyond shelf-life extension, these preservatives continue to play additional roles in food production, inhibiting natural aging and discoloration. However, from a health perspective, artificial preservatives are considered to be associated with several side effects, including obesity and gut diseases. As consumers, on a global stage, are increasingly becoming health conscious, sales of artificial food additives are declining.
On the one hand, with consumer optimism about 'natural' products showing positive movement, demand for food lacking several categories of artificial or chemical food preservative are showing a strong growth. As food manufacturers endeavor to keep up with ever-evolving consumer trends and preferences, natural food preservatives have garnered significant interest in recent years. Food manufacturers are increasingly demanding a range of new natural antimicrobial compounds as alternatives to commonly used chemical preservatives such as sorbates and benzoates.
Furthermore, sales of natural food preservatives are projected to increase significantly in near future, in the view of greater awareness regarding adverse effects of synthetic preservatives along with emerging trend of 'transparency' in the food industry.
Synergy of Clean Label and Convenience Food to Boost Sales
In recent years, technology, convenience, and personalization are some of the top trends affecting the way of food consumption. In an effort to address the need for convenience among today's time-crunched consumers, the food industry is currently revolving around technology. The impact of these trends is also noticeable in food additive sector, and preservatives are no exception. Convenience foods continue to support the development for natural food preservatives market. While salt, sugar, vinegar, and citrus fruit juices were conventionally used to preserve food, manufacturers are focusing on using naturally occurring substances, especially plant extracts, to extend shelf life of final product.
Demand for natural food preservatives is gaining further boost from rapid inclination towards clean labels – one of the biggest trends driving change in the F&B industry. Today, consumers with special dietary needs are looking and willing to pay more for brands and companies that share transparency to the product.
This indicates that lab-created artificial food ingredients or additives are not in demand, thereby potentially boosting the sales natural food preservatives. Moreover, these preservatives not only fulfill the clean label requirements of consumer but also keep pace with notable increase in demand for processed food and beverage.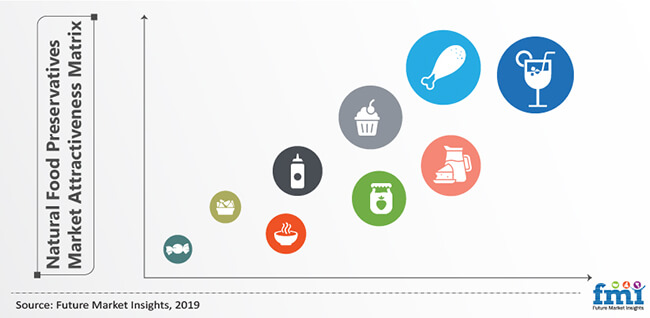 North America Leading, Opportunities Abound in Asia Pacific
Changes in consumer desire are coming fast, bringing seismic evolution in food production system, and requiring companies and platforms to support innovation. In current scenario, research for developing new food preservatives and efforts to approve their use at regulatory level are progressing at slow pace. Food manufacturers are thus turning to effective naturally occurring food preservatives that perform similar functions as their chemical counterparts.
Growth of the natural food preservatives market in developed regions is propelled by growing awareness about the benefits of healthier choices along with companies re-creating popular food products with natural preservatives. Growing concerns of food safety in Asia and rapid shift away from chemical-based food additives are expected to promote the market growth in the region.
Plant-derived over Animal-derived Preservatives – Preferential Shift of Consumers
Plant-derived food preservatives continue to witness higher demand and sales as compared to their animal-derived counterparts. Potential factors responsible for variations in demand for natural food preservatives include rapid adoption of vegan culture. Veganism and vegetarianism are among the prominent trends bringing evolutionary changes in the food industry. Rapidly growing consumer awareness about animal welfare and changing eating habits have led to increasing demand for plant-based preservatives.
However, microbial-derived preservatives such as nisin and natamycin continue to account for major share of the manufacturers' bottom lines, on the account of their advantages in fighting against several food-borne pathogens and enhancing food safety. Consumption of natural food preservatives for beverages continue to account for high sales, while growing application in meat, fish, and poultry products is likely to result in increased market share. In recent years, beverage manufacturers are adopting 'better-for-you' strategy which include the adoption of natural ingredients to attract growing number of health-conscious consumers. This, in turn, is projected to contribute to growth of the natural food preservatives market.
How Growth Will Unfold
As widely used chemical or artificial preservatives are not meeting the expectations of new generation of consumers, the demand for natural food preservatives is expected to be quite strong going forward. In an attempt to align with ongoing and health and wellness trends, food manufacturers are focusing on delivering cleaner and safer products, thereby potentially raising the demand for natural food preservatives.
Rising demand for 'organic' food has also been weighing on same scale as increasing use of natural ingredients in F&B industry. Moreover, scientists and researchers have been working on developing highly efficient natural food preservatives to offer greater shelf life to food product. For instance, in August 2018, Nanyang Technological University (NTU), Singapore developed an organic preservative – flavonoids, derived from plants and produced food grade microbes.
However, it is imperative to note that, fluctuation in prices of raw materials including fruits and vegetables is likely to negatively impact the growth of natural food preservatives market. In addition, high cost associated with production and processing of these additives is expected to create a hindrance in their widespread adoption. Manufactures are thus hard pressed to offer products at affordable prices while enhancing the efficiency of food preservation.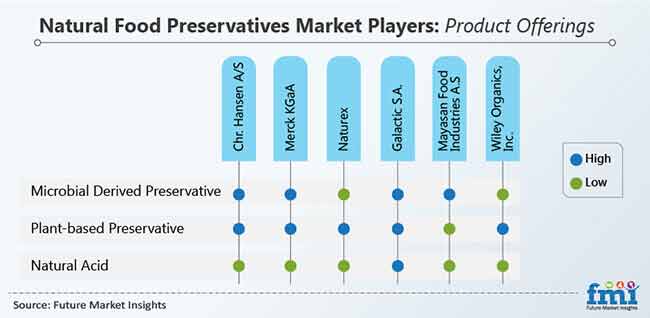 Key Segments
Global Natural Food Preservatives Market – By Source
Plant
Animal
Microbial
Mineral
Global Natural Food Preservatives Market – By Product Type
Microbial Derived
Nisin
Natamycin
Rosemary Extract
Botanical Extracts
Natural Acids
Salts
Global Natural Food Preservatives Market – By Form
Global Natural Food Preservatives Market – By End Use
Bakery
Confectionery
Dairy Products
Yogurt & Sour Cream
Cheese & Butter
Soups
Beverages
Dairy-based
Plant-based
Juices
Snacks
Jams & Spreads
Meat, Fish, & Poultry Products
Sauces & Dressings
Global Natural Food Preservatives Market – By Region
North America
Western Europe
Eastern Europe
Latin America
Asia Pacific excluding Japan
Japan
Middle East & Africa
Need specific information?
Talk Show:
The Rise of Intelligent Packaging
Personalized, Connected and Sustainable
November 18, 2021
11:00-11:45 AM PST (USA & Canada)
This is a LIVE session