TOP GROWTH INFLUENCERS - DAIRY ALTERNATIVES MARKET
Demand for Low-calorie Products on Constant Rise
Dairy alternatives offer better nutritional benefits in comparison to conventional dairy products such as milk, butter, and cheese, pushing more customers to shift to dairy alternatives. Contrary to the popular belief, increased consumption of milk does not improve bone density in adulthood, as per a study published in the Food and Nutrition Research Journal.
Dairy alternatives contain less calories than low fat milk. Additionally, calcium and potassium content in these dairy alternatives is more than that of milk, which is the main reason for consumption of dairy products. These research findings have been incorporated into marketing strategies by dairy alternatives manufacturers to boost sales.
Increasing Demand among Vegans, Flexitarians, and Reducetarians to Shape Market
An increased adoption of vegan, reducetarian, or flexitarian dietary lifestyle is emerging as a global trend. These drastic changes in lifestyle are expected to create lucrative opportunities for the growth of the dairy alternatives market. Animal cruelty is strongly criticized in all parts of the globe. A report by the FAO and Global Dairy Platform Inc. showed that the Greenhouse Gas Emissions from the dairy sector has increased by 18% between 2005 and 2015 as a result of the substantial growth of milk production by 30 percent.
This has raised questions about the sustainability of animal farming. These factors have led to a rise in demand for dairy alternatives in developed as well as developing regions. Increase in the number of emerging players in the dairy alternatives market has facilitated diversification of vegan food offerings. There are dairy alternatives that exactly taste like dairy products and at the same time provide more nutrition.
Perfect Day, an agri-tech start-up, manufactures milk from lab grown dairy cultures, which tastes exactly like milk.
Millennials to Dominate Dairy Alternatives Consumption
A shift in culinary preferences is witnessed and consumers are eager to try out new products, which taste good and are also high in nutritional value. Millennials are mainly responsible for this trend as they are willing to experiment with innovative dishes and are willing to pay premium prices. Dairy alternatives manufacturers are targeting millennials as a part of their marketing strategy. Innovation in taste profiles and textures facilitates higher sales of dairy alternatives.
Rising number of vegans has resulted in food joints such as Burger King offering new options for the vegan consumers in collaboration with Impossible Foods, called the Impossible Burger, which is made from plant-based products.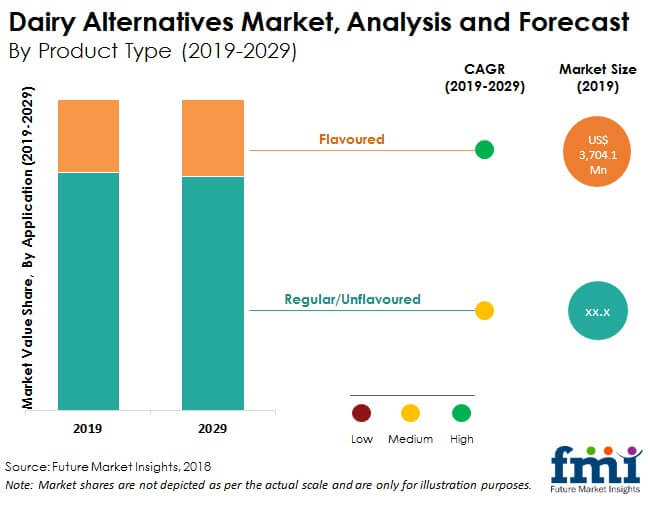 DAIRY ALTERNATIVES MARKET STRUCTURE ANALYSIS
The global dairy alternatives market is highly consolidated, with a few global players dominating the market and operating across the globe.
Key players in the dairy alternatives market are concentrating highly on innovation and enhancing nutritional value of their offerings.
As dairy alternatives are mainly a retail product, branding plays a major role in sales and market penetration. Ensuring that dairy alternatives are supplied to appropriate channels is important to make products easily accessible to consumers.
Major players in the dairy alternatives market are Tate & Lyle, SunOpta Inc., CP Kelco Inc., Archer Daniels Midland Company, The Coca-Cola Company, PepsiCo Inc., Döhler GmbH, WhiteWave Foods, The Hain Celestial Group Inc., and Pacific Foods of Oregon, Inc.
Dairy Alternatives Market Segmentation
The global dairy alternatives market is segmented in detail to cover every aspect of the market and present complete market intelligence to readers.
Source
Product
Regular/ Unflavoured

Soy Milk
Almond Milk
Coconut Milk
Oat Milk
Others (Hemp, Flax, etc.)

Flavoured

Soy Milk
Almond Milk
Coconut Milk
Oat Milk
Others (Hemp, Flax, etc.)
Nature
Distribution Channel
Direct Sales/ B2B
Indirect Sales/ B2C

Hypermarkets/ Supermarkets
Convenience Stores
Mass Grocery Retailers
Specialty Stores
Online Retail
Region
North America
Latin America
Europe
Asia Pacific Ex. China
China
Middle East and Africa
Need specific information?