Oats Market By Product Type (Oat Groats, Whole Oats, Steel Cut Oats, Rolled Oats, Oats flour), End Use (Breakfast Cereals, Bakery Products, Snacks & Savories), Distribution (Hypermarkets/Supermarkets, Convenience Stores, Online Retail) & Region - Forecast to 2018 - 2028
Oats Market - Analysis, Outlook, Growth, Trends, Forecasts
September 2018

REP-GB-7395

471 pages
Oats Market Overview
[471 Pages Report] The oats market is valued at US$ 5.75 Bn in 2021. It is set to grow at 5.5 % CAGR through 2028.
The breakfast cereals segment is expected to register a growth rate of 5.2% over the forecast period 2021 to 2028.
Eastern Europe is expected to register a revenue share of 27.1%
The property of oats to provide a complete meal without the requirement of any additional ingredient makes it the most popular grain among the rest. This factor is attributed for increasing the growth of the oats market across other regions, mainly APAC.
Oats are abundantly nutritious grains, associated with the property of lowering blood cholesterol levels when consumed on a regular basis. Oats are majorly suitable for human consumption as rolled and steel cut oats or crushed into oatmeal or grounded to form oat flour.
Oatmeal has chief application in porridge, but is widely being used for the preparation of bakery products such as oatcakes, oatmeal cookies, and oat breads. Apart from human consumption, oats have found wide application in the preparation of livestock feed.
On the basis of product type, oats are classified into oat groats, rolled oats, and oat flour. Oat groats are further segmented into whole oats and steel cut oats. Oats have found application in various segments, including breakfast cereals, bakery products, and snacks and savories, among others.
Productive Growth for Oat Flour
Among the product type segments, the oat flour segment is expected to register a significant growth rate of 6.4 % in terms of revenue in the global oats market, owing to the growing consumer preference for ready to-cook food products. Oats is the most preferred ready-to-cook food product due to the multi-health benefits associated with them, accompanied with busier lifestyles and rising income levels of consumers.
Better Appetite Fullness Promotion by Oats than Other Cereals
Oats are among the most filling and healthiest breakfasts; reason being, the high soluble fiber content present in oats. When compared with cereals like rice and wheat, oats provide an increase in satiety due to the presence of high amounts of beta-glucan and the viscosity of the oatmeal.
The viscosity of oats interferes with the mixing process in the digestive system, which initiates a greater feeling of fullness with a decreased feeling of hunger. Also, oats contain comparatively fewer calories than other cereals, making them a better option for weight loss.
These factors have made oats the first choice of people, thus aiding its high demand in the cereal market.
For instance, the dietary fiber percentage of oats is 10.6, which is much higher as compared to brown rice (4.6 %), corn (7.3 %), and millet (8.5 %).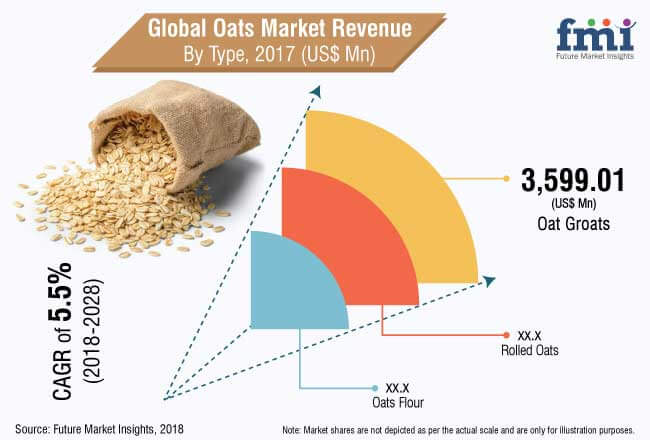 Emergence of Modern Trade & Online Retail Formats
The increasing adoption of mobile phones and social media platforms enables consumers to access information regarding various products, and also share information regarding the benefits of the products offered.
The increasing adoption of hypermarkets/supermarkets as well as online retail services is fueling the sales of food products across the globe. With the emergence of modern retail formats, a new format for operations in the form of food courts and specialty stores in large format malls has emerged.
These food courts and specialty stores offer consumers easy access to food and beverages at the time of shopping and entertainment activities, and also offer a choice of selecting different products by comparing them then and there.
For instance, The Kroger Company, an American retail company, has developed its own range of oats. The company offers a wide range of oats and oat products to its customers.
Companies Offering Diversified Oat-based Products
With changing lifestyles and the rising demands of consumers, companies are penetrating deeper into the oats market for the development of different types of oat products. Many companies are offering oat-based products such as granola bars, savories and snacks, oat cakes, bread and bakery products, oat-based drinks, and many other products.
Also, the increasing awareness of the millennial population towards the negative impacts of food additives, chemicals, antibiotics, etc., on the health has led to the increasing demand for oat-based food products.
For instance, Nairn's Oatcakes Limited, a U.K.-based company, offers oat cakes, cookies, and many other snack varieties. The company offers a wide range of products using oats as the major ingredient.
World's Most Profilic Intelligence Engine
Get Access To The World's Largest Market Research Database.
Sign Up Now
Key Segments Covered
Global Oats Market – By Product Type
Oat Groats
Whole Oats
Steel Cut Oats
Rolled Oats
Oats flour
Global Oats Market – By End Use
Breakfast Cereals
Bakery Products
Snacks & Savories
Others
Global Oats Market – By Distribution
Hypermarkets/Supermarkets
Convenience Stores
Online Retail
Others
Global Oats Market – By Region
North America
Mexico
Latin America
Germany
U.K.
Western Europe
Eastern Europe
Australia & New Zealand
APAC
MEA
Key Questions Answered in the Report
What is the size of oats market?
In 2021, oats market is valued at US$ 5.75 Bn, and expected to grow at 5.5 % CAGR.
Which are the leading companies in oats market?
The key players in the global oats market are Pioneer Foods Ltd., Nestlé S.A., B&G Foods, Inc., The Kellogg Company, Grain Millers, Inc., Helsinki Mills Ltd., and Morning Foods Limited
Need specific information?
Our Clients