Sales of Period Panties to Cross US$ 100 Mn Mark by 2020
The recent innovation in menstrual products that has been making headlines, period panties, are creating yet another viable choice for women. Future Market Insights (FMI), in its new study, explores the top factors influencing women to partially or completely shift from conventional menstrual products to period panties. By 2020, the period panties market is set to surpass US$ 100 Mn mark. Greater awareness of menstrual health and hygiene among women of different cultural and regional groups has brought a wide range of products to deal with monthly periods. Medical establishments are also uncovering the potential of menstrual products to help dispense medicines for HIV prevention or ovarian cancer detection, in addition to aiding in women's optimal health. These factors will remain crucial in the market build-up over the following years.
Key Factors Shaping Period Panties Market
Stain Resistant, Absorbent Material Features Garnering Traction for Period Panties
Period panties are an upcoming trend in market that has been gaining popularity in recent times. These panties are more comfortable as compared to menstrual cups, tampons, and pads. In 2011, new period panties were introduced in the market that ensured hassle-free menstruation for women, without worrying about stains. The market is registering a swift uptake of material used to develop period panties which is highly absorbent, stain-resistant, and has anti-microbial features.
New and improved materials absorb menstrual blood, ten times faster than the standard pads or tampons. The material is carefully designed with advanced technology that helps in fighting against bad odour and helps women stay dry for a longer time.  This is one of the key factors accelerating the growth of period panties market over the forecast period. The global period panties market is estimated to be valued at US$ 99 Mn in 2019, and is projected to expand at a stupendous double-digit CAGR during the forecast period of 2019-2029.
Uptick in Demand Owing to Eco-friendly Period Panties
Feminine hygiene products used during menstruation are contributing heavily to environmental pollution owing to the significant amount of sanitary waste going to landfills. According to the Women's Environment Network, pads, tampons, and other period products are generating more than 200,000 tonnes of waste annually.
Women use around 11,000 disposable sanitary pads or feminine hygiene products in their lifetime, of which, 90% are made of plastic. Reusable period panties are innovative products in the market that help in eliminating the need for sanitary pads, tampons, or menstrual cups. These panties are made up of super absorbent, omni-wick, and leak-proof fabric and hence are eco-friendly in nature. These factors are significantly contributing to the growth of eco-friendly period panties in the global market.
Sales Remain Bullish in North America
In the global period panties market, North America accounted for the maximum share of around 24.6%, in terms of value, in 2018, and is expected to register a CAGR of 11.0% during the forecast period. This is due to high degree of health consciousness and feminine hygiene concerns among women in North America.
Also, higher education levels of women and increasing awareness are other significant factor driving the North America period panties market.
Europe is the second biggest market for period panties which is expected to hold a revenue share of 24.1% in 2019 attributed to high presence of large and medium scale enterprises offering quality and eco-friendly products in the region. North America and Europe collectively hold a significant share as compared to other regions in the global period panties market.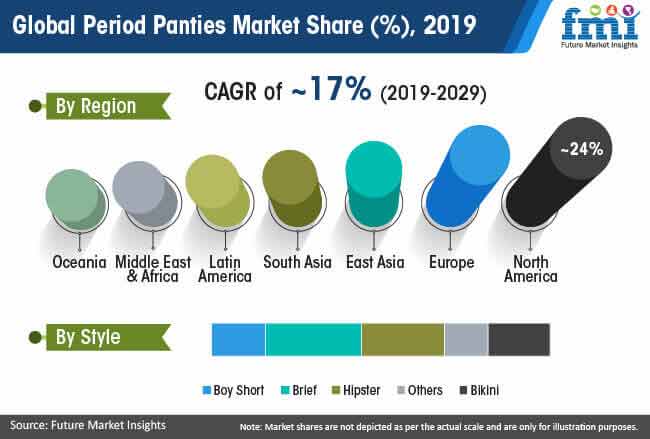 Innovations and Product Versatility Key Market Imperatives
The global period panties market represents a fairly consolidated competition landscape, where majority of prominent players maintain their strategic focus on product quality, product variety, eco-friendly product launches, and market expansion.
Leading period panties companies are currently prioritizing their research and development activities and new product launches to resonate with the growing demand of environmental friendly period panties from countries or regions such as US, China, Japan, India, and European countries such as France, Italy, U.K., etc.
Increasing market penetration, focusing on e-commerce platforms, new customer bases, and expanding market footprints are also identified as key developmental strategies adopted by leading players in the period panties market. For instance, Dear Kate Inc. uses high performance 'Tactel' and 'LYCRA' yarns which increases the efficiency of the outer linings of period panties. Tactel is breathable and three times tougher than other fabrics. It dries faster than cotton and is softer than other yarns.
In 2018, Thinx, inc. opened their specialty stores in Melbourne and Sydney in Australia and offers three product ranges – THINX (BTWN) for teens and THINX, ICON for bladder leaks.
Briefs Remain Preferred Choice in Period Panties Market
In addition to leakage-proof and moisture-trapping designs, period panties are available in reusable and disposable formats. They are available for different body types, in a variety of cuts and style. Brief period panties account for a major market share compared to their boy shorts and bikini counterparts. With sales set to grow at an exponential double-digit CAGR during the forecast period, briefs continue to attract manufacturers' attention. As convenience remains the focal point for innovations, manufacturers are focusing on creating a diverse portfolio. Niche marketing will also be an important strategy of companies. For instance, period panties in bikini and thongs styles are advertised for low-flow days and as a back-up.
Europe to Surpass North America by 2020
While the period panties market is still in its infancy, North America is at the forefront. However, owing to easy accessibility to new products and mounting concerns over the impact of disposable pads and tampons on the environment, Europe's period panties market is most likely to take over the North American market by 2020. East Asian market, on the other side, is set for a quantum leap in the following years. Robust government initiatives to raise awareness about menstrual hygiene will be a crucial growth lever for the market in low-income countries of East Asia.
Disposables Represent 80% of Period Panties Sold in 2018
Disposable menstrual hygiene products, particularly made from plastic, have taken a toll on the environment over the past decades. Reciprocating the global sustainable drive aiming for low environmental impact, companies are focusing on innovative reusable period panties. However, relatively high average unit cost of reusable period panties alludes lower volume sales vis-à-vis value gains and sales of disposable period panties. As 8 in 10 period panties sold in 2018 are disposable, manufacturers will need to redefine their strategies to increase the sales of reusable variants.
Reusable panties account for high revenue share
Surging sales of disposable panties
Brief remains highly preferred
Increasing demand for hipster panties
Sales through offline channels remain bullish
Sales via online channel increases rapidly
How Growth will Unfold
Greater emphasis of manufacturers of period panties on novel materials that are highly absorbent and offer stain-resistant and anti-microbial features. In addition to raising awareness about their offerings, manufacturers are embracing the multi-channel approach. Sales of period panties through multi-brand and exclusive stores continues to account for 3/4th of total market revenues. Amid rapid E-commerce expansion, manufacturers are meandering online distribution and sales, as well as through company-owned portals.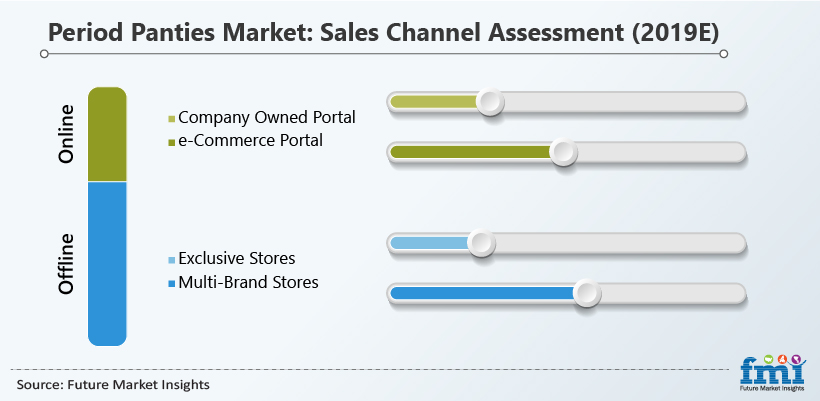 * This data is only a representation. Actual data may vary and will be available in report.
Click Here To Know How The Growth Will Unfold
Custom Market Research Services
FMI offers custom market research services that help clients to get information on their business scenario required where syndicated solutions are not enough.
Overview
Period Panties Market Analysis 2019 - 2029
A recent market study published by FMI, "Period Panties Market: Global Industry Analysis 2014-2018 & Forecast 2019-2029" offers a comprehensive assessment of the most important market dynamics. After conducting a thorough research on the historical, as well as current growth parameters of the market, the growth prospects of the market are obtained with maximum precision.
Period Panties Market Taxonomy
The global Period Panties market is segmented in detail to cover every aspect of the market and present complete market intelligence to the reader. The segmentation of the period panties market has been done as per product, style, size, sales channel and region.
Style
Boy Short
Bikini
Brief
Hipster
Others (Thongs, Short etc.)
Sales Channel
Online

e-Commerce Portal
Company Owned Portal

Offline

Exclusive Stores
Multi-brand Stores
Region
North America
Latin America
Europe
East Asia
South Asia
Oceania
Middle-East and Africa
How the research was conducted?
Primary Research
Primary research interviews with key opinion leaders and other participants were conducted for data collection and validation of the below information:
Key Segments in the Period Panties Market
Market Share Analysis
Average Selling Price (US$) and Market Growth
Comparative Analysis of Several Period Panties Present in the Market
Market Size
Key Trends & Developments
Competition & Key Vendor Strategies
Secondary Research
Industry Journals
Industry Publications
Government Statistics
Industry association

The AHPMA
Feminine and Infant Hygiene Association
Baby and Adult Hygiene Products (BAHP)

Import-Export Database
Annual Reports/SEC filings/Investor Presentations
Primary Interview Splits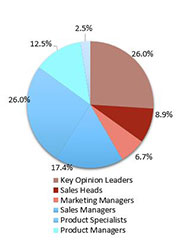 To Learn More About our Comprehensive Perspective on Period Panties Market,
Get in touch
Harish Tiwari
Global Head - Business Development
Akshay Godge
Client Partner - Global Business Development
COVID -19 : Impact Analysis
Request the coronavirus impact analysis across industries and markets
Request Covid -19 Impact
CASE STUDIES
See how our work makes an impact.
At FMI, we design strategies that are adaptive, impactful, and implementable.