Introduction
Polydextrose is a synthetic polymer that is predominantly made up of dextrose units. Polydextrose has been used for more than twenty-five years in food and beverage products all around the world, and also has applications in the dietary supplement, pharmaceutical, animal feed, and several other industries. The polydextrose market is segmented on the basis of end use and form. powder polydextrose and liquid polydextrose forms.
Polydextrose has a bland taste and is generally odorless, and thus, has remarkable versatility. Due to its bland taste, it is used in a variety of products such as bakery items, candy, jellies, pharmaceutical medicines, beverages, etc. Polydextrose is an ideal alternative that can be used as sugar, starch, and fat replacer, and therefore, the demand for polydextrose is expected to increase in the food and beverage industry.
The increase in the global occurrence of diabetes, obesity, and other health problems will serve as a major driver for the polydextrose market. The increasing diabetic population in India, China, and the U.S. is expected to lead to a high growth rate of the global polydextrose market. The increase in health concerns and the trend of the use of clean label products are some of the other factors that are expected to increase the demand for polydextrose.
Favorable regulations by the U.S. Food and Drug Association and endorsements from various associations promoting functional ingredients is likely to boost the polydextrose market. Due to changing lifestyles, rising diabetic population, and increase in the demand for low-calorie products, the polydextrose market is expected to grow at a high rate in the Asia Pacific region.
The Use of Dietary Fibers in Functional Beverages is Expected to Boost the Demand for Polydextrose
In recent years, food and beverage companies are trying to develop products which are better aligned with consumer sentiment for health and wellbeing. Companies are trying to get feedback and validation from consumers to ensure their requirements are met in terms of taste, quality, and functional benefits. Therefore, the focus of companies is to develop new products that are a perfect blend of flavour and nutrition.
Companies have launched food products that contain dietary fibres, since they provide various health benefits. The use of dietary fiber in food and beverage products is expected to increase, which will have a positive impact on the polydextrose market. Polydextrose is a soluble fiber that has high solubility, enhanced texture, and does not interfere with the flavour of the product, and therefore, is an excellent choice to manufacture health products without any compromise in the flavour.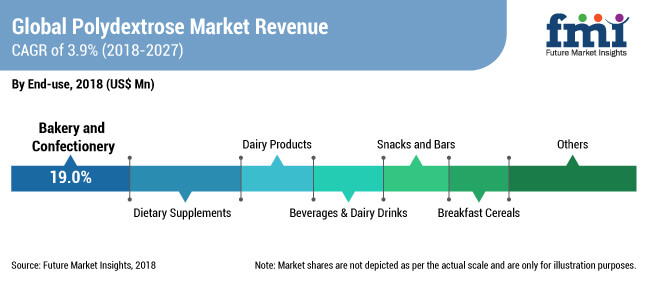 Increase in Consumption of Dietary Supplements to Enable Growth of the Polydextrose Market
Health awareness among consumers is increasing, which has resulted in the rise of the fitness trends, and has also become a major driver for the dietary supplements industry. Consumption of a wide range of dietary supplements is significantly high in North America, and is expected to grow at a high rate in the Asia Pacific region over the forecast period. The increase in the dietary supplements industry is anticipated to increase the demand for polydextrose.
Polydextrose in food is the best choice to develop low-calorie dietary supplements that have less sugar content. Dietary supplements containing polydextrose can be consumed by health-conscious consumers to fulfill their dietary fiber intake, and also by the diabetic population, which will enable the growth of the polydextrose market.
Surge in the Use of Prebiotic Ingredient-based Products Will Accelerate Growth of the Polydextrose Market
Major focus of food and beverage companies is to meet the health and nutrition requirements of consumers. In recent times, companies have developed prebiotic ingredients based products that can captivate health-conscious consumers. Also, manufacturers of infant formula are looking for suitable prebiotic ingredients that can provide health benefits to babies.
Polydextrose is a potential prebiotic ingredient that can be used to develop healthy food products and infant formula, since it helps improve the gut microflora and provides numerous health benefits.
Availability of a Wide Variety of Dietary Fibers and Sweeteners Likely to Result in Greater Market Competition
As the food and beverage industry is flourishing, competition between companies producing functional ingredients has increased. Companies have to continuously design novel products to remain prominent in the market. Due to the competition, a wide range of sweeteners and dietary fibers are available to producers of processed food and beverage products. Also, the use of plant-based products is increasing among consumers, which inherently are rich in natural fibre content, and is thereby likely to restrain the polydextrose market.
According to current trends, food and beverage companies are more likely to prefer the use of plant-based food ingredients, and this can have a negative impact on the polydextrose manufacturers. However, unique formulations and utilization of polydextrose as a part of functional ingredient systems incorporating a blend of various stabilizers, emulsifiers, sweeteners, etc. are expected to maintain the demand for polydextrose over the forecast period.
Polydextrose Market: Segmentation
Analysis by Form
Analysis by End Use
Bakery & Confectionery
Breakfast Cereals
Snacks & Bars
Dairy Products
Desserts & Ice Cream
Soups, Sauces, & Dressings
Spreads & Fillings
Beverages & Dairy Drinks
Dietary Supplements
Animal Feed and Pet Food
Analysis by Region
North America
Latin America
Europe
China
Asia Pacific
Middle East & Africa
Need specific information?