Polysulfide Market By Product Type (Thiokols, Solid Polysulfide Elastomers), End Use (Automotive & Transportation, Industrial Processing & Application, Building & Construction, Protective Coatings, Specialty Chemicals) & Region – Forecast 2021-2031
Polysulfide Market - Analysis, Outlook, Growth, Trends, Forecasts
February 2021

REP-GB-12908

192 pages
About the Report
The polysulfide market has been exhibiting significant growth over the last few years. Is expected to continue at a positive rate in the coming years, especially with the demand rising in the U.S., Brazil, France, among other countries. Polysulfide is an essential component used in sealant, adhesives, and coatings, finding applications in automotive & transportation Industry, industrial processing, specialty chemicals, building & construction, protective coatings. Applications across diverse industries are creating lucrative prospects for polysulfide market.
ESOMAR-certified market analysis and consulting company Future Market Insights (FMI) provides insights into key factors driving polysulfide market demand in its latest report. In addition to evaluating the effect COVID-19 has had on the polysulfide market in general, the study monitors global polysulfide sales in 20+ high-growth markets and addresses end-use industries in particular.
What is the Future Outlook for Polysulfide Market in Comparison to Historical Pattern?
Petrochemical applications have been surging in building & construction, automotive, transportation, and industrial processing. While this has been creating lucrative prospects for growth, the polysulfide market also has been gaining from strong domestic demand for chemicals and petroleum-related products.
Since the growth of the polysulfide market continues to be threatened by high costs and limitations in evolving chemical compositions, key players are focusing on reconstructing the lost revenue stream, while some are recalibrating the supply network to cater to the demand across end-use industries. Hence, by continuing to invest in digital initiatives across their global supply network and production process, key players can respond to pandemic disruptions and build resilience that can enable them to grow.
By understanding the nature of the product and extent of its use, market players in polysulfide are focusing their investments on the launch of new products and the diversification of their product portfolios for accommodating a wide range of applications.
For instance, China has developed a new high performance cathode for Li-sulfur batteries. It has high specific surface area along with large pore volume and has the characteristics to enhance adsorption and electro-catalytic transition towards lithium polysulfide. This material shows excellent polysulfide catalytic activity and cyclic activity.
Lithium sulfur has emerged as a promising next-generation candidate for energy storage system. Also in Japan, Toray Fine Chemical, one of the leading manufacturers of polysulfide polymer is proceeding with the development of environmentally friendly methods of manufacturing liquid polysulfide elastomer. Driven by these factors, the market is forecast to exhibit 5.0% CAGR between 2021 and 2031, in comparison to 4.8% CAGR registered between 2016 and 2020.
Liquid polysulfide elastomers and solid polysulfide elastomers are the key products of polysulfide that are increasingly consumed in the industrial processing. Owing to the ongoing crisis caused by COVID-19 pandemic, production and supply chain activities have seen a minor slump yet the consumption is expected improve with the economic recovery post the containment of the pandemic.
What is the Commercial Potential of Polysulfide?
Polysulfide has branched with polysulfide sealants, polysulfide adhesives, and polysulfide rubber that are used for preventing aircraft fuel tank, industrial tank liner, and electrical potting amongst others. It is used in the form of sealants to fill the joints in the pavement, automotive window glasses and other aircraft structures. Owing to its properties such as high di-electric strength, underwater curing capacity, exceptional chemical resistance and metal free, polysulfide compounds are witnessing exceptional demand at a commercial scale.
This growth trend will continue especially as various end-use industries exhibit consistent growth across the world. For instance, according to the ASEAN Automotive Federation, nearly 256,158 motor vehicles were sold in November 2020. While the number represents decline in sales compared to previous years, it continues to offer lucrative scope for application of polysulfide in automotive and transportation sector.
What is the Scope for Research and Development (R&D) on Polysulfide?
As the growth of the polysulfide market continues to be threatened by high costs and limitations in evolving chemical compositions, some of the leading manufacturers are shifting their focus towards developing new products that are more environmentally-friendly and organic in nature. By knowing the nature of the product and its breadth of use, market players in polysulfide are also concentrating their investments on the launch of new products.
There has been increasing focus on sustainable solutions, which has resulted in sustainable production of polymers and functional materials. Sulfur is a by-product obtained from the petroleum industry hence converting it into polymers and other related materials is considered a step taken towards waste valorization. Besides this, research and development initiatives have created scope for copolymerization of sulfur with renewable monomers, representing contribution towards sustainability.
Considering that various countries are implementing stringent regulations to curb emission of volatile compounds, manufacturers are likelier to adopt strategies encouraging investment in R&D. This is intended towards offering more sustainable solutions, which will have a positive impact on the overall growth.
What is the Regulatory Impact on Global Polysulfide Sales?
Growing environmental issues concerning the emissions of volatile organic compounds (VOCs) from sulfur compounds are expected to dampen the development of the global demand for polysulfides. Sulfur compounds pose an environmental threat, affecting ozone depletion, soil infertility, and gaseous emissions, and polysulfide transport, such as hydrogen polysulfide, in groundwater and marine aerosols will affect the polysulfide market. Besides this, other industry operators are subject to comprehensive federal, state, local and foreign legislation and regulations regarding environmental protection, emissions of greenhouse gases and the generation, storage, handling and repair of hazardous substances and waste materials. This concern about the safe use of chemicals in trade and their potential to impact on human health and the environment are reflected by an increasing demand for increased levels of product safety and protection of the environment.
Stringent regulations are implemented worldwide to check VOC emissions. For instance, the federal regulation, called Clean Air Act (1970) oversees emission standards from all mobile and stationary sources. Likewise, the Environment Protection Agency (EPA) has outlined certain rules in the Clean Air Act, informing industries across the U.S. about VOC limits and production protocols. China has very recently implemented mandatory national standards, limiting the use of VOCs and other substances often found in adhesives, coatings, and inks. Such regulations are likely to have profound impact on the overall growth.
Opportunities in Polysulfide market
According to FMI, the demand for Polysulfide market from Other end-users of polysulfides such as piping and marine industries are projected to provide significant growth opportunities to the global market in the forecast period due to the solvent, weather-resistant and other chemical properties such as stress corrosion cracking, soil PH and organic soil carbon of polysulfides. This growth of marine activities in growing economies with a growing demand for recreational activities is expected to boost the demand for recreational vessels, henceforth creating opportunities for the polysulfide market in the forecast period.
Country-wise Insights
How Big is the Opportunity Polysulfide Sales in China?
FMI has projected China to remain one of the most lucrative markets throughout the course of the forecast period because consumption of construction chemicals such as polysulfide coatings and sealants is expected to surge in response to increasing infrastructural activities in China. The country's recovery post COVID-19 outbreak will bode well for the overall market. It has been reported by the General Administration Customs that the country reported solid growth in export and import in September 2020 as the pandemic tightened its noose around rest of the world. It also has been reported that imports within the country surged above 13% in September, while exports topped forecast for the sixth month in a row.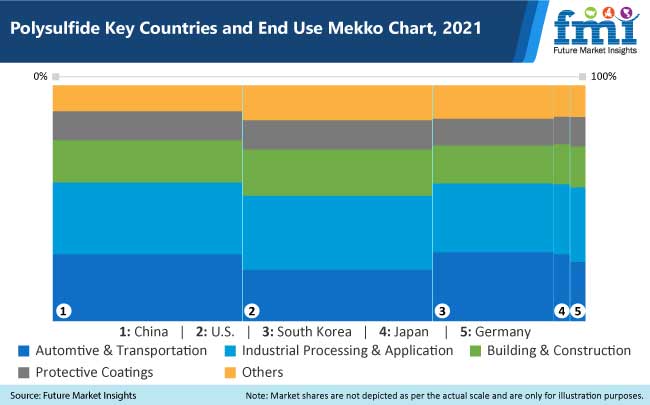 China's recovery post pandemic has helped construction activities to surge in the country, subsequently aiding in recovery post slowdown for the polysulfide market. Besides this, with manufacturing activities picking up, growth forecasts continue to remain positive for China.
How are the Polysulfide Market Projections in Germany?
At present, Germany's automotive industry is one of the most attractive one and is considered to be among highly competitive sectors, with the third highest production rate of cars in the world and the fourth highest production of vehicles in general. Polysulfides rubbers is a versatile elastomer that are widely used in automotive industry and also the country is outstanding in R&D infrastructure with full integration of the value chain industry and highly qualified staff create a globally superior automotive climate. Besides this, presence of some of the leading automotive manufacturers such as BMW, Mercedes, and Volkswagen among others has been supporting automotive expansion in the country, in turn creating attractive opportunities for polysulfide sales.
How Lucrative is Russia for Polysulfide Manufacturers?
The petroleum industry in Russia is one of the significant contributor to the nations' gross domestic product (GDP). Russia is the major exporter of natural gas and has the largest reserves. Also , the country has abundant reserves of coal. Considering a robust base of raw materials, the petrochemicals & polymers processing industry in Russia is touted to be a high growth market for polysulfide.
According to Centrum Balticum Organization, the ship-building industry accounts 12% of the world's military shipbuilding and in 2nd place after the Unites States. Polysulfide liquid elastomers are used as a sealants in many applications. This polysulfide sealants consist of some physical properties such as good flexibility and adherence to many substrate such as glass, concrete, wood and others. These polysulfide sealants are widely used in shipbuilding for its water resistance property in fuel tank of aircraft and seal fuel tank. As a result there is significant growth of polysulfide sealants from shipbuilding industry in the forecast period.
How attractive is France for Polysulfide Sales?
According to FMI, The demand for insulating materials in the building & construction industry is expected to provide lucrative business opportunities for polysulfides in the upcoming years due to the region's cold weather conditions and continuous research & development in the aerospace and marine industries, therefore France is expected to hold the third largest share of the polysulfide industry in Europe region.
According to the worldhighways.com, the French construction market was predicted to grow by 5% in 2019. Continued investment in major infrastructure process has been pushing construction activities, making France one of the key markets for polysulfide.
How is Automotive Growth in U.S. Aiding Expansion?
The U.S. is considered to be one of the highly lucrative markets for polysulfide. The region's thriving automotive industry has been catapulting growth in the market. According to the Select USA, sales of light vehicles alone reached at 17.2 million units in 2018. The country's mature automotive industry will therefore remain one of the key end users of polysulfide. Also, growth in the U.S. will be supported by the presence of some of the leading automakers in the world.
While price moderation could limit value changes within the market, real growth has prospects for intensifying with tailwinds from above average gains in large-scale market for transport equipment.
Category-wise Insights
What's the Market Share of Thiokols (liquid polysulfide elastomer)?
The Thiokol (liquid polysulfide elastomer) segment are expected to continue accounting for more than half of the global share among product types through the forecast period. According to FMI, the segment is estimated to hold nearly 60% of the market, in terms of product type, by the end of 2031. Owing to its product characteristics (low moisture & gas permeability) that make them consistent for all types of applications.
Why Automotive & Transportation Application Hold Higher % Share?
Accounting for over 25% of the overall share through the forecast period, automotive & transportation application drives continue to account major demand for polysulfide market. Growth in the segment is primarily due to polysulfide characteristics such as excellent flexibility, high heat resistance, good adhesion and high durability due to which the demand for polysulfide in automotive & transportation is increasing at a higher pace in comparison to other application.
Competitive Landscape
The polysulfide market is a highly competitive market dominated by key players selling the products that are cost-competitive. Some of the key players are concentrating on building a market for particular demographics. Across the value chain, the industry has strong alliances. In order to meet the requirements of an expanding consumer base, companies operating in the polysulfide industry plan to strategically partner with end users and regional distributors. Polysulfide suppliers pursue strategies of acquisition and geographic expansion to create a foothold. For instance, GCP Applied Technologies Inc., announced its acquisition of R.I.W Limited, a prominent supplier for waterproofing products in 2018.
Some of the leading companies operating in the market are:
Nouryon
Toray Fine Chemicals.
JSC Kazan Synthetic Rubber Plant
Flamemaster Corporation
Akzo Nobel N.V.
Ineos Group
Chevron Phillips Chemicals
Arkema
Robinson Brothers
*The list is not exhaustive, and only for representational purposes. Full competitive intelligence with SWOT analysis available in the report.
Scope of the Report
Attribute

Details

Forecast Period

2021-2031

Historical Data Available for

2016-2020

Market Analysis

USD Million for value and Units for Volume

Key Regions Covered

North America, Latin America, Europe, East Asia, South Asia & Pacific, Middle East & Africa

Key Countries Covered

US, Canada, Germany, U.K., France, Italy, Spain, Russia, China, Japan, South Korea, brazil, Mexico, GCC Countries, Turkey, Northern Africa, South Africa.

Key Segments Covered

Product Type, End Use and Region

Key Companies Profiled

Nouryon
Toray Fine Chemicals.
JSC Kazan Synthetic Rubber Plant
Flamemaster Corporation
Akzo Nobel N.V.
Ineos Group
Chevron Phillips Chemicals
Arkema
Robinson Brothers

Report Coverage

Market Forecast, brand share analysis, competition intelligence, DROT analysis, Market Dynamics and Challenges, Strategic Growth Initiatives

Customization & Pricing
World's Most Profilic Intelligence Engine
Get Access To The World's Largest Market Research Database.
Sign Up Now
Key Segments
Product Type
Thiokols
Solid Polysulfide Elastomers
End Use
Automotive & Transportation
Industrial Processing & Application
Building & Construction
Protective Coatings
Specialty Chemicals
others
Region
North America
Latin America
Europe
East Asia
South Asia & Pacific
Middle East and Africa (MEA)
Key Questions Answered in the Report
Q1. Which is the most lucrative market for Polysulfide?
China currently leads the global market for polysulfide Sales, china will be over 18% of total demand throughout the forecast period.
Q2. Which are the top-selling Polysulfide?
Thiokols are highly sought-after solid polysulfide elastomers. The demand for Thiokols is expected to remain high in the near future, especially due to its characteristics such as outstanding low temperature flexibility, gas permeability and low moisture.
Q3. Which end-use application is demanding the highest requirement of Polysulfide?
Polysulfide are widely used in industrial processing applications. Their usage in rubber industries, petroleum industries and chemical industries is rising day-by-day.
Q4. Which are some of the leading companies providing Polysulfide?
Some of the leading companies manufacturing Polysulfide are Nouryon, Toray Fine Chemicals., Flamemaster Corporation, Ineous Group, Arkema, Akzo Nobel N.V. etc.
Q5. Which application is driving sales of Polysulfide?
The Industrial Processing industry are driving sales of Polysulfide market across other end use industries because Thiokols and solid polysulfide elastomer are mostly used in processing industries over other end use industries.
Need specific information?
Our Clients