An Incisive, In-depth Analysis on the Structural Adhesives Market
This study offers a comprehensive, 360 degree analysis on the Structural Adhesives market, bringing to fore insights that can help stakeholders identify the opportunities as well as challenges. It tracks the global Structural Adhesives market across key regions, and offers in-depth commentary and accurate quantitative insights. The study also includes incisive competitive landscape analysis, and provides key recommendations to market players on winning imperatives and successful strategies.
Automotive & Aerospace Sectors Register Substantial Demand for Structural Adhesives
Besides booming construction and infrastructure industries, stringent regulatory norms set for lightweight automotive bodypanel and components are identified to be driving the demand for structural adhesives worldwide. Increasing use of structural adhesives in aerospace applications for reduced weight and improved bonding will also remain among the key factors impacting the market performance through 2028. Surging volume sales in the wind turbine and energy generation industry are foreseen to continue generating demand for structural adhesives, specifically for bonding composites.
The global structural adhesives market is anticipated to cross a value worth US$ 16 Bn by the end of the forecast period. During the projection period 2018-2028, the market is pegged to expand at a promising CAGR of 5.3%.
Polyurethane Adhesives Lead Owing to their Structural Properties & Increasing Applications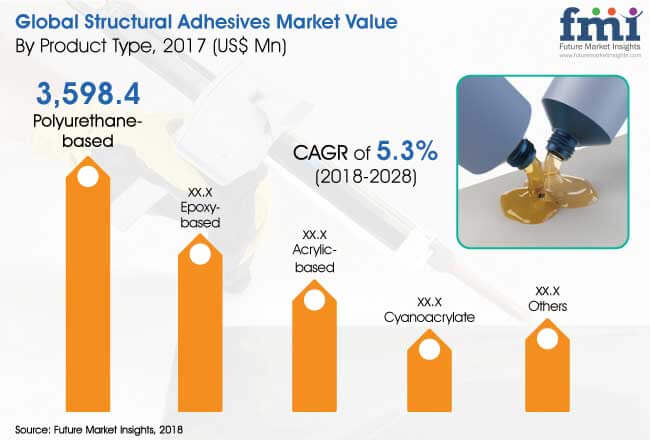 Being the toughest and most flexible structural adhesives, polyurethane-based adhesives are anticipated to exhibit substantial demand over the projection period. These adhesives are versatile and most economic, when compared to all other types of structural adhesives. With growing applications in the automotive industry, polyurethane adhesives will continue to experience significant demand, especially in large area panel bonding. Epoxy-based adhesives are witnessing high traction in structural bonding applications, and are likely to hold a significant revenue share in the global market for structural adhesives, following polyurethane. Cyanoacrylate adhesives are expected to witness a significant thrust in coming years, as depicted by recent research.
China Will Remain the Investor's Hotspot due to Aggression among Key Contenders
Stiff competition between the key market players in China and North America will enable both the regions to continue their dominance in the global structural adhesives market, in terms of revenue share. European market will also be a key region through 2028, as indicated by the report. While bolstering growth of automotive and construction sectors is expected to drive growth of North America and Europe, the flourishing electronics sector is likely to fuel growth of Chinese market. China is believed to continue its lead as the top choice among investors. Some of the key players such as Sika AG, Henkel AG & Co. KGaA, Huntsman Corporation, and 3M Company have been concentrating on gaining an expanded value share through higher investment in China.
Emerging Economies Represent Lucrative Markets
While China and North America are currently observed to be accounting for significant market value shares in the global structural adhesives market, the report spots developing economies such as MEA, SEAP, and Latin America as the high-potential regional markets, estimated to open new doors of opportunities for manufacturers in upcoming years. MEA has been recognized as a high-growth low-volume region expected to host multiple opportunities during the forecast period.
Soaring demand for lightweight composites among automakers will play a crucial role in expanding volume sales of structural adhesives in next few years. Aerospace industry will also continue to put forth significant demand for lightweight composites, and eventually for structural adhesives. MEA, especially GCC countries, will reportedly register high sales owing to a widening application base in the transportation sector. GCC is likely to be a high-growth regional market within MEA, whereas Africa will witness relatively lower growth.
Manufacturers are currently switching to the development of bio-based structural adhesives, which is said to be an influencing trend in the industry. Moreover, development of low temperature-cured, water-based variants of structural adhesives is an increasingly adopted trend among manufacturers. The development involving low curing time is also trending among leading companies, leading to innovations and growing demand. Rapid popularity of electric vehicles will also seemingly contribute to structural adhesive sales through 2028.
Structural adhesives are special types of adhesives specially designed to bind nearly all thermoplastics, composite materials, and metals, other dissimilar substrates. These structural adhesives are used in many application including transportation, automotive, marine, HVAC, construction, wind energy, and industrial assemblies. As structural adhesives offers significant advantages over other methods of fastening so there use is increasing in aerospace and many other applications.
Global Structural Adhesives Market Report Components
The research report presents a comprehensive assessment of the global market for structural adhesives and covers facts, valuable insights, historical data, and statistically supported and industry-validated market data. It also contains projections using a suitable set of assumptions and methodologies. The research report provides analysis and information according to market segments such as geography, technology and applications.
The report on the global structural adhesives market is a compilation of first-hand information, qualitative and quantitative assessment by industry analysts, inputs from industry experts, and industry participants across the value chain. The report provides in-depth analysis of parent market trends, macro-economic indicators and governing factors along with market attractiveness as per segments. The report also maps the qualitative impact of various market factors on market segments and geographies.
Key Taxonomy Provides Market Segmentation Based on Product Type, Application, and Region
| By Application | By Product Type | By Region |
| --- | --- | --- |
| | | |
| | | |
| | | |
| | | |
| | | South East Asia and Pacific |
| | | |
| | | |
| | | |
Competitive Assessment of Market Covers Profiling and Detailed Analysis of Key Players
The global structural adhesives marketplace is consolidated and the competitive landscape is operated by a number of players, including Henkel AG & Co. KGaA, The Dow Chemical Company, 3M Company, Huntsman Corporation, Sika AG, Arkema, and Lord Corporation. These companies currently hold significant stakes in the global market for structural adhesives. Several global players are facing stringent competition from the companies based in China, and thus have already entered into mergers and acquisitions, and strategic collaborations in an effort to attain an expanded footprint in the global market. Augmenting profitability with a sustained market value share has been identified as a priority for a majority of key players in the global structural adhesives market.
COVID -19 : Impact Analysis
Request the coronavirus impact analysis across industries and markets
Request Covid -19 Impact
Harish Tiwari
Global Head - Business Development
Akshay Godge
Client Partner - Global Business Development
CASE STUDIES
See how our work makes an impact.
At FMI, we design strategies that are adaptive, impactful, and implementable.