Adhesive Films Market By Material (BOPP, PVC, PE, PA), Adhesive Type (Acrylic, Rubber, Silicone), Application (Labels, Tapes, Graphic Films), End-User (Electrical and Electronics, Building and Construction, Aerospace, Automotive) & Region - Forecast to 2020-2030
Adhesive Films Market - Analysis, Outlook, Growth, Trends, Forecasts
August 2020

REP-GB-12371

280 pages
Global Adhesive Films Market: Key Outlook and Findings
Global adhesive films market to be worth US$ 61 Bn in 2020; set to register a CAGR of 5.5% through 2030
BOPP to remain a leading category throughout the forecast period
Demand from food and packing industry will compensate for sluggishness in other end-use industries
Asia Pacific to be key regional market as the emerging economies remain manufacturing hubs
Fuel Economy Concerns Spike Usage of Adhesive Films in Automotive Sector
The demand for adhesive films has increased exponentially with the rise of the automotive industry. The constant effort of automobile manufacturers to make lightweight vehicles to optimize fuel efficiency has titled focus toward adhesive films. From heavy trucks to sport cars, adhesive films are being used to replace mechanical joining processes.
The extensive usage of plastic and composite in production of automobiles has upped the demand for adhesive films in this industry. Change in material usage has been critical to the rising demand as mechanical fasteners are not always appropriate for lighter materials.
Future Market Insights predicts that the demand for adhesives is expected to soar in the coming days as they simplify the joining processes.
Today structural adhesives such as methacrylate are extensively used in the automotive industry. Their demand is on the rise as they are quick to bond materials such as composites, metal, and plastic giving end users a wider range to work with.
This has created a huge demand for this structural adhesive in automotive interiors as they are flexible in absorbing impact and have the perfect capability of withstanding high temperatures.
Methacrylates is also used in exterior applications as it bonds exceptionally well with metal. Their capability to distribute pressure and stress loads evenly as compared to mechanical fasteners such as rivets has truly strengthened the case of adhesive films in the automotive industry.
Adhesive Films Demand from LED Industry: A Lucrative Growth Avenue
Adhesives find extensive usage in all types of lighting as sealing applications are required during manufacturing processes as well as assembly. The increasingly growing adoption of LED light strips across industrial, commercial, and household purposes has led to a steady revenue stream for adhesive films market.
As demand for LED lighting rises due to their energy-efficient feature, FMI's analysts project that it will reflect on the consumption of adhesive films as well.
Adhesive films used in lighting applications are designed to withstand harsh weather conditions and especially remain impervious to water as snow and rain can cause fire hazards if they seep through into an electric unit. Thus, increasing production of LED lights will demand integrated optics bonding solutions and lens bonding, which is effectively taken care by using top-notch adhesive films.
Use of tapes and adhesives is also high in retrofit lighting. In such capacities, adhesive films, specifically designed for durable and long lasting usage.
For instance, Dowsil, a company based in Netherlands, launched DowSil EA-7100 Adhesive, which is a next-generation solution for sensors, lighting, and display modules. This is a one of a kind solution as it best known for its high-performance nature and allowing the maker to include wider substrates.
Water-based Adhesive Films Preferred Due to their Eco-friendly Nature
Amongst the various types of solvents, the demand for water-based is expected to soar in the future. The growing focus of end-users across sectors to adopt environment-friendly production has upped the demand for water-based solvents.
The demand for water-based adhesive films is also projected to rise as they are affordable than solvent-based adhesive films. Today, development of wet bond adhesives that are at par with solvent-based ones is providing an impetus to this category.
Furthermore, water-based adhesives can be applied easily to their solvent counterparts. Exceptional consistency, bond stability over a period of time, versatility of being used over a wide range of substrates, and low odor are expected to make water-based adhesive films a winner in the coming decade.
The segment is also expected to stand out as it water-based adhesive films have low VOC content and is thus safer for a long-term use.
Construction Activities to Replace Conventional Joining Methods with Adhesive Films
Adhesive films are significantly used in the construction industry.
In the decade gone by, the upsurge in construction activity across developing and developed nations has had a remarkable impact on the sales of adhesive films.
Over a period of time, the use of adhesive films has replaced joining methods such as soldering, riveting, welding, or screwing. This has made tasks in the construction and building activities relatively simple.
The growing demand for restoration and refurbishment has led to increasing sales of adhesive films are they are used for carpet laying, wall coverings, countertop lamination, timber jointing, and setting up pre-fabricated panels. This has resulted in huge demand for tapes that simplify work and fasten the process, thus reducing the overall cost.
Adhesive Films in Aerospace Industry
The aerospace industry has relied on the usage of adhesive films significantly to develop state-of-art aircrafts. Growing number of fleets, repair and maintenance, and development of military aircrafts have increased the sales of adhesives that are used in aerospace industry.
These films are used in the interior, exterior, and engine compartment of the aircraft, which includes everything from handy seat trays to overhead lockers.
The most commonly used adhesive tapes in the aerospace industry are structural acrylics, epoxies, cyanoacrylates, and anaerobics.
Their exceptional ability to prevent vibration loosening and remain attached despite pressure with quick curing capabilities make them an ideal choice.
The demand for adhesive films is expected to soar in the coming days as the efforts to develop lightweight aircrafts to improve fuel efficiency continues to be a constant.
Global Adhesive Films Market: Regional analysis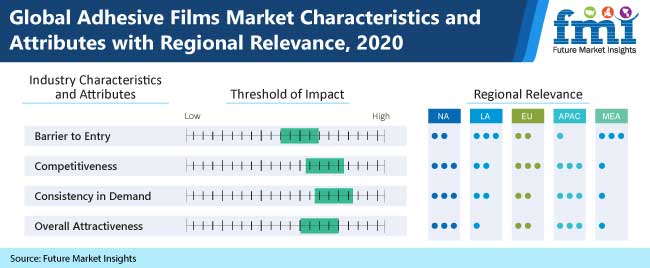 According to Future Market Insights, the demand for adhesive films will soar in Asia Pacific as manufacturing activities continue to feed the emerging economies.
The exceptional rate of growth in production of electronics, automobiles, and medical devices is projected to keep this region in the lead in the coming few years.
Amidst the COVID-19 pandemic, the region is likely to suffer as supply chains, manufacturing activities, and overall consumption has taken a hit. However, relaxation in lockdowns and economy's revival will reignite the demand the adhesive films in this part of the world.
Barrier to entry is low in Asia Pacific as the region boasts emerging economies that are manufacturing hubs. The strong presence of automotive manufacturers in India and China and laxer regulatory framework is expected to allow entry to many new players.
This has also created a highly competitive market in Asia Pacific. However, similar trend can be observed in North America where adhesive tapes are increasingly being used in packaging of frozen products. Thus, the consistency in demand is highest in North America and Asia Pacific.
On the other hand, the Middle East and Africa and Europe have less attractive markets due to stringent norms. Stringent VOC norms in the region will prevent growth rate across European countries.
Global Adhesive Films Market: Competitive Landscape
The top four players in the adhesive films market hold a lion's share. Companies are expected to compete on the basis of pricing in the coming years.
Product innovation and developing products that are in line with the environmental norms is projected to key strategies of companies. Catering to the needs of key end users such as the automotive industry to develop lighter vehicles is expected to help players stay ahead of the game.
Players also have a tremendous scope in the medical industry for wound care applications as films and tapes are an essential part of the treatment.
Some of the leading players operating in the global adhesive film market are:
3M Company
BASF SE
Avery Dennison Corporation
Klöckner Pentaplast Group
CCL Industries
Toray Industries
Irplast S.p.A.
Cosmo Films Ltd.
TEKRA, LLC.
H.B. Fuller Company
Medical Industry to Offer Adhesive Films a New Lease of Life
The global adhesive film market is expected to see a huge demand in the healthcare and medical industry in the coming years. The demand for tapes is expected to see a monumental high in the coming days as demand for wound care solutions rises with high incidence of accidents.
Furthermore, booming food and beverage industry that requires excellent packaging solutions is projected to be the key consumer of adhesive films in the coming years. The exponential demand for frozen food is projected to create excellent revenue streams for the market during the forecast period
World's Most Profilic Intelligence Engine
Get Access To The World's Largest Market Research Database.
Sign Up Now
Key Segment
By Material
By Adhesive Type
By Application
Labels
Tapes
Graphic Films
By End Use
Electrical and Electronics
Building and Construction
Aerospace
Automotive
Packaging
Transportation
Others
By Region
North America
Latin America
Europe
South Asia
East Asia
Oceania
MEA
Need specific information?
Our Clients