Self-adhesive Tear Tapes Market – Key Research Findings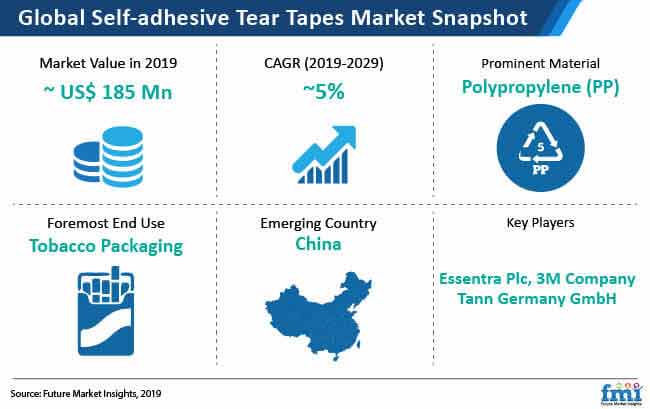 The global self-adhesive tear tapes market size in 2019 is estimated to reach ~ US$ 185 Mn.
The self-adhesive tear tapes market is projected to expand at a value CAGR of ~ 5%, during the next ten years.
Manufacturers operating in the self-adhesive tear tapes market are inclining towards using biodegradable films for manufacturing self-adhesive tear tapes.
Key players operating in the cosmetics and personal care segment are shifting towards e-commerce distribution channels for selling their products such as Estee Lauder and L'Oréal. Due to this, packaging manufacturers are introducing frustration free solutions for consumers to improve their experience by introducing self-adhesive tear tapes in the packaging of products.
Europe and Asia Pacific regions are expected to maintain dominance among other regions in terms of market value share, cumulatively accounting for ~ 2/3 of the total market share of the global self-adhesive tear tapes market.
Key Factors Shaping the Self-adhesive Tear Tapes Market
Self-adhesive Tear Tape: Effective Tool for Branding and Promotion
With increased regulations limiting the space usable for consumer communication, tear tape remains one of the most effective ways to communicate to customers and promote brand values. This applies to the purchasing process at the point of sale. Even if, in future, the legislation bars the opportunity to use tear tape as a marketing tool, the seemingly modest product will still be inordinately significant for the tobacco industry.
The branding and promotion, along with the easy opening of the product, is a viable solution for end-users to save cost. Increasing consumer convenience remains the primary focus for self-adhesive tear tape manufacturers.
Adding Value to Cardboard Packaging
Improved capability of the cardboard packaging solutions, such as boxes, can be attained by using self-adhesive tear tape, which has an easy-opening function. Manufacturers offer an add-on feature to the packaging that protects the content, increases customer satisfaction by eliminating the need for cutting tools, and provides a user-friendly and fast opening system.
Eradicating the necessity of cutting tools reduced the damage caused while opening the package products. Manufacturers are looking forward to investing in diversified product portfolio focusing on printed designs, high-tensile strength, with metallic and hologram colors. It provides quick access to the packaged product with easy-opening of tear tapes, and many more.
Key Benefits Offered by Self-Adhesive Tear Tapes
Self-adhesive tear tapes for a user-friendly method of opening
Manufactured from high-strength specialized film
Reinforced tapes for handle flaps or hand holes
Provides reinforcement at critical stress areas
Practical solution for shelf ready packaging
Proprietary application system easily retrofitted to most wrapping machines
Good Initial Tack of Polypropylene Self-adhesive Tear Tape – Key Growth Promoter
The use of polypropylene material for the manufacturing of self-adhesive tear tapes is leading the charts among other materials. By material, polypropylene is expected to create incremental opportunity of ~ US$ 17 Mn by the end of 2023. Polypropylene self-adhesive tear tape is tensilized and engineered with acrylic adhesive system.
This high tensilized self-adhesive tear tape provides excellent shear resistance, good initial tack, and strong ultimate adhesion. Manufacturers offers self-adhesive tear tapes in variety of widths for application flexibility. Polypropylene material is expected to remain as preferred material for manufacturing self-adhesive tear tape among other materials during the forecast period.
Asia Pacific: Region of Opportunity
The South and East Asia region is expected to collectively account for a major chunk of market share in the global self-adhesive tear tapes market. The developing countries in South & East Asia are projected to lead in terms of incremental opportunity and growth rate during the forecast period. Emerging countries such as India and China are expected to represent significant opportunities for self-adhesive tear tape manufacturers and suppliers in the respective regions.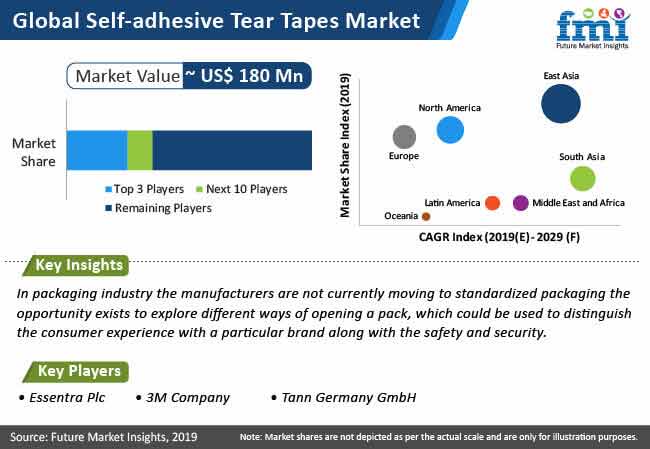 Self-adhesive Tear Tapes Market: Structure Analysis
Diversification in the product portfolio according to application for packaging of the product is a key strategy for manufacturers to expand their business operations in the self-adhesive tear tapes market.
Manufacturers in the self-adhesive tear tapes market maintain their strategic focus on providing easy-opening packaging products for consumer convenience along with safety and security.
Key tier 1 players in the self-adhesive tear tapes market include Essentra Plc, 3M Company, and Tann Germany GmbH.
Europe and Americas are estimated to account for noticeable consumption of self-adhesive tear tapes accounting for ~ 43% of the total market volume share in 2019.
Self-adhesive Tear Tape - 'Frustration-free' Packaging Made Easier
With the advent of innovative and disruptive technologies, at present, the players active in the packaging industry are on their toes to stay abreast with the latest consumer trends, packaging techniques, and develop effective packaging products and solutions. In the current scenario, packaging has evolved into a process that is more than just picking and placing a product in a box. Modern day packaging solutions have come a long way due to consistent research in the field and the influence of technology.
In the current landscape, consumers seek convenience and refrain from buying over packed products. In addition, multiple global brands are focusing on their packaging to enhance user experience and avoid 'wrap rage'. Thus, as packaging trends continue to evolve at a rapid pace, self-adhesive tear tapes have emerged as one of the most preferred tapes for high-quality packaging requirements.
The demand for self-adhesive tear tapes is on the rise owing to their growing applications in multiple industrial domains including, food, personal care & cosmetics, tobacco, electronics, and more.
Self-adhesive Tear Tapes – Where Packaging and Marketing Join Hands
In the last decade, multiple brands have identified the potential of self-adhesive tear tapes as a customer touch point to communicate their message. Thus, in recent times, apart from using adhesives tapes to improve their packaging quality, companies are using the product as an effective marketing tool to communicate with the consumer.
The combination of a convenient package opening alternative and an effective advertisement tool has resulted in a steady increase in the demand for self-adhesive tear tape market in recent years. The trend is expected to continue in the foreseeable future owing to the growing popularity of Polypropylene (PP) and Polyvinyl Chloride (PVC) tapes.
Leading brands involved in the e-commerce and packaging sector are leaning towards the use of Biaxially Oriented Polypropylene (BOPP) owing to their high performance and suitable viscoelasticity. Thus, as players operating in the packaging market recognize the favorable viscous and elastic properties of BOPP self-adhesive tear tapes, its adoption is slated to grow in the coming years.
In addition, as BOPP adhesive tapes use an acrylic-based adhesive system, they offer superior bonding and can resist hostile weather conditions, exposure to UV radiations, chemicals, and high pressure & temperatures. Moreover, POPP tapes primarily find applications in cardboard boxes and more recently, in e-commerce packaging.
Noteworthy Opportunities in Europe Due to Presence of Prominent Players
The self-adhesive tear tape market is thriving in Europe owing to swift adoption of technology and strong presence of prominent players operating in the market including, Tann Germany GmBh, Essentra Plc, and more. Further, the market players have consistently devoted resources in the development of convenient and eco-friendly products in recent years owing to the government regulations in the region.
In addition, the flourishing e-commerce sector in the region has generated significant demand for colored PP tapes and the trend is expected to continue in the coming years owing to the high tensile strength and favorable properties which enable printing on them.
Government Regulations and Consumer Trends Boost Innovations
Government regulations governing the manufacturing sector experience consistent and rapid changes. At present, manufacturing processes are required to comply with the set guidelines to reduce environment impact and enhance sustainability. In addition, the modern consumer is aware of the importance and need for efficient plastic disposal which has compelled manufacturers in the self-adhesive tear tape market to innovate their product portfolio.
Due to the onset of environment safety guidelines, biodegradable packaging is tipped to take center stage in the packaging domain. Companies have turned their attention towards manufacturing innovative self-adhesive tear tapes by using bioplastic materials including polyhydroxyalkanoates (PHA) and polylactic acid (PLA).
In the current landscape, manufacturers are required to adapt to evolving consumer trends to ensure improve customer experience. Thus, the demand for self-adhesive tapes, especially PP tapes has witnessed a considerable growth owing to the convenience of opening products. In addition, self-adhesive tear tapes with guides on the tear portion have played an imperative role to reduce 'wrap rage' and create a smooth package opening experience.
The growing application for self-adhesive tear tape from the booming global e-commerce sector has prompted major companies such as Amazon to promote 'frustration free' packaging in the last couple of years.
How Growth Will Unfold
Technological advancements and growing demand for convenient packaging solutions are likely to be the major drivers of the self-adhesive tear tape market. Further, the growing concerns over environment safety and adoption of eco-friendly manufacturing processes using recyclable materials such as bioplastics will witness a noteworthy growth in the future.
Government regulations are likely to compel manufacturers operating in the market to innovate their product range and introduce sustainable solutions to the market. In addition, to overcome the burdening problem of counterfeiting particularly in the tobacco industry, companies are deploying self-adhesive tear tapes that are integrated with an authentication feature i.e. holographic metallized finish.
In recent years, acrylic adhesive technology, used to manufacture self-adhesive tapes has garnered significant limelight among the market players worldwide. In addition, the technology has gradually surfaced as an excellent alternative to conventional sprays including, spray adhesives, and other types of bonding systems.
Global e-commerce players operating in the current market landscape, in their efforts to create a seamless customer experience are focusing on enhancing their packaging solutions by using colored PP tapes. In a nutshell, the self-adhesive market is expected to witness a moderate growth in the future primarily relying on the changing consumer trends, demand for sustainable, cost-effective, consumer-centric and environment-friendly products.
Further, major players active in the market are expected to expand their global presence by turning to inorganic growth strategies including mergers and acquisitions.
Key Segment
By Width
Up to 2.5 mm
2.6 mm to 5.0 mm
Above 5.0 mm
By Material Type
By End Use
Food
Tobacco
Pharmaceuticals
Personal Care
Electrical & Electronics
Others (Agriculture, Logistics, etc.)
By Region
North America
Latin America
Europe
South Asia
East Asia
Oceania
Middle East and Africa
Need specific information?