IN-MOLD LABELS MARKET - KEY GROWTH INFLUENCERS
Increased Barrier Property of In-mold Labels
In-mold labels are made of a layer of high barrier material such as EVOH, PVOH, or PVDC, sandwiched between two layers of polypropylene. This superior barrier makes in-mold labels suitable for food as well as non-food industries such as pharmaceuticals, automotive additives, personal care products, and others.
Moreover, this barrier significantly increases the shelf life of the packaged food and thus, reduces the wastage of food and the capital invested in labelling process. Barrier against light is desired for photo-sensitive drugs. This is rapidly propelling the demand for in-mold labels in the pharmaceuticals industry.
Introduction of Digital Printing to Boost Market Growth
Digital printing for in-mold labels printing is observed to be widely accepted by label printing companies since 2012. Although, offset printing contributes a major share and has a benefit of low cost in printing high volume of labels, digital printing is suitable for small volume labels as it fits the requirement of low setup costs, even for less volume of labels.
Also, digital printing has capability of variable data printing, that is putting various numbers or codes or each label successively, which is usually not offered by other printing techniques. Digital printing for in-mold labels took a major turn around five years ago with the improved technology to reduce the cost of high quality printing even for low volume of labels.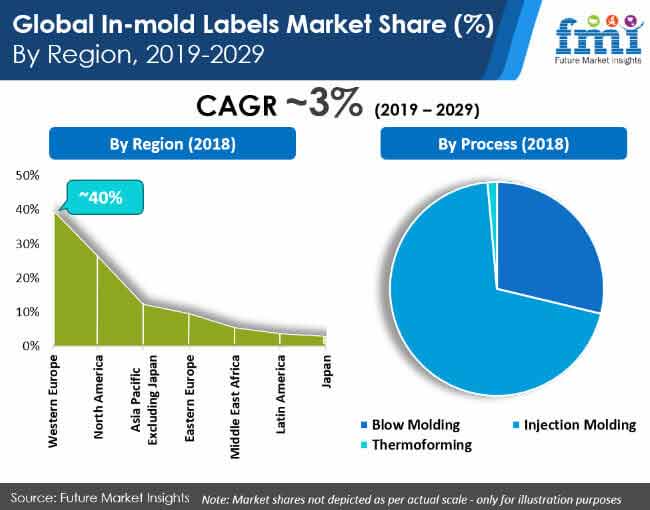 IN-MOLD LABELS MARKET STRUCTURE ANALYSIS
CCL Industries Inc., Constantia Flexibles Group GmbH, Coveris Holding S.A. are leading manufacturers of in-mold labels worldwide.
Product launch and acquisitions strategies were followed by key players to expand their product portfolio and business globally.
Acquisition to expand its area of excess is one of the important trends followed by the prominent in-mold labels manufacturers.
In the in-mold labels market, leading companies hold a revenue share of 15-20%. Some prominent players in the market are CCL Industries Inc., Multicolor Corporation, Avery Dennison Corp., and Constantia Flexibles Group GmbH. In this report, we have discussed individual strategies followed by these companies in terms of enhancing their product portfolio, creating new marketing techniques, mergers and acquisitions.
ACQUISITION – KEY STRATEGY ADOPTED BY MANUFACTURERS
Leading in-mold labels manufacturers are continuously concentrating on intensifying their businesses and targeting regional players in emerging countries to broaden their geographic reach and strengthen their foothold in the global in-mold labels market.
In July, 2019, Coveris acquired 100% share of Amberley Adhesive Labels Ltd., a company based in Dorset, UK.
In April, 2019, CCL Industries Inc., a world leader in specialty label, acquired Hinsitsu Screen (Vietnam) Company Limited.
In August, 2017, Multicolor Corporation acquired GEWA Etiketten GmbH located in Bingen am Rhein, Germany, which specializes in producing pressure sensitive labels for the wine and spirits market.
In-mold Labels Market: Segmentation
The global in-mold labels market is segmented in detail to cover every aspects of the market and present a complete market intelligence approach to readers.
Process
Blow Molding
Injection Molding
Thermoforming
Material
PP
PET
PS
PE
Barrier
Paper and others
Printing Method
Gravure
Flexo
Offset
Screen
Digital
Others
End Use
Food
Beverage
Pharma
Domestic Care
Cosmetics & Personal Care
Others
Region
North America
Latin America
Western Europe (WE)
Eastern Europe (EE)
Asia Pacific Excluding Japan (APEJ)
Japan
Middle East & Africa (MEA)
Need specific information?