Key Factors Shaping the Skin Tears Treatment Market
Increasing Focus on Educational Programs for Skin Tears Treatment
Healthcare facilities are focusing on the implementation of several educational programs to raise awareness among healthcare professionals for skin tear management. These programs also emphasize on the classification of skin tears and recommendation of products for each category for skin tears treatment to reduce pain and infection rate. This will shift interest from traditional wound management practice to advanced wound management practice and further towards identification of skin tears.
Such programs are expected to accelerate growth of the skin tears treatment market, globally. Companies such as 3M, ConvaTec, Medline, Hollister Incorporated, Acelity, and others are continuously working on such programs.
Shift Towards Advanced Skin Tears Treatment Protocols
Incidences of acute wounds such as skin tears continue to grow at a rapid pace in emerging countries such as India and China. These incidences have increased adoption of wound dressing particularly among the middle class population in emerging countries. This can be attributed to better healthcare and growing awareness regarding cost-effective advanced wound therapies including several dressings and growth factors for acute wounds.
Certain countries such as India, China, Japan, and Australia are increasingly focusing on healthcare in post-acute settings. Moreover, healthcare facilities in such regions are also shifting towards advance wound treatment instead of traditional wound treatment, which will in turn support the growth of the skin tears treatment market in distant future.
Dearth of Skilled Professionals and Lack of Awareness
Unskilled professionals are not aware of guidelines for skin tear treatment, which will hamper growth of the skin tears treatment market. Misdiagnosis and mismanagement of skin tears treatment is on the rise due to lack of awareness and basic knowledge about skin tears.
Low awareness of the available treatment options for skin tear and possible modalities of treatment that are available in the market are factors that may result in low demand for these products. This is particularly true for most developing countries and underdeveloped nations.
People in some African countries are still unaware of the usage of advanced wound care products. Moreover, there is a general perception among patients suffering from skin tears that healing would be naturally regained. This unawareness of people and wrong perception regarding wound healing are responsible for the sluggish growth of the market in such regions.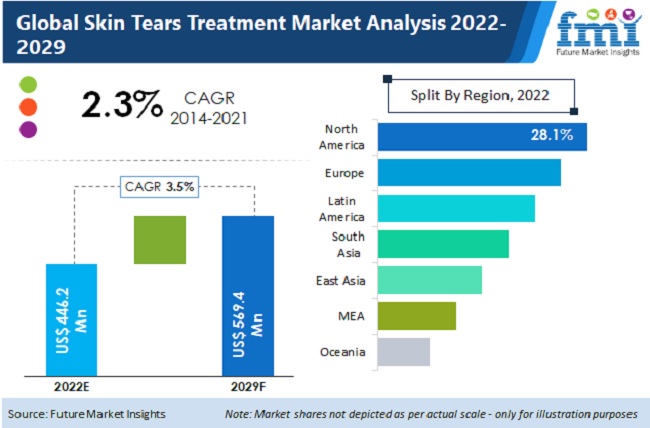 Skin Tears Treatment Market Structure Analysis
The global skin tears treatment market is consolidated with over 80% market share occupied by top 9 players in the market.
Leading companies such as 3M Health Care, Smith and Nephew Plc and ConvaTec Group Plc. are the market leaders. While companies such as ConvaTec Group Plc, Mölnlycke Health Care AB, Coloplast A/S and Medline Industries, Inc. offer strong competition to them.
Development of innovative products for skin tear treatment is one of the predominant strategy that most manufacturers are working towards to gain a positive foothold in the skin tears treatment market.
Skin Tears Treatment Market Rising on the Back of Advanced Wound Management
Skin treatment is experiencing a tidal wave of innovation that would significantly transform conventional methods of acute wound prevention, treatment, and monitoring. Skin tears treatment continues to be one of the key growth drivers of the pharmaceutical industry, and currently represents a market worth of US$ 410 Mn.
This is according to Future Market Insights' Skin Tears Treatment Market Report that explores benefits of skin tear treatment products over conventional methods and reveals strategies adopted by market players to set their products apart from the competition.
Moisture-retentive Dressing Accounts for 50% Revenue Share
Skin tears treatment based on moisture-retentive advance wound dressing, especially foam dressing, witnesses higher demand as compared to other dressing counterparts. Moisture-retentive dressing accounts for 50% of total market value and thus continues to undergo innovation.
It allows rapid epithelialization, reduces pain, fibrosis, and infection, and yields better results. Key market players maintain their focus on this category. While a variety of gels & creams are contributing to stakeholders' bottom lines, 2-octyl cyanoacrylate topical bandage has also been garnering significant traction.
East Asia's Market to Witness Leap in Growth
With 28% revenue share in global market, growth prospects of skin tears treatment market in North America remain high. Greater emphasis on advanced healthcare facilities and strong presence of key players continue to influence this regional market. The former scenario has also been noticeable in East Asian countries, thereby compelling manufacturers to view these countries from a target market perspective.
East Asian market is projected to showcase promising growth, with China at the forefront. Initiatives such as wound care management programs to raise awareness in the region will remain key growth influencers.
Profits in Long-term Care and Homecare Settings
In recent years, the need to individualize care has increased due to changing reimbursements and patient preferences, thereby compelling market players to direct the sales of skin tear products to long-term care and homecare settings. Expansion in demand for advanced wound management in homecare settings further prompts the strong need to develop skin care products that are easy to use and require relatively low maintenance as compared to conventional methods.
How Growth Will Unfold
Retail pharmacies still remain the sought-after channel for skin tears treatment products. In recent years, rapid penetration of internet and demand for convenience have been bringing significant changes in various industries, and the emergence of online pharmacy marks the greatest of its impacts.
In order to meet demand of the fast-evolving landscape, key players in the skin tears treatment market are prioritizing omni-channel strategy. Sales of skin tears treatment products through mail order pharmacy are expected to increase steadily during the next decade.
Key Segment
Product
Moisture-retentive Dressing

Meah Dressing
Foam Dressing
Hydrogel Dressing
Silicone Dressing
Alginate Dressing
Acrilic Dressing
Hydrocolloidal Dressing
Hydrofiber Dressing

Dressing Adhesives & Fixators

Adhesive Fixation Products
Non-Adhesive Fixation Products

Barrier Films
Hyaluronic Acid Wound Devices
Contact Layer Dressing
2-Octyl Cyanoacrolate Topical Bandages
Gels & Cream
Skin Closure Strips
Type of Skin Tear
Type 1 Skin Tear
Type 2 Skin Tear
Type 3 Skin Tear
Distribution Channel
Hospital Pharmacies
Retail Pharmacies
Specialty Pharmacies
Mail Order Pharmacies
Regions
North America
Latin America
Europe
South Asia
East Asia
Oceania
Middle East and Africa (MEA)
Need specific information?
Talk Show:
The Rise of Intelligent Packaging
Personalized, Connected and Sustainable
November 18, 2021
11:00-11:45 AM PST (USA & Canada)
This is a LIVE session