Skin Lightening Products Market By Product Type (Lotions and Creams, Foam & Gels Skin lightening Products, Serum and Toner, Scrubs), End User (Men, Women), Nature (Natural/Herbal Skin lightening Products, Synthetic Skin lightening Products, Organic Skin lightening Products), & Region – Forecast 2021 – 2031
Skin Lightening Products Market - Analysis, Outlook, Growth, Trends, Forecasts
April 2021

REP-GB-642

300 pages
About the Report
Plant extracted ingredients are trending within the skincare industry. The use of plant extracts in skincare products is a rising trend among consumers, especially millennials who are increasingly shifting to buy ecologically friendly products. Consumers are inclined towards products constituting bioactive extracts owing to their elevated skincare properties such as nutrient sufficiency, which made possible to have healthy skin without any causative side effects. Younger generation of women, have their interest piqued in make-up and beauty products, which is creating subsequent opportunities for growth in demand for skin lightening products.
ESOMAR-certified consulting and market research firm Future Market Insights (FMI) offers detail insights about key drivers and factors driving the demand for skin lightening products. The study tracks down global sales of skin lightening products in 20+ high growth markets, along with the COVID-19 analysis on the industry in general.
How Historical and Future Outlook Skin Lightening Products Match Up?
Fascination with becoming fairer has long been a driving factor within the skincare industry. A larger section of Asian women has displayed an inclination towards skin lightening products, largely in a bid to avoid the discrimination based on color.
Recent demand hike and increased penetration of skin lightening products is attributable to the rising demand from the natural and organic products, a sustainable approach on the manufacturer's end, and introduction of innovative formulations into the market.
These few aspects are expected to drive growth and reshape the future trends in skin lightening products during the forecast period. FMI projects the global skin lightening products market to grow at CAGR of 7.0% throughout the forecast period 2021-2031.
Is the Quest for Fairness Affecting Demand for Skin Lightening Products?
Skin lightening products have colossal demand, especially among the Asian and African countries. Women seek fair and flawless skin and media campaigns directed towards clear and light tone skin are targeting the demographic range across the world. The demand for a combination skin lightening products has been rapidly growing across the globe.
Skin lightening treatments are performed to reduce the melanin content in the skin, thus making the skin look brighter and even toned. Several topical solutions, including creams, gels, lotions, and other topical therapies, have been used largely. However, these do not ensure 100% efficacy in treatment. Hence, a number of consumers are opting for combination therapies in the skin lightening treatment industry, utilizing the benefits of other skin lightening procedures such as chemical peels and laser treatments, along with the usage of topical solutions, leading to better results.
For example, chemical peeling treatments such as Alpha Hydroxy acid (AHA's) peels and glycolic peels are widely used in skin lightening treatment along with creams, gels, and other topical therapies. Apart from this, laser treatments such as non-ablative lasers and ablative laser therapy have also proven to be immensely effective in skin lightening and improving complexion, thus resulting in smoother and fairer skin.
What is the Commercial Potential within the Skin Lightening Products Market?
Innovations intended towards introduction of novel skin lightening agents stands indicative of a lucrative demand over the forecast period. Over the past few years, big cosmetic and personal care manufacturing companies have been expanding their capacity in production of skin lightening creams and other products. Manufacturers are launching simple and cost-effective ingredients that offer high profit margins to companies.
For example, Sirona Biochem, which is a Canadian-based manufacturer of skin lightening ingredients, subjected its skin lightening compound, SBM-TFC-1067, for extra safety and efficacy testing, which will help the company bring its compound close to a licensing deal. Such initiatives allow the usage of the ingredients into a number of skin lightening formulations across markets such as Asia Pacific, Europe, and North America.
How are Toxic Ingredients Restricting the Growth?
A higher presence of mercury in skin lightening products poses a threat among consumers. The U.S. Food and Drug Administration (FDA) only allow a concentration of mercury less than 1mg/kg. The mercury salts in skin whitening products inhibit the production of melanin, resulting in a lighter skin tone. High levels of mercury additions in skin lightening products have triggered product re-calls.
A skin whitening product, Crema Piel De Seda (Silky Skin cream), was recalled from the U.S. market, which is manufactured in Mexico by a company called Viansilk. The U.S. FDA warned consumers regarding the use of this cream due to the risk of mercury poisoning. Exposure to skin products causes serious health problems, includiing nervous and kidney system damage.
In addition, it slows down the brain development in children. However, improvement of formulations, inclusion of natural and organic ingredients might reduce the impact of this challenge over the market demand.
Country-wise Insights
What is the Impact of Online Retailing on German Skin lightening Market?
The internet penetration has been surging across the globe. It enables customers to gain easy access to information about the various skin lightening cosmetics available in the market. This factor has encouraged various manufacturers to promote and sell products through various e-Commerce and social media sites. According to the results of the biggest e-commerce consumer study conducted by the Federal Association of German E-Commerce and Mail Order Business (bevh), e-commerce turnover in 2019 rose by a full eleven per cent as compared to 2019.
E-Commerce is now gaining popularity among retailers to monitor consumers' shopping preferences and experiences. There are also many local and domestic players entering online platforms to sell insoles by offering the convenience of one-click solutions, home deliveries, and various other attractive features to customers. A more important fact is that a considerable section of new e-Commerce users intends to continue with online retailing. This omni-channel shift during lockdown has been driving sales mostly across the personal care and hygiene categories.
How massive is the Opportunity for Natural Skin lightening Products Market in the U.S.?
As per FMI analysis, the U.S. is one of the leading countries within the global market space and is anticipated to continue dominating the North America market throughout the course or duration of forecast period. Millennials are leading this trend toward healthy and clean products, driven both by the sheer number of consumers in this age group as well as their buying behavior.
In the United States, millennials became the largest demographic group in 2015, overtaking the baby boomer generation, which had been the largest for roughly 60 years. For millennials, discovering new products and building authentic relationships with these brands is essential and prefer products that reflect their aspirations for a healthy lifestyle and their ethical and environmental standards.
What is the Impact of Penetration of Traditional Cosmetics on Japan Skin Lightening Product Market?
Japan is one of the largest markets for cosmetics and personal care products. Consumers in the country have been traditionally using skincare products since ages, making Japan one of the competitive markets for skin lightening products. Consumers in Japan demand sophisticated, high quality skincare products. The recession and subsequent job insecurity across the region has created a trend of frugality, thus making consumers more selective and value conscious in buying skincare products.
Apart from this, changing consumer preferences for mass products has enabled them to spend more on skincare products. Big manufacturers of skincare products are aggressively launching low-priced high value skincare products in order to cater to more consumers.
Besides, leading cosmetic makers across Japan, such as Shiseido Company Limited and Kanebo Corporation are using 'Made in Japan Labels' as a marketing technique in order to associate with other Asian countries such as China, Thailand, and other Asian markets, thus contributing towards the growing exports of skincare products, including skin lightening products.
How Will Rising Purchase Power Impact Premium Skin Lightening Products' Sales in China?
China has grown to be one of the largest cosmetic markets in Asia Pacific, with brands such as L'Oréal and Estée Lauder flourishing in the overall Asia Pacific market. Rapid urbanization and growing spending power have been transforming the cosmetic and skincare market in China during the recent past, stimulating consumer adoption of premium and prestige skincare products.
Asian consumers are known to spend higher on skincare products in comparison to color cosmetics and fragrances due to the increasing desire to have well maintained skin. Furthermore, increasing nominal gross domestic product (GDP) per capita has been rapidly growing in China, thus pushing up the purchasing power of local residents on skincare and cosmetic products.
In terms of product types, lotions and creams comprise ~35-40% of the market while serums and toner represent an approximate 26% of sales. The increasing emphasis on research & development associated with product formulations continues to promise opportunities for growth in the skin lightening products market.
Will Quest for Fair Skin Continue Driving Sales in Indian?
India's multi-billion dollar skin lightening industry has come under the scanner with more people gaining consciousness around the idea of real beauty. A larger section of population has raised concern over the importance of fair skin as advertised by the cosmetic companies. Brands such as Fair & Lovely fairness cream are being used among a broader consumer group in India, accounting for an approximate 43-48% share in the Indian skincare market. Slowly realization is seeping in the younger generation, shunning the idea of discrimination based on color and skin tone. Ban on skin lightening products is a welcome change in the society but slashes a well-established global scale industry.
Category-wise Insights
Why are Skin Lightening Lotions and Creams Category projected to Reflect High Growth?
Skin lightening lotion and creams dominate the skin lightening products' demand and is expected to register a significant growth rate during the forecast period. Skin brightening products are marketed in the form of creams, lotions, oils, gels, foam and serums. As a matter of fact, skin bleaching products are also available in injectable options.
The prime benefit offered by skin lightening creams is a balanced pigmentation, even skin coloring, and reduced appearance of dark spots, freckles, and acne scars. Creams and oils are usually economical alternatives and also heavier and better for dry skin. On the hindsight, oily skin shows best results against serum.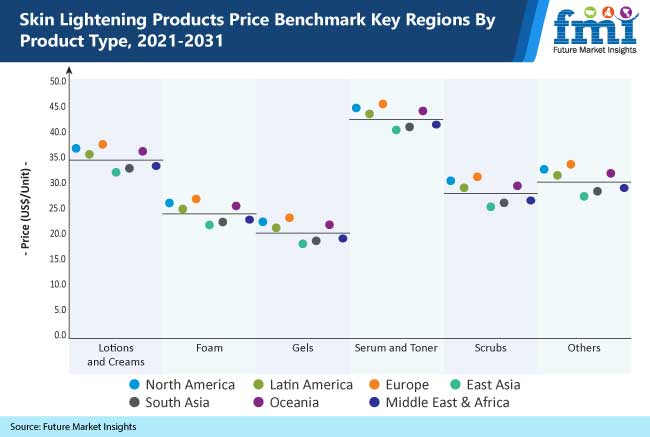 How are Companies Tapping into the Demand from Men's Section?
Male consumers are increasingly considering their appearance and looks to be very important. Men's grooming market is no longer an afterthought to women's beauty products. Currently the players in the market are targeting two different types of male consumers in the market, those who prefer using toiletries to merely satiate the daily needs, and those who prefer adopting personal care products to improve their physical appearance.
Social media has put a spotlight on male beauty. Though the bold and expressive looks as on magazine covers and elsewhere are not mainstream, both big and small beauty brands are aiming to create a wider appeal of male cosmetics for everyday use. The breaking of stereotype and normalizing of makeup for boys shows potential to drive the market over time. Emami Group, an Indian conglomerate introduced "Fair and Handsome" targeting the skin tone and color of men.
According to the analysis of FMI, the men skin lightening products category is expected to reach an approximate 20% market share by 2031.
How is the Premium Category faring in the Market?
Premium skin care cosmetics are gaining demand across the globe. Premium skin care targets facial treatments and anti-aging products, whereas the majority of mass sales deal with body care and cleansers. Manufacturers are focusing on mid-range and premium category, to cater to a wider group of skincare-obsessed consumers with inclination towards natural, herbal ingredients.
Will Natural Category Demand Uplift the Skin lightening Products Sales?
Increased prevalence of allergies, beside other side effects caused by the use of skin lightening products constituting artificial chemicals has raised red flag over the sale of synthetic skin lightening products.
Consumers are heading towards skin lightening products, which consist of only natural ingredients, that is, void of any chemicals, as chemicals may harm or may give side-effects to the users. Since the availability of natural ingredients, such as rose, olive oil, coconut oil, and other products is ubiquitous, manufacturers have readily accepted this change in demand by consumers.
How are Specialty Stores Impacting Growth?
Personal health and beauty stores have been traditionally the most preferred purchasing distribution channels for cosmetic and skincare products, such as skin whitening and lightening products, anti-ageing products, and other products. However, currently, multi-brand specialty stores have emerged as one of the top retail channels for skincare products, especially across Asia Pacific, due to the availability of a variety of brands offering skin lightning and whitening products, ranging from mass to premium price segments.
Some of the multi-brand specialty stores across the region have launched their own online platforms, mobile apps, and social networking websites in order to cater more and more customers in the skin lightening products space. Such stores provide consumers a one-stop shopping experience, and play an important role in brand building, thus stimulating consumers to buy skin-lightening products of their choice and need.
Competitive Landscape
Skin lightening products comprising natural solutions are taking away the momentum from synthetic compositions. On the hindsight, manufacturers are increasingly adopting discreet, innovative and sustainable packaging to comply with the consumer requirements; consequently, brand promotion is taking place on a parallel path.
Low product penetration attracts players at different scales, and many choose to take a position in online sales, as the internet continues to place an important influence in sales and marketing. Various factors define a company's need for a separate platform for the online presence of skincare products.
Most of the established companies have developed omni-channel retailing for improved sales. In case of a startup, cost and resource perspective reinstate the priority of direct to sales channel and an online platform. Stay-at-home and socializing restrictions have dramatically affected the dynamics of online retailing.
Some of the leading companies operating in the market are:
Beiersdorf AG
Procter & Gamble Company
Shiseido Company
Estée Lauder Companies Inc
Avon Products Inc.
Lotus Herbals Private Limited
Clarins Group
Himalaya Global Holdings Limited
Kaya Limited
Kanebo Cosmetics Inc.
RichFeel Hair & Beauty Pvt. Ltd.
Eveline Cosmetics
Rozgé Cosmeceutical
Bio Veda Action Research Private Limited
Civant LLC
Sabinsa Corporation
Sanora Beauty Products
*The list is not exhaustive, and only for representational purposes. Full competitive intelligence with SWOT analysis available in the report.
Scope of the Report
Attribute

Details

Forecast Period

2021-2031

Historical Data Available for

2016-2020

Market Analysis

USD Million for value and '000 Units for Volume

Key Regions Covered

North America, Latin America, Europe, East Asia, South Asia, Oceania Middle East & Africa

Key Countries Covered

US, Canada, Germany, France, Italy, Spain, China, Japan, South Korea, India, Thailand, Malaysia, Indonesia, Australia, New Zealand, GCC Countries, , Northern Africa, South Africa

Key Segments Covered

Product Type, Sales Channel, End User, Nature, Price Range, and Region

Key Companies Profiled

L'Oréal S.A
Beiersdorf AG
Unilever PLC
Procter & Gamble Company
Shiseido Company
Estée Lauder Companies Inc
Avon Products Inc.
VLCC Health Care Limited
Lotus Herbals Private Limited
Clarins Group
Himalaya Global Holdings Limited
Kaya Limited
Kanebo Cosmetics Inc.
RichFeel Hair & Beauty Pvt. Ltd.
Eveline Cosmetics
Rozgé Cosmeceutical
Bio Veda Action Research Private Limited
Civant LLC
Sabinsa Corporation
Sanora Beauty Products

Report Coverage

Market Forecast, brand share analysis, competition intelligence, DROT analysis, Market Dynamics and Challenges, Strategic Growth Initiatives

Customization & Pricing
World's Most Profilic Intelligence Engine
Get Access To The World's Largest Market Research Database.
Sign Up Now
Skin lightening Products Market by Category
Product Type
Lotions and Creams
Foam Skin lightening Products
Gels Skin lightening Products
Serum and Toner
Scrubs
Others
End User
Price Range
Economic (US$ 10-50) Skin lightening Products
Mid-range (US$ 50-200) Skin lightening Products
Premium (US$ 200 & Above) Skin lightening Products
Nature
Natural/Herbal Skin lightening Products
Synthetic Skin lightening Products
Organic Skin lightening Products
Sales Channel
Pharmacies
Hypermarkets/ Supermarkets
Specialty Outlets
Convenience Stores
Beauty Stores
E-Retailers
Others
Region
North America
Latin America
Europe
East Asia
South Asia
Oceania
Middle East and Africa (MEA)
Key Questions Answered in the Report
Which is the most lucrative market for skin lightening products?
Europe currently leads the global market for skin lightening products. Consumers prefer products with multifunctional effects, which is pushing manufacturers of skin lightening products to bring skin lightening solutions with both, functional and active ingredients with multifunctional effects.
Which is the top-selling skin lightening product category?
As per FMI, lotions and creams dominate sales and are most likely to witness an impressive growth trajectory over in the coming years.
Which is the key sales channel in the skin lightening products market?
Sales through supermarkets/hypermarkets account for a notable share in the market. Online sales and specialty outlets, however, are further expected to register high CAGR over the forecast period.
Which are some of the leading companies offering skin lightening products?
Some of the leading companies offering skin lightening products include L'Oréal S.A, Beiersdorf AG, Unilever PLC, Procter & Gamble Company, Shiseido Company, Estée Lauder Companies Inc, Avon Products Inc., VLCC Health Care Limited, Lotus Herbals Private Limited, Clarins Group, Himalaya Global Holdings Limited, Kaya Limited, Kanebo Cosmetics Inc., RichFeel Hair & Beauty Pvt. Ltd., Eveline Cosmetics, Rozgé Cosmeceutical, Bio Veda Action Research Private Limited, Ci
Which are the key factors driving sales of skin lightening products?
A number of skin lightening products available in the market claim to show multifunctional benefits, apart from skin lightening. These include anti-aging, dark spot reduction, dry skin, age spots, and uneven skin tone, thus, driving the market for skin lightening products. As a result, the demand for skin lightening products is on a high.
Need specific information?
Our Clients