Introduction
Thermal insulation materials are used to restrict flow of heat energy from high temperature to low temperature. Thermal insulation material is used across most industries to decrease energy consumption and to ensure a desired temperature is maintained in an area without need for additional cooling or heating equipment. Thermal insulation materials are primarily used in the construction industry.
Globally, buildings account for one-third of the total energy consumed, of which approximately 50% is utilised for heating and cooling of buildings. This material is used in the construction industry primarily to maintain ambient temperature, i.e. 1°C to 100°C.
Global thermal insulation material market is projected to expand at a CAGR of 4.2% during the forecast period, accounting for US$ 53,286.81 Mn by 2020.
Drivers & Trends
Construction sector output, manufacturing industry output, construction industry spending and urbanisation trend are some of the macro-economic drivers of the market. Developed economies such as North America and Europe have formulated regulations concerning energy-efficient buildings and according to Concerted Action Energy Performance of Buildings (a joint initiative program of member states of European Union and European Commission), approximately all new buildings constructed in member states by 2020 should comply with zero-energy standards.
Even governments in emerging countries are actively promoting the use of thermal insulation material. In 2014 for instance, Andhra Pradesh (India) adopted Energy Conservation Building Code (ECBC), under which commercial and public buildings in the state are expected to cut costs and slash energy usage by 40% to 60% through use of green building materials.
Such regulations and initiatives are identified as underlying driving factors of the market. However, there are few challenges facing the thermal insulation industry such as low awareness of thermal insulation material in emerging economies, high capital cost of thermal insulation and gradual traction for utilization of insulation paints and coatings in buildings.
Thermal insulation matetrials are increaingly utilised in industries for various applications such as room insulation, laboratory insulation, pipeline safety and other workplace and warehouse applications. Increasing trend towards adoption of energy efficient concepts in building thermal insulation have further positively influenced the demand for insulation materials.
Global Thermal Insulation Material Market Value Split, By Region, 2015 and 2020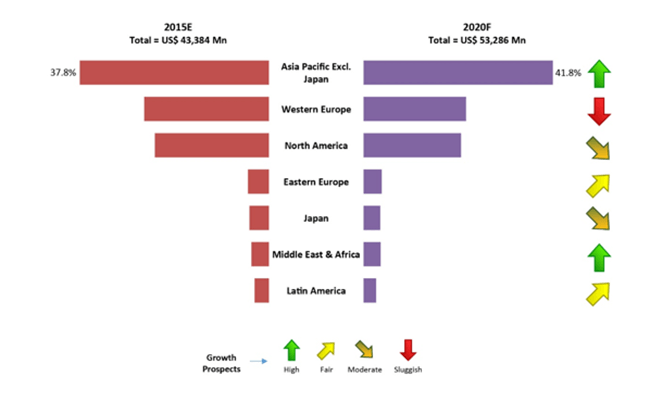 Thermal Insulation Material – Market Taxonomy
Future Market Insights, in its report titled Thermal Insulation Material Market – Global Industry Assessment and Forecast; 2015–2020, has segmented the market into various segments considering geography, material types and temperature range as the basis for segmentation.
Geographical segmentation includes North America, Asia Pacific except Japan, Latin America, Japan, Western Europe, Eastern Europe and Middle East & Africa. On the basis of material types, thermal insulation material market segmentation includes stone wool, fibreglass, plastic foam and other thermal insulation materials.
Additionally, FMI has highlighted growth in the market using absolute dollar opportunity, which is critical in accessing the level of opportunity that an enterprise can achieve, as well as to identify potential resources from both sales and delivery perspectives.
Analysis by Temperature Range
From temperature range perspective, thermal insulation material application for 1°C to 100°C temperature range is estimated to register highest growth during the forecast period at a CAGR of 4.6%. Thermal insulation material application for −160°C to −50°C temperature range is majorly used in petrochemicals industry for storage of cryogenic gases.
Increasing demand for LNG, cryogenic gas in emerging economies such as Asia Pacific is expected to fuel demand for thermal insulation material.
Key Segments Covered
The material types covered in the report are:
Stone Wool
Fibre Glass
Plastic Foam
Other Thermal Insulation Material
After having covered the product type based segments in the above section, the report, in its next section focuses on segmenting and analyzing the market on the basis of temperature range.
The temperature range covered in the report include:
−160?C to −50? C
−49? C to 0? C
1? C to 100? C
101? C to 650? C
Last segmentation covered in the report is on the basis of geography.
The various regions covered in the report include:
Asia Pacific
North America
Western Europe
Latin America
Eastern Europe
Japan
Middle East & Africa
Need specific information?