About the Report
Insulation materials are fairly common and inexpensive, with many displaying characteristics suitable for varied end use applications. Factors such as retail value, costs, flammability, environment impact, and sound insulation efficacy are some of the key factors influencing demand and sales.
Some of the more prominent thermal insulation materials include fiberglass, mineral wool, cellulose, polyurethane foam, and polystyrene. Increasing awareness and investments towards sustainability, reducing emissions and energy consumption from fossil fuel sources are also supporting the adoption of thermal insulation materials.
Research and development initiatives towards product development in terms of material and design are common strategies witnessed in the thermal insulation material market. Other factors influencing sales and applications include shrinkage, ease of installation, and moisture resistance.
ESOMAR-certified market analysis and consulting company Future Market Insights (FMI) delivers insights into key factors driving the thermal insulation material market in its latest report. Additionally, an evaluation of the effect of the COVID-19 pandemic on the thermal insulation material market in general, and an analysis of sales in 20+ high-growth markets and end-use industries in has been provided in the report.
How Does Historic Performance of the Market Compare to Future Outlook?
During the past five years between 2016 and 2020, the thermal insulation material market has displayed healthy growth with a CAGR of over 4.2%. Multinational manufacturers including Asahi Kasei Corporation, BASF SE, E. I. du Pont de Nemours and Company, have pushed substantially towards geographical expansion strategies, in addition to product development efforts with distribution efforts across the Asia Pacific region.
As per the Future Market Insights report, the covid-19 pandemic slowed down the short-term growth rate in the industry. However, the market is likely to witness steady recovery through 2021 with an estimated valuation surpassing US$ 54 Bn. Countries across the European Union will remain major contributors to growth in the near future. Stringent building and emission codes implemented in countries including Germany, UK and France will prove important to developments in the near future.
How are Green Building Developments Influencing Sales Prospects?
Materials commonly utilized in the building and construction sector have accounted for a large amount of energy and natural resources. The concept of green buildings, which has gained traction in the last few decades, is widely viewed as a technical and management approach for the building and construction sectors to maintain energy and resource sustainability in the industry. As a result, the development and deployment of green construction materials plays a key role in green building developments owing to contributions of sustainable resources.
According to the Beijing Engineering Research Center, buildings will cause more than 40 billion tons of carbon emissions, consuming approximately a third of the global energy and water resources annually through 2030. Therefore, buildings have already had a notable impact on the environment. On the other hand, the production of construction materials will also contribute to 40% of all emissive pollution including black carbon. The number of commercial and institutional buildings in 2050 is expected to be three times that of 2010. The building and construction sector currently accounts for more than 60% and 40% of energy consumption in the United State (US) and the European Union (EU) respectively. Consequently, the adoption of green building standards and the use of sustainable thermal insulation materials will play key roles in bolstering energy and resource efficiency, driving long term demand.
How are Automotive Applications Supporting Market Growth?
With growing emphasis on passenger comfort, climate control systems are rapidly gaining ground in the global automotive sector. Innovations in terms of ventilation, integrated heating, and air conditioning systems are finding roles in maintaining ambient comfort levels within the industry.
Today, suppliers of automotive climate control technologies are being pushed by evolving requirements in terms of changing industry needs, increasing environmental pressures, and changing customer expectations. As a result, priorities have grown to encompass not only the insulation technologies, but also eco-friendliness, passenger comfort, and fuel efficiency. This in turn has created major opportunities for thermal insulation offerings.
Thermal insulation barriers are also gaining importance in engine related heat issues to minimize excess heat from the floorboard and firewall regions, keeping driver cabins comfortable. Such innovations also help to maximize component and paint coating lifespans, without significant pressures in terms of costs.
Pioneered by the Lawrence Berkeley National Laboratory in 1999, polymer film and low-conductivity gas products have since evolved with proprietary innovations, expanding applications outside road-based applications to marine and aerospace setups.
What Challenges to Leading Manufacturers Have to Prepare For?
The covid-19 pandemic substantially hampered production and sales of thermal insulation materials. Restrictions imposed on the construction and automotive sector have had a significant impact on the market. On the other hand, demand for additional infrastructure, especially associated with the healthcare sector has helped to mitigate some of the losses.
In addition, a number of thermal insulation materials such as stone and glass wool result in health side effects such as irritation of respiratory systems and eyes. In addition, polymer based insulating materials are also suffering from strict regulations owing to carcinogen emissions during production. These health and environment concerns remain key factors that will continue to hold back market growth during the forecast period.
Country-wise Analysis
What are the Prospects of the United States Market?
North America is a key regional market for thermal insulation materials, with the United States holding major market share owing to a relatively active construction industry, and higher investments into urbanization projects in the country.
Some of the primary factors driving growth includes a growing focus on green building projects and the resultant demand for thermal insulation. According to the United Nations Environment Program, residential and commercial buildings in the U.S. account for 40% of overall energy consumption annually, supporting demand for thermal insulation materials.
Efforts by organizations such as the US Green Building Council, including net-zero carbon operation initiatives are also turning out to be positive influences towards market growth. Residential applications will account for significant revenue share on the back of relatively higher levels of disposable incomes and projects involving single family housing in the country, which will contribute to demand for the foreseeable future.
How is Thermal Insulation Material Market Set to Fare in Germany?
According to a report by the German Federal Ministry for Economic Affairs and Energy, the construction sector accounts for 40% of energy consumption, while also contributing to a major share of carbon dioxide emissions.
The EU Buildings Directive has set strict energy standards for buildings through the year 2030. Consequently, the technical requirements for energy-efficient buildings are becoming increasingly exacting not only for new structures, but also for existing buildings. Furthermore, as a prominent contributor to the European automotive industry, Germany's demand for thermal insulation materials will continue display stronger than average growth for the foreseeable future.
The Concerted Action Energy Performance of Buildings Programme, which is a joint initiative between the Member States of the European Union and the European Commission, all new buildings constructed in across the EU States by 2020 have to be in compliance with zero-energy standards. Also, building codes in the European Union require increased use of thermal insulation materials to reduce energy consumption levels. This is expected to have a positive influence on demand and growth in the German market in terms of long-term developments.
What Factors Influence the United Kingdom Market?
As per the Household Energy Efficiency National Statistics report, the last three years have accounted for approximately 677,000 houses that have made use of improvement measures under ECO guidelines. Around 2.3 million energy efficiency procedures were conducted in around 1.8 million real estate properties. Further, approximately 200,000 measures were installed in 2019 compared with 360,000 in 2018.
As per data from the Department of Energy and Climate Change 16.2 million homes in the UK, have installed loft insulation with a minimum of 125mm. Of the homes with lofts, only around 1 per cent are estimated to have no loft insulation. Meanwhile, more than 13 million homes had installed cavity wall insulation. Another 209,000 homes had solid wall insulation, accounting for 3 per cent of homes with solid walls.
Also, government efforts with initiatives such as the Community Energy Saving Programme will play key roles in the adoption of thermal insulation materials for years to come. Brexit and Covid-19 impacts on the nation's construction and industrial sectors could potentially impact sales prospects in the UK.
Why is China Emerging as a Lucrative Region?
The demand for thermal insulation materials in China is expected to rise strongly in the near future. Sustained increases in building construction, and faster output in the manufacturing sector will play key roles in driving developments within the market.
Changes in building codes associated with energy consumption, and the construction market will account for around 40% of overall insulation demand. Demand in multifamily residential projects, rapid urbanization, and major investments towards applications in petrochemical and power plants will emerge as key contributors.
As per an International Conference on Sustainable Construction Materials and Technologies, standards of thermal design for civil buildings in China is based on seasonal weather change: 0-90 days of the coldest month average temperature (0-10°C) of the hottest months, and day average temperature, and 40-110 days with an average day temperature is not lower than 25°C. These will influence trends within the Chinese market for the foreseeable future.
Also, China has emerged as a major automotive production hub for the international market, the total volume of automobile sales in the country surpassed 25 million units in 2019, most of which were accounted for by passenger cars, which will also contribute to overall thermal insulation demand.
Which Influencers are Prominent in the Indian Market?
The Indian thermal insulation material industry is expected to gain significant impetus following government directives to comply with Energy Conservation Building Code (ECBC) regulations. The policy change, while bolstering the movement for sustainability goals, will also hugely support the green building sector which drives developments in insulation products.
Currently, the use of thermal insulation products in India is relatively low. The Indian market currently accounts for a volume of approximately 150,000 metric tons. Insulation materials like polyurethane primarily find use in areas like construction, with a small number of green buildings being built. The thermal insulation business in the country is still at a nascent stage.
Legislative impetus in addition to increasing awareness will be the major influencers of demand for insulation products. As India is an energy deficient country, there is a notable opportunity for insulation material manufacturers to effectively penetrate the region.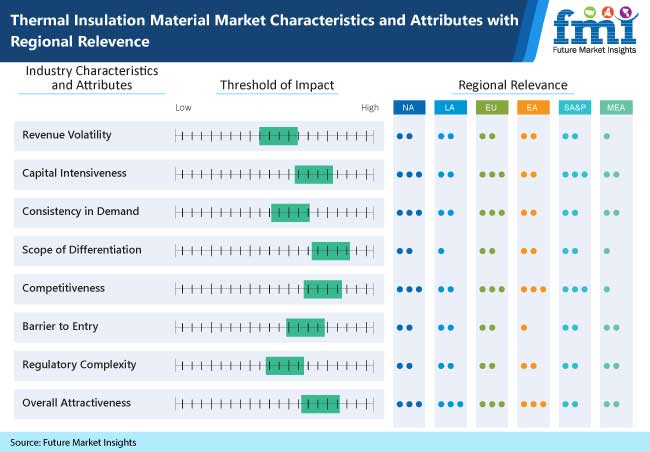 Category-wise Insights
Why is Plastic Foam Insulation Holding the Lead?
Thermal insulation products comprise a wide range of source materials. The most prominent of these include stone wool, fiber glass, and plastic foam among others. Of these plastic foam insulation materials are projected to hold major market share through the end of the assessment period.
The growth of plastic foam insulation can be broadly attributed to high insulation values, ease of installation, and moisture resistance characteristics. However, stone wool and fiber glass alternatives will also reflect steady growth on the back of superior fire resistance characteristics.
What Temperature Range for Thermal Insulation Will Reflect Higher Adoption?
Manufacturers produce thermal insulation materials for applications in varied environmental conditions including a wide range of temperatures including residential, commercial, and industrial uses. Commonly, insulation temperatures include −160°C to −50°C, −49°Cto 0°C, 1°C to 100°C, and 101°C to 650°C.
The demand for thermal insulation between 1°C to 100°C, will remain relatively higher. This can be attributed to the demand arising from the residential construction sector. −160°C to −50°C products will also display strong growth, backed by rising interest in LNG and cryogenic applications.
Thermal Insulation Material Market - Competitive Landscape
The global thermal insulation material market is moderately fragmented and competitive, owing to the presence of numerous regional players. Major manufacturers are focused on product development and launches to bolster their portfolios in addition to strategic collaborations to consolidate their positions in the market.
In March 2021, Va-Q-tec joined hands with Hutchinson in a collaborative project to develop insulation solutions for thermal management applications for the aerospace and automotive sectors including products such as vacuum insulation panels.
Zircotec has announced the launch of its new heat shield solution -ZircoFlex Shield, which the company claims to have advantages in terms of packaging space, weight, and thermal performance, achieving a 40% improvement in heat shielding and up to 125°C reduction in surface temperature from exhaust systems.
In April 2021, Huntsman Building Solutions announced the launch of professional courses on spray polyurethane foam for continuous insulation and roof performance applications in collaboration with the Architectural Record Continuing Education Center.
Future Market Insights has also analyzed the following players in the thermal insulation material market in its detailed report:
E. I. du Pont de Nemours and Company
Berkshire Hathway (Johns Manville)
Bayer AG
Dow Chemicals Company
Kingspan Group PLC
*This list is indicative- full details about the thermal insulation material market players are available upon request.
Thermal Insulation Material Market - Report Scope
Attribute

Details

Forecast Period

2021-2031

Historical Data Available for

2016-2020

Market Analysis

USD Million for Value

Key Regions Covered

North America, Latin America, Western Europe, Eastern Europe, Japan, Asia Pacific Excluding Japan, and Middle East & Africa

Key Countries Covered

US, Canada, Brazil, Mexico, Argentina, Chile, Peru, Germany, U.K., France, Italy, Spain, BENELUX, Nordic, Russia, Poland, CIS Countries, China, Japan, South Korea, India, ASEAN, Australia, GCC Countries, Turkey, Israel, and South Africa

Key Segments Covered

Material Type, Temperature Range, and Region

Key Companies Profiled

Asahi Kasei Corporation
BASF SE
E. I. du Pont de Nemours and Company
Rockwool International A/S
Berkshire Hathway (Johns Manville)
Bayer AG
Owens Corning
Dow Chemicals Company
Kingspan Group PLC
Saint Gobain S.A. (indicative list)

Report Coverage

Market Overview, Key Market Trends, COVID-19's Impact, Demand Analysis, Market Background, Segmental Analysis, Regional Profiling, Market Structure Analysis and Competition Analysis

Customization & Pricing
Key questions answered in the report
How will the thermal insulation material market expand through 2031?

According to Future Market Insights (FMI), the global thermal insulation material market is projected to gain stimulus from the changing standards in the global construction and automotive sectors, expanding steadily at a CAGR of over 4% through 2031.

Which is the dominant thermal insulation material market?

Western Europe is currently the leading regional market for thermal insulation material, accounting for major market share through the end of the forecast period. Growth in this region is largely attributed to strict automotive and building operation standards and regulations.

How is COVID-19 impacting the thermal insulation material growth projections?

The COVID-19 pandemic has had a substantial impact on the prospects of the thermal insulation material in the short term. With lockdown restrictions in place, the demand for thermal insulation material has slumped particularly from the construction and automotive production sectors. However, the increased demand for public health infrastructure during the crisis has generated sales opportunities.

Which are the prominent thermal insulation material market players?

Prominent thermal insulation material market players include
Key Segments
Material Type
Stone Wool
Fiber Glass
Plastic Foam
Others
Temperature Range
-160°C to -50°C
-49°C to 0°C
1°C to 100°C
101°C to 650°C
Region
North America (U.S. & Canada)
Latin America (Mexico, Brazil, Argentina, Chile, Peru, & Rest of LATAM)
Western Europe (Germany, U.K., France, Italy, Spain, BENELUX, Nordic, & Rest of W. Europe)
Eastern Europe (Russia, Poland, CIS Countries and Rest of E. Europe)
Middle East and Africa (GCC Countries, Turkey, South Africa, Israel, & Rest of MEA)
Japan
Asia Pacific excluding Japan (China, India, ASEAN, South Korea, Australia, & Rest of APEJ)
Need specific information?
Talk Show:
The Rise of Intelligent Packaging
Personalized, Connected and Sustainable
November 18, 2021
11:00-11:45 AM PST (USA & Canada)
This is a LIVE session