Thermal Scanner Market Outlook & Key Findings
Future Market Insights (FMI) forecasts the thermal scanner market to grow at 10% CAGR between 2020 and 2030
Use of thermal scanners as the first line of defense against COVID-19 in railways stations and airports remains a prime growth driver
Retail is getting into action as behemoths and local stores alike take precautionary measures a notch higher, using thermal scanners to check temperatures of staffs as well as customers
Application in military and defense sector will remain chief growth enabler of the market
Fixed/ mounted thermal scanners remain at fore, constituting over three fourth of the global market as per FMI
Demand for Thermal Scanners will Surge as COVID-19 Continues to Wreak Havoc Worldwide
First introduced during SARS epidemic in 2003, the thermal imaging market is now a multi-billion dollar industry. FMI projects its valuation to reach US$ 3.8 Bn by the end of 2020.
The unprecedented rise in the cases of coronavirus has triggered rush for thermal scanners, compelling manufacturers to beef up their supply chain.
Factories and hospitals were partly responsible for the first wave of demand. Since then the demand has exponentially risen as private offices and governments amplified their precautions against the spread of COVID-19.
Using thermal scanners to infer body temperatures have become mandatory at workplaces, straining supplies while inviting more competition to the market.
In the last couple of months, the sales of handheld/ portable thermal scanners have surged considerably. With cases of COVID-19 crossing one grim milestone after another, FMI forecasts the segment to expand at above 10% over the forecast period.
As shopping centers and workplaces begin to reopen following initial few months of lockdown, governments are expected to mandate the use of thermal scanners. In response to this, the thermal scanners market will witness strong sales.
Applications in Thermography to Transform Global Landscape
Thermal scanners are primarily designed to detect heat signatures from various sources. These devices are now used in commercial as well as industrial places. As a result of the rising focus on health and safety, the overall demand for thermal scanners is poised to surge.
Conventionally, thermal scanners were designed to suit industrial and commercial applications though they are being extensively used in COVID-19 detection. Rising application in thermography presents lucrative opportunities, however, there is long way to go for the market.
At present, thermography applications account for the second largest share in the global thermal scanner market. The segment is anticipated to rise at above 11% backed by the increasing use in the medical industry.
Thermography uses an infrared camera or thermal scanner to detect blood flow and heat patterns in body tissues. The test is used to detect hypothermia, hyperthermia, fever and thermography applications.
Thermography also demonstrates compelling results in detecting diabetic foot caused due to vascular issues. Other applications of thermography include breast cancer, carcinoma, and skin case.
Effective research in thermography thus presents lucrative opportunities for thermal scanner manufacturers.
Demand for Thermal Scanners to Rise as Countries Flex their Military Muscle
FMI reveals that military and defense segment exhibits the highest application of thermal scanners. In 2020, the industry held dominant share in the overall thermal scanner market.
There is surging use of thermal scanners in security and surveillance, motion detection and rescue operations. A thermal scanner captures infrared radiation including electromagnetic spectrum. This technology is found in uncooled microbolometer, which makes it suitable mainly for military purposes.
The military aviation sector is one of the key end users of thermal scanners. The technology is used in automatic target detection and airborne surveillance systems of spy planes.
Rising instances of regional conflicts and increasing military power have pushed several countries to flex their muscle, creating demand for high tech thermal scanners.
Legal Issues May Restrict Growth
Thermal scanning devices have been available for sale online and at a relatively economic cost for some time now. Several advancements are underway to introduce better and improved versions of these devices.
For instance FLIR Systems, a company specializing in cameras, has plans of releasing a thermal camera and app for iPhone at price tag of less than US$ 350 this spring.
Technologies showing images of objects and highlighting various heat levels from them are easier to own and use. But this improved accessibility raises various legal complications.
Certain countries bar the usage of thermal imaging without a proper warrant. But technology evolves at a faster rate than changes in law and now thermal imaging technology is available at the tip of our fingers.
These legal complications raise concerns pertaining to the viability of general public use of thermal imaging and scanning. There is also a bigger issue of how much a government is allowed to electronically monitor its citizens.
These legal restrictions could curb growth prospects for the thermal scanner market unless given due consideration to.
Manufacturers are responding to the High Demand of Thermal Scanners through Innovations and Product Launches
The demand will skyrocket in response to manufacturing firms marketing their scanners as important tools to deploy against the spread of the virus. Brisk sales in the last few months have encouraged leading brands to focus on innovations.
High potential markets such as India and China are witnessing a spurt of new launches. In India Nuos Home Automation was swift to jump into the bandwagon and launch touch less thermal scanner for workplaces.
Meanwhile thermal imaging wearable are launched in China and are soon to be deployed in the U.S. As the spread of COVID-19 goes rampant around the world many tech start-ups are coming up with new solutions to address it.
For instance, Hangzhou based AI start up called Rokid is currently in talks with several companies across America to sell its T1 glasses. Just like Rokid, there is a wave of Chinese and Indian companies creating technologies to address novel coronavirus.
Established companies as well have reported higher demand. FLIR for instance has reported to witness "exponential increase in demand," which has compelled the company to prioritize consignments for hospitals and medical facilities.
In the U.K. several tech companies have reported threefold increase in sales of thermal cameras. Manufacturers are therefore adopting a more tiered approach to respond to the demand uptick witnessed in the last few months.
Sales Continue to Rise in the East Even as North America Remains Dominant
Countries witnessing a higher incidence of COVID-19 are at the forefront of the thermal scanners market. Currently high demand is reported in both North America and Europe. Of these, North America is dominant and FMI forecasts it to account for nearly 28% of the global market by the end of 2020.
The unbridled rise of COVID-19 cases has made the U.S. a hotspot for thermal scanner sales. In the east, Japan, India and China will continue exhibiting high demand. As sales of thermal scanners explode in China, FMI forecasts the country to exhibit a higher CAGR in the near future.
It is interesting to note that there is a certain level of similarly with regards to the demand witnessed across key regional markets.
There is little difference in the demand witnessed for thermal scanners in terms of their wavelength between countries. This is also elucidated in the chart below.
As per FMI, in the key regional markets, which include North America, Europe, Latin America, East Asia, South Asia, and the Middle East and Africa, the demand for short-wave infrared thermal scanners is higher.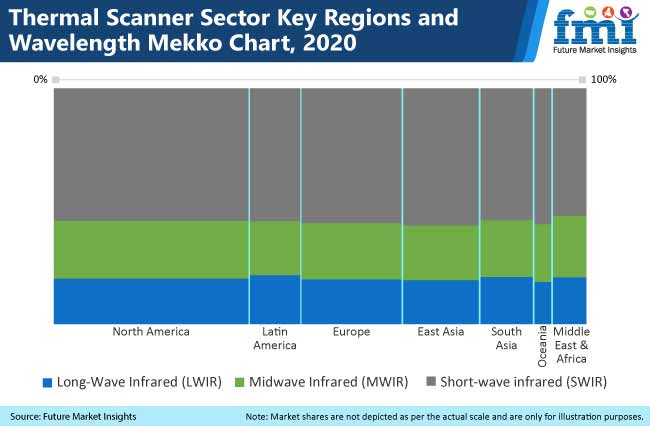 Thermal Scanner Market Leading Suppliers
The thermal scanner market is primarily business-centric. Companies operating in the market are therefore driven by industrial & commercial activities. FMI profiles some of the leading companies operating across key regional segments. These include:
Americas
FLIR Systems, Inc.
Fluke Corporation
L3Harris Technologies, Inc.
Optotherm, Inc.
3M Scott, US
Tonbo Imaging, Inc.
Europe
Leonardo S.p.A.
Thermoteknix Systems Ltd.
C-THERMAL
HGH Systemes Infrarouges SAS
Terabee
Asia Pacific
COX
Nippon Avionics Co.,Ltd.
Guangzhou SAT Infrared Technology Co., Ltd.
OMEGA Engineering Inc.
*The list is not exhaustive, and only for representational purposes. Full competitive intelligence with SWOT analysis available in the report
Thermal Scanners Market: The Way Forward
A lot is going to change post lockdown. People will have to get used to ubiquitous scans at workplaces and elsewhere. Fortunately, these scans will be less intrusive thanks to improvements in technologies.
As private companies and corporate offices itch to reopen, leaders are scrambling to install latest screening technologies and digital trackers that would flag potential risk of the virus spread.
There is demand for a wide range of products from standard thermometer guns to more sophisticated heat-detection cameras, some of which are complemented with facial recognition software.
Future Market Insights expects that temperature scanning systems will become a staple of public life. In the next few weeks, thermal scanners and imaging cameras will be deployed not only across airports and workplaces, but in schools, housing complexes and any other place of public gatherings.
However, some health experts fret that the ongoing crisis has shoved open doors for unproven techniques of surveillance, which may pose own risk as millions head back to work.
Market Segmentation
By Product
Fixed/ Mounted
Handheld/ Portable
By Technology
By Application
Thermography
Surveillance
Firefighting
Personal Vision System
Ruggedized Smartphone
Military
Others
By Wavelength
Long-Wave Infrared (LWIR)
Mid-wave Infrared (MWIR)
Short-wave infrared (SWIR)
By Price Range
High/Premium
Mid-Range/ Economy
By Region
North America
Latin America
Europe
East Asia
South Asia
Oceania
Middle East & Africa
Need specific information?
Talk Show:
The Rise of Intelligent Packaging
Personalized, Connected and Sustainable
November 18, 2021
11:00-11:45 AM PST (USA & Canada)
This is a LIVE session