PROANTHOCYANIDINS MARKET - KEY RESEARCH FINDINGS
The global proanthocyanidins market will expand at a CAGR of 6.4% over 2020-2030.
The market has noticeable demand from the food industry.
Grapes seed remains the preferred source; Cranberry to gain gradual traction.
North America is the market front-runners for the proanthocyanidins
KEY FACTORS SHAPING PROANTHOCYANIDINS MARKET
Proanthocyanidins Witnesses High Demand in Health Care
Proanthocyanidins are reduced tannins with several pharmacological functions. They are considered as phytochemicals that have defence and offense molecules that offer several health benefits. The proanthocyanidins have several health beneficial properties that are antioxidant, antidiabetic, anticancer, antimicrobial, and neuroprotective.
Due to this they have a multitude of uses in pharmaceuticals and nutraceutical industries. The food processing waste and agricultural wastes contain huge proanthocyanidins amount that can be a viable source for functional ingredients and dietary supplements.
COVID-19 Outbreak to Have Profound Impact
Proanthocyanidins market is be greatly impacted by the outbreak of COVID-19. Because of the spread of the virus, various regulations have been imposed by governments which are intruding the global trade flow. This outbreak has altered consumer preferences. Additionally, this outbreak has affected the demand and supply of proanthocyanidin market.
Increasing Demand for Flavonoids in Food Industry
Proanthocyanidin is a class of flavonoids found plans, and is the most potent source of antioxidants. Flavonoids are responsible for colour, taste, fragrance, to the flowers, seeds, and fruits. The flavonoids content varies in different food that is due to the source of extraction as well as processing technique of food products.
The dietary flavonoids occur naturally in vegetables, chocolate, fruit, and beverages such as tea and wine. The increasing awareness regarding food and health has shifting consumers to look for healthy products which are the key factor that is boosting the demand for flavonoids in the global food industry.
PROANTHOCYANIDINS MARKET: STRUCTURE ANALYSIS
Some of the major players operating in proanthocyanidins market includes NOW Health Group, Inc., Bio Botanica, Inc., Ocean Spray Cranberries, Inc., IL Health & Beauty Natural Oils Co., Inc., Swanson Health Products, Inc., Atrium Innovations Inc., Skin Actives Scientific and others.
Manufacturers in this market are focusing on developing proanthocyanidin products that cater to various applications such as healthcare, skincare, functional food & beverages, and pet nutrition.
Base year considered - 2020
Historical Period - 2015 – 2019
Forecast period - 2020 – 2030
Market Value in 2020 - US$ 200 Mn
Segments covered - Application, Source and Region
Regions covered - North America, Latin America, Europe, East Asia, South Asia, Oceania and MEA
Key Players - NOW Health Group, Inc., Bio Botanica, Inc., Ocean Spray Cranberries, Inc., IL Health & Beauty Natural Oils Co., Inc., Swanson Health Products, Inc., Atrium Innovations Inc., Skin Actives Scientific and others
Growth Drivers

The health benefits associated with proanthocyanidins driving the growth
Clean label trend driving the market
The Natural Ingredient-based products boosting the growth
Herbal Cosmetics Gaining Traction
The Pine Bark Segment Estimated to Account for the Largest Share
The pine bark segment is expected to account for the biggest share on the proanthocyanidin market based on source. Pine bark extract helps in reducing muscle discomfort as well as helps cure illnesses related to poor circulation, blood pressure, arthritis, and high blood glucose. Pine bark is filled with compounds of oligomeric proanthocyanidins, and has strong antioxidants. The antioxidant contents of pine bark extracts help in reducing the visible signs of aging in the skin, due to which it is used in anti-aging skin cream formulations. Pine bark as an additive in food applications are gaining acceptance among health conscious customers. In the proanthocyanidin market, demand for pine bark sources remains strong due to nutritional benefits and increased customer awareness.
In terms of application, the market is expected to witness increasing demand from pharmaceuticals, dietary supplements, personal care and cosmetics, and functional food and beverages segments.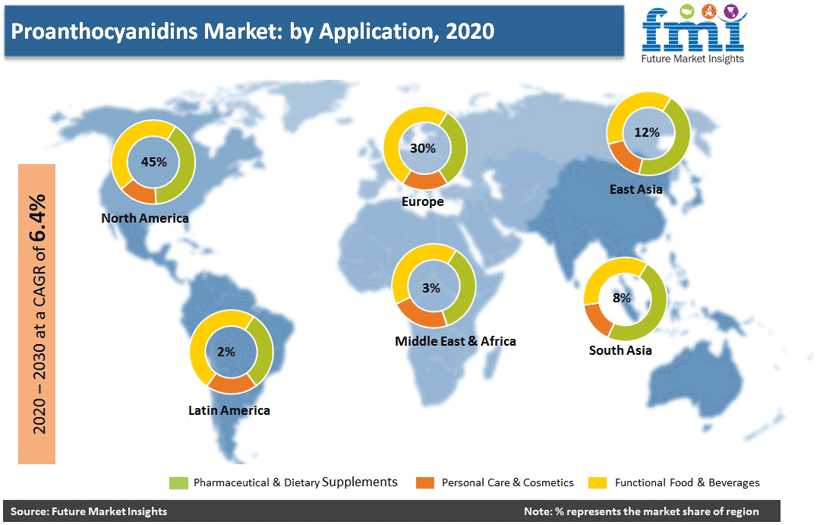 North American Market is Projected to Witness Significant Growth
North America is the fastest-growing market for proanthocyanidins, it is projected to record the highest CAGR during the forecast period. North America is a significant consumer of proanthocyanidins. The rise in the aging population, increased the consumption of healthy food, and growing demand for pharmaceuticals are the major factors driving the market in North America.
In North America, the U.S. is the most dominant segment and is projected to contribute highest income in the next four to five years due to relatively high consumption due to the high daily intake of proanthocyanidins in the U.S. population. Asia Pacific, however, is expected to see rapid growth over the forecast period due to increased market awareness of proanthocyanidin rich products and increased consumer preferences for nutritionally rich food products in countries such as China and India.
Surge in Demand for Dietary Supplements Derived from Natural Extracts
The global marketplace has undergone a paradigm change from curative to preventive healthcare management practices, making it a prime growth driver for the studied market. Moreover, consumers are looking for a variety of dietary supplements for maintaining and enhancing the overall health and well-being. The healthcare cost is substantially high in emerging economies due to higher per-capita out-of-pocket spending on healthcare, amid the burden of communicable and non-communicable diseases.
Such factors prompted customers to opt for dietary supplements. In addition, increasing awareness about the health and therapeutic benefits among consumers has enticed many companies to develop supplements derived from natural extracts such as proanthocyanidins driving the growth of the market.

How Growth will Unfold
Rapid advances made in the dietary supplement industry, especially in developing countries, are driving the proanthocyanidin market to rise. Over the past few years there has been widespread knowledge of dietary strategies to monitor related diseases in the lifestyle. The rising incidence and prevalence of lifestyle related diseases such as diabetes and cardiovascular conditions has been bolstering the demand for supplements containing proanthocyanidins.
The rising demand for food products with anti-cancer properties in populations across the world is also fuelling the demand for proanthocyanidin-rich food products. The growing use of proanthocyanidins in the food and beverage industry also helps in market expansion.
The rising disposable incomes of people in developing countries, coupled with rising level of awareness about the vast therapeutic benefits of dietary supplements, underpins latent opportunities for market players to capitalize on prevailing trends during the assessment period.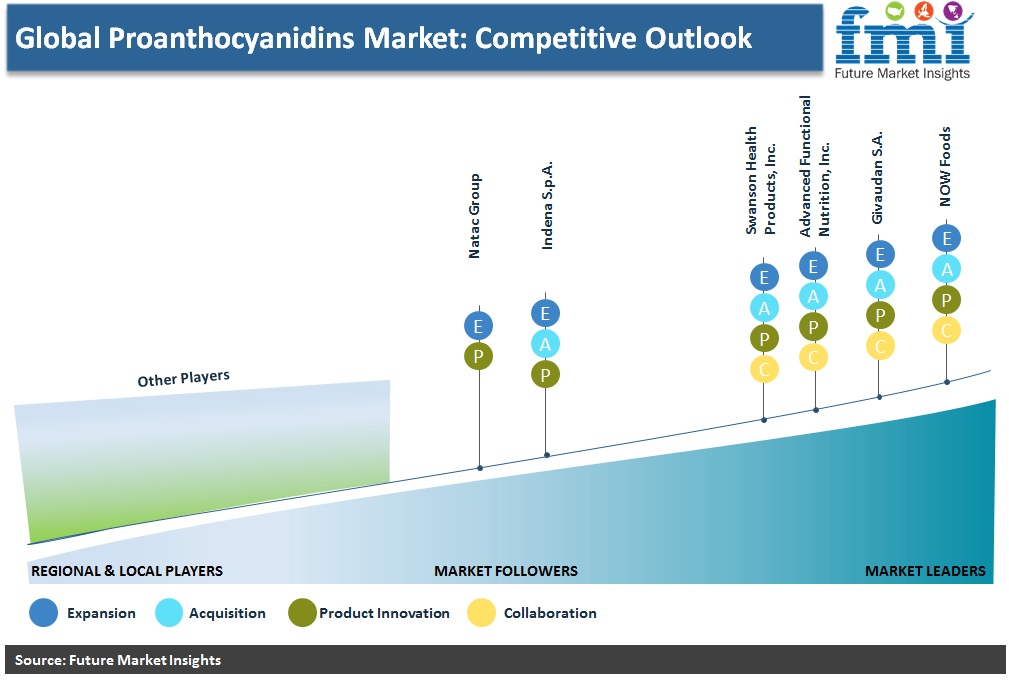 PROANTHOCYANIDINS MARKET TAXONOMY
The global Proanthocyanidins Market is segmented in detail to cover every aspect of the market and present complete market intelligence to readers.
Application
Food & Beverages
Dietary supplements
Personal Care & Cosmetics
Source
Pine Bark
Grape Seed
Berries
Distribution Channel
Drug and pharmacy store
Convenience stores
Modern Trade
Online retail
Region
North America
Latin America
Europe
Asia
Oceania
MEA
Need specific information?