Antioxidants Market By Product Segment (Natural Antioxidants, Synthetic Antioxidants) & Region - Forecast to 2014 - 2020
Antioxidants Market - Analysis, Outlook, Growth, Trends, Forecasts
November 2015

REP-GB-1078

74 pages
Introduction
The market for antioxidants witnessed massive slowdown in its progress as a result of the spread of Covid-19 pandemic across the globe. But in the post covid world, with the changing consumer habits, there is an increasing inclination towards consumption and application of vitamin supplements and effective preservation food products has been gradually improving the performance of antioxidants market. As recovery commences in 2021, major players are recuperating their positions through production expansion, capacity utilizations and online selling in 2021 keeping in view the covid-19 norms.
Leading corporations including Aland (Jiagsu) Nutraceutical Co. Ltd, Archer-Daniels Midland Company, BASF SE, Cargill Incorporated, DuPont, Kalsec, Inc., Kemin Industries, Inc., Koninklijke DSM N.V., Naturex S.A., Nutreo N.V. and Vitablend Nederland B.V are making high investments in the establishment of research institutes in different regions to come up with improvements in their offerings. They are adopting business strategies such as sales contracts, strategic alliances, acquiring technical expertise, product approvals, patents and events, joint ventures, partnership agreements, collaborations, digital marketing, mergers and acquisitions, capacity utilisations, technological advancements etc to lead the global market for functional proteins with largest market share.
The changing trends in the cosmoceutical and food industries are driving the antioxidants market. For instance, in February 2021, SkinCeuticals launched its antioxidants face serum called SilymarinCF which took 6 years for its creation. SkinCeuticals set out its new category of antioxidants and announced the launch of this new oil-free formula for anyone whose skin does not go well with its other antioxidant products, including the cult-classic C E Ferulic serum and Phloretin CF.
In addition to this, Proorganiq announced the launch of their new health product '24-in-1 mega superfoods'. The new product is a loaded combination of 24 varied fruits, vegetables, herbs and much more. The product is gluten free; plant based and offers the goodness of rich antioxidants. The antioxidant properties of wheatgrass rejuvenate the body while ginger improves digestion.
India and China are experiencing a lot of developmental activities which is leading to an increase in the disposable incomes of the people. Therefore, with the rise in income, the demand for antioxidant products is also rising. Japan and Germany are also projected to augment the growth of the antioxidants market, especially in the post covid world.
Antioxidants can be described as ingredients that extend the shelf life of food products & beverages by providing them protection against corrosion caused by oxidation. Due to their functionality, antioxidants are also known as shelf-life extenders. Antioxidants are used as an food additive , cosmetics and animal feed manufacturing. Antioxidants also provide an answer to the problem of skin ageing. Cosmetics with antioxidants as active ingredients protect cell membranes and inhibit the oxidation process by neutralising toxic oxygen molecules and free radicals.
Market Value and Forecast
The global antioxidants market was valued at US$ 2,243.8 Mn in 2014 and is expected to reach US$ 3,111.5 Mn by 2020 while expanding at a CAGR of 5.6% between 2014 and 2020. In terms of volume, the antioxidants market was valued at 75.5 thousand tonnes in 2014 and is forecast to reach 103.3 thousand tonnes by 2020 while expanding at a CAGR of 5.3%.
The market is primarily driven by increasing global meat consumption, increasing demand for anti-aging products, stringent government regulatory structure and increasing shelf life of food products. The increase in demand for anti-aging products is also stimulating the growth of the global antioxidants market currently.
Market Dynamics
The global economic slowdown had low impact on the global antioxidants market and the market for antioxidants is expected to continue to witness growth during the forecast period. However, changing eating patterns are affecting the market growth regionally, due to changing diet patterns, urbanization and population, and economic growth. The global meat market, worldwide, was valued at US$ 39.2 Trn in 2012 and US$ 40.9 Trn in 2014.
Pork meat has been accounting for the largest share in the overall global meat market since the last four years. However, the market for chicken meat has experienced high growth over the last four years. Rising population is boosting the growth of the meat market worldwide. The above table depicts the population trends in the world's largest and fastest growing economies, where the demand for feed products is expected to rise rapidly with the rise in population.
The global population is expected to reach more than 7.99 Bn by 2025, from 6.9 Bn in 2011. Due to growing life expectancy and robust growth of the agriculture sector, the demand for feed antioxidants in the global meat industry is expected to grow during the forecast period. India and Brazil are amongst the world's fast-growing economies and are witnessing a continuous increase in their per capita income. This may cause a standard shift in dietary preferences in both the countries.
However, meat consumption patterns are expected to vary across different parts of the world due to cultural, religious and other consumer preference factors. Owing to these factors, the demand for feed antioxidants is expected to grow, in turn, driving the growth of the overall antioxidants market in the coming years.
Antioxidants are used in food products to preserve their nutrients, flavour and freshness, thereby preventing food wastage and extending their overall shelf life. In many situations, two or more antioxidants are used in a food product to enhance their food quality protection standards. Preservatives are also used in commercial products to preserve their freshness for a longer time and to keep them free from bacteria. Antioxidants help prevent oxidation of food containing fat or oil and thereby, prevent it from going rancid.
Besides, they prevent the browning of vegetables, cut fruit and fruit juices and increase their shelf life. For example, vitamin C, which is also known as ascorbic acid, helps recycle vitamin E. Ascorbates, such as vitamin C, help to remove oxygen through the self-oxidation process.
Antioxidants that delay the first steps of the oxidation process are known as primary antioxidants. However, those that slow down the rate of oxidation are known as secondary antioxidants. In addition, other antioxidants, such as tocopherols, inhibit the oxidation process, thereby prolonging shelf life. Some antioxidants are used as flavour enhancers in foods.
For example, monosodium glutamate is used in processed foods, such as soups, sausages and sauces. Owing to these advantages, the demand for antioxidants is expected to observe a surge globally, especially from the packaged food industry.
Aging is defined as deterioration of physiological functions in organisms. As people get older, their skin loses its defence against external weather due to oxygen deficiency. Increasing pollution is also a major inducer of premature aging as it results in the activation of metalloproteinases that disintegrates collagen. Antioxidants reduce skin aging by dampening free radical formation in the skin.
Antioxidants offer protection to cell membranes and prevent the oxidation process by neutralising toxic oxygen molecules and free radicals. There are some proteins present in connective tissues, namely collagen, and elastin, which help keep the skin tight and fresh.
As people get older, the production of these protein elements becomes slow; this leads to wrinkles and sagging of skin. Antioxidants help maintain the elasticity of skin by protecting it from free radical attacks. Chain breaking antioxidants, including uric acid, vitamin E, vitamin A, vitamin C and beta-carotene, help to prevent the oxidation chain reaction by terminating free radicals. Antioxidants play an important role in providing anti-aging skin support process by protecting the skin from the toxic effects of free radicals.
Besides, vitamin C and glutathione, the most widely used antioxidants, protect the cytoplasm of the cells. Apart from this, antioxidants are also present in cosmetics, such as alpha-tocopherol acetate and tocopherol. These antioxidants help to substantially increase the vitamin E content of the skin.
Antioxidants are known for their skin care benefits. For instance, they reduce singlet oxygen and prevent damage to or death of cells. Owing to these factors, the use of antioxidants is expected to increase over the forecast period.
Segmentation by Product
The global antioxidants market can be segmented on the basis of natural antioxidants and synthetic antioxidants. The natural antioxidants market is further sub-segmented into rosemary extracts, vitamin A (including carotenoids), vitamin C (including ascorbic acid) and vitamin E (including tocopherols and tocotrienols).
The synthetic antioxidants segment includes Butylated Hydroxyanisole (BHA), Butylated Hydroxytoluene (BHT) and others (including Tert-Butylhydroquinone (TBHQ), propyl gallate). The market for synthetic antioxidants segment is comparatively larger as compared to natural antioxidants market and is likely to remain dominant during the forecast period.
Key Regions: Antioxidants Market
The global antioxidants market report covers four major regions, namely North America, Europe, Asia-Pacific and Rest of the World. Asia Pacific was the largest market and accounted for 31.90% of the overall market in 2014. The region's dominance can be attributed to growing demand for health and dietary supplements in Asia Pacific. Moreover, the growth in demand for packaged food products, in turn, is also contributing to the increased demand for antioxidants.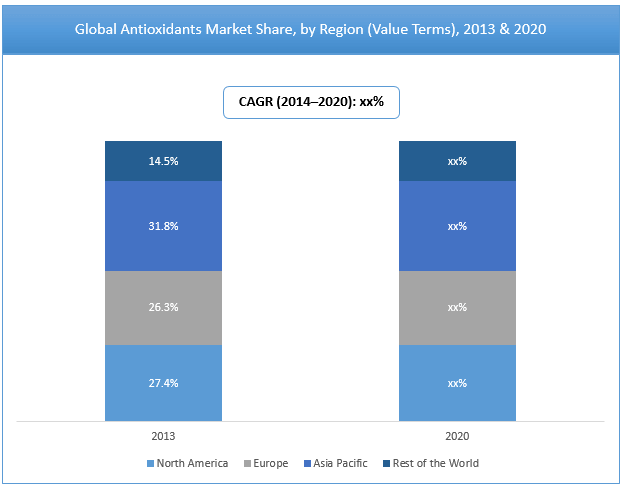 Key Players: Antioxidants Market
Key manufacturers identified in the global antioxidants market include Aland (Jiagsu) Nutraceutical Co. Ltd, Archer-Daniels Midland Company, BASF SE, Cargill Incorporated, DuPont, Kalsec, Inc., Kemin Industries, Inc., Koninklijke DSM N.V., Naturex S.A., Nutreo N.V. and Vitablend Nederland B.V. In order to sustain their market share in the antioxidants market, manufacturers have been entering into various mergers and acquisitions as well as following the strategy of geographic expansion, especially in Asian countries like China, India and other Southeast Asian countries.
World's Most Profilic Intelligence Engine
Get Access To The World's Largest Market Research Database.
Sign Up Now
Key Segments Covered: Antioxidants Market
By Product Segment
Natural Antioxidants

Rosemary extracts
Vitamin A
Vitamin C
Vitamin E

Synthetic Antioxidants

Butylated hydroxyanisole
Butylated hydroxytoluene
Others
Key Regions/Countries Covered: Antioxidants Market
North America

U.S.
Rest of North America

Europe

Germany
France
U.K.
Scandinavia
Rest of Europe

Asia-Pacific

China
India
Japan
Australia
Rest of Asia-Pacific

Rest of the World

Latin America
Middle East
Africa
Need specific information?
Our Clients