Propyl Acetate Market Revenue to Reach Nearly US$ 800 Mn in 2029
Conventional solvents such as ethyl acetate exhibit rapid evaporation and require retardants to control their evaporation rate. This has influenced end users to move to propyl acetate as a suitable chemical compound in various industrial solvent and other industrial applications, globally. Growing at a robust pace, the worldwide sales of propyl acetate are anticipated to peg around US$ 800 Mn by 2029 end. As suggested by this new report, the global propyl acetate market will witness high demand growth during 2024-2026.
Frequently Asked Questions about Global Propyl Acetate Market
How will the propyl acetate market grow in the future?
The global propyl acetate market will continue to grow at a significant rate, as the preference for propyl acetate is increasing over ethyl acetate, owing to its superior solvent properties such as less ink, scrap, and solvent consumption, comparatively high image quality, improved printing speed, reduced moisture absorption, etc. Manufacturers of printing inks, food additives, and personal care products are shifting towards the adoption of propyl acetate, which is estimated to drive its market growth in the near future.
Will the rebounding of crude oil prices affect the future trajectory of the propyl acetate market?
Yes, as crude oil is the most significant feedstock for manufacturing propyl acetate. Rebounding prices of crude oil by government authorities and regimes is a major challenge or restraint for propyl acetate market growth.
Which application area holds potential growth opportunities for market players?
While the printing ink industry continues to influence growth strategies, as it holds a major share in the propyl acetate market, growing demand for propyl acetate in the food industry as a flavoring agent will result in increased market share.
What is the degree of competition in the propyl acetate market?
The global propyl acetate market has a perfect competition structure, with a good number of regional and local market players. In the current scenario, industry leaders such as BASF SE, Dow Chemical Company, OXEA GmbH, and Eastman Chemical Company collectively hold around one-fourth of the total revenue share.
Which region will lead the global sales of propyl acetate?
North America remains in the vanguard of the propyl acetate market, with rapid expansion of end-use industries of propyl acetate. Moreover, end users of propyl acetate in printing ink, paint and coating, packaging ink, and other industries are engaging in expansions, collaborations, and key strategic developments to increase their production capacities in this region.
Coating & Printing Ink Remains Key Application Area
Propyl acetate manufacturers continue to view coating & printing ink as a target application area, where the chemical is primarily used for screen printing and flexographic inks. Moreover, high solvency, mild odor, and thinnable nature of propyl acetate are boosting its adoption in coating & printing ink purposes. Application of propyl acetate in personal care products and food flavorings is growing at a robust rate of over 7%, and, as such, market players are also focusing on these application categories.
Propyl Acetate Market in East Asia to Outpace Developed Regional Markets
In the current scenario, most of the revenue of propyl acetate comes from North America and Europe, with both these developed regional markets accounting for around half of the total demand. However, there are strong indications that the propyl acetate market in East Asia will outperform these developed regions in the coming years. Strong establishment of industries such as chemicals, printing ink, and food & beverages, especially in China, are shaping market growth in developing region. Moreover, on similar grounds, the demand for propyl acetate in South Asia is also expected to climb rapidly.
Focusing on Food & Beverage Industry for New Growth Potential
Driven by the optimum fragrance properties of propyl acetate, food & beverage producers are increasingly including this chemical in their offerings as a flavoring agent. In addition, propyl acetate has been granted approval by agencies such as the Food and Drug Administration (FDA) as a food additive for direct human consumption. Players operating in the propyl acetate market must drive their attention to the food & beverage sector to leverage the growth potential.
Propyl acetate with purity ? 99% takes the lead
Propyl acetate with purity < 99% to see healthy demand growth
High adoption in coatings & printing inks
Increasing application in personal care products
Surging demand from chemicals industry
Demand from pharmaceuticals sector on rise
How Growth will Unfold
The chemicals industry continues to be a prominent consumer of propyl acetate, where the chemical compound is used as an intermediate to manufacture natural and synthetic resins. By 2029, propyl acetate worth around US$ 500 Mn will be consumed by the chemicals industry. While the end-use category accounts for nearly 3/4 of worldwide adoption, manufacturers are exploring growth avenues in the pharmaceuticals and food & beverage sectors. Further, this report reveals fast-paced adoption of propyl acetate in both these end-use industries during the forecast period.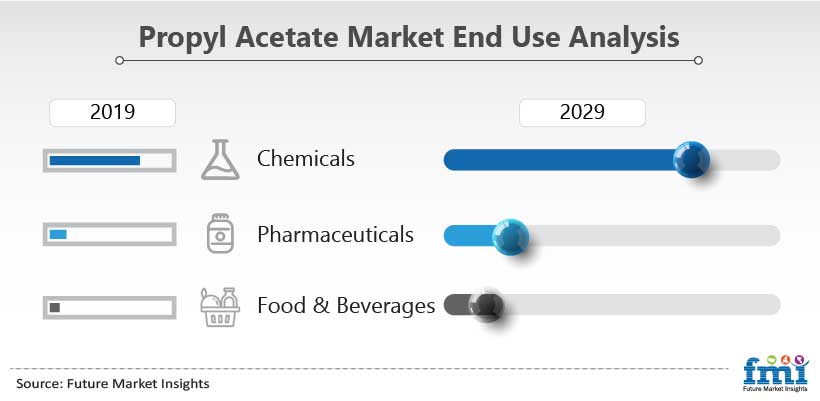 * This data is only a representation. Actual data may vary and will be available in report.
Click Here To Know How The Growth Will Unfold
Custom Market Research Services
FMI offers custom market research services that help clients to get information on their business scenario required where syndicated solutions are not enough.
Overview
Propyl Acetate Market Analysis 2019-2029
A recent market study published by FMI on the propyl acetate market includes global industry analysis for 2014-2018 and opportunity assessment for 2019-2029, and delivers a comprehensive assessment of the most important market dynamics. After conducting thorough research on the historical as well as current growth parameters of the propyl acetate market, the growth prospects of the market are obtained with maximum precision.
Propyl Acetate Market Taxonomy
The global propyl acetate market is segmented in detail to cover every aspect of the market and present complete market intelligence to the reader.
Purity
Purity ≥ 99%
Purity < 99%
Application
Coatings & Printing Inks
Chemical Intermediates
Food Flavourings
Personal Care Products
Others
End Use
Chemicals
Pharmaceuticals
Food & Beverages
Others
Region
North America
Latin America
Europe
South Asia
East Asia
Middle East & Africa
Oceania
How the research was conducted?
Primary Research
Chief Executive Officer
Vice President
Sales Head
Product Manager
Marketing Head
Deputy Manager -Marketing & Communications
Marketing Manager
Sales Manager
Distributors
Customer Service Representative
Current market dynamics and challenges
End-use Industry Segment Split and Authenticity
Yesteryear trends
Market characteristics
Competition structure and market structure
Strategic growth initiatives
Market segment splits and authenticity
Near-term and long-term market growth prospects
Opinions on market projections and validity of assumptions
Secondary Research
OICA
World Bank
IEA
U.S. Environmental Protection Agency
European Commission
Primary Interview Splits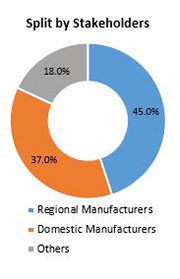 To Learn More About our Comprehensive Perspective on Propyl Acetate Market,
Get in touch
COVID -19 : Impact Analysis
Request the coronavirus impact analysis across industries and markets
Request Covid -19 Impact
CASE STUDIES
See how our work makes an impact.
At FMI, we design strategies that are adaptive, impactful, and implementable.