Coating & Printing Ink Remains Key Application Area
The market for propyl acetate witnessed massive slowdown in its progress as a result of the spread of Covid-19 pandemic across the globe. The level of demand declined to the extreme level due to lockdown creating hurdles for the key players operating in this market. However, as recovery commences in 2021, major players are recuperating their positions through production expansion, capacity utilizations and online selling in 2021 keeping in view the covid-19 norms.
Recognized companies such as Sigma-Aldrich, Finetech Industry Limited, Angene, Tractus, TCI America, Oakwood Products, Inc., abcr GmbH, Sontara Organo Industries, Organo Chem India, Eastman Chemical Company, Yixing Kaixin Chemical Co., Ltd, Somu Solvents Pvt., are focusing on the incorporation of tactics including partnership agreements, sales contracts, strategic alliances, diversifications, innovative launches, mergers & acquisitions, research and developments, technological upliftments, product line extensions, hiring technical expertise, joint ventures, collaborations, product approvals etc for gaining a competitive edge over others in the market.
For instance, in March 2021, the Eastman Chemical Company signed a memorandum of understanding with The Estée Lauder Companies (ELC) aiming towards enhancing its sustainable packaging goals by 2025. With the help of this agreement, the Estée Lauder Companies(ELC) will be able to incorporate the packaging solutions manufactured by Eastman's molecular recycling technologies. In addition to this, Eastman announced its partnership with Tupperware Brands Corporation with the main purpose to offer Tupperware its new material range Tritan™ Renew. The partnership will allow Tupperware to expand its innovation segment and further expand ECO+ to select products that require a clear, glass-like design.
North America is predicted to pick up pace and eventually dominate the global market for propyl acetate through 2030 owing to the emergence of leading manufacturing companies and new domestic players in the market. Other regions expected to take over the market are Europe, East Asia, South Asia, China and other.
Propyl acetate manufacturers continue to view coating & printing ink as a target application area, where the chemical is primarily used for screen printing and flexographic inks. Moreover, high solvency, mild odor, and thinnable nature of propyl acetate are boosting its adoption in coating & printing ink purposes. Application of propyl acetate in personal care products and food flavorings is growing at a robust rate of over 7%, and, as such, market players are also focusing on these application categories.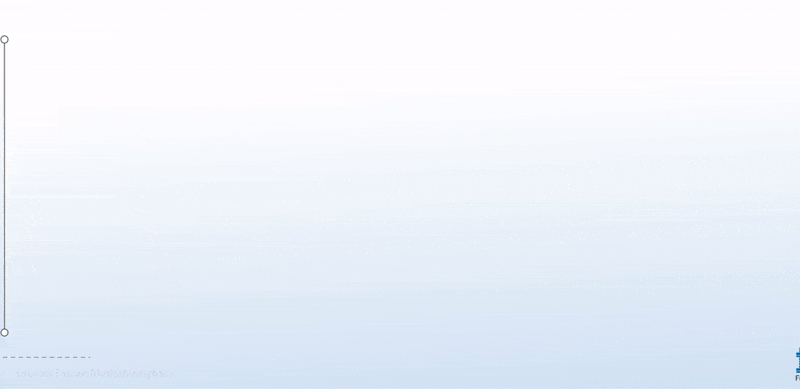 Propyl Acetate Market in East Asia to Outpace Developed Regional Markets
In the current scenario, most of the revenue of propyl acetate comes from North America and Europe, with both these developed regional markets accounting for around half of the total demand. However, there are strong indications that the propyl acetate market in East Asia will outperform these developed regions in the coming years. Strong establishment of industries such as chemicals, printing ink, and food & beverages, especially in China, are shaping market growth in developing region. Moreover, on similar grounds, the demand for propyl acetate in South Asia is also expected to climb rapidly.
Focusing on Food & Beverage Industry for New Growth Potential
Driven by the optimum fragrance properties of propyl acetate, food & beverage producers are increasingly including this chemical in their offerings as a flavoring agent. In addition, propyl acetate has been granted approval by agencies such as the Food and Drug Administration (FDA) as a food additive for direct human consumption. Players operating in the propyl acetate market must drive their attention to the food & beverage sector to leverage the growth potential.
How Growth will Unfold
The chemicals industry continues to be a prominent consumer of propyl acetate, where the chemical compound is used as an intermediate to manufacture natural and synthetic resins. By 2029, propyl acetate worth around US$ 500 Mn will be consumed by the chemicals industry. While the end-use category accounts for nearly 3/4 of worldwide adoption, manufacturers are exploring growth avenues in the pharmaceuticals and food & beverage sectors. Further, this report reveals fast-paced adoption of propyl acetate in both these end-use industries during the forecast period.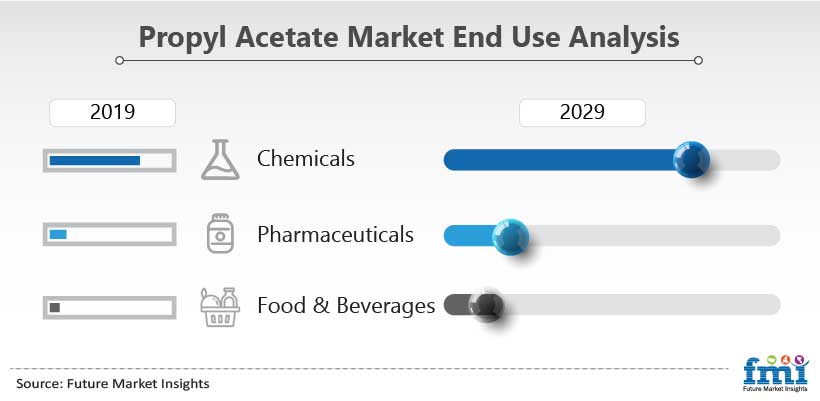 FREQUENTLY ASKED QUESTIONS ABOUT GLOBAL PROPYL ACETATE MARKET
How will the propyl acetate market grow in the future?
The global propyl acetate market will continue to grow at a significant rate, as the preference for propyl acetate is increasing over ethyl acetate, owing to its superior solvent properties such as less ink, scrap, and solvent consumption, comparatively high image quality, improved printing speed, reduced moisture absorption, etc. Manufacturers of printing inks, food additives, and personal care products are shifting towards the adoption of propyl acetate, which is estimated to drive its market growth in the near future.
Will the rebounding of crude oil prices affect the future trajectory of the propyl acetate market?
Yes, as crude oil is the most significant feedstock for manufacturing propyl acetate. Rebounding prices of crude oil by government authorities and regimes is a major challenge or restraint for propyl acetate market growth.
Which application area holds potential growth opportunities for market players?
While the printing ink industry continues to influence growth strategies, as it holds a major share in the propyl acetate market, growing demand for propyl acetate in the food industry as a flavoring agent will result in increased market share.
What is the degree of competition in the propyl acetate market?
The global propyl acetate market has a perfect competition structure, with a good number of regional and local market players. In the current scenario, industry leaders such as BASF SE, Dow Chemical Company, OXEA GmbH, and Eastman Chemical Company collectively hold around one-fourth of the total revenue share.
Which region will lead the global sales of propyl acetate?
North America remains in the vanguard of the propyl acetate market, with rapid expansion of end-use industries of propyl acetate. Moreover, end users of propyl acetate in printing ink, paint and coating, packaging ink, and other industries are engaging in expansions, collaborations, and key strategic developments to increase their production capacities in this region.
PROPYL ACETATE MARKET TAXONOMY
The global propyl acetate market is segmented in detail to cover every aspect of the market and present complete market intelligence to the reader.
Purity
Purity ≥ 99%
Purity < 99%
Application
Coatings & Printing Inks
Chemical Intermediates
Food Flavourings
Personal Care Products
Others
End Use
Chemicals
Pharmaceuticals
Food & Beverages
Others
Region
North America
Latin America
Europe
South Asia
East Asia
Middle East & Africa
Oceania
Need specific information?