This Radiolucent Wrist Fixator market study offers a comprehensive analysis of the business models, key strategies, and respective market shares of some of the most prominent players in this landscape. Along with an in-depth commentary on the key influencing factors, market statistics in terms of revenues, segment-wise data, region-wise data, and country-wise data are offered in the full study. This study is one of the most comprehensive documentation that captures all the facets of the evolving Radiolucent Wrist Fixator market.
Market Outlook
External fixation devices have been used since a long time. However, these external fixation devices have a number of drawbacks such as risk of infection, stiffness of the joint, discomfort due to weight and hindrance in X-Ray for monitoring the heeling progress. The radiolucent wrist fixators help in reducing the bulk as they are lighter making them a convenient option for patients. External fixation devices can be used for the fixation of any polytrauma joint. Wrist fixation devices are used to fix polytrauma in the wrist.
Radiolucent material is a material almost transparent to an X-Ray. With the rising need for wrist fixators that is lightweight and one that does not hinder the visibility in follow-up X-Ray scans. Radiolucent wrist fixators are made of radiolucent material such as the polycarbonate and polyethylene to overcome the drawbacks of the regular metallic external wrist fixator. A number of large and small companies have been investing in the area. Furthermore, the advantages of these devices is helping it gain popularity across the globe.
Identify Key Market Forces and their Long-Term Forecast
Sneak Peek into Key Forecast Factors and thier Impact
COVID -19 : Impact Analysis
Request the coronavirus impact analysis across industries and markets
Request Covid -19 Impact
Radiolucent wrist fixators are used for many indications that include fracture of the distal radius, fractures with open or closed soft tissue damage, polytrauma, fractures and dislocation in combination, loss of reduction after initial treatment and infections. Some of the companies that offer the radiolucent wrist fixator devices include Orthofix
Factors Driving and Hindering the Radiolucent Wrist Fixator Market
Growing incidence of fracture and the need for lightweight external fixation devices are driving the growth of the radiolucent wrist fixator market. Although these devices overcome some of the drawback of the traditional fixation devices, an important problem is still not addressed well enough, i.e., pin site infection. Since the radiolucent wrist fixator device structurally resembles the traditional device, it needs to be inserted into the bone and the remaining half is left outside, this if not taken care may lead to an infection. Though the materials used are biocompatible, may lead to adverse reactions.
Polycarbonate as an Increasingly Used Material for Radiolucent Wrist Fixators
Although some of the leading players use polyether ether ketone or polyethylene material, carbon fibres is a new material explored for the use in radiolucent wrist fixator devices. Carbon fibre is the new star in many industries mostly due to its features such as lightweight and strength. Compressed carbon fibre in the form of polycarbonate is a popular material used since the material is not only radiolucent but also is lightweight in nature. These characteristics prove to be promising for the growth of the radiolucent wrist fixator market. Some of the devices that use polycarbon, include Clearview Wrist Fixator and FIXUS 33.
Radiolucent Wrist Fixator in Hospitals
Orthopaedic division of hospitals is the largest consumer of the radiolucent wrist fixators. Hand fractures comprise nearly quarter of all the fractures. There are also reasonable reimbursement policies for the procedures involving the use of the radiolucent wrist fixator device. These factors combine together to make the use of radiolucent wrist fixators a potential choice in fixation of the wrist in most hospitals in particular.
Radiolucent Wrist Fixator Market Assessment by Material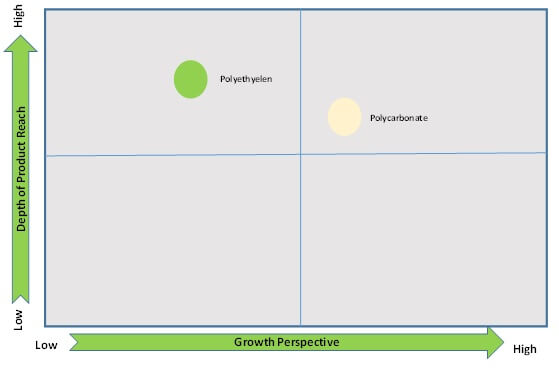 Regional Market Outlook
Most of the technical developments and advancements with respect to the radiolucent wrist fixator market is in the North American region. The region is known for strong regulations and government initiatives for the growth of the market. Furthermore, a fair amount of reimbursement is also available for the surgery favouring the radiolucent wrist fixator market in the region. A number of top companies for an instance Orthofix are located in North America strengthening the hold of the market. However, the Asia Pacific market is also expected to have a lucrative growth due to growing aging population.
Competition Outlook
Examples of some of the key participants in the radiolucent wrist fixators market are Fixus, Zimmer Biomet, Medartis, Orthofix, Umbra Applied Technologies and Swemac.
Small-Scale Manufacturers/Providers
Umbra Applied Technologies
Fixus
Swemac
Medium-Scale Manufacturers/Providers
Large-Scale Manufacturers/Providers
Orthofix
Stryker
Smith & Nephew
Key Data Points Covered in Report
The report covers exhaustive analysis on:
Radiolucent Wrist Fixator Market by method type, end user and region
Regional level market analysis of North America, Latin America, Europe, Asia Pacific, Middle East & Africa by method type, end use segments and country
Radiolucent Wrist Fixator Market Dynamics & Opportunity Assessment
Historical Actual Market Size, 2013 - 2017
Radiolucent Wrist Fixator Market Size & Forecast 2018 - 2028
Radiolucent Wrist Fixator Current Trends/Issues/Challenges
Competition & Companies involved
Research Methodology
FMI utilizes a triangulation methodology that is primarily based on experimental techniques such as patient-level data, number of procedures and capital equipment install base to obtain precise market estimations and insights on various medical devices and medical technology. Bottom-up approach is always used to obtain insightful data for the specific country/regions. The country-specific data is again analyzed to derive data at a global level. This methodology ensures high quality and accuracy of information.
Secondary research is used at the initial phase to identify the feasibility of the target products/technology categories and its respective segments, product offerings, usage pattern as per disease indications, product installed base in target healthcare facilities, life span of a device, reimbursement scenario, adoption rate and future impact of new technologies.
Each piece of information is eventually analyzed during the entire research project, which builds a strong base for the primary research information.
Primary research participants include demand-side users such as key opinion leaders, physicians, surgeons, and supply-side providers of medical devices who provide valuable insights on trends, key treatment patterns, adoption rate, and purchasing pattern, technological development of medical devices, patient education, effectiveness of manufacturers and important strategies, pricing and competitive dynamics.
Quantitative and qualitative assessment of basic factors driving demand, economic factors/cycles and growth rates and strategies utilized by key players in the market are analyzed in detail while forecasting, in order to project Year-on-Year growth rates. These Y-o-Y growth projections are checked and aligned as per industry/product lifecycle and further utilized to develop market numbers at a holistic level.
On the other hand, we also analyze various annual reports, investor presentations, SEC filings, 10k reports and press release operating in this market segment to fetch substantial information about the market size, trends, opportunity, drivers, and restraints to analyze key players and their market shares. Key companies are segmented at Tier level based on their revenues, product portfolio and presence.
Please note that these are the partial steps that are being followed while developing the market size. Besides this, forecasting will be done based on our internal proprietary model which also uses different macro-economic factors such as per capita healthcare expenditure, disposable income, industry based demand driving factors impacting the market and its forecast trends apart from disease related factors.
Unique Requirements? Customize this Report
Customize by Region, Country, Application, Product, & other segments
Integrate our Insights with your Existing Data
Determine the scope of the study to suit your requirements
Gain Insights on Key Radiolucent Wrist Fixator Market Impacting Forces
Know the Winning Strategies of Market Leaders
Get Deep-Dive Analysis on Each Segment
Identify the Sources that will Drive Top-Line Revenue
Market Segmentation
By Material
PEEK and Polyethylene
polycarbonate
By End user
Hospitals & Clinics
Ambulatory Centers
By Region
North America
Western Europe
Eastern Europe
Latin America
Asia Pacific
Japan
Middle East & Africa
Report Highlights:
Shifting industry dynamics
In-depth market segmentation
Historical, current and projected industry size, recent industry trends
Key competition landscape, market structure, regulatory scenario
Epidemiology outlook for diseases
Economical spending, regional healthcare outlook, consumer healthcare expenditure
Availability of device, cost of ESR test, specificity and sensitivity of analyzer
Strategies for key players and product offerings, channel strategies, regional foot print, channel footprint
Potential and niche segments/regions exhibiting promising growth
A neutral perspective towards market performance in terms of value and volume
Frequently Asked Questions
---
Why choose FMI?
With a global presence and a trusted partner to several Fortune 500 firms, FMI covers 1 billion+ data points to build a diversified portfolio for market benchmarking
Market Reports researched and peer reviewed by industry experts from across the globe
We follow a multi-dimensional method of analysis monitoring a three-layer data validation process
In addition to demand-side market assessment, our data triangulation methodology involves supply-side research
Primary research includes mandatory field interviews with stakeholders involved
Customizing reports according to client specification is also our forte
What will you discover from Radiolucent Wrist Fixator Market report?
The current and future market size, covering each aspect and nuanced trends across key national and geographic markets
An overview of the market report, providing an imperative visual of the varied market subdivisions and overall forecast statistics in terms of value and volume
Extensive database and key dynamics elevating the market with varied verticals associated
Underlying Radiolucent Wrist Fixator Market forces that are compelling consumers or businesses to purchase the product
How novel technologies and consumer-centric innovations will create new value-adding opportunities for companies active in the Radiolucent Wrist Fixator Market
What will be environment and regulatory impacts on the market over the next decade
Which framework has been used to develop the Radiolucent Wrist Fixator Market report?
Investment Feasibility Matrix - It shows returns on investment, level of competition, success rate of investment, and potential risks associated with the market. The analysis shows that the competition is high in the established market, while the returns for short-term investment are also taken into consideration
Relative Maturity Mapping – The relative maturity is measured according to three growth phases (growth, maturity, decline)
Relative PLC (Product Life Cycle) – Analysis of the emergence of prominent players and competitive test prices which are driving factors behind every market. (expected market behavior, observed market behavior, expected market performance, observed market performance)