Spreads Market Snapshot
[250 Pages Report] The spreads market value is expected to total US$ 27.1 Bn in 2021, according to Future Market Insights (FMI). The overall market value is expected to reach US$ 49.82 Bn by 2031, growing at a CAGR of 6.3% for 2021-31.
The rising demand for sauces and condiments made of natural ingredients will emerge as a chief growth driver. Besides this, surging demand for gourmet jams, preserves, and artisan bakery products is expected to result in high sales of the market.
With demand expected to grow considerably, the spreads market is expected to represent nearly 21% of sauces and condiments market in 2021.
| | |
| --- | --- |
| Spreads Market Year Value (2020A) | US$ 25.8 Bn |
| Estimated Spreads Market Year Value (2021E) | US$ 27.1 Bn |
| Projected Spreads Market Year Value (2031F) | US$ 49.82 Bn |
| Value CAGR (2021-2031) | 6.3% |
Spreads Market 2016-2020 Outlook in Comparison to 2021-2031 Growth Forecast
The spreads market size grew at a CAGR of 4.5% between 2016 and 2020. Forecasts for growth remain optimistic, with the market predicted to grow at a CAGR of 6.3% between 2021 and 2031.
Spreads are no longer considered to just be a breakfast option that is had with bread. Though it is becoming saturated as a companion product for bread during breakfast time, these are increasingly used to facilitate convenience in preparing other dishes. It is widely being used at dining events, office lunches, and leisure snacking times, apart from the conventional breakfast.
For instance, peanut butter spread can be used as a cake filling and with cold dishes for lunch or dinner, chocolate spreads can be used in smoothies and puddings, savory spreads can be used in pizza and pasta, and honey can be taken as a tonic mixed with warm water throughout the day. The versatility of spreads is thus, expected to drive the growth over the forecast period.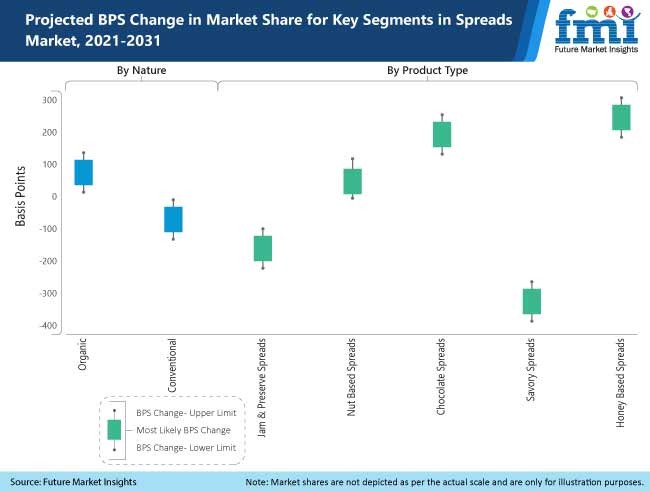 How is Flavor Inspiration Driving Spreads Market?
Consumers are getting attracted to lip-smacking food products available in the global food and beverages market. Flavor inspiration is influencing the food and beverages market, as consumers explore more of the world through the lusciousness of their cuisines. In the spreads market, flavor inspiration is one of the major factors resulting in the flourishing demand amongst customers.
Spreads are made with a variety of ingredients, which impart their taste, texture, and aroma. Due to the full availability of a different range of flavors, it is popping up in grocery store aisles and slowly becoming the most preferred go-to convenience food option.
Will Demand for Nut and Seed-based Spreads Drive Sales of Spreads?
The present consumer consumption pattern of food and beverages, showcases consumers' growing health consciousness and increasing health awareness. Consumers are getting more attracted to food products that are healthier. Thus, nut- and seed-based spreads are finding a place in the shelves of consumers rapidly.
They have started embracing nut-based spreads as a healthier alternative to conventional spreads as these are high in protein, provide an instant energy boost, and mainly satisfy the hunger requirements of the consumers instantly.
Besides, consumers are using nut and seed-based spreads as a healthy ingredient in smoothies, cake toppings, ice-cream toppings, and other breakfast products, which is another factor boosting the demand for the nut-based spreads among consumers.
How are Natural and Organic Products Positioned in Spreads Market?
There are several multinational, regional, and local players operating in the business, wanting to strengthen their presence in their respective pockets of sales. Excellence in the business depends on the capabilities of manufactures to bring in innovative flavor and ingredient options in the conventional spreads.
Thus, to have an upper edge on the competitors, manufactures are coming up with healthy ingredients, exotic flavor, smart labelling, and attractive packing. Manufactures are using raw materials such as macadamia, yeast extract, hummus, cashew, and others to provide wider range of products to consumers.
Besides, manufactures are describing their products with intelligent labels such as "100% pure", "all-natural ingredients", "no preservatives/additives", "pure-state wholefood spreads", "allergen free", and "99.9% organic" among others.
The use of intelligent labelling is providing strong opportunity for the market players as they are targeting health conscious and aware consumers of today. Besides, players wanting to debut in the spreads market are anticipated to update their portfolio with innovative and smarter ingredients, catchy labeling, and attractive packaging to set their footprint in the mature market.
What is the Impact of COVID-19 on the Spreads Market?
Spreads labelling may be subjected to enhanced scrutiny following the COVID-19 pandemic. More information on the potential role of food in the transmission of the virus through local and international trade is being sought by national food safety authorities and the International Food Safety Authorities Network (INFOSAN) Secretariat.
Meanwhile, the World Health Organization has recommended certain standards to maintain food hygiene and food safety practices to prevent transmission of COVID-19 through food.
Clean label legal Spreads products will be in high demand as a result of these trends. The recovery of the global economy would eventually lead to an increase in per capita income and the adoption of healthier animal lives, which will boost the market in the forecast period.
Spreads Market - Country-wise Insights
What is Growth Opportunity in the US Spreads Market?
Due to increasing health consciousness and the ability to spend on premium and specialty food products, the US is among the prominent countries in the spreads market. Along with the shift towards healthier spread offering, the country is witnessing growing demand due to increasing online penetration. The US Spreads market is projected to register a CAGR of 5.7%, during the forecast period.
The US spread market is highly competitive with private label products competing with major brands, in terms of pricing and product innovation. Apart from the well-established brands, there has been a significant rise in the number of country-specific local brands offering similar products at a more competitive price. The availability of regional products at a convenient price is creating competition in the US market.
Private label brands, such as Smuckers, Welch's, and Polaner, are some of the most popular jam and jelly products consumed in the United States.
How is Premiumization Driving France Spreads Market?
According to the latest report, the spreads market of France is estimated to be valued around US$ 550 Mn in the year 2021.
There has been increasing demand for premium spreads in France due to increasing health and wellness conscious population. The concept of "premiumization" is persuading manufacturers in the spreads market to go beyond pricing to include incredible quality and a grander experience. Premiumization has fueled consumer perception for high quality and value-added products with quality ingredients that promise improved health benefits in France.
Consumers are willing to pay a premium price for products offering obvious health benefits – the only prerequisite being the promise of a unique offering that meets their basic dietary and health needs of along with offering a sensory indulgence.
What is the Growth Prospect for India Spreads Market?
According to the latest report, the spreads market of India is estimated to be at 31% of APEJ market in the year 2021.
Significant income growth in emerging markets such as India is fostering disposable incomes of consumers, especially of the middle class population. This, in turn, is intensifying consumer spending on premium products such as spreads. The increasing purchasing power of consumers is anticipated to uplift the Indian market over the upcoming years.
Which Spreads Types are Dominating Japan Market?
According to FMI's analysis, Japan is forecast to grow at a CAGR of 4.9%. Japan is among the top ten spreads market in the world based on retail sales. Most of the spreads that are consumed in Japan come from Japanese firms such as Kewpie Corp and Sonton Food Industry, due to Japanese support of local producers.
The most popular types of spreads in Japan are jams, fruit jellies, and marmalades. As well, Japanese consumers are becoming more health conscious which explains the growing preference for vegetable - and fruit-based spreads.
What is the Growth Prospect of Spreads Market in UK?
In the Europe, UK together hold market share of more than 16% in 2021. To augment the consumers' interest, new sweet spread products are being launched in the UK market, with an emphasis on premium qualities and eco-awareness attributes, such as "vegetarian" and "environment-friendly packaging".
Another important factor affecting the growth of the UK spread market is the revived interest in baking at home; one-fifth of the British consumers has been estimated to use spreads in various baking operations, other than during breakfast.
In terms of health and wellness, sweet spreads face a challenge as they are not inherently healthy products, due to the high amounts of sugar that they contain. One exception is honey, which is still favored, due to health-oriented claims, including anti-bacterial properties.
Spreads Market - Category-wise Insights
Why is Demand for Organic Spreads Surging?
Organic spread market is estimated to account for more than 9.4% of market share in 2021, which is expected to witness growth rate of CAGR 6.8% over the forecast period. The demand for organic food products has shown considerable growth globally in the past few years.
Growing consumer awareness regarding health benefits of organic products and strong support from local companies for the development of such products are key factors driving the demand for organic food products.
The organic segment in the global spreads market is anticipated to have lucrative growth over the forecast year owing to the increasing consumer demand for healthier and organic products.
Owing to its Healthy Halo Image and Versatility, Honey Spreads Continue to Witness Strong Prospects
According to FMI's analysis, honey based spreads market is dominating in product type and the demand is forecast to grow at a CAGR of 7.1%. Honey is accompanied by its health halo image and the immense health benefits it provides. Increasing demographics of health and wellness conscious consumers are providing strong market prospects over the forecast period.
In recent years, recommendations from physicians and dietary experts and several media reports have contributed to strengthening the image of honey as a healthy antioxidant-rich alternative to refined sugar.
This has resulted in the growing demand for honey over the forecast period. However, there are reported cases about counterfeit products and adulterated honey products, which have made consumers more conscious and aware. This is leading to the growing consumer inclination towards more reputable or trusted brands, especially organic brands. Thus, providing strong market prospects for organic honey.
What is Spreads Demand among Bakery and Confectionery Artisans?
Commercial end use of spreads hold market share of 40.4% in 2021. The increasing demand for value-added bakery and confectionery products that offer nutritional benefits is leading to the growing demand such as chocolate and nut-based spreads among bakery and confectionery artisans and craftsmen.
Chocolate and nut-based spreads are used in cakes, waffles, confectioneries, doughnuts, and others, to provide consumers with flavorful food options and state-of-the-art taste profiles. Besides, the growth prospects for bakery and confectioneries shops and stores in different regions are anticipated to boost the market scale in the forecast period.
What is Supporting Spreads Sales via Online Retailing?
According to FMI's analysis, online retailers is forecasted to grow at a CAGR of 7.6%. Spreads supply chain has already been established with decent transportation facilities that optimize the flow of products. Existing supply models have benefitted food spreads to reach customers directly without any hurdles. Most spreads are supplied in packages, which are effective in storage and transportation.
Besides, online sales through e-Commerce have added a lot of grip to the market, and flourishing the sales of spreads due to a better medium. Traditional methods are also being used for sales, but through e-Commerce websites, any company/person sitting in any part of the world can buy spreads from suppliers.
Through e-Commerce websites, a buyer gets a wide range of products and choices in terms of quality, quantity, and transportation medium. The robust supply chain is thus enabling manufacturers to cater to larger consumer demands in shorter duration of time.
Spreads Market - Competitive Landscape
Manufactures and big players participating in the global market are continuously updating their inventories with new product lines and launching innovative spread products to cater to the changing consumer eating habits and demands. Continuous product launches are anticipated to proliferate the growth of the spreads market over the forecast period.
For instance, in 2018, VEGO Good Food GmbH, launched Vego Chocolate spread in the United Kingdom market to cater to the growing demand for dairy-free, vegan products. The chocolate spread offered by the company is made using raw cane sugar, sunflower oil, hazelnuts, cocoa powder, lecithins (sunflower) shea butter, and extracted vanilla.
In 2016, MacFarms, LLC, a manufacturer of Macadamia and its products launched the smooth edition of the Australia's first choc-macadamia spread Macabella
Spreads Market - Scope of Report
Attribute

Details

Forecast Period

2021-2031

Historical Data Available for

2016-2020

Market Analysis

USD Million for Value

Key Countries Covered

US, Canada, Germany, U.K., France, Italy, Spain, Russia, China, Japan, South Korea, India, Thailand, Malaysia, Indonesia, Australia, New Zealand, GCC Countries, Turkey, Northern Africa, and South Africa

Key Segments Covered

Product Type, End Use, Nature, Distribution Channel, and Region

Key Companies Profiled

Nestlé S.A.
The Kraft Heinz Company
Conagra Brands, Inc.
Pioneer Food Group Ltd
Strauss Group Ltd.
The J. M. Smucker Company
General Mills Inc.
Atlantic Grupa d.d.
Dr. Oetker GmbH
Others

Report Coverage

Market Forecast, Company Share Analysis, Competition Intelligence, DROT Analysis, Market Dynamics and Challenges, and Strategic Growth Initiatives

Customization & Pricing

Available upon Request
Spreads Market - Key Questions Answered
What is the global spreads market size?

The global spreads market is expected to top US$ 27.1 Bn by 2021.

What is the spreads market demand outlook?

As per FMI, the demand in the spreads market will grow by 6.3% CAGR between 2021 and 2031.

What is driving the sales in the spreads market?

Rising demand for healthy breakfast ingredients and preserves and gourmet jams will favor the overall expansion of the market.

What are the key trends shaping the spreads market?

Increasing focus on flavor innovations and product launches will shape the spreads market.

What is the North America spreads market outlook?

The North America spreads market will grow by 5.9% CAGR between 2021 and 2031.

At what rate will Europe spreads market grow?

The spreads market in Europe will grow at 5.6% CAGR through 2031.

What is the Japan Spreads market outlook?

The Japan spreads market will grow by 4.9% CAGR through 2031.

Who are the top players in Spreads market?

The Kraft Heinz Company, Conagra Brands, Inc., The Hershey Company, The J. M. Smucker Company, General Mills Inc., and Ferrero S.p.A. are the top market players and they will account for 40-45% of sales in the market in 2021.
World's Most Profilic Intelligence Engine
Get Access To The World's Largest Market Research Database. Ngage with a revolutionary intelligence engine that scale and pricing that flexes as per your needs
Sign Up Now
Spreads Market by Category
By Product Type:
Jam & Preserve Spreads
Nut Based Spreads

Peanut Butter
Almond
Cashew
Walnut
Macademia

Chocolate Spreads
Savory Spreads
Honey Based Spreads
By End use:
Household/Retail
Commercial
By Nature:
By Distribution Channel:
B2B
B2C

Store Based Retailing

Convenience Stores
Discounters
Forecourt Retailers
Hypermarkets/ Supermarkets
Food Specialists
Independent Small Grocers

Online Retailing
By Region:
North America
Latin America
Europe
APEJ
MEA
Oceania
Japan
Need specific information?