Synchronous Condenser Market - Key Research Findings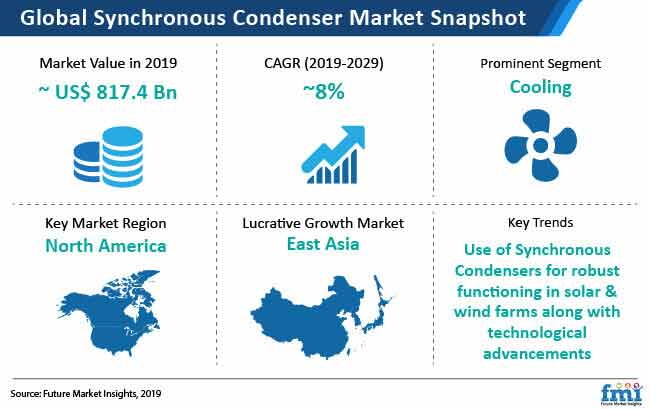 The global synchronous condensers market size in 2018 was ~US$ 760 Mn.
The synchronous condensers market is expected to grow at a CAGR of ~8% during the forecast period of 2019-2029.
Besides increasing the adoption of sustainable energy solutions and solar and wind plants, HVDC projects are also driving the sales of synchronous condensers.
Collectively, North America, Europe, Middle East and Africa, are likely to account for half of the revenue shares in the synchronous condensers industry by the end of 2029.

North America, attributing to the strong presence of the renewable energy industry, will continue to be a prominent regional market for synchronous condensers manufacturers.

The power generation industry, along with nuclear power plants and mining industry, is expected to remain prominent application area for synchronous condensers market players to invest in.

Power generation industries such as solar, wind, and thermal plants, have witnessed significant growth over the recent past, and revival of this sector has been particularly noteworthy owing to the increasing environmental concerns.
Noteworthy application potential of synchronous condensers has been identified in the water cooled synchronous condensers segment.
Key Factors Shaping the Synchronous Condensers Market
A Paradigm Shift to 'Renewable & Sustainable Energy Solutions'
Floating solar and wind farms are latest advancements in renewable energy generation. Since solar and wind farms are most viable solutions for delivering clean energy, power plants face difficulties in ensuring supply of high quality power and voltage stability to grid. Therefore, solar and wind farms are incorporating the use of synchronous condensers since solar and wind farms cannot provide sufficiently fast and extensive compensation.
Power plants install synchronous condensers for stable operations and to maintain voltage stability with weak grids. Synchronous condensers help in adjusting the reactive power on electrical power transmission networks. Condensers are either installed in existing plants or old generators in the plant can be retrofitted to synchronous condensers.
In case of wind farms, synchronous condensers are installed on electricity grid for effective functioning. Synchronous condensers are set to witness an upsurge in demand in the upcoming years.
For instance, in 2018, Siemens delivered Australia's first solar farm synchronous condenser. Synchronous condensers were installed by VINCI-Energies/Electrix. The condenser was particularly installed to strengthen electricity grid connected to Kiamal solar farm.
Installation of Synchronous Condensers in the Mining Industry
Mining industries often operate with poor network power quality and low short circuit capacity due to their remote locations. To cope up with this situation, more and more operators in the mining industry are installing power quality equipment, such as synchronous condensers, appropriately designed for power factor correction.
The installation of synchronous condensers also deals with the power losses in long transmission lines while providing electrical power to a mining site. Thus, the trend of installing synchronous condensers to cope up with the challenges of power systems in the mining industry is on the go.
Increasing Frequency of Environmental Regulations
Increasing environment regulations over the years, owing to the global climate issues, conventional power plants generating power from non-renewable energy sources are getting converted into renewable power generation. Shifting of power plants results in power loss at times because length of a transmission line is directly proportional to the power loss occurred.
Therefore, synchronous condensers are fixed at power plants to prevent power loss that occurs during transmission by moving reactive power and changing the voltage of the grid to balance the distribution across long distances. This factor drives the growth of the synchronous condensers market.
Integration of Renewable Energy through HVDC Transmissions and Growing Opportunities for Synchronous Condensers
HVDC are considered as resilient, flexible, interconnected grids, and this latest technology is exclusively used in transmission of bulk power over long distances. With the penetration of HVDC transmission lines, integration of renewable energy such as wind power has readily increased, which will further create opportunities for synchronous condensers in the market. Countries such as Germany, Africa, and China, have installed HVDC projects country-wide for bulk power transmission.
For instance, in January 2017, India's Power grid teamed up with ABB, along with BHEL, invested US$ 640 Mn to deliver longest 800kV UHVDC transmission line from Raigarh in Central India to Pugalur in Southern state of Tamil Nadu. The transmission link will be ~1830 km with a capacity of ~6,000 MW and longest in the world. The transmission link will provide electricity to more than 80 million people.
The link is estimated to be equivalent of more than six large power plants. Moreover, the UHVDC link will integrate thermal and wind energy for high power transmission. In this case, the link saves ~244 square kilometers of space. The project will also feature new technologies and is expected to be completed in 2019.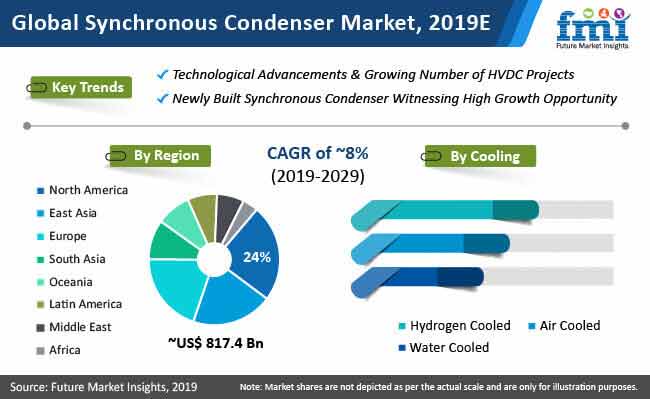 Synchronous Condensers Market Structure Analysis
The global synchronous condensers market represents a fairly consolidated competitive landscape, where a majority of key players maintain their strategic focus on the development of solid distribution partnerships and joint ventures, targeting a firmer global footprint.
The synchronous condensers market has been relatively moderate in size, which remains a key factor for its dynamic competitive nature.
Prominent manufacturers of synchronous condensers are currently prioritizing R&D and new product launches to resonate with the booming consumption of eco-friendly coatings in North America, Europe, Middle East and Africa.
Portfolio extension is also identified to remain one of the key developmental strategies adopted by manufacturers of synchronous condensers.
For a stronger foothold in target markets, synchronous condenser manufacturers will continue to rely on inorganic strategies, such as mergers and acquisitions.
Deeper understanding of market trends and preferential shifts of end-use segments across various regions are likely to create a bottleneck for prominent players, looking forward to untapped opportunities in the synchronous condensers market.
Stabilizing Electric Grid with Reactive Power for Extensive Operation
The quest to minimize power instability has been fueling the demand for synchronous condensers in power plants. The electric field of synchronous condensers is controlled by a voltage regulator, helping in producing or absorbing reactive power. Coupled with high voltage direct current (HVDC), large synchronous condensers supply reactive power to the alternate electric grid in industrial environments.
The inherent reactive power output characteristic of the synchronous condenser corresponds to dynamic reactive power demand of the power grid, preventing short circuit and transient fault conditions.
Synchronous condensers incorporate a brushless or static excitation system, enabling significant over-excitation (field forcing) to deal with network fluctuations. Rotating inertia of the synchronous condenser enables limited voltage backup during very short power drops. The automatic voltage regulator (AVR) – a tailored feature – provides the required excitation control. Further, the kinetic energy accumulated in the rotor of the machine complements the power stabilization in case of emergencies.
To ward off the problems of poor network power quality, and low short circuit capacity, mining operators are relying on synchronous condensers for power factor correction. Further, inclusion of harmonic filters in the synchronous condensers counter the harmonics, and enhance the short circuit level, optimizing mine's productivity and energy efficacy.
Cooling Systems to Mitigate Temperature Rise and Frictional Losses
Cooling systems in large capacity synchronous condensers mitigate the temperature surge of the unit. The stator coil and rotor winding are cooled by water, and the iron core is cooled by air in water-cooled synchronous condenser, while all the constituents in air-cooled synchronous condenser are cooled by air. The water utilized for cooling in water-cooled synchronous condensers is converted into steam, which is further used for power generation in nuclear power plants.
Synchronous condensers, cooled by hydrogen, aid in decreased losses from wind friction and cooling. The fact that the density of hydrogen is lesser than that of air ensures frictional and windage losses reduction by 7%. In addition, the heat removal process improves by a factor of ten.
On the flip side, average time required for installing synchronous condensers hovers around 6 months, while refurbishing the conventional generators requires about 2-3 months. Synchronous condensers offer longer shelf-life without much maintenance, hindering the installation rate of new products in power plants.
The U.S., China, and Australia to Present Lucrative Opportunities
Rising dependence on renewable sources of energy for electricity production is set to encourage synchronous condenser manufacturers to cash in on economies such as the US, China, and Australia. The US Department of Energy estimates a 10% increase in solar energy, while a 12% increase in wind energy in 2019. Further, the country is aiming to install about 4 million solar panels in the near future, thereby potentially raising the demand for synchronous condensers.
In addition, stakeholders are keeping an eye on China for increased sales potential, as the country vows to increase energy production from non-fossil fuel sources to ~ 20% by the next decade. Further, Australian households and enterprises are being equipped with solar capacities–calculated to reduce power bills by ~$600 million–thereby motivating manufacturers to boost the production of synchronous condensers.
Offsetting Power Factor – A Key Tenet to Define Stakeholders' Tactics
Renewable energy sources, including solar and wind lack the capability to tolerate network faults. With rising capacity of hydro power and wind power generation globally, power plants are leveraging synchronous condensers as backups for renewables to maintain voltage stability with inefficient electric grids. As such, Masdar, an Abu Dhabi Future Energy Company has decided to construct solar, floating solar, and offshore wind PVs (Photo Voltaic) in Armenia.
Persistent increase in installation of solar panels in countries, including China, the US, and others, are influencing manufacturers to establish large-scale solar panel installations coupled with synchronous condensers to tackle significant restraints in the grid system.
HVDC transmission lines offer bulk power distribution over long distances at reduced voltage, and low ambient temperature. Integration of synchronous condensers provide power stability to HVDC transmission lines, derived from renewable energy sources – a factor driving India's power grid to partner with ABB and BHE for the construction of UHVDC transmission line from Raigarh to Pugalur in India.
Refurbishment of conventional generators into new synchronous condensers offers straightforward power stability and coordination, as such, market players, including, AAB, provide control panels, monitoring devices, and customizations in synchronous condensers as per customers' requirement.
How Growth Will Unfold
Amidst high installation costs, the global synchronous condenser market is set to progress robustly over the forecast period, primarily driven by increasing shift towards renewable sources of energy among several countries.
According to research studies, the global renewable energy capacity is expected to quadruple from 414 GW in 2009 to slightly above 1650 GW by the end of 2019. Intensifying cost-competitiveness of renewables is resulting in decreasing expenses of electricity for solar, and wind power plants by about 50%. International organizations are urging power plant operators to turn to renewable energy sources for fuel generation – a driver for the demand for synchronous condensers.
With upsurge in electricity consumption for electronic appliances, including ACs, and refrigerators, in the residential bracket, synchronous condensers are garnering high traction following power factor correction in a bid to lower electricity bills, and improve life span of electrical equipment.
Key Segment
By Product
New synchronous condenser
Refurbished synchronous condenser
By Cooling Type
Air cooled
Hydrogen cooled
Water cooled
By Power Rating
Less than 50 MVAR
50 to 80 MVAR
80 to 100 MVAR
100 to 150 MVAR
150 to 200 MVAR
Above 200 MVAR
By Starting Method
Static frequency converter
Pony motors
Others
By End Use
Electrical power utilities

Electric grids
Solar farms

Mining
Commercial
Others
By Region
North America
Latin America
Europe
South Asia
East Asia
Oceania
Middle East
Africa
Need specific information?