Large Synchronous Motor Market By By Rated Power (25 to 40 MW, 40 to 60 MW, 60 to 80 MW), Application (Rolling Mills, Compressors, Blowers & Fans, Pumps, Hoists, Propulsion Systems, Refiners), End Use (Industrial Air Separation Unit, Power Generation Plant, Thermal, Nuclear, LAES, Petrochemicals + Oil & Gas Refineries) & Region – Forecast 2021 – 2031
Large Synchronous Motor Market - Analysis, Outlook, Growth, Trends, Forecasts
April 2021

REP-GB-13078

208 pages
About the Report
A large synchronous motor (power above 25 MW) is one in which the rotor normally rotates at the same speed as the revolving field in the machine. Large synchronous motor market has witnessed substantial growth in the last few years. This growth is projected to continue over the next years due to increasing use of large synchronous motorin water treatment projects and various industries across the globe.These motorsare used across diverse applications including compressors, blowers, and others. Considering this, need of water treatment plants and other activities will create scope for application, encouraging growth in the coming years.
In its new study, ESOMAR-certified market research and consulting firm, Future Market Insights (FMI), offers insights aboutkey factors fueling the demand for large synchronous motor. The report tracks the global sales of large synchronous motor in high-growth markets, along with analyzing the impact COVID-19 has had on the motorindustry in general, and large synchronous motor in particular.
What is the Future Outlook on Large Synchronous Motor Market in Comparison to Historic Sales?
Besides challenges with regards to the maintenance of large synchronous motor, complex installation and high cost have always been prime concerns forend users. Scope of standardlarge synchronous motor for specific application has been difficult for end users to gauge. Hence manufacturers have increased the focus on designingcustomized and large synchronous motor to fulfil customer requirements.
The market is likely to gain significantly from the upcoming projects in mining, power generation, and other industries. Demand from high capacity power plants, desalination plants, and other industrial plants will fuel the demand for large synchronous motors. Some of the leading large synchronous motor manufacturers have already started customization of motorsin the market and several others are likely to follow the suit to keep pace with dynamic environment.
Large synchronous motors have been consistently usedinmining, air separation units, and other applications. Owing to the ongoing crisis caused by COVID-19pandemic, the production and supply chain activities have seen a minor slump yet the conditionwill improve with the economic recovery post the containment period following the pandemic.
The COVID-19 pandemic has caused severe impact on the global economy at various levels and the impact is seen on themanufacturing industry as well.The large synchronous motor market growth is also projected to be affected by the COVID-19 pandemic crisis. It is expected to witness a significant plunge in demand in 2020. With a number of end users affected in regions such asEast Asia, Europe and Asia-Pacific, a significant drop in supply is expected that would result in a significant drop in Y-O-Y growth, yetFMI projects the global large synchronous motor market to grow at 2.8% CAGR through 2030.
What is the Commercial Potential of Large Synchronous Motor?
Large synchronous motors areused in variousindustries for different applications including separation units, water treatment plants, mining, and others. Being much efficient,they can be used when more efficiency is needed in particular project. Also, Large Synchronous Motor contains more power and adds as one of the required features.
Leading manufacturers are investing in research and development activities involving large synchronous motors, especially on the size of large synchronous motor segment. Competitive price offering, increase in end user satisfaction on the performance, and use of advanced technologies are the end results of the R&D activities.Increasing research and development activities through collaboration or partnerships have helped companies to gain competitive edge.
Moreover, establishing sales and service facilities in emerging countries coupled with long term partnerships with regional distributors also paves the way for their expansion.
What is the Regulatory Impact on Large Synchronous Motor Sales?
Variousregulations and government policies imposed on industries are expected to impact the production, installation, and usage of large synchronous motor. Theneed for regulations has arisen from the necessity for standardization of equipment, regional segregation of markets andidentifying organized sectors across the industry.
Governments have created agencies such as Pollution Control Agency, Environmental Protection Agency, Kano State Environmental Planning and Protection Agency, and others to protect environment.These organizations have implemented stringent regulation to ensure more sustainable operations across industries and curb the spread of pollution. To keep pace with evolving needs, manufacturers are investing heavily in new technologies. This is a key trend observed in the large synchronous motor market.
Country-wise Insights
What % of Large Synchronous Motor Sales will be Concentrated in China?
The large synchronous motor market growth in China has attractedseveral global manufacturerssince the past few years. One of the key factors supporting growth is the increasing application in construction projects undertaken in the country.
The country is now seen as a leading market for large synchronous motors. The shift from oldtechnologies and rapid advancement in the country's construction sector is are creating attractive opportunities for the China market.
Driven by these factors the China remains one of the largest markets for large synchronous motor in the world, which invariably makes it a lucrative pocket for manufacturers.
How Big is the large synchronous motor market concentrated in India?
FMI has projected India to remain one of the most lucrative markets throughout the course of the forecast period. One of the key factors supporting growth is increasing investment by government in water treatment plants. For instance, the government in India launched a project named Kaleshwaram Lift Irrigation Project (KLIP). It is currently the world's largest multi-purpose irrigation project and is located on the Godavari river. 
The increasing population in the country means that more such projects would be needed in the future and it is bound fuel the demand for large synchronous motors. Also, India is attracting a lot of global brands. Driven by these factors,India remains one of the largest markets for large synchronous motor players.
What are the Factors Driving Sales in Brazil?
Economic growth in Brazil has resulted in higher investment in water treatment and power plants, which has been driving sales of large synchronous motors. According to Brazil's Energy Research Office, annual demand for electricity within the country is set to triple by 2050. Against this backdrop, the demand for novel technologies is expected to scale higher in the coming years. This will continue supporting sales of large synchronous motors in Brazil over the course of the report's forecast period.
What is DrivingLarge Synchronous Motor Sales in US?
The increase in market share of global brands such asGeneral electric and others has proven to be an advantage for the U.S. market. The U.S. is home to a thriving mining industry, which presents conducive environment for sales of large synchronous motors. Besides this, the consistently rising investment in waste water treatment projects will continue supporting the expansion of the market.
According to a report, titled Public Spending on Transportation and Water Infrastructure, 1956 to 2017, released by Congressional Budget Office, the water and wastewater treatment spending in the U.S. reached US$ 113 Bn in 2017. With the spending forecast to rise in the coming years, the demand for large synchronous motors will increase at a steady pace in the U.S.
Category-wise Insights
Who is the Leading End User?
Air separation units and water treatment plant accounts for the bulk of demand for large synchronous motor globally. Demand is especially high in the high-scale industry segment. Various development projects are being undertaken worldwide, which are creating lucrative prospects for application of large synchronous motors.
What is the Key Application of Large Synchronous Motors?
In terms of application, blowers& fans, compressors, rolling–grinding mills, and hoists & pumps are key segments in the market. Of these, the demand in compressorsand blowers & fans segments is expected to remain high, accounting for maximum sales in the market. Large synchronous motors are incorporated in drive units of blowers & fans and compressors.
This is expected to result in consistently rising demand from the segments through the forecast period. Increasing use of compressors in LNG liquefaction plants will therefore continue supporting growth.
Which Power Segment Large Synchronous Motor are Preferred?
Globally, 25-40 MWLarge Synchronous Motor remain preferred by end-users. This segment holds over 90% share of the market, and is set to grow at 2.6% CAGR during the forecast period. Owing to more number of product variants and specifications in the range of 25-40 MW segment, consumers continue to have a wider flexibility in this segment.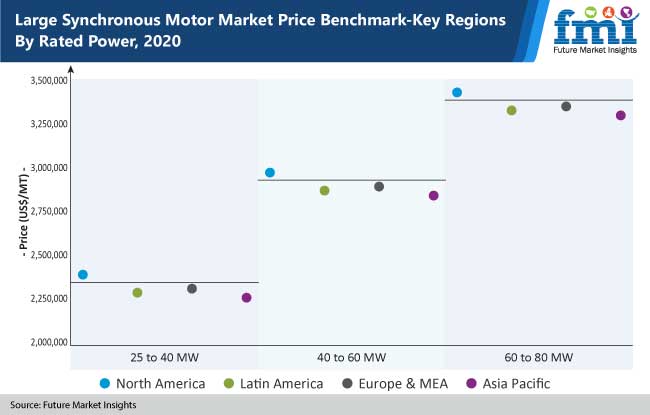 Competitive Landscape
The large synchronous motor market is moderately competitive, with presence of few number of players offering cost-competitive products. Some of the players are focusing to carve a niche for specific demography. The market has been witnessing robust partnerships throughout the value chain, with high focus on innovations.
Manufacturers are aiming at strategic collaborations with end users and regional distributors to address the requirements of an expanding customer base. Suppliers are adopting acquisition and regional expansion strategies to establish a strong foothold.
Brand consciousness and aggressive marketing makes it challenging for new entrants in this market. Through these developments, companies are aiming at competitive advantage. Furthermore, advent of online sales channel is also expected to create positive growth prospects for the growth in demand for these motors.
For instance,
ABB's new 44MW 6-pole large synchronous motor has set an efficiency record of 0.25% more than the 98.8% stipulated in a contract. If the motor is in continuous operation, the 0.25 percent efficiency improvement saves 1000 MWh energy per year which is equivalent to annual electricity consumption of 240 European households.
Siemens Smart Infrastructure added four new devices to its portfolio of Simatic ET 200SP motor starters, which are used to start electric drives with a power output from 0.1 to 0.4 amperes (A). 
ABB collaborated with Accenture and has become one of its global development partners for digital solutions. The collaboration will build on ABB's expertise in digitalized processes for the transformation of industries and Accenture's Information and Operational Technologies (IT/OT) architecture and software development capabilities across industries.
Some of the leading companies operating in the market are:
Hyundai Electric & Energy Systems Co., Ltd
WEG
VEM Group
*The list is not exhaustive, and only for representational purposes. Full competitive intelligence with SWOT analysis available in the report.
Scope of the Report
Attribute

Details

Forecast Period

2020-2030

Historical Data Available for

2015-2029

Market Analysis

USD Million for value and Units for Volume

Key Regions Covered

North America, Latin America, Europe &Middle East Africa and  Asia Pacific

Key Countries Covered

US, Canada, Brazil, Mexico, Germany, U.K., France, Italy, GCC Countries, South Africa, China, Japan, India

Key Segments Covered

Rated Power, Application, End Use and Region.

Key Companies Profiled

ABB
General Electric
Toshiba Mitsubishi-Electric Industrial Systems Corporation
Hyundai Electric & Energy Systems Co., Ltd
WEG
Siemens AG
VEM Group

Report Coverage

Market Forecast, brand share analysis, competition intelligence, DROT analysis, Market Dynamics and Challenges, Strategic Growth Initiatives

Customization & Pricing
World's Most Profilic Intelligence Engine
Get Access To The World's Largest Market Research Database.
Sign Up Now
Large Synchronous Motor Market
By Rated Power
25 to 40 MWLarge Synchronous Motor
40 to 60 MWLarge Synchronous Motor
60 to 80 MW Large Synchronous Motor
By Application
Rolling Mills
Compressors
Blowers & Fans
Pumps
Hoists
Propulsion Systems
Refiners
By End Use
Industrial Air Separation Unit
Power Generation Plant
Thermal
Nuclear
LAES
Petrochemicals + Oil & Gas Refineries
Mining
Industrial Mills
Steel & Metallurgy
Paper & Cement
Others
Water Treatment and Supply Plants
Marine
By Region
North America
Latin America
Europe & Middle East Africa
Asia Pacific
Key Questions Answered in the Report
Which is the most lucrative market for large synchronous motors?
China currently leads the global market for large synchronous motor. Sales in Chinawill account for over 37% of total demand throughout the forecast period.
What is the projected valuation of the global large synchronous motors market?
Large Synchronous Motors market is expected to reach a valuation of US$146.09 million by 2025.
Which is the most lucrative application for large synchronous motors?
Large synchronous motors are used in various applications. Their application in water treatment plants, air separation units, and petroleum & oil industryis rising consistently.
Which are some of the leading large synchronous motor manufacturers?
Some of the leading companies manufacturing large synchronous motor are ABB, General Electric, WEG, Siemens AG, VEM Group, etc.
Need specific information?
Our Clients