High Voltage Direct Current (HVDC) transmission system is likely to witness a boom owing to the latest VSC technology
High Voltage Direct Current (HVDC) transmission system is fast gaining popularity and increased adoption ever since the first test line was developed in Sweden more than seventy years ago. Since then, major technological changes and cutting-edge research has taken place the world over to refine the HVDC VSC technology. As it is rightly said, necessity is the mother of invention, and this new technology was long overdue because of the inherent drawbacks of the conventional AC grid.
The status quo in power transmission has been challenged by major developments in the market such as increased generation of power by renewable energy, new requirements from the power market and the deteriorating environmental impact. However, the new HVDC technology based on the Voltage Source Converter (VSC) is an attractive way of transmitting electricity that can overcome all the challenges listed above.
The HVDC VSC technology for transmission gives independent control of active and reactive power and the reaction time for response in cases where it is needed is also fast. In addition, future technological developments have ensured that power transmission companies capitalise on the advantages this technology offers and eliminate the drawbacks such as high losses.
Revenue generated by the global HVDC transmission system market is estimated to reach more than US$ 6,000 Mn by 2016, witnessing an increase of 7.7% over 2015. VSC technology is estimated to hold the largest value share among the different technologies used in HVDC transmission systems. Future Market Insights forecasts the global HVDC transmission system market to register an 8.8% CAGR during the projected period 2016-2026, and reach nearly US$ 14,400 Mn in revenues by 2026 end.
Increasing global demand for power set to drive the global HVDC transmission system market
Need to eliminate blackouts caused due to transmission of faults and increasing demand for power are some of the major factors expected to drive the growth of the global HVDC transmission system market. Solutions sub-segment dominates the system components segment, however services sub-segment is expected to register the highest CAGR over the forecast period. This is owing to the fact that many of the previously established systems need to be upgraded.
VSC sub segment is estimated to increase at the highest growth rate during the assessment period
In the technology segment, VSC sub segment is estimated to increase at highest growth rate over the assessment period, followed by others sub segment. VSC technology uses insulated gate bipolar transistors which cover the drawbacks caused by conventional methods, and are thus gaining popularity. Capacitor commutated converters are gaining popularity and are expected to significantly contribute to the growth of the others sub segment.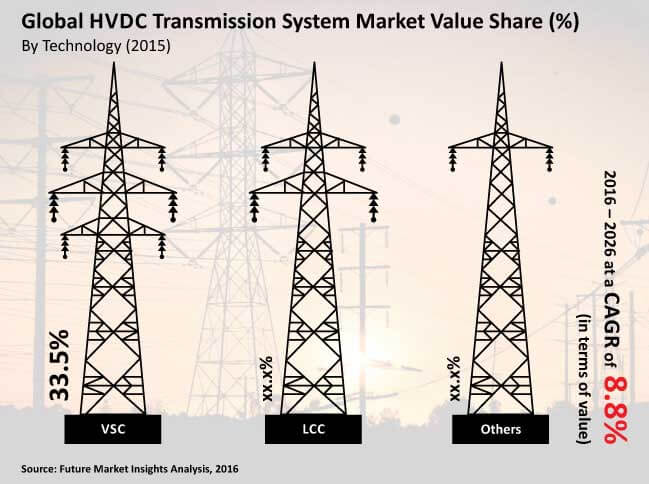 Some pertinent market figures of the VSC segment
In 2015, the VSC segment was valued at more than US$ 3,000 Mn and is estimated to reach nearly US$ 3,500 Mn by the end of 2016, reflecting a Y-o-Y growth rate of 9.1%
By 2026, the VSC segment is expected to reach a value of nearly US$ 9,000 Mn, exhibiting a CAGR of 10.2% during the projected period
The VSC segment is forecast to create incremental $ opportunity of nearly US$ 5,500 Mn between 2016 and 2026
Moreover, the VSC segment is expected to register high Y-o-Y growth rates throughout the forecast period.
Applications of VSC technology
HVDC transmission systems based on VSC technology are gaining popularity as they prove to be beneficial in applications such as connecting wind farms to power grids and linking asynchronous grids for underground power transmission among others.
ABB Ltd. and Siemens AG are introducing HVDC transmission systems based on VSC technology owing to its increasing popularity among utility companies. Another recent trend in the technology segment for HVDC transmission systems is the introduction of capacitor commutated converters (CCC), which provides benefits such as eliminating the need for using large shunts and utilising low reactive power.
Key Segments Covered
By System Component
Solutions

AC and DC harmonic filters
Converters
DC lines
Circuit breakers
Others

Services
By Technology
By Deployment
Overhead
Underground
Subsea
Combination
By Power Rating
Below 1000 MWs
1001 to 2000 MWs
2001 MWs and above
By Region
North America
Latin America
Western Europe
Eastern Europe
APEJ
Japan
MEA
Need specific information?