The Co-founder and Managing Director of Future Market Insights (FMI), Mr. Sudip Saha received a well-deserved honor as one of the Top 10 Most Dynamic Entrepreneurs of India 2023. This recognition underscores his significant contributions to the Market Research & Consulting ecosystem.
October 31, 2023: Along its distinguished path of growth and success, Future Market Insights (FMI) has garnered commendations for its significant impact on the market research and business consulting industry. Mr. Sudip Saha, the Managing Director and Co-founder of FMI, received the esteemed recognition as one of the Top 10 Most Dynamic Entrepreneurs of India in 2023.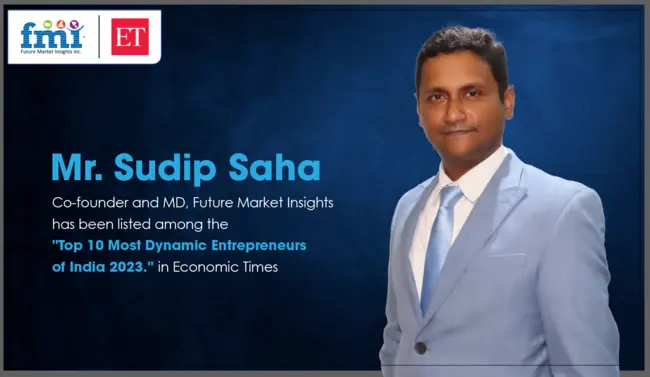 Speaking about being honored as one of the Top 10 Most Dynamic Entrepreneurs of India in 2023, Sudip Saha states, "FMI is an integral part of my existence. What I do for and with the organization in the market research industry gives me a sense of satisfaction in having my skills utilized for the success of clients. I am absolutely humbled by this recognition and believe that entrepreneurship is nothing but an ever-evolving area. You have to leap high to convert some opportunities, while for others, you need to take a brisk walk. All-in-all, it is fun to embrace the highs and lows that come along, especially when you have a large team seeking inspiration from your walk in life."
In a landscape brimming with talented entrepreneurs, what sets Sudip Saha apart? He demonstrates the qualities that make an entrepreneur truly exceptional. His entrepreneurial journey in the market research and consulting field is marked by visionary leadership, a quality that allows him to spot opportunities where others may not. This foresight has propelled his company, Future Market Insights (FMI), to unparalleled success. His exceptional progress is enabled by his courage in challenging situations, in addition to a profound grasp of emotional intelligence, authenticity, and unwavering integrity. He has a fantastic knack for inspiring others, which is a crucial aspect of his leadership style.
Sudip is in charge of leading the big picture as well as the day-to-day operations at FMI. He's the one steering the ship when it comes to making plans, expanding into new areas, and making sure everything runs smoothly. Notably, he has achieved an extraordinary feat in establishing India's prominent position in the global market research and consulting industry. As the visionary behind four home-grown market research brands, which include the flagship entity Future Market Insights (FMI), he has propelled India's influence on the global stage. FMI, a pioneering market research company in India, now stands as a testament to his entrepreneurial prowess, having operated independently and successfully for the past nine years.
Under his leadership, FMI has significantly broadened its reach, establishing key offices in strategic locations such as Delaware, London, Dubai, and New York. Additionally, FMI's largest delivery center is situated in Pune, India, underscoring the company's commitment to excellence in service delivery. This exceptional growth and dedication to quality have garnered well-deserved recognition, including the prestigious 2023 Asia-Pacific Stevie Awards, where FMI was acknowledged for its outstanding Thought Leadership Campaign of the Year.
Sudip's distinctive approach to leadership and strategy has propelled FMI into a league of its own. He has fostered a culture of deep specialization within FMI. The company's sharp focus on specific industries enables it to offer highly detailed and specialized insights, distinguishing it from firms with a generalized approach. Rather than adopting a purely advisory role, FMI adopts a collaborative approach with clients. This means working side by side with them to implement strategies and solutions, providing a level of hands-on support that distinguishes FMI from firms that may take a more distant consulting stance. FMI stands out as a forward-thinking consulting firm because of its focus on sustainable business practices and their incorporation into client strategies.
About Future Market Insights (FMI)
Based in Delaware, USA, Future Market Insights, Inc. holds the esteemed ESOMAR certification, affirming its status as a reputable business consulting and market research firm. Recognized with the BRONZE STEVIE® award at the 20th annual IBAs, FMI has demonstrated excellence in supporting global enterprises in their pursuit of transformative business strategies. Notably, a remarkable 80% of the renowned Forbes 1000 enterprises form part of FMI's esteemed clientele. The company's reach spans diverse market segments, both mainstream and specialized, encompassing a broad spectrum of significant industries, solidifying FMI's standing as a trusted partner in global business endeavors.
Since its establishment in 2014, FMI has blossomed into a revered global market research and consulting partner for clients worldwide. What began as a small venture in Pune, India, has now transformed into a thriving enterprise with a footprint that extends across the globe. One of the cornerstones of FMI's success lies in its remarkable team of over 300 dedicated market research consultants. Sudip's skilled team, finely tuned to the market's pulse, excels in providing clients unparalleled service and support on their journey to success.