Aluminium-Free Deodorant Market - Key Research Findings
Global aluminium-free deodorant market size in 2018 – nearly US$ 1,100 Mn.
The aluminium-free deodorant market is expected to grow at a CAGR of approximately 9.7% over 2019-2029.
Eco-friendly cans for deodorants are expected to become the go-to format in the industry -

In the recent times, a new trend has been observed in the market, which is the growing interest for eco-friendly or green packaging for products. Hence, manufacturers are concentrating on the manufacturing of natural products and using green packaging technologies.

North America is expected to remain the largest regional market for aluminium-free deodorant products

The sprays product type of the aluminium-free deodorants market is estimated to continue to generate substantial demand for the aluminium-free deodorant market owing to an increase in awareness about natural products among consumers.

Among the types of aluminium-free deodorant market segments, the sprays segment holds over 40% of the global market value, and is expected to demonstrate notable growth at a CAGR of over 10% through 2029.
The South Asia region holds a high growth potential for the aluminium-free deodorant market

Growing consumer awareness about the benefits of aluminium-free deodorants for skin care, the availability of natural products, high per capita spending, and the high consumption of personal care products are some of the factors that are expected to significantly contribute to the growth of the aluminium-free deodorant market in the South Asia region.

By product type, sprays are expected to remain among the most preferred aluminium-free deodorant products

Sprays are gaining popularity in the aluminium-free deodorant market due to the various benefits associated them. For instance, they help reduce a variety of skin-related issues such as itching, skin rashes, and others, as well as chronic medical conditions. Hence, they are considered to be among the most preferred product types by consumers due to which this segment holds a prominent share in the global aluminium-free deodorant market.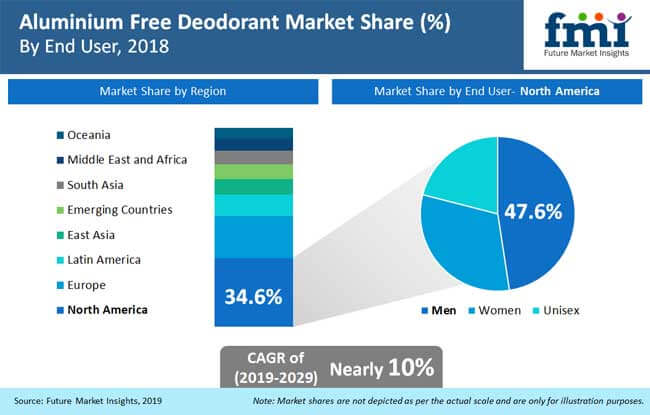 Top 3 Factors Shaping the Aluminium-Free Deodorant Market
Consumers are taking a more proactive approach to research product ingredients

The global market for aluminium-free deodorants is witnessing growth due to the proactive approach of consumers towards buying skin care products by researching the ingredients used in them. Consumers are currently more informed about the benefits of using natural body care products through promotions, advertisements, and activities on various social media platforms.

Changing consumer perception regarding personal care products

Consumer preference for clean-label beauty care products is shifting significantly due to increasing awareness regarding the benefits of herbal and natural ingredients. Consumers are increasingly opting for greener products owing to the presence of toxic ingredients in synthetic cosmetic products, which are known to cause various adverse effects.

Increase in the number of working women, coupled with increasing spending on personal grooming

Increase in the ageing female population is another factor driving the demand for various natural products such as deodorants, creams, and moisturisers. Moreover, the increasing spending capacity of women aged 25 years and above is another factor driving the sales of natural personal care products, which include premium-quality personal care products.
Aluminium-Free Deodorant Market: Structure Analysis
The global aluminium-free deodorant market represents a consolidated competition landscape, wherein Tier 1 & Tier 2 companies hold a revenue share of more than 50%.
Leading players in the fragrance market are also concentrating on introducing natural and aluminium-free products in their existing product portfolio to reach new customers, along with expanding their distribution channel and online sales presence, whereas cost-competitiveness will remain a strong differentiation strategy among other prominent players.
Aluminium-Free Deodorant: A daily need product for consumers
The growing popularity for aluminium-free deodorants in the market can be attributed to the increasing demand for natural products by consumers, which is driving the growth of the market. The changing preferences of consumers towards health and hygiene are among factors contributing to growth in the usage of aluminium-free deodorants.
Market Set to Grow between 2019 and 2029
The aluminium-free deodorant market is likely to witness significant growth over the course of the forecast period, which is expected to be driven by the importance of personal grooming. Furthermore, consumers are taking a more proactive approach to research ingredients for anti-pollution skincare products, which is another factor boosting the aluminium-free deodorant market.
Emerging Countries Promise New Growth Opportunities
South Asia is expected to contribute the highest revenue share in the global aluminium-free deodorant market in 2019. However, healthy growth is expected in developing countries, especially China, India, and Brazil, as governments and private players in these countries focus on improving the quality of skin care products that are available in these countries. Among the emerging countries, Poland is likely to present sustained opportunities for the growth of stakeholders in the Aluminium-Free Deodorant market.
The Broader Perspective
Skin care products are among the utility products that are used extensively across the globe for enhancing and maintaining the general appearance of the human body. These products include cosmetics for the skin, hair, body care, colour cosmetics, and others. However, synthetic body care products contain various chemicals that are likely to damage the skin, due to which consumers are increasingly preferring green and eco-friendly products, which include herbal, natural, and organic skin care products such as aluminium-free deodorants.
ALUMINIUM FREE DEODORANT MARKET TAXONOMY
The global aluminium-free deodorant market is segmented in detail to cover every aspect of the market and present a complete market intelligence approach to the reader.
By Product Type
Roll-on
Wipes
Spray
Cream
Gel
By End User
Region
North America
Latin America
Europe
South Asia
East Asia
Oceania
Middle East & Africa
Need specific information?