Alcohol-Free Showcase Significant CAGR of 8.9%
Companies are now offering products without aluminum, alcohol, parabens, and synthetic fragrances in response to the increasing consumer awareness of skin damage and side effects caused by using conventional deodorants & antiperspirants. These new products offer additional benefits such as nourishment, conditioning, and smoothening of the skin.
Such alcohol-free antiperspirants are highly in demand across the globe is creating a significant CAGR of 8.9% in the market over the forecast period. Moreover, over the last few years, there has been an increasing trend of including natural ingredients such as sweet jasmine, eucalyptus, Shea butter, coconut oil, and other natural ingredients in deodorant stick is also driving the demand for global deodorant stick across the globe.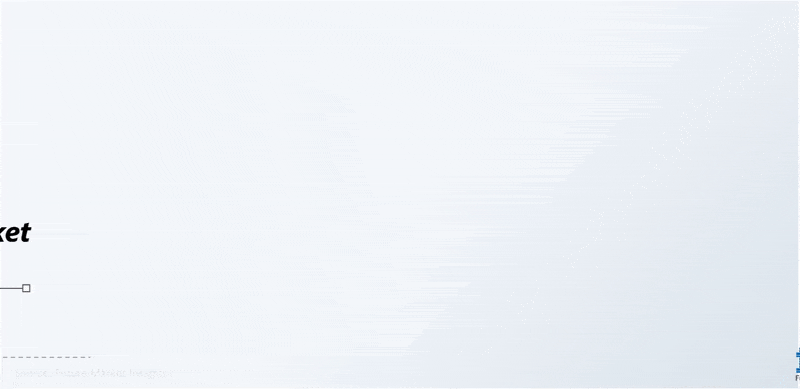 Opportunities Abound in Developing Regional Markets
Oceania is expected to expand at a significant higher CAGR during the forecast period in the global deodorant stick market. Growing consumer awareness regarding personal hygiene, and significantly growing self-grooming trend among the population especially the millennials and younger generation in the region.
Consumers in the country are demanding for more sophisticated products allow companies to seek for new claims, ingredients, and certifications in the deodorant stick market. This is helping the deodorant stick market to grow at a substantial rate over the forecast period.
Prominent Players are Significantly Introducing Natural Ingredients in Deodorant Stick to Gain Competitive Edge
The use of natural ingredients in the personal care products is gaining popularity. This reflects the increased preference of consumers for natural cosmetics and fragrances over synthetic products. Thus, a large number of brands are now seeking for natural claims, with the use of plants natural ingredients imagery on product packs to cater to growing consumer demand for natural products along with to gain competitive edge among their competitors in the market. These are the significant factors boosting the global deodorant stick market in the near future.
How Growth will Unfold
The glass packaging material segment is projected to witness a substantial growth in the deodorant stick market during the forecast period. This is attributed to the increasing consumer awareness regarding the adverse impact of single-use plastics and other packing material affects sales of deodorant sticks, which are conventionally packaged in plastic.
However, market players are using eco-friendly packaging to create a favorable perception of their brand and are gaining a competitive edge in the market. Consumers are attracted towards deodorant stick products with eco-friendly packaging as compared to conventional deodorant sticks. These new eco-friendly packaging gaining traction and are boosting sales of deodorant sticks in such formats.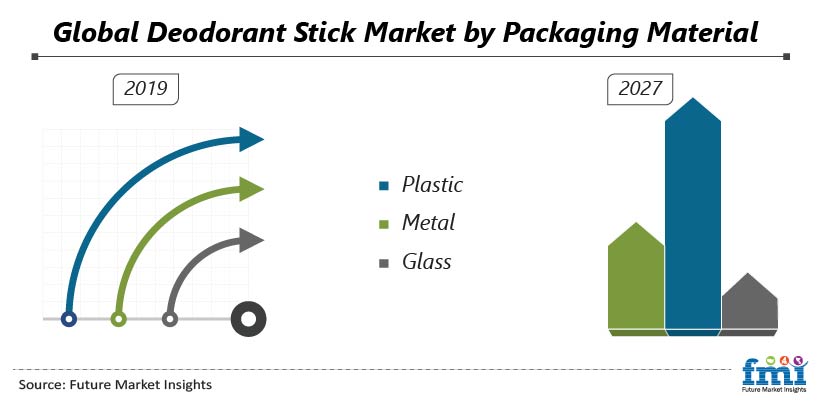 FREQUENTLY ASKED QUESTIONS ABOUT DEODORANT STICK MARKET
What is future prospect for the deodorant stick segment?
The global deodorant stick market is expected to grow at a rapid pace in Oceania & Asia Pacific Excluding Japan owing to increasing consumption of deodorants to protect consumers from sweating and unpleasant smells during sport activities.
Which will be the preferred product type in the foreseeable future?
In terms of product type, alcohol-free segment is expected to witness robust growth during the forecast period of 2019-2027, as consumers are demanding for aluminum-free, naturally-fragranced deodorant stick as they helps in preventing odor and also provide all day protection.
What type of sales channel is expected to be the most preferred?
In 2019, store based retailing was the most preferred sales channel and held the highest share in terms of value in the global deodorant stick market. However, online retailing is expected to show higher growth.
Which region will lead the global sales of deodorant stick market?
Europe remains the largest shareholder in the global deodorant stick market. EU-4 countries, and U.K. have emerged as a dominant countries in the Europe deodorant stick market in terms of consumption. However, Oceania and Asia Pacific Excluding Japan is expected to register the higher CAGR during the forecast period.
DEODORANT STICK MARKET TAXONOMY
The global deodorant stick market is segmented in detail to cover every aspect of the market and present complete market intelligence to readers.
Product Type
With-Alcohol
Alcohol-Free
Packaging Material
Sales Channel
Store Based Retailing

Modern Retailers

Convenience Stores
Discounters
Hypermarkets
Supermarkets

Traditional Retailers

Specialty Stores
Independent Grocers
Other Retailers

Online Retailing
Region
North America
Latin America
Europe
Asia Pacific (Excluding Japan)
Oceania
Japan
Middle East & Africa
Need specific information?