Introduction
Bentonite market is set to witness modest growth at projected CAGR of 4.3% during the forecast period (2029-2029). Role of bentonite in multifaceted end-use industries such as water treatment, agriculture, and construction sector is catalyzing the growth of bentonite market. On that premise, the global bentonite market surpassed US$ 1.4 Bn in 2018.
The construction sector in particular is experiencing robust growth in emerging economies. Leading bentonite manufacturers are thus compelled to ramp up the production. Moreover, greater government incentive for SMEs in developing regions is bolstering the growth of bentonite market. However, manufacturers face intense competition owing to consolidated natured of the market.
Soaring Oil & Gas Drilling Activities to Fortify Bentonite Market Through 2029
Growing energy needs on account of rising global population is expediting oil & gas drilling activities. This sector is a prominent end-use area of bentonite where it is utilized as a drilling mud additive. Hence, oil & gas drilling application segment is projected to hold prominent market share through the forecast period.
Role of calcium and sodium bentonites in drilling mud applications continues to propel the overall market growth. However, drilling applications are facing restraints from stringent government regulations in view of certain chemical additives used in combination with bentonite. Manufacturers are thus focused on enhancing the production rate by precluding mud cake formation.
Versatility of Bentonite to Drive Consumption in Variegated Industries
Leading players in various applications such as animal feed, paper, polishes, dyes, paints, detergents, cosmetics, and pharmaceuticals are driving the consumption of bentonite. Moreover, bentonite is increasingly being used to eliminate the impurities present in oils and for treating wastewater.
Manufacturers of iron ore pellets use bentonite as a binding agent which is further driving the consumption. The most sought-after attribute of bentonite is its ability to alter mechanical and chemical properties when used in combination with other additives. Therefore, it is the versatility of bentonite which is fuelling the adoption in multiple end-use applications.
Asia Pacific Carves Out a Significant Chunk of Market Share
In terms of consumption, Asia Pacific is the leading regional bentonite market. Large-scale exploration & drilling activities is fuelling the demand for bentonite in this region. During the course of forecast period, Europe and Asia Pacific are projected to gain prominent market share owing to stricter regulatory requirements in North America.
Moreover, favourable government initiatives in Japan, China and India are complementing the regional market growth. Regional demand for bentonite is concentrated in construction, metallurgy, oil & gas industries. On the other hand, North America will witness impressive CAGR through 2029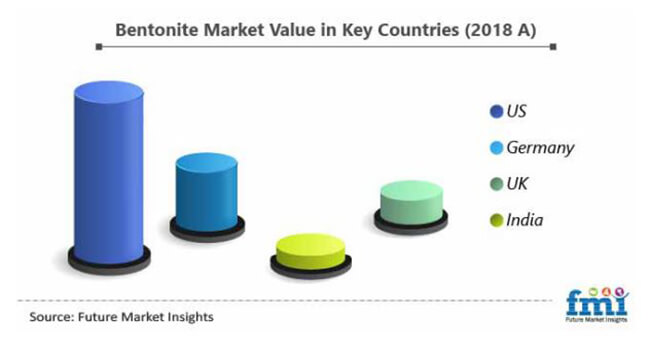 Market Leaders Prioritise Innovation to Achieve Higher Quality Output
Key players featured in this study include, American Colloid Company, Alfa Aesar, Atlantic Screen & Mfg., Inc., Bentonite Company LLC, BariteWorld, Bentonit Uniao, Bentonite Performance Minerals LLC, LLC, Bulk Apothecary, Black Hills Bentonite, Aydin Bentonit, Ashapura Group of Companies, and CIMBAR Performance Minerals.
Major manufacturers continue to invest massive pecuniary resources in R&D activities to achieve innovative product portfolios, efficient production, and higher quality output. The key strategy being adopted by market leaders is to diversify the end-use segments they cater to owing to versatility of bentonite. This in turn will strengthen their foothold in global bentonite market.
Bentonite Market: Segmentation
The global bentonite market is segmented in detail to cover every aspect of the market and present a complete market intelligence approach to readers.
Product Type
End-use Application
Drilling Fluid
Binder
Sealant
Adsorbent/absorbent
Clarification Agent
Region
North America
Latin America
Europe
MEA
Asia Pacific
Need specific information?