Bentonite Market By Product Type (Sodium, Calcium), Application (Drilling Fluids, Binder, Sealant, Absorbent, &Clarification Agent) & Region - Forecast to 2021 - 2031
Bentonite Market - Analysis, Outlook, Growth, Trends, Forecasts
March 2021

REP-GB-348

255 pages
Bentonite Market Market Overview
[255 Pages Report] The Bentonite Market is expected to grow at a CAGR of 6.2% in the coming assessment period. The Bentonite Market has witnessed substantial growth in the last few years. This growth is projected to continue over the assessment years, starting from 2021 to 2031, due to increasing use of bentonite in diverse industries across the globe. Bentonite finds application in drilling fluid, binders, absorption/adsorption, clarification agent, and other sectors. As such growth in end use industries is creating lucrative prospects for suppliers of bentonite.
ESOMAR-certified market analysis and consulting company Future Market Insights (FMI) delivers insights into key factors driving Bentonite market growth in its latest report. Additionally, evaluating the effect COVID-19 has had on the Bentonite market in general, the study monitors global Bentonite sales in 20+ high-growth markets and addresses end-use industries in particular.
How the Historical and Future Outlook for Bentonite Market Match Up?
On account of increasing energy requirements, bentonite market is witnessing substantial consumption in oil & gas drilling operation. Furthermore, various applications of bentonite in end use industries such as construction, Foundry, pharmaceuticals, and among others causing a spike in demand from last couple of years and is expected to dominate the same in the near future.
The capitalization of infrastructure is increasing in developing and emerging markets across the globe, which is attracting major investments in construction activities. This in turn is benefiting the raw material industry such as, construction aggregates and bentonite. Bentonite is used in construction mainly for sealant applications owing to its swelling property. Growing construction activities across the globe are projected to bolster the demand for bentonite during the forecast period.
Future Market Insights expects the global bentonite market to expand at CAGR of over 6.2% in between 2021-2031.
Diverse Applications Driving Bentonite Market Sales
Bentonite used in various applications, such as, drilling fluid, binder, adsorbent/absorbent, clarification agent and others. The demand for bentonite is increasing due to growing end use industries such as, oil, construction, food, pharmaceutical and others. Due to increasing demand of the bentonite applications such as sealant, clarification agent, adsorbent / absorbent in the end use industries like construction, food and pharmaceutical industry will be key driving factor for the bentonite market.
Why is R&D Key to Market Consolidation?
Across the globe, key manufacturers are planning to increase their market share by introducing innovative application in the bentonite product portfolio. Meanwhile, key players and academic institution are collectively working on innovating new applications through research and development.
Some of the key players are investing around 3-5% of their revenue on R&D to innovate the new application range for end use industries. Moreover, various manufacturers are entering the market by acquiring local existing players and globalizing its portfolio.
What is the Regulatory Impact on Bentonite Market?
Governments and regulatory authorities across the world have imposed restrictions on trans-continental trading of bentonite in some of the bentonite producing region sowing to depletion of bentonite reserves. However, end-use industries in these region are focusing on alternative or substituting for bentonite. This could restrict growth opportunities for the market to an extent.
What is the Impact of COVID-19 on Global bentonite market Sales?
The COVID-19 pandemic has negatively affected various countries worldwide, which has resulted in a damaging impact on the global economy. The pandemic drove most of the affected countries into imposing sweeping shutdowns, affecting their industrial and commercial activities.
Suspension of industrial and trade activities in several countries resulted in a drastic plunge in economic growth. Cancellation of projects, employee furloughs, investment cuts, and lack of cash flow hampered growth across several industries, including the construction sector.
Other factors including disruption in supply chain, raw material supply, transportation, and lack of labor hampered the overall bentonite market. The end-use industries however are projected to stabilize in the ongoing quarter and grow exponentially in upcoming years boosting the sales of bentonite
Country-wise Insights
Why does the China Dominate the Global Bentonite Market?
Increasing infrastructure activities along with commercial and industrial development in the country are expected to boost the bentonite market. Also, increasing investment in industrial activities from the other regional key players in China is anticipated to boost bentonite market in the coming future.
Capacity expansions undertaken by leading players are expected to have considerable impact on prospects in China. For instance, Imerys bentonite operations in the country announced its plans for increasing production capacity following surge in sales in 2018.
What is driving Bentonite Sales in the U.S.?
The U.S. is experiencing lucrative growth in the global bentonite market owing to increasing investment manufacturers intended at expanding production capacities of bentonite. Also, increased oil & gas exploration activities are expected to reduce energy dependency on other countries. This is further expected to spur the bentonite sales in the near future. Its high viscosity property and it also increases borehole stability during the process.
What are Market Projections for Germany?
In Europe, Germany holds around 1/4th of the total share, in terms of volume and value.
However, owing to the effect of the COVID -19 outbreak, the market scenario is expected to be negatively impacted in the country. But, notable developments in end-use industries are expected to help the region to recover from the pandemic crisis in the coming quarters.
The U.S. is one of the leading producers of high-grade natural sodium bentonite, which places it as one of the highly lucrative markets.
How is the Market Scenario in Brazil?
Brazil is anticipated to account for around half of the market value share in Latin America. Sales in Brazil is forecast to increase considerably owing to increasing industrial activities in the country.
In Brazil, prominent manufacturers of oil drilling and foundry application, are estimated to contribute to the growth of the bentonite market in the country. On the basis of incremental $ opportunity, Brazil is expected to create US$ 49.8 Mn opportunity in between the forecast period.
Why are Factors Driving Bentonite Sales in India?
India's bentonite market is driven by application in a wide range of industries including foundry, pharmaceuticals, and food. The demand for bentonite in the country is primarily meted by imports from countries such as China. India is expected to reach value of US$ 140.0 Mn by the end of 2031.
Bentonite production in India is expected to pick up pace in the near future, thanks to the rising demand for oil clarification. Bentonite is often required in civil engineering and environmental applications as sealant and adhesive. Bentonite was also identified as one of the exportable materials in Indian Minerals Yearbook 2015.
These factors are indicative of lucrative opportunities for bentonite sales in India.
Category-wise Insights
Which is the Preferred Type of Bentonite?
Sodium bentonite constitutes the leading product category. It is expected to remain dominant through the course of the forecast period. It has an excellent colloidal property, due to which it is often used in drilling boreholes and mud for oil and gas wells.
Which Application Segment to drive the Bentonite market?
Drilling fluid account for the prominent share of bentonite market and is anticipated to continue its dominance over forecast period closely followed by binder and absorbent. Bentonites are used in the flush fluid lubricates and cool the cutting tools for protection against corrosion in drilling activities. As drilling fluids generate hydrostatic pressure in the borehole, bentonite hinders fluid and gas penetration.
Which end user industry to flourish in upcoming future?
Oil industry is anticipated to be the most attractive segment and create wide opportunities for bentonite suppliers. Furthermore, pharmaceuticals industry is projected to witness highest growth amongst all other industries on the back of increasing population and human health concerns amongst the consumers.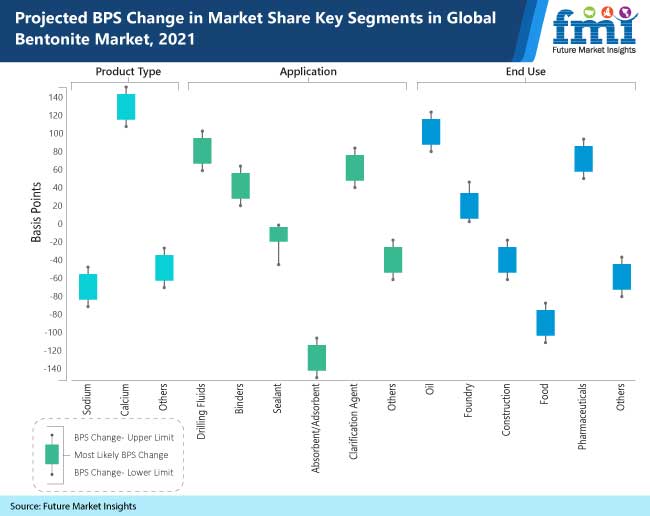 Competitive Landscape
Market players are focusing on research and development to gain competitive edge. Besides this, there is considerable focus on strategic collaborations and acquisitions among the market players.
For instance, Sharewell HDD Drilling Products Thunderstorm was acquired by Wyo-Ben Inc. in 2015.
Some of the leading companies operating in the bentonite market are:
Charles B Chrystal Co. Inc.
Halliburton Co
Kemira OYJ
Kutch Minerals
Kutch Minerals
Mineral Technologies Inc.
Wyo-Ben, Inc.
*The list is not exhaustive, and only for representational purposes. Full competitive intelligence with SWOT analysis available in the report.
Scope of the Report
Attribute

Details

Forecast Period

2021-2031

Historical Data Available for

2016-2020

Market Analysis

USD Million for value and Kilo Tons for Volume

Key Regions Covered

North America, Latin America, Europe, East Asia, South Asia & Pacific, Middle East & Africa,

Key Countries Covered

US, Canada, Brazil, Mexico, Germany, France, Spain, Russia, China, Japan, South Korea, India, ASEAN, GCC countries, Turkey, South Africa

Key Segments Covered

Product Type, Application, End Use, and Region

Key Companies Profiled

Ashapura Group of Companies
Black Hills Bentonite, LLC
Charles B Chrystal Co. Inc.
Clariant AG
Halliburton Co
Kemira OYJ
Kunimine Industries Co., Ltd.
Kutch Minerals
Kutch Minerals
Mineral Technologies Inc.
Polymer Drilling Systems (PDS) Co, Inc.
Wyo-Ben, Inc.

Report Coverage

Market Forecast, brand share analysis, competition intelligence, DROT analysis, Market Dynamics and Challenges, Strategic Growth Initiatives

Customization & Pricing
World's Most Profilic Intelligence Engine
Get Access To The World's Largest Market Research Database.
Sign Up Now
Bentonite Market by Category
Product Type
Application
Drilling Fluids
Binder
Sealant
Absorbent/Adsrobent
Clarification Agent
Others
End- Use Industry
Oil
Foundry
Construction
Food
Pharmaceuticals
Others
Region
North America
Latin America
Europe
East Asia
South Asia Pacific
Middle East & Africa
Key Questions Answered in the Report
Which is the most lucrative market for Bentonite?
East Asia has emerged as a leading market for bentonite. Increasing production and consumption in China, Japan, and South Korea will aid expansion in the region.
Which are the top-selling type of bentonite?
Sodium Bentonite is highly preferred for many applications. The demand of the sodium bentonite is expected to remain considerably high through the forecast period.
Who is the leading end user of Bentonite?
Bentonite is increasingly used during oil & gas drilling application. According to FMI, the oil industry is expected to remain the leading end user through the forecast period.
Who are some of the leading producers of Bentonite?
Some of the leading companies manufacturing bentonite are, Kemira OYJ, Mineral Technologies Inc. Clariant AG, Kunimine Industries Co., Ltd. Charles B Chrystal Co. Inc, Ashapura Group of Companies, Halliburton Co, Wyo-Ben, Inc, Polymer Drilling Systems (PDS) Co, Inc, Black Hills Bentonite, LLC, Alfa Aesar, Kutch Minerals, among others
Need specific information?
Our Clients