KEY GROWTH INFLUENCERS - SULPHUR BENTONITE MARKET
Extensive Use of Sulphur Bentonite for Improved Crop Yield of Canola and Soybean
Sulphur bentonite has performed extremely well on soils across the globe. There has been substantial enhancement in oil content and yield of major oil seeds including soybean, rape seed, etc. Reportedly, the yield of canola increased significantly more than other cereals with the use of sulphur bentonite.
North America has been a major producer as well as consumer of sulphur bentonite. Canada is one of the leading producers of canola; therefore, extensive demand is expected to stem from the country. Also, the U.S. is expected to create substantial demand from the production of corn and soybean.
Industry stakeholders are expected to focus on the development of non-conventional applications for sulfur in order to channelize the excess output. Thus, efforts towards promoting the use of sulfur-based fertilizers are expected to gain momentum during the forecast period. This, in turn, is expected to create avenues of growth for the sulphur bentonite market across the globe during the forecast period.
Increasing Local and Foreign Investments in Agricultural Sector
The agricultural sector has been the mainstay of many countries such as India, China, and Brazil. A major part of the GDP contribution of these countries comes from their agricultural output. Brazil is amongst the top 10 producers of major crops, cereals, and oilseeds. According to the USDA, Brazil's soybean production was pegged at 119.3 million metric tons (mmt) in 2018. The country has also been a major consumer of conventional NPK fertilizers.
Latin America is among the highest rated sulphur deficient regions after Asia Pacific. Thus, there is great demand for sulphur-based fertilizers. Moreover, the use of sulphur bentonite has improved the crop yield for crops such as soybean, corn, and sugarcane by an average of 20%.
FDI investments in the agricultural sector, such as investments in the Latin America agricultural sector by China, and foreign agricultural investments increasingly seek to control manufacturing, processing, and logistics for commodities that cannot be provided domestically.
Mexico and Nicaragua have established partnerships and Colombia and Argentina plan to develop activities linked to the World Economic Forum's New Vision for Agriculture initiative. Such initiatives are projected to drive demand for sulphur bentonite in the global market.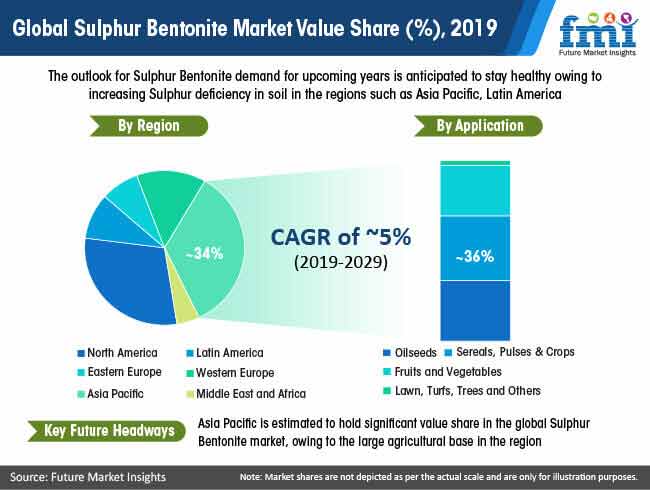 Reduced Sulphur Deposition in Crops with Stringent Emission Regulations
Growing emission regulations in EU countries have significantly reduced the sulphur deposition in crops below the standard requirements. Hence, there has been an increase in the need for more intense sulphur carriers such as sulphur bentonite.
According to the Sulphur Institute in the U.K., ~50% of the land area is sulphur deficient for winter wheat and rapeseed. Europe has also been a significant producer of oil seeds and the region has witnessed a significant increase in crop yield and cereals in France, Germany, and Spain. EU 28 are the largest producers of rapeseed, followed by Canada, China, India, and Australia. The yield has increased by 10-20% for oilseeds, legume, cereals, and forage crops. Moreover, the increasing rape oilseed production for biofuel increases the demand for fertilizers.
SULPHUR BENTONITE MARKET STRUCTURE ANALYSIS
The global sulphur bentonite market has a fairly competitive landscape, where prominent market players are focusing on the development of joint ventures, concrete distribution partnerships, and targeting a stronger global footprint.
The sulphur bentonite market has been fairly moderate in size, which is the key factor for its dynamic competitive nature.
Prominent sulphur bentonite providers are presently prioritizing business expansion through merger and acquisition strategies with other repair and maintenance service providers in the market.
Extension of product portfolio is also identified to remain one of the key developmental strategies adopted by key players in the sulphur bentonite market.
Key market players are strategically focussing on strengthening their online portfolio in order to attract new customers and give a necessary boost to their revenue stream.
Demand Upsurge in Production of Oilseeds and Cereals
Sulphur bentonite market is expected to witness maximum revenue growth in the production of oilseeds, especially in Asia Pacific (APAC). On the other hand, sulphur bentonite is witnessing rapid traction in the production of cereals, pulses, and crops.
The study reveals that the application of sulphur bentonite in oilseeds and cereals will collectively account for the revenues exceeding US$ 100 Mn by 2029 end. Sales of Sulphur bentonite for pushing the yield of fruits & vegetables and lawn, turf, and trees will see modest growth throughout the projection period.
APAC Set for Attractive Returns
The market in Asia Pacific (APAC) will continue to lead its way in global sulphur bentonite landscape, followed by North America. China and the U.S. will spearhead these regional markets, respectively. India has also been showcasing lucrative potential for the growth of sulphur bentonite market owing to an upsurge in foreign and local investments in agriculture over the past decade.
Latin American market has been projected for a remarkable growth outlook, led by Brazil and Mexico. However, the market stakeholders in Latin America will continue to face challenges posed by high price point and dearth of local distributors.
Subsidization of Conventional Fertilizers Limiting Market Growth
To address concerns related to sulphur deficiency, governments are offering conventional sulphur-based fertilizers, including single superphosphate (SSP), ammonium phosphate sulphate (APS), and ammonium sulphate (AS) at subsidized prices.
On the flip side, specialty fertilizers, such as sulphur bentonite are still categorized as non-subsidized and are thus available on market at a premium price. In addition, APAC and Europe are dependent on other regions for import of sulphur bentonite, thereby adding to the expenses. This will continue to restrict market growth to a large extent in the near future.
How Growth will Unfold
Sulphur is considered as the fourth essential ingredient for plants, after nitrogen, phosphorus, and potassium. However, studies continue to reveal the sulphur deficiency across worldwide agricultural sector, particularly in fast developing economies such as China and India.
Sulphur bentonite will thus continue to gather traction at a global level owing to its affluent sulphur content. Increasing crop production areas dedicated to rapeseed, rice, wheat, soybean, sunflower, and grapes warrant sustained demand from Asian markets. Leading sulphur bentonite manufacturers are targeting APAC for establishing new production plants.
SULPHUR BENTONITE MARKET TAXONOMY
The global sulphur bentonite market is segmented in detail to cover every aspect of the market and present complete market intelligence to the reader.
Application
Oilseeds
Cereals, Pulses, and Crops
Fruits and Vegetables
Lawns, Turfs, Trees, and Others
Region
North America
Latin America
Eastern Europe
Western Europe
Asia Pacific
Middle East and Africa
Need specific information?