Calibrators Market - Key Research Findings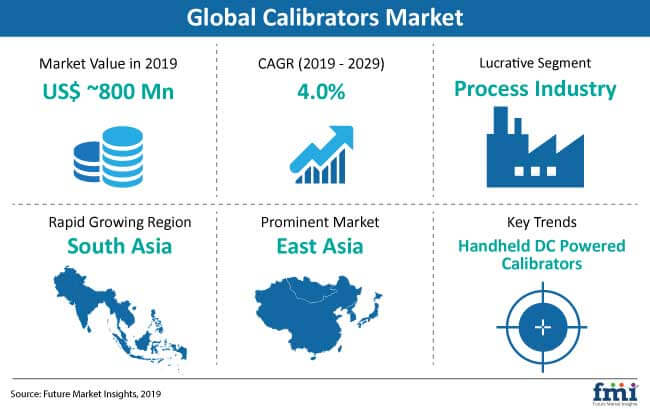 The global calibrators market size in 2019 is expected to be ~US$ 820 Mn.
The calibrators market is anticipated to grow at a CAGR of ~4% over the forecast period of 2019-2029.
In terms of value share, North America and Europe are estimated to remain as prominent regions in the calibrators market.
In terms of growth rate, South East Asia is anticipated to witness a high growth.
Emerging players in the calibrators market are looking forward to expanding their product offerings and ventures into the electrical testing services market.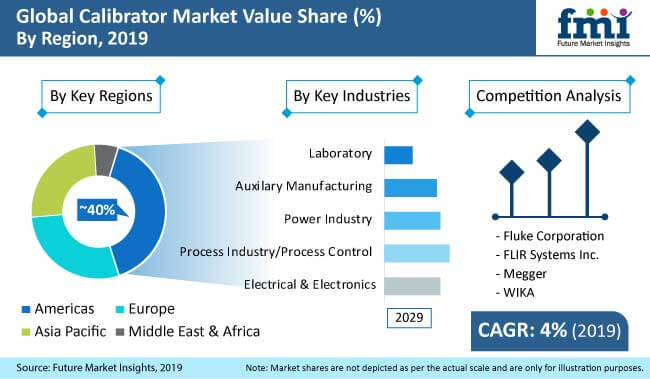 Top Factors Shaping the Global Calibrators Market
Improving Power Plant Performance with Modern Calibration Process
Calibration of an equipment is an essential activity in every process and manufacturing industry. Several reasons are supporting this fact, such as enhancing efficiency of power plants to increase or maintain safety, productivity, and profitability. Also, calibration of certain equipment such as emission monitoring systems is highly important in regulated regions. Furthermore, there are several global and regional calibration standards that mandate the calibration of electrical equipment.
Safety being the First Priority
Electricity has the capability of causing lethal harm to an individual and unchecked electrical equipment such as high, low and medium voltage transformers have more tendency of causing such damages. In 2002, work injuries due to electrical malfunctioning costed America US$ 14.6 Bn. However, this has reduced significantly due to adoption of precautionary measures such as testing of the electrical equipment on a regular basis.
Hence, it has become necessary that electrical equipment in large institutes such as power generation plants, manufacturing industries, and oil refineries are continuously tested to keep the working of the equipment in check and properly maintained to avert such sudden mishaps thereby, boosting the calibrators market.
Calibrators Market Structure Analysis
The global calibrators market is undoubtedly unorganized market where, tier-1 and tier-2 companies hold one-fourth of the global calibrators market.
Most of the manufacturers in the calibrators market are strategically focusing in Middle East and Africa, East Asia, and South Asia regions.
Prominent players are strengthening and expanding their manufacturing and distribution network throughout the world to gain a competitive edge in the calibrators market.
Fluke Calibration, Keysight Technologies, Beamex Oy Ab, WIKA, AMETEK INC, OMEGA Engineering Inc., Megger, Yokogawa Test & Measurement Corporation, and ABB are some of the market participants in the global calibrators market.
Calibrators – Entering the Era of Digitalization
The rise of digital technologies and modularly organized plants alludes high flexibility in industrial processes, equally influencing the maintenance requirements of machines. Calibrators continue play a vital role in preventing costly equipment failures, while meeting the need for optimized and timely maintenance.
Market Set to Grow 1.5X between 2019 and 2029
Emergence of portable calibrators with multifunctional capability has meant that state-of-the-art calibration, data integration, and communication with control systems have gained higher accuracy. Calibrator sales will be influenced by widespread acceptance of portable multifunctional products in the foreseeable future.
Attractiveness of Developed Markets Intact
Developed markets, namely, North America and Europe, remain the goldilocks' zone for calibrator manufacturers, as the spending on industrial infrastructure proliferates. There have been significant investments in aerospace, consumer electronics and pharmaceutical industries in these region, in turn paving lucrative opportunities for the market stakeholders.
The Broader Perspective
The trend of on-site calibration continues to gain momentum, reducing the downtime of field instruments. Industries worldwide are emphasising in-house services to promote on-site calibration and ensure minimal interruptions in manufacturing processes.
How Growth Will Unfold?
Factories of the future are expected to sail on the tidal wave, boarding the ark of digital transformation. Calibrator manufacturers are witnessing greater sales through offline channels, such as specialty stores. Online calibrator sales have gradually picked up pace, and prospects seem bright, despite low gains at present.
Key Segment
By Current Type
By Sales Channel
Online Sales
Offline Sales
By End Use
Industrial

Electrical & Electronics
Process Industry/Process Control
Power Industry
Auxiliary Manufacturing

Laboratory
By Region
North America
Latin America
Europe
East Asia
South Asia
Oceania
Middle East & Africa
Need specific information?