ADAS Calibration Equipment Market to Grow 3X over 2019 - 2029
The market for advanced driver assistance systems (ADAS) calibration equipment linearly resonates with the flourishing automotive industry. Currently generating revenues that value slightly above US$ 200 Mn, the ADAS calibration equipment market is projected for stupendous growth in revenues over the period of next decade. This Future Market Insights (FMI) study offers strong growth forecasts for ADAS calibration equipment market and foresees 3X expansion in market value during 2019 - 2029.
Key Factors Shaping ADAS Calibration Equipment Market
Passenger Vehicle Category to Dictate Market's Fortunes
The passenger vehicles segment is anticipated to dominate the ADAS calibration equipment market due to the increasing penetration of ADAS in luxury and mid-sized cars. Also, manufacturers are developing ADAS cameras and automotive sensors for enabling vehicles to detect obstacles. Over the last few years, the mid-sized passenger vehicle segment has witnessed moderate growth in the global market. A paradigm shift towards high vehicle performance and fuel economization is expected to drive the adoption of ADAS sensors, particularly in developed regions. Moreover, some of the manufacturers have developed ADAS calibration tools for truck ADAS calibration.
Rising Adoption of ADAS in East Asia & South Asia
East Asia & South Asia markets are expected to grow at significant CAGRs during the forecast period (2019-2029) in the global ADAS calibration equipment market. As a result of increasing penetration of ADAS in cars, SUVs and commercial vehicles in India and China, these regions are anticipated to witness high Y-o-Y growth over the forecast period. The adoption of ADAS is expected to increase substantially, for enhancing travel safety and comfort.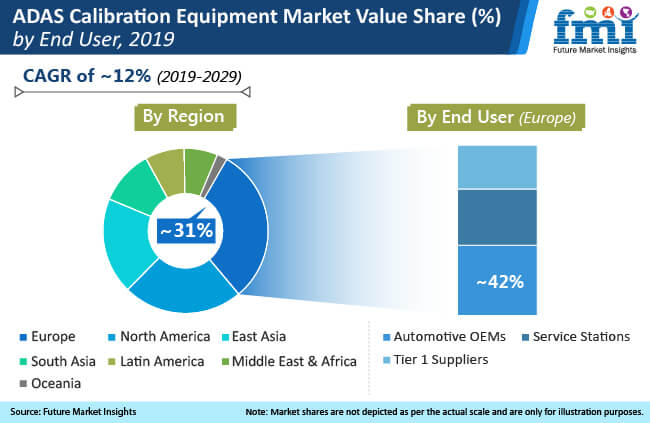 Stringent Safety Regulations to Boost Global ADAS Adoption
Governments are welcoming new safety regulations for reducing road accidents. For instance, European Commission has accepted new road safety rules and regulations under the General Safety Regulation. According to these regulations, some of the ADAS features such as advanced emergency braking, lane-keeping assistance, and advanced emergency braking have become mandatory. Also, lane departure warning systems (LDWS) and automatic emergency braking system (AEBS) have become compulsory for all new heavy goods vehicles (HGVs) sold in the European Union. Moreover, USA has the most stringent vehicle safety regulations in the world.
Automotive OEMs Registering Significant Adoption
The consumption of ADAS calibration tools is rapidly increasing due to the high demand from automotive OEMs for after-manufacturing calibrations. Automobile manufacturers are introducing ADAS in luxurious and even small- and mid-sized cars for enhancing passenger safety, offering advanced driver assistance, and ensuring comfortable travel. ADAS manufacturers are collaborating with independent service providers to better promote their ADAS calibration equipment. The automotive OEMs segment is anticipated to be one of the major segments in the ADAS calibration equipment market.
ADAS Calibration Equipment Market Structure Analysis
The global ADAS calibration equipment market is fairly consolidated due to the limited presence of manufacturers.
Prominent players operating in the market are focusing on implementation of ADAS in mid- and low-range passenger vehicles.
The market is relatively small in size, due to inadequate unawareness of ADAS calibration equipment among service providers in developing countries.
For promoting their products, manufacturers of ADAS calibration equipment are collaborating with other automotive service providers.
Commercial Vehicles to Emerge Lucrative
Passenger vehicles (PVs) remain top adopters of ADAS calibration equipment, generating maximum revenues in Europe. On the other hand, commercial vehicles (CVs) are also registering faster adoption rate, almost all over the world. Further, the study reveals that the ADAS calibration equipment market in Middle East & Africa will witness a significant boost to adoption in both vehicle categories, PVs and CVs. Stringent government regulations are compelling automobile manufacturers to embrace ADAS calibration equipment in PVs and CVs, further leading to a significant spike in their employment post 2020.
U.S. Market to Exceed US$ 100 Mn Mark by 2025
North America, Europe, and East Asia collectively account for nearly 3/4th of global market value. However, Europe would continue to be at the forefront, majorly attributing to increasing production of SUVs and mid-sized vehicles in Western Europe. The U.S. will also remain an attractive market for ADAS calibration equipment manufacturers, and is set to surpass the US$ 100 Mn mark by 2029 end. This growth of market in the U.S. is attributed to the country's expanding manufacturing base of heavy commercial vehicles (HCVs). Towards 2025 end, there are strong indications of East Asia outpacing North America in the ADAS calibration equipment market. China, owing to swelling production of compact PVs, leads the region, while South Korea and Japan reflect worthwhile prospects.
Targeting Low- and Middle-income Economies
ADAS-equipped vehicles are more expensive versus conventional vehicles. Consequently, these systems are yet to streamline in low- and middle-income countries (LMICs). In addition, ADAS requires significant power to run various complex algorithms, which is again a challenge for developing economies. Another challenge for market players is inept government regulations in regions excluding North America and Europe. Research suggests that a sizeable cluster of vehicle owners is still unaware about ADAS calibration services. Further, lack of skilled service providers also poses the risk of inaccurate ADAS calibration.
Surging adoption in passenger vehicles
Increasing applicability in commercial vehicles
High demand from automotive OEMs
Demand from service stations picks pace
How Growth will Unfold
FMI discovers demand upsurge for ADAS calibration equipment from OEMs, currently representing nearly 2/5th share of market value. Surging installation rate of sensors per vehicle, particularly in the U.S. and Germany would be primarily responsible for this growth. With soaring recalibration demands, including repair or replacement of ADAS, covering cameras and sensors, the growth in demand for ADAS calibration equipment will be more prominent in service stations.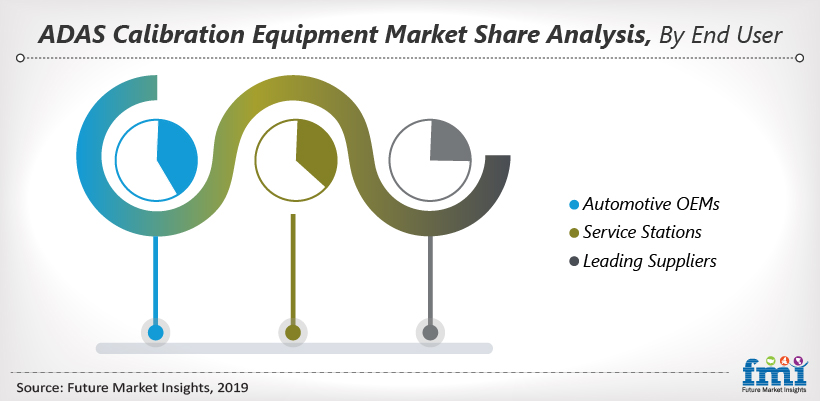 * This data is only a representation. Actual data may vary and will be available in report.
Click Here To Know How The Growth Will Unfold
Custom Market Research Services
FMI offers custom market research services that help clients to get information on their business scenario required where syndicated solutions are not enough.
Overview
ADAS Calibration Equipment Market Analysis 2019 - 2029
A recent market study published by FMI on the ADAS calibration equipment market includes global industry analysis for 2014 - 2018 & opportunity assessment for 2019-2029, and delivers a comprehensive assessment of the most important market dynamics. After conducting thorough research on the historical as well as current growth parameters of the ADAS calibration equipment market, the growth prospects of the market are obtained with maximum precision.
ADAS Calibration Equipment Market Taxonomy
The global ADAS calibration equipment market is segmented in detail to cover every aspect of the market and present complete market intelligence to the reader.
Vehicle
Passenger Vehicles
Commercial Vehicles
End User
Automotive OEMs
Tier 1 Suppliers
Service Stations
Region
North America
Latin America
Europe
South Asia
East Asia
Oceania
Middle East and Africa
How the research was conducted?
Primary Research
Chief Executive Officer
Vice President
Sales Head
Product Manager
Marketing Head
Deputy Manager -Marketing & Communications
Marketing Manager
Sales Manager
Distributors
Customer Service Representative
Current market dynamics and challenges
End User Segment Split and Authenticity
Yesteryear trends
Market characteristics
Competition structure and market structure
Strategic growth initiatives
Market segment splits and authenticity
Near-term and long-term market growth prospects
Opinions on market projections and validity of assumptions
Secondary Research
OICA
World Bank
American Automobile Association, Inc.
IMF
Primary Interview Splits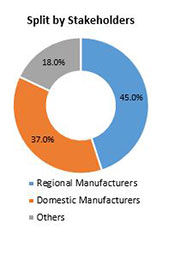 To Learn More About our Comprehensive Perspective on ADAS Calibration Equipment Market,
Get in touch
COVID -19 : Impact Analysis
Request the coronavirus impact analysis across industries and markets
Request Covid -19 Impact
CASE STUDIES
See how our work makes an impact.
At FMI, we design strategies that are adaptive, impactful, and implementable.