ADAS Sensors Market By Product Type (Blind Spot Detection, Night Vision Sensors, Light Sensors, Parking Sensors), Vehicle Type (Passenger Cars , Commercial Vehicles, Heavy Commercial Vehicles), Sales Channel (Original Equipment Manufacturer (OEM), Original Equipment Spares (OES), Independent Aftermarket (IAM)) & Region - Forecast to 2020 – 2030
ADAS Sensors Market - Analysis, Outlook, Growth, Trends, Forecasts
July 2020

REP-GB-11865

250 pages
Advanced driver assistance system (ADAS) Sensors Market Outlook & Key Findings
The advanced driver assistance system sensors market is expected to grow at an astounding CAGR of 14% through 2030
Passenger car segment will witness highest uptake of ADAS sensors as regulatory initiatives necessitate reduction of road fatalities by as much as 50% through 2030
Radar sensors are anticipated to capture significant value with high emphasis on collision avoidance systems in semi-autonomous vehicles
High spending on research on ADAS in fully autonomous vehicles makes US a key growth region
ADAS Sensors Market Analysis – Regulatory Trends to Give Tailwinds to ADAS Sensors Market
The gains in autonomous driving in recent years have spearheaded research in developing ADAS sensors to improve night driving, lowered visibility and bad weather. Despite night driving accounting for 25% of driving, chances of road accidents are higher at night.
Stringent mandates are being instituted by regulatory agencies in the European Union and US stating that it is incumbent on all vehicles to be fully equipped with braking and collision systems by the end of 2020.
The market for ADAS sensors is fairly nascent securing modest revenues to the tune of US$ 5 Bn – US$ 8 Bn vis-à-vis other automotive systems. Optimism in the market however abounds in high repurchase rates of vehicles with ADAS ranging from 80%-85% -- an indication that consumers are willing to pay top dollar for safety features.
ADAS Sensors Market Trends - De-icing Applications and Advancements in ECU to Fortify Sales
ADAS systems, especially sensors need to function with high accuracy in all types of weather conditions. To ensure this, deicing applications are being pioneered for keeping sensors ice-free while the vehicle is on the road. Printed electronics based film heaters are being used to de-ice sensors.
These films are fairly lightweight and have a high flexibility index and can be applied directly to the sensor with negligible space requirements. The film heater can be effectively customized in terms of shape and size on back of its variable design.
It can also adapt to the geometry and curvature of the sensor. It also has self-adhesion version which can be used to reduce installation costs.
Within the modern vehicle fleet, Electronic Control Units (ECUs) are generating huge support to several ADAS functions aimed at increasing road safety.
Earlier, ECUs were placed in the proximity of the windshield for collision detection. Modern systems in cars require more complex ECUs with extremely huge memory capacities and processing speeds to respond to incoming data streams from multiple sources with razor sharp precision.
This has been made possible with the efficacious use of microcontroller units to be able to process sensor data for a 360-degree view of markings on the road and obstructions.
Further, data from external sources such as that of traffic data and real time maps can assist advanced ECU systems in highway assist and other functions.
A Case Being Made by Thermal Imaging Sensors
Through 2020, thermal imaging have proven to be a viable solution for autonomous vehicles at all levels. Engineers at the helm believe that the new sensing suites will have cameras fused with radar to deliver cost-effectiveness and accuracy with minimal redundancy.
A case is now fructifying towards the advent of advanced sensing capabilities for braking and pedestrian detection. With three quarters of road fatalities taking place post sunset, detection of blind spots in rain, snow, hail is a daunting challenge for OEMs and cannot be completely circumvented optical radars and sensors.
For this reason, technologies in thermal imaging are being championed for ADAS as well as advanced SAE level 4 autonomous driving applications.
Thermal sensors are garnering outstanding traction in detection of obstructive objects in smoke and darkness.
For instance, Far Infrared sensors, a type of thermal imaging sensor is able to identify objects well beyond the scope of traditional headlamps. FLIR, an Oregon (US) based company has a contract with an unnamed partner for the manufacture of thermal imaging sensors slated for production in 2021 for level 4 autonomous vehicles.
Similarly, Israeli companies are researching extensively to manufacture binocular sensors that fuse thermal images to produce a very clear 3D view. Thermal sensors such as Far Infrared have emerged from military sensor tech using machine algorithms.
ADAS Sensors Market Regional Analysis – Asia Pacific to Emerge as Largest Market for ADAS Sensors
Regionally, North America will witness high adoption of ultrasonic sensors owing to their multiple functionality and reduced prices.
The governments of various countries in Europe, North America and Asia Pacific are also playing a critical role in mandating safety regulations. For instance, the Vision Zero initiative by the European Union looks at completely eliminating road related deaths by 2050.
Being technologically advanced, US is also an area of high interest for OEMs and component manufacturers of ADAS. The presence of players such as General Motors, Intel, Velodyne and Qualcomm is also pushing the adoption of ADAS sensors.
For instance, Ford and Baidu collectively have invested huge sums in Velodyne for the production of a cutting-edge LIDAR sensor. Advanced testing procedures in North America makes it a hotbed of regional opportunities.
In Europe, there has been considerable spending by countries such as UK on autonomous driving technology and connected cars. Over the last 5 years ~ 57% of newly registered cars have been fitted with cameras and radars in UK. Parking sensors are slated to account for the largest value share in Europe. This is closely followed by light sensors.
Buyers in Europe are also showing great astuteness by installing blind spot detection features to reduce accidents and fatalities. Programs such as the ADAS technology calibration by players such as Autoglass are paving way for greater consumer consciousness.
On the other hand, Asia Pacific is slated to be the largest market in terms of size. China, after a recovery from the ongoing COVID-19 pandemic is slated to witness high demand growth for park assistance and adaptive cruise control with its flourishing automotive sector.
Within Asia Pacific, South Korea, Japan and China will account for the largest value share in the ADAS sensor market. Technologies in advanced electronics are allowing automotive behemoths such as GM, Mercedes Benz and Volkswagen to start up new production facilities for ADAS sensors in these countries.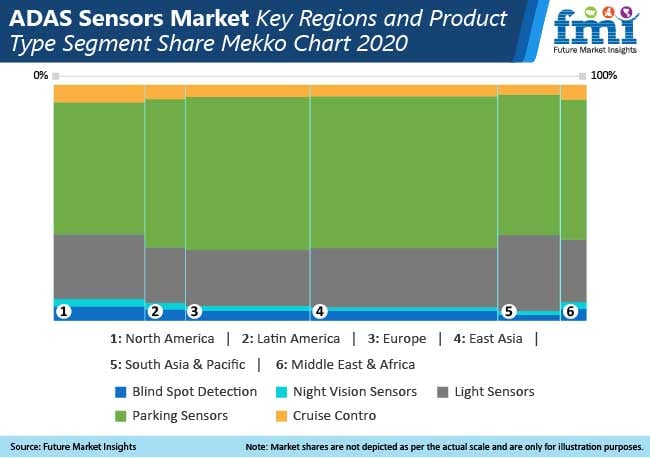 ADAS Sensors Market Manufacturers- OEMs Thrive with Capital Injection and Innovations in Radar Connectivity
Tier-1 players and start-ups are innovating aggressively at newer technologies based on detection, stereo vision, depth perception and higher performance. The Time of Flight principle is allowing ADAS sensors players to fill in the requisite gaps in the sensor and camera offerings especially in driving scenarios with limited visibility.
Communication between two different ADAS sensors continues to be a key challenge in the market which manufacturers are trying to circumvent. This is because sophisticated communication also requires higher bandwidth so as to mitigate an excessive load on the network.
Automotive giants such as Diamler are actively collaborating with research and academia such as the University of Ulm to address data fusion challenges between image data and non-image data.
While LIDAR and radar have garnered a significant chunk of attention toward themselves infrared sensors are heating up the competition landscape. Short-wave infrared imaging sensors (SWIR) are set to gain traction as automotive giants such as Porsche collaborate with Israel based TriEye to work upon and improve the performance of ADAS systems in Porsche's autonomously driven car fleet. In its first round Porsche contributed US$ 2million in capital to TriEye to develop on the same.
ADAS Sensors – Hardware Opportunities to be Veritable Playground for Players
Prolific opportunities are at play for semi-conductor companies in ADAS hardware for sensors in parking assistance systems, adaptive cruise control and emergency braking. The prime candidates are processors which are slated to capture ~ 38% of revenue shares in the foreseeable future followed by optics.
With sensors and processors poised to capture newer revenue streams, it makes sense for semi-conductor companies to create value-added, differentiated offerings for greater market hegemony such as expansion into intricate algorithms.
At the moment, the USP remains enhancement in processing operations such as data processing. Sensor enhancements are taking place in the field of camera and optical sensors. Owing to their versatility, they are able to assist in a range of ADAS functions such as recognition of pedestrians and other vehicles.
LIDAR systems are less sensitive to weather conditions and provide a 3D view of surrounding landscape. This widens their scope of usage. Though still on the costlier side, they have come down by several thousand dollars and cost less than $10,000.
Further price reduction is a necessary for better adoption. Profitability is lesser for sensors vis-à-vis processors. However, players are dabbling in this arena as it has greater scope for legit and differentiated offerings. Creation of imaging sensors made out of metal-oxide
World's Most Profilic Intelligence Engine
Get Access To The World's Largest Market Research Database.
Sign Up Now
ADAS Sensors Market: Segmentation
By Product Type
Blind Spot Detection
Night Vision Sensors
Light Sensors
Parking Sensors
Cruise Control
By Vehicle Type
Passenger Cars

Compact
Midsize
Luxury
SUVs

Commercial Vehicles
Heavy Commercial Vehicles
By Sales Channel
Original Equipment Manufacturer (OEM)
Original Equipment Spares (OES)
Independent Aftermarket (IAM)
By Region
North America
Latin America
Europe
East Asia
South Asia & Pacific
Middle East and Africa
Need specific information?
Our Clients