ADAS Testing Equipment Market - Key Research Findings
The global ADAS testing equipment market size in 2018 was valued at ~US$ 67 Mn.
The ADAS testing equipment market is expected to grow at a CAGR of ~12% during the forecast period of 2019-2029.
Owing to the increasing demand for advanced features in passenger vehicles, the global ADAS testing equipment market is expected to witness significant growth during the forecast period.
In terms of revenue generation, East Asia and North America, collectively, are likely to account for more than half of the value shares in the ADAS testing equipment market in the current scenario.

East Asia, attributing to the high automotive production, will continue to be a prominent regional market for ADAS testing equipment manufacturers.

The automotive OEMs segment is expected to remain prominent end user in the ADAS testing equipment market owing to the rising incorporation of advanced safety features in vehicles.

The automotive industry has witnessed significant growth over the recent past, owing to the increasing sales of compact passenger cars and light commercial vehicles with a robust adoption rate of ADAS sensors, particularly in few developed and developing countries.
Increasing demand for ADAS testing equipment from research institutes is also one of the opportunistic end user segments identified in the global ADAS Testing Equipment market.
Key Factors Shaping the ADAS Testing Equipment Market
Prevalence of Safety Standard Propels the Demand for ADAS Testing Equipment
Advanced Driver Assistance Systems (ADAS) are automated systems that increase safety of the driver by improving the overall driving experience for the driver. Safety features are being installed in vehicles to avoid collisions and accidents. These features must be tested during development. Testing activities are becoming important in many countries such as Germany, U.K., and U.S.
To minimize the number of accidents and the impact of the accident, contemporary vehicles are being equipped with advanced driver assistance systems (ADAS). Rising global awareness regarding technological advancements has led to an upsurge in the consumer demand for innovative technologies, such as ADAS. These innovations are capable of enhancing safety standards thereby, supporting the growth of the ADAS testing equipment market.
Focus on Installing Different Types of ADAS in Vehicles
The global ADAS market is set to witness significant growth in the upcoming years. The market growth will be primarily driven by improvements in automotive sensors technology for both OEM and aftermarket ADAS testing solutions. The U.S. Department of Transportation's National Highway Traffic Safety Administration (NHTSA) issued a rule that, by 2018, all new vehicles sold in the U.S. under 10,000 pounds must have ADAS equipped rear visibility technology.
Moreover, the NHTSA also announced that, by 2022, prominent OEMs in the U.S. must commit to apply emergency braking systems standard for all new vehicles. This will result in the enhanced safety of these vehicles by reducing the risk of fatalities caused by back over accidents in the country. According to a study, ~40% of all the vehicles in U.K. are projected to be equipped with at least two types of ADAS by 2020.
OEMs are Developing Advanced Driver Assistance Systems for their Brands
ADAS applications are anticipated to create business opportunities in the automotive industry, and electronics & semiconductor companies are well positioned to grab it. Technological expertise of companies has now become more important, as they can provide solutions, services, and products for testing ADAS. Several initiatives in the automotive industry are taken to improve car safety and develop autonomous vehicles are encouraging OEMs to invest in ADAS.
Features installed in the autonomous vehicles are required to be tested, translating to the growth of ADAS testing equipment manufacturers. Adoption of ADAS in research institutes and OEMs is also expected to boost the demand for ADAS testing equipment in the forecast period.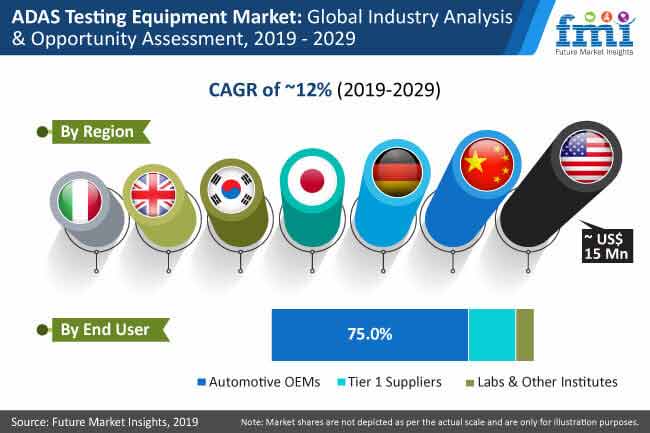 ADAS Testing Equipment Market Structure Analysis
The global ADAS testing equipment market is significantly consolidated. There are very few small and medium sized ADAS testing equipment manufacturers due to the high manufacturing cost, low consumer awareness, and complex design completely depended on required units. Global players accounted for ~60% to 70% in the market, whereas other small and medium-sized players accounted for ~30% to 40% in 2018.
Racelogic Ltd. and Oxford Technical Solutions Ltd. are estimated to be prominent market participants in the global market, relatively generating maximum revenue through ADAS testing equipment as compared to other market players. TKH Group NV (DEWETRoN), National Instruments Corporation, and AB Dynamics plc, are identified as among the prominent leaders in the global ADAS testing equipment market.
Prominent manufacturers of ADAS testing equipment are currently prioritizing expansion and new product launches to resonate with the growing consumption of ADAS testing equipment in China, Japan, U.S., Germany, and others.
ADAS Is All about Leveraging Sensors to Monitor Road Mishaps
Advanced driver assistance systems (ADAS) testing equipment are creating space in the automotive vehicle safety systems. Escalating adoption of sensor technology, such as Lidars, and cameras, among others, are facilitating drivers with functions including, lane keep assist, collision prevention, autonomous emergency, and so on.
However, operation of limited functionality of individual sensors is driving the need for sensor coupling, for instance, integration of radar, camera, and vehicle to vehicle communication provides exact data of the surroundings, in unfavorable settings which include night time, snow, fog, and others. Further, utilizing integrated circuits (IC) is enabling functional safety in the power supply systems of ADAS sensor modules.
ADAS test equipment and ADAS calibration equipment makers are highly inclined towards automotive radars due to their operation under all radar bandwidths. These radars, located behind bumpers and brand emblems, offer short-range and long-range detections. Furthermore, manufacturers are leveraging guided soft targets (GST), a single-use archetype, to enable vehicle testing without compromising the actual cars used. These mockups, installed on an autonomous robotic platform, allow efficient recreation after getting contacted with the test vehicle.
However, innovations in ADAS test equipment imply unknown technology and algorithms designed by neural networks instead of the line-by-line code developed by software programmers.
High Price Point Remains the Key Limiter for Penetrating Developing Markets
Realizing an alarming upsurge in the cases of road accidents over the recent past, several policy makers are introducing reforms to ensure passengers' and drivers' safety. The National Highway Traffic Safety Administration (NHTSA) and the European New Car Assessment Programme (Euro NCAP) are mandating testing sessions incorporating ADAS testing equipment, including anti-collision system, forward collision warning system, and others. In addition, increasing demand for technology-driven features in public and private transport is being observed within developed economies.
However, middle-class demographic in developing economies, such as India, are still relying on two-wheelers for their commute. Countries, including Thailand and other ASEAN economies, are posing restrictions on the launch of ADAS enabled vehicles, as the existing road conditions are inappropriate to complement the technology.
Furthermore, vehicles equipped with ADAS automatically reflect a higher price point than that of the traditional modes of road transportation, which is among the prime factors responsible for continued preference for conventional vehicles.
Stakeholders Unlocking Windows of Opportunities in North America and East Asia
Although Europe began the race, the market is currently upheld by North America and East Asia - the latter showcasing significant growth. China, witnessing roughly 700 road casualties a day, has been facing a challenge posed by intricate road networks operated by massive traffic of vehicles as well as pedestrians. The country has myriad regulations in action, compelling manufacturers to evaluate autonomous vehicles (AV) in designated areas and offers a network of off-road AV testing centers for international testers.
On the other side, North American countries, particularly the US, witness about 40,000 automobile fatalities occur annually, followed by more than 90 deaths a day. Such an alarming situation triggers government bodies, such as the NHTSA, to mandate the automotive safety audit for automakers, which covers a multitude of features like collision detection and automatic emergency brakes, thereby fueling the demand for ADAS testing equipment
Automation and Advanced Detection Systems to Dictate Market Players' Strategies
The advanced driver assistance systems (ADAS) testing equipment market is highly consolidated, with key market players including, Oxford Technical Solutions Ltd., and Konrad GmbH, among others. Leading manufacturers are leveraging sensor fusion that facilitates constant and accurate prediction of potential mishaps and nearby settings under controlled lighting and bad weather conditions by accepting inputs from coupled sensors, for instance, combined radar and camera sensors.
Major market actors are maneuvering path-following software to maintain constant distance between the test vehicle and the guided soft target (GST) vehicle using combined brake and accelerator robot (CBAR). Furthermore, manufacturers are shifting to autonomous driving from assisted driving with the adoption of V2V communication or 5G technology and high quality data acquisition and processing for better perception of surroundings while being on road.
How Growth Will Unfold
The advanced driver assistance systems (ADAS) testing equipment market is set to witness tremendous growth over the forecast period despite inept government regimes. About 94% of road casualties occur due to human error, and road mishaps have been among the top 10 leading causes of mortality for the past decade.
Studies suggest that fatalities happening on roads ranked 10th among the leading causes of death in 2015, and about 1.35 million people are victims of road accidents annually, costing most of the countries' 3% of their GDP. International regulatory bodies including the European Commission is urging manufacturers to equip upcoming vehicles with a wide array of safety features, for instance, forward collision warning (FCW), lane-keeping assist, among others by 2022.
The NHTSA and NCAP has instructed automotive manufacturers to arm all the vehicles with standard autonomous emergency braking (AEB) by the same timeframe. In addition, high-bandwidth and low latency networks connecting sensors and communications will bring new advances in artificial intelligence and machine learning for next-gen vehicles.
Key Segment
By Product Type
By End User
Automotive OEMs
Tier-1 Suppliers
Labs and Other Institutes
By Region
North America
Latin America
Europe
South Asia
East Asia
Middle East and Africa
Need specific information?