Advanced Wound Management - Paving its Way through Chronic Wound Management
The treatment of chronic wounds requires advanced wound care therapies, which generally take a long time to heal. The incidence of diabetic ulcers is growing rapidly due to the high incidence of Type I as well as maturity-onset diabetes across the world. At present, more than 4.5 million patients worldwide are suffering from pressure ulcers, who require treatment. In addition, there are more than 9.7 million venous ulcer and approximately 10.0 million diabetic ulcer patients in the world who require treatment. All these factors are expected to drive the advanced wound management market.
Top 3 Factors Shaping the Advanced Wound Management Market
Need for the Treatment of Complex Wounds
Advanced wound management products are designed for the treatment of complex wounds. These products perform various functions, which include allowing oxygen flow, stabilising temperature around the wound, the removal of dead tissues, infection control, and reducing pain during the changing of dressings. Silver is a very effective modality for the prevention or treatment of infection caused due to various viruses, bacteria, moulds, and fungi, as it has less adverse effects. Advancements in advanced wound management, such as growth factors and biologic wound products, help in the treatment of multiple complex wounds in an effective manner.
Surge in the Number of Surgeries and Cases of Trauma & Burns
Increasing number of surgeries and cases of chronic disorders across the globe are associated with the increasing use of advanced wound products. According to the data from epidemiological studies, the incidence of chronic ulcers in surgical patients in China is 1.5%-20.3%.
Road accidents and violence are among the major causes of trauma. India has a high number of road accident cases due to over population and lack of traffic security. Burns and traumatic injuries also contribute to acute wounds, which require advanced therapies. According to the National Burn Repository (NBR) of the American Burn Association (ABA), around 486,000 burn injuries are treated every year in the U.S. The number burn cases is growing at the rate of 1-2% per annum, which is consequently expected to boost the advanced wound management market.
Growth in the NPWT Pipeline
NPWT is one of the most prominent segment of the advanced wound management market with a significantly high growth rate. Due to persistent unmet needs and growing global prevalence of chronic and acute disorders, interest in NPWT devices is expected to grow in the forthcoming years. Nearly half of these studies are aimed towards improving chronic and acute disorders and reducing complications related to wounds. There are approximately 31 ongoing clinical programs for NPWT devices across the globe at different stages of development. Majority of these programs are aimed at effectively improving the quality of wound healing. Phase unknown clinical trials accounted for 83.9% of the total active clinical programs. Most of these programs were competed by 2016 and 2017, which suggests that there is a significant growth opportunity for the NPWT devices market. Acelity (Kinetic Concepts, Inc.) is a leader in NPWT devices space with over 18 active NPWT programs in the pipeline.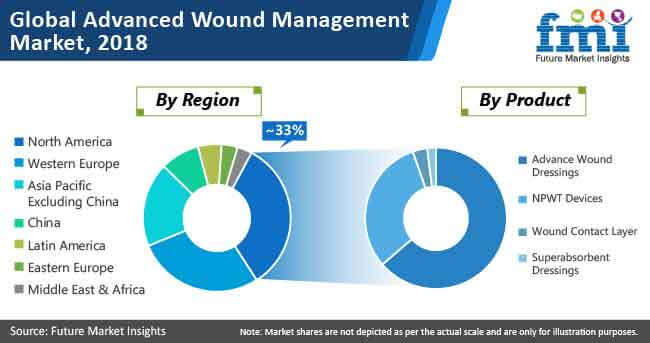 Advanced Wound Management Market Structure Analysis
The advanced wound management market is a consolidated market in which the top players hold over three-fourth of the market share
Health Care AB, ConvaTec Group Plc, Smith & Nephew Plc, 3M Health Care Ltd, Acelity L.P. Inc., Coloplast A/S, Mölnlycke Health Care, and B. Braun Melsungen AG are among the major players in the advance would management market
Most players in the advanced wound management market are focused on developing strategic partnerships for enhancing their product portfolios as well as for improving the reach of their products across the world
Frequently Asked Questions about Advanced Wound Management Market
Which region is expected to lead the global advanced wound management market?
North America is expected to dominate the global advanced wound management market in terms of revenue during the forecast period. Countries in the Asia Pacific such as India and China, are expected to remain targeted geographies and provide numerous opportunities for regional and key players operating in the advanced wound management market.
Which product type segment is expected to be most attractive in the advanced wound management market?
Advanced wound dressings product type is expected to hold more than 60% of revenue share in the advanced wound management market, owing to increasing consumer preference from traditional wound dressings to advanced dressings for the treatment and management of chronic wounds.
Which application segment is expected to dominate the advanced wound management market?
Chronic ulcers application type contributed highest market value share in global advanced wound management market and this trend is expected to continue during the forecast period, owing to extensive use of advanced wound management for chronic ulcers treatment. Growing prevalence of venous leg ulcers, diabetic foot ulcers, and pressure ulcers propel the demand for the wound dressings.
Who are the major players contributing to the growth of the Advanced Wound Management market?
ConvaTec Group Plc. Coloplast A/S, Molnlycke Health Care AB, 3M Healthcare, and Smith & Nephew PLC. are some of the key players operating in the advanced wound management market. Introduction of new technologically advanced products and effective marketing are the key strategies practised by leading market players to improve their product portfolio and increase market share.
What are the major factors that hamper advanced wound management market growth?
The significant difference in costs, patients and health care providers are reluctant to adopt advanced wound care products, which is expected to be a major challenge for the growth of the advanced wound management market. The market in Asia is price sensitive and have inhibitions on investing in advanced wound care. These are often only affordable among the elite population, which is expected to hamper the growth of the market
Advanced Wound Management Market Set to Grow by 1.5X between 2018 and 2028
Rising prevalence of chronic wounds, growing geriatric population, growing awareness & healthcare expenditure, the need for the treatment of complex wounds, and a surge in the number of surgeries & cases of trauma and burns are some of the factors that are driving the advanced wound management market.
Emerging Countries in the Advanced Wound Management Market – Western Europe Promising New Growth Opportunities
North America and Western Europe are expected to contribute a share of about 60% in the advanced wound management market in 2017. Healthy growth is expected in the advanced wound management market in regions such as Western Europe, North America, and Asia Pacific. This growth can be attributed to the increasing demand for these therapies in hospitals and community set-ups. Furthermore, efficient developments are increasing the sales of advanced wound management products in these regions.
The Broader Perspective
The artificial skin substitutes market or regenerative artificial skin market is expanding at a promising growth rate across the world owing to the rising prevalence of various ulcers (diabetic and vascular), the high demand for these products like advance wound dressings, and the growing preference for skin substitutes for dermal surgery. Acellular, cellular allogeneic, and cellular autologus are the major types of skin substitute products. Skin substitute products have important role in the treatment of deep dermal and full thickness wounds of various aetiologies.
Advanced wound dressing remains among the top-selling categories, with a share of over two-thirds of the market
NPWT devices are expected to continue to witness a relatively higher growth rate.
The wound contact layer and superabsorbent dressings segments have a relatively low market share.
Almost two-thirds of the advanced wound care market is generated through chronic ulcers.
The non-healing surgical wounds segment is expected to grow at a relatively low rate.
Hospitals remain among the prominent end users of advanced wound management products as they are the first preference for patients seeking medical care.
The clinics segment is expected to continue to witness a relatively higher growth rate.
How Growth will Unfold
Due to cost-effectiveness, alginates have steadily gained popularity over the past few years. Owing to the anti-infective properties of silver-induced alginate dressings, their adoption has increased among the medical fraternity. Moreover, the market for alginates is expected to grow steadily in developing countries with increased affordability and rising purchasing power. Some of the common brands of alginates include Algidex Ag, 3M Tegaderm Alginate Ag, and KALTOSTAT. These are commonly used to treat wounds with heavy exudation, especially leg ulcers and deep wounds.
Hospitals | Clinics | Ambulatory Surgical Centers | Skilled Nursing Facilities | Other Facilities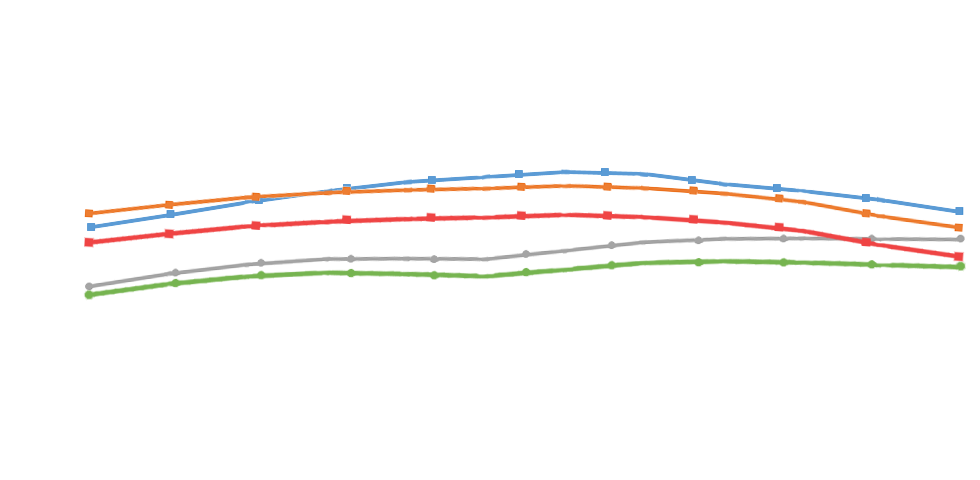 * This data is only a representation. Actual data may vary and will be available in report.
Click Here To Know How The Growth Will Unfold
Custom Market Research Services
FMI offers custom market research services that help clients to get information on their business scenario required where syndicated solutions are not enough.
Overview
Advance Wound Management Market: Global Industry Analysis 2007-2017 and Opportunity Assessment 2018-2028
A recent market study published by FMI "Advance Wound Management Market: Global Industry Analysis 2007-2017 and Opportunity Assessment 2018-2028" offers a comprehensive assessment of the most important market dynamics. After conducting thorough research on the historic as well as current growth parameters of the Advanced Wound Management market, the growth prospects of the market are obtained with maximum precision.
Advanced Wound Management Market Taxonomy
The global advanced wound management market is segmented in detail to cover every aspect of the market and present a complete market intelligence approach in front of the reader.
By Product
Advance Wound Dressings

Foam
Hydrocolloid
Hydrofiber
Film
Alginate
Hydrogel
Collagen

Wound Contact Layer
Superabsorbent Dressings
NPWT Devices

Standalone NPWT Devices
Single use disposable NPWT Devices
Portable NPWT Devices
NPWT Accessories
By Application
Chronic Wounds
Venous Leg Ulcers
Diabetic Foot Ulcers
Pressure Ulcers
Non-Healing Surgical Wounds
Traumatic Wounds
Burn Cases
By End User
Hospitals
Clinics
Ambulatory Surgical Centers
Skilled Nursing Facilities
Other Facilities
Region
North America
Latin America
Eastern Europe
Western Europe
Asia Pacific Excluding China
China
Middle East & Africa
How the research was conducted?
Primary Research
C - Level Executives
Marketing Directors
Sales Heads
Portfolio Managers
Purchasing Managers
Medical Officers
Device Development Heads
Strategy Advisors
R&D Managers
Product Manufacturers
Distributors
Component Suppliers / OEMs
Hospital Purchasing Departments
Physicians / Nursing Managers
Industry Experts
Current Market Dynamics and Challenges
Market Characteristics
Market Performance and Growth Quadrants
Competition Structure and Market Structure
Strategic Growth Initiatives
Product Adoption, Installed Base, Replacement Cycles, Refurbishment
Regulatory Landscape
Products in Pipeline and Clinical Development
Near-term and Long-term Market Growth Prospects
Market Segment Splits and Authenticity
Opinions on Market Projections and Validity of Assumptions
Secondary Research
Industry Magazines
Factiva
Association for the Advancement of Wound Care
Wound Healing Society
Company Press Releases
Annual Reports and Investor Presentations
Peer-reviewed Journals
Government Websites and Publications
Trade Websites
Clinical Trial Registries
Country-specific Regulatory Authorities
World Bank, WHO, IMF, OECD
Primary Interview Splits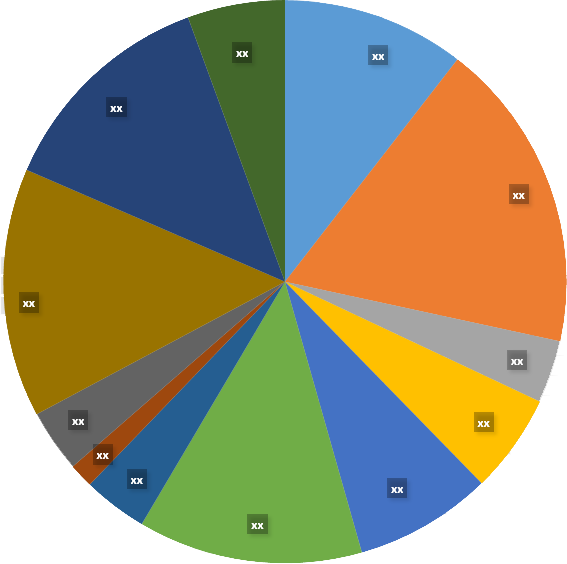 To Learn More About our Comprehensive Perspective on Advanced Wound Management Market,
Get in touch
COVID -19 : Impact Analysis
Request the coronavirus impact analysis across industries and markets
Request Covid -19 Impact
CASE STUDIES
See how our work makes an impact.
At FMI, we design strategies that are adaptive, impactful, and implementable.