An Incisive, In-depth Analysis on the Advanced Analytics Market
This study offers a comprehensive, 360 degree analysis on the Advanced Analytics market, bringing to fore insights that can help stakeholders identify the opportunities as well as challenges. It tracks the global Advanced Analytics market across key regions, and offers in-depth commentary and accurate quantitative insights. The study also includes incisive competitive landscape analysis, and provides key recommendations to market players on winning imperatives and successful strategies.
Advanced analytics is a semi-autonomous/autonomous data or content examination by using sophisticated tools and techniques for discovering deeper insights, generating recommendations, and making predictions. Various solutions of advanced analytics include predictive analytics, social media analytics, risk analytics, visual analytics, and big data analytics.
Advanced Analytics helping Organisations in Making Better Business Decisions
Currently, the volume of data generated is continuously evolving and expanding, and traditional analytics solutions have become inefficient in adapting to this huge amount of structured & non-structured data. With the emergence of advanced analytics, the organisations are capable of incorporating effective techniques such as data mining, location intelligence, and big data analytics, for extracting valuable information from their data. This further helps these organisations in making better decisions for their business. Various organisations across the globe are seeking advanced analytics solutions for tackling challenges associated with big data, supported by the advent of new technologies associated with business intelligence & analytics.
A slew of small- and medium-sized companies have come up with updated solutions & services for optimising efficiency of businesses at comparatively lower costs than the established players. The global market for advanced analytics is highly consolidated, with a few large companies accounting for significant revenue shares of the market. Leading market players possess the ability to offer high-quality and innovative services to end-users. The perception of advanced analytics being expensive is rapidly changing, with several enterprises understanding benefits of analytics in the development of customer-oriented market strategies.
Predictive Analytics Solutions to Remain Sought-after in Global Advanced Analytics Market
According to a new study by Future Market Insights (FMI), the global advanced analytics market will ride on a healthy CAGR during the forecast period (2017-2022). Global revenues from advanced analytics market are estimated to reach nearly US$ 14,000 Mn by 2022-end.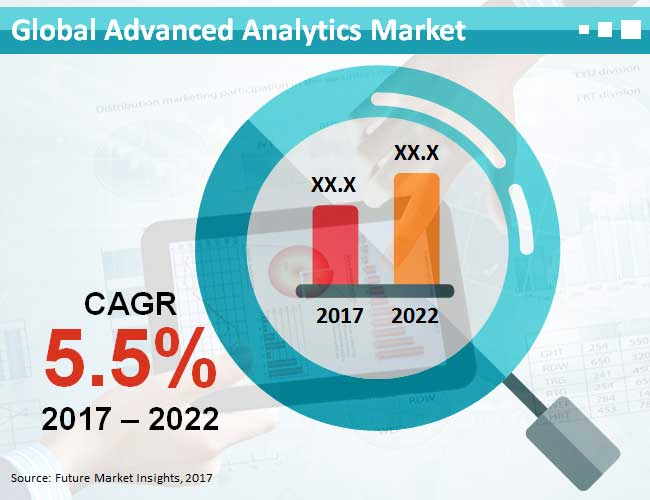 On the basis of solutions, predictive analytics is anticipated to remain sought-after in the global advanced analytics market, with sales projected to account for nearly one-fourth share of the market in 2017. Sales of predictive analytics solutions will gain an uptick in their market share between 2017 and 2022. This is mainly because of the predictive analytics' ability of addressing vertical-specific challenges. Social media analytics is also expected to remain a lucrative solution of advanced analytics over the forecast period.
Over One-fourth Revenue Share of Global Advanced Analytics Market will be accounted by BFSI Vertical in 2017
In terms of revenues, BFSI will continue to be the most lucrative industry for sales of advanced analytics solutions, even though it will register a relatively slower expansion than other verticals in the market through 2022. This can be mainly attributed to robust adoption of advanced analytics in BFSI industry for mitigating frauds, handling risks, and optimising processes. Over one-fourth revenues share of the market has been projected to be accounted by BFSI industry in 2017. In addition, healthcare is anticipated to remain the second largest industry in the global advanced analytics market.
Recently, Future Market Insights (FMI) has published an unbiased, comprehensive, and insightful report titled "Advanced Analytics Market: Global Industry Analysis (2012-2016) & Opportunity Assessment (2017-2022)". In this report, the global advanced analytics market has been explored in detail, covering market dynamics exhaustively. The report readers are offered with insights on drivers, restraints, & trends affecting expansion of the global advanced analytics market. The report also focuses on examination of data across multiple parameters for deducing value of the global advanced analytics market. The competition landscape of global advanced analytics market has also been provided by the report, with in-depth profiling of key market participants.
Report Structure
The starting chapter of FMI's report offers an executive summary of global advanced analytics market. In this chapter, the report provides an overview of the market, along with most pertinent & significant market numbers including historical CAGR for 2012 to 2016 and forecast CAGR for 2017 to 2022. The executive summary also offers information about the attractive markets based on largest revenue share and highest CAGR in the global advanced analytics market. Proceeding further, the report has delivered a formal introduction and definition of targeted product – advanced analytics.
In its succeeding chapters, the report has provided insights on key industry trends, untapped opportunities, and macroeconomic factors that are likely to influence adoption of advanced analytics in the upcoming years. Few chapters of the report are dedicated to information on product life cycle, supplier list, cost structure, pricing analysis, and supply chain analysis. The presence of key companies contributing to the market growth has been illustrated by using an intensity map.
Market Taxonomy
A segmentation analysis on the global advanced analytics market has been provided in the report. The global market for advanced analytics is segmented in terms of industry, solutions, and region. In some chapters of the report, forecast on segmentation analysis has been offered, which include market numbers based on Y-o-Y growth comparison, market share comparison, and revenue comparison. To offer regional analysis of global advanced analytics market, the report has divided the market into 6 key segments viz. Japan, Asia-Pacific excluding Japan (APEJ), Latin America, Europe, North America, and Middle East & Africa (MEA).
| Region | Solutions | Industry |
| --- | --- | --- |
| | | |
| | | |
| | | |
| | | |
| | | |
| | | |
Competition Landscape
In its concluding chapters, the report has offered information regarding competition landscape of the advanced analytics market around the world. In these chapters, leading market players have been profiled by the report in detail. The information on the market participants is provided on the basis of product overview, company overview, key developments, SWOT analysis, and key financials. For report readers, information on the competition landscape of the global advanced analytics market is imperative, as it offers necessary insights for examining current market standings of global leaders, and how these leaders are implementing strategies to gain a competitive edge in the global advanced analytics market.
Research Methodology
A tested & proven research methodology has been leveraged by the analysts from Future Market Insights (FMI), to reach at revenue estimations pertaining to the global advanced analytics market. FMI's analysts have employed an in-depth secondary research to reach at overall market size, providing information on leading industries' contributions. In-depth primary interview have been conducted by the analysts with industry experts for aggregating authentic data related to the global advanced analytics market. The data acquired has then been scrutinised & validated, by using advanced tools to extract relevant insights associated with the global advanced analytics market.
COVID -19 : Impact Analysis
Request the coronavirus impact analysis across industries and markets
Request Covid -19 Impact
CASE STUDIES
See how our work makes an impact.
At FMI, we design strategies that are adaptive, impactful, and implementable.