Introduction
Advanced analytics is a semi-autonomous/autonomous data or content examination by using sophisticated tools and techniques for discovering deeper insights, generating recommendations, and making predictions. Various solutions of advanced analytics include predictive analytics, social media analytics, risk analytics, visual analytics, and big data analytics.
Advanced Analytics helping Organisations in Making Better Business Decisions
Currently, the volume of data generated is continuously evolving and expanding, and traditional analytics solutions have become inefficient in adapting to this huge amount of structured & non-structured data. With the emergence of advanced analytics, the organisations are capable of incorporating effective techniques such as data mining, location intelligence, and big data analytics, for extracting valuable information from their data. This further helps these organisations in making better decisions for their business.
Various organisations across the globe are seeking advanced analytics solutions for tackling challenges associated with big data, supported by the advent of new technologies associated with business intelligence & analytics.
A slew of small- and medium-sized companies have come up with updated solutions & services for optimising efficiency of businesses at comparatively lower costs than the established players. The global market for advanced analytics is highly consolidated, with a few large companies accounting for significant revenue shares of the market.
Leading market players possess the ability to offer high-quality and innovative services to end-users. The perception of advanced analytics being expensive is rapidly changing, with several enterprises understanding benefits of analytics in the development of customer-oriented market strategies.
Predictive Analytics Solutions to Remain Sought-after in Global Advanced Analytics Market
According to a new study by Future Market Insights (FMI), the global advanced analytics market will ride on a healthy CAGR during the forecast period (2017-2022). Global revenues from advanced analytics market are estimated to reach nearly US$ 14,000 Mn by 2022-end.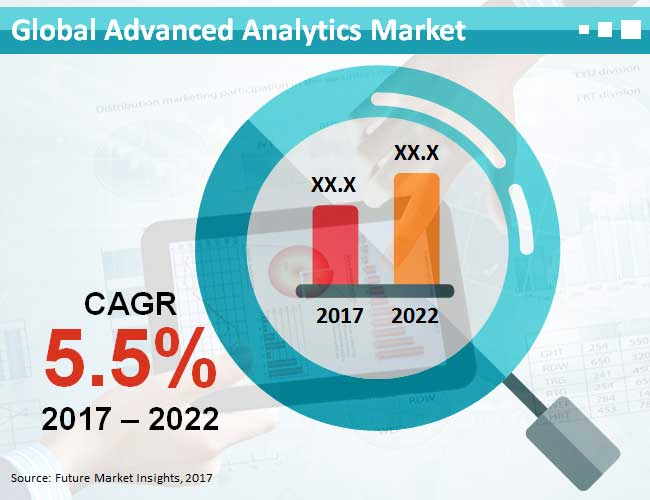 On the basis of solutions, predictive analytics is anticipated to remain sought-after in the global advanced analytics market, with sales projected to account for nearly one-fourth share of the market in 2017. Sales of predictive analytics solutions will gain an uptick in their market share between 2017 and 2022. This is mainly because of the predictive analytics' ability of addressing vertical-specific challenges. Social media analytics is also expected to remain a lucrative solution of advanced analytics over the forecast period.
Over One-fourth Revenue Share of Global Advanced Analytics Market will be accounted by BFSI Vertical in 2017
In terms of revenues, BFSI will continue to be the most lucrative industry for sales of advanced analytics solutions, even though it will register a relatively slower expansion than other verticals in the market through 2022. This can be mainly attributed to robust adoption of advanced analytics in BFSI industry for mitigating frauds, handling risks, and optimising processes. Over one-fourth revenues share of the market has been projected to be accounted by BFSI industry in 2017. In addition, healthcare is anticipated to remain the second largest industry in the global advanced analytics market.
Key Segments Covered
Region
North America
Latin America
Europe
Japan
APEJ
MEA
Solutions
Big Data Analytics
Visual Analytics
Risk Analytics
Social Media Analytics
Predictive Analytics
Other Solutions
Industry
BFSI
Healthcare
Government
Defense
Retail & Consumer Goods
Other Industries
Need specific information?