Tennis Equipment Market – Key Research Findings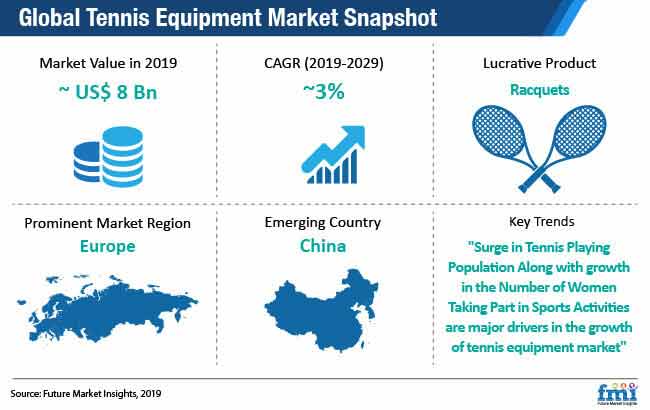 According to Future Market Insights' recent market report titled "Tennis Equipment Market: Global Industry Analysis 2014-2018 and Opportunity Assessment 2019-2029", increase in participation in physical activities along with growing tennis tournaments worldwide is likely to drive the growth of the tennis equipment market during the forecast period. The global tennis equipment market in 2019 is estimated to reach ~ US$ 8 Bn, and grow at a CAGR of ~3% during the forecast period.
Key Factors Shaping the Tennis Equipment Market
New-Age Technologies Revolutionizing Footwear in the Tennis Equipment Market
The sports industry has been witnessing continuous growth as a career as well as business, as it is associated with various sectors such as education and tourism. Moreover, an increasing number of people have understood that participation in sports contributes to the health and well-being. In addition, as the penetration of tennis has increased, more and more consumers want their footwear to be comfortable in order to sustain better on the court.
It is important that the tennis footwear must have ample amount of cushioning, as it is necessary to avoid injuries while playing. Therefore, manufacturers have started aligning their manufacturing to not only include more cushioning, but also keep the shoe lightweight.
Also, it is evident that a majority of the companies have started using 3D printing technology to manufacture sports equipment such as footwear, which provides the company an option for the customization of mid-soles, thus providing superior balance, fit, and grip to the feet.
Companies Adapting Innovative Strategies to Stand Out in the Arena
Various manufactures of tennis equipment have shifted their concentration heavily upon the distribution of equipment through online sales channels. It could be evidently seen that a majority of tennis shoe manufactures, such as Adidas, Puma, Yonex and Li Ning, have turned their attention to capture sales of tennis shoes through online channels, such as company's official e-commerce website and third-party e-commerce websites.
For example, companies such as Adidas have shut many of their retail stores around the world to concentrate and meet the demand from online sales channels. Additionally, majority of the companies that offer tennis equipment have signed lucrative sponsorship deals with top ranking players of the sport to increase their brand awareness. Among the different products, racquets are expected to contribute the highest revenue share in the global tennis equipment market in 2019.
This is attributed to the fact that companies are shifting their focus towards more advanced technologies and manufacturing techniques such as Babolat aeromodular technology that helps in developing tennis racquets with a faster swing, greater spin on the tennis ball as well as considerably increased control over the ball.
Tennis Equipment Market: Regional Analysis
Growing government and corporate sector investments in the sports industry, professional leagues of developed sports, growing international sports competitions, and significantly growing women participation in the East & South Asia regions are key factors for the tennis equipment market growth. In East Asia tennis equipment market, China is expected to be dominant in terms of tennis equipment demand.
The rising Chinese enthusiasm for tennis, development of tennis courts, and increase in the number of international tournaments in the country are some of the factors for the growth of the tennis equipment market. Europe is expected to be a highly attractive region in terms of market share, and is projected to witness a sluggish growth in the tennis equipment market during the forecast period.
The growing demand for eco-friendly tennis products such as tennis balls which companies are now introducing in the market with recyclable materials in order to reduce the use of plastics are the key factors that are expected to drive the growth of the global tennis equipment market during the forecast period. France is expected to dominate the European tennis equipment market during the forecast period as it accounts for the largest market share.
Tennis Equipment Market: Trends
The tennis equipment manufacturers are improvising their product offerings by continuous research and development, expanding their market footprint through inorganic growth with various event organizations, and developing their own retail and online stores to effectively reach potential customers worldwide. Some examples of initiatives taken by key players to enhance the market position are as follows:
On February 2019, Tennis Scotland and Dunlop Sports Co., Ltd. entered into a strategical partnership for providing tennis rackets, balls, bags, strings, and coaching equipment to the Tennis Scotland. The company will also provide tennis equipment to Lawn Tennis Association and GB National Tennis Academy.
In 2018, Yonex Co., Ltd. introduced an additional feature for tennis shoes, which includes new designs, that are more comfortable, and light weight, to expand its product portfolio
In 2018, Wilson introduced new blade and burn racket lines, which include various advanced features, such as a bold burst of electric lime green & vibrant orange, to expand its product line.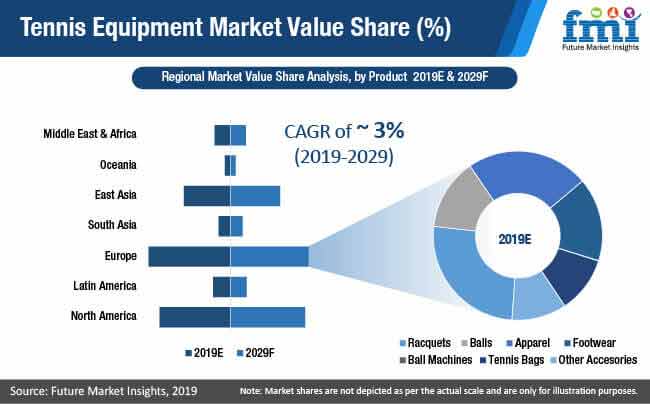 Tennis Equipment Market: Structure Analysis
The global tennis equipment market is characterized by the presence of several established players, who accounts for a considerable market share. With high-quality tennis equipment manufacturing & sales growth, the European companies are estimated to be the tier 1 players in the global market.
Tier 1 players are characterized by high segmental revenue and adoption of strategies such as market expansion and product development. Tier 2 players are marked by overseas presence with specific tennis equipment portfolio. Tier 3 players include the majority of the company's presence limited to the domestic market only.
Enhancing Ball Control Ability and Shock Absorption with Aerodynamic Design and Piston-Pulley System
Tennis racquets carry myriad technicalities collectively affecting the performance of sportspersons. Manufacturers are vying for aerodynamic design with different beam widths at the throat, the shaft and the head of the racquets to counter the air resistance in the required places. The aerodynamic design enhances faster swings for the tennis players following increase in the highest air penetration, and better ball control.
The rise in air penetration aids in broadening the range of angles and trajectories sportspersons are capable of while serving the ball. Further, the aspect of faster swing directional influence appears to be a plus point for aggressive baseliners practicing shots in the backcourt.
Manufacturers are relying on piston and pulley system in the grommets of the tennis racquets. The pulley system allows free movement of strings while contacting the ball, resulting in a larger sweet spot with better shock dissipation, thereby decreasing vibrational effects. The piston system provides a spring-like aspect to the strings, enhancing the ability of the whole surface to distort more on impact.
The piston and pulley system stretches the duration of the ball impact, leading to added spin. Furthermore, the system enlarges the sweet spot area, increases trampoline effect (for greater impact) and shock absorption all over the string bed.
Technology-Driven Ball Machines and Footwear for Better Drill Session
The prominence of wireless technology is visible in the tennis courtyards, complemented with smartphone applications. The wireless ball machines monitor practice duration, and the number of balls hit. Tennis players are able to practice shots to the left, right, front and back side of the court following vertical and horizontal oscillation capabilities.
With smartphone apps, users can connect to the ball machines and pre-program drills as per convenience, saving significant time for both the players and instructors. In addition, the smartphone apps are easily compatible with usual platforms – Android, and iOS.
Shoe manufacturers are leveraging proprietary cushioning technology – boost technology – incorporating thermoplastic polyurethane (TPU) material. The TPU particles are expanded to create closed cells around small pockets of air, the resultant - expanded Thermoplastic Polyurethane (eTPU). The TPU material compresses under pressure for improved shock absorption and instantly retains the pristine form.
Thermoplastic polyurethane footwear exhibit high durability and flexibility, making it great fit for playing tennis at hard-surface courts. Further, TPU tennis footwear offer significant energy return owing to high shock absorption.The womens footwear industry is also seeing an upsurge owing to new innovations and developments.
Rising Tennis Participation in North America and Europe to Offer Platter of Opportunities
Reports suggest that the overall tennis participation in the US reached ~18 Mn in recent years, while a significant number of millennial exhibit an interest towards the sport. Average investment in newcomers playing tennis is thrice of that in beginners playing basketball – an eye-catching factor.
Leading tennis players belong to countries – Russia, France, and the US. The enthusiasm for tennis is considerable in the target regions where the followers show great support for fellow sportspersons. As such, the followers are induced to enter into the tennis arena by partaking in tennis tournaments organized at various levels, thereby creating lucrative prospects for tennis equipment manufacturers.
'Product Innovation' and 'Endorsements' – Key Tenets to Define Stakeholders' Tactics
Manufacturers are including more cushioning in a bid to avoid injuries during playing session. In addition, market forces are relying on 3D printing technology to develop sports equipment, including footwear, to gain an option for customization of mid-soles, providing superior balance, fit, and grip to the feet. The trend of product innovation is par for the course among equipment manufacturers.
Players for instance, Wilson are introducing blade and burn racket lines exhibiting advanced features such as, a bold burst of electric lime green & vibrant orange. The brand is developing sneakers featuring lightweight polyurethane sole. Further, manufacturers are utilizing 16/19 string pattern (16 mains and 19 crosses) to offer extra spin and power required for an enthralling match, allowing tennis players to hit the ball deep in the court with lesser effort.
Market actors are offering customization services to tennis players – Adaptive Fan Pattern (AFP) – allowing sportspersons to select between a straight string pattern and a special fan-shaped pattern to improve the ability to control the ball. A majority of consumers depend on internet for purchasing products – a factor encouraging participants to distribute tennis equipment through online sales channel.
Citing the fact that sports followers display huge admiration for leading tennis players, equipment manufacturers are signing contracts with sportspersons holding gigantic fan-following for endorsements.
How Growth Will Unfold
Tennis lands among the most popular sports in the world, with a global following of ~1 Bn fans, and a worldwide sphere of influence. With minimal sports gear – rackets, ball, and a rigid surface, tennis is witnessing huge traction in countries where the demographic is inclined towards other sports.
Tennis sportspersons and coaches are always in a hunt for professional achievements in sync with physical health. Advanced software technologies, including smartphone apps, and wireless, are expected to contribute to the performance of tennis players. Equipment manufacturers are banking on recyclable polymers to improve the properties of footwear, and achieve sustainability.
Key Segment
Product
Racquets
Balls
Apparel
Footwear
Ball Machines
Tennis Bags
Other Accessories (Strings, Net, Wrist bands, Head bands, Grips, Towels, Supporters, etc.)
Material
Composites
Metallic
Other Materials
Buyer
Individual

Beginner
Intermediate
Advanced

Institutional
Sales Channel
Independent Sports Outlet
Sports Retail Chain
Franchised Sports Outlet
Direct to Customer Online Channel
Direct-to-Customer Institutional Channel
Modern Trade Channels
Third Party Online Channel
Region
North America
Latin America
Europe
East Asia
South Asia
Oceania
Middle-East and Africa
Need specific information?