Cargo Bike Market By Product Type (Two Wheeled, Three Wheeled, Four Wheeled), Propulsion (Conventional, Electric), End-Use (Courier & Parcel Service Provider, Large Retail Supplier, Personal Transportation, Service Delivery) & Region - Forecast to 2021 – 2031
Cargo Bike Market - Analysis, Outlook, Growth, Trends, Forecasts
July 2021

REP-GB-13678

332 pages
Cargo Bike Market Snapshot
The global demand for cargo bikes is expected to rise at 10.8% year-on-year in 2021 with sales reaching over US$ 900 million. Future Market Insights (FMI) projects the cargo bike market to grow at 11.6% CAGR between 2021 and 2031.
The growth rate will accelerate as conventional cargo vehicles get swiftly replaced by cargo bikes because the latter are considered eco-friendlier alternatives for last mile delivery.
Europe will account for 67.4% of the cargo bike market in 2021. Rising investments in urban mobility and integration of same in the logistics industry will continue creating growth opportunities.
Key Points Covered in the Cargo Bikes Market Study
Market estimates and forecast 2016-2031
Key drivers and restraints impacting market growth
Segment-wise, Country-wise, and Region-wise Analysis
Competition Mapping and Benchmarking
Brand Share and Market Share Analysis
Key Product Innovations and Regulatory Climate
COVID-19 Impact on Cargo Bikes Market and How to Navigate
Recommendation on Key Winning Strategies
Cargo Bike Market Outlook 2016-2020 Compared to 2021-2031 Forecast
Driven by growing demand from courier and parcel service providers and personal transportation businesses, the cargo bikes market registered 9.8% CAGR during 2016-2020.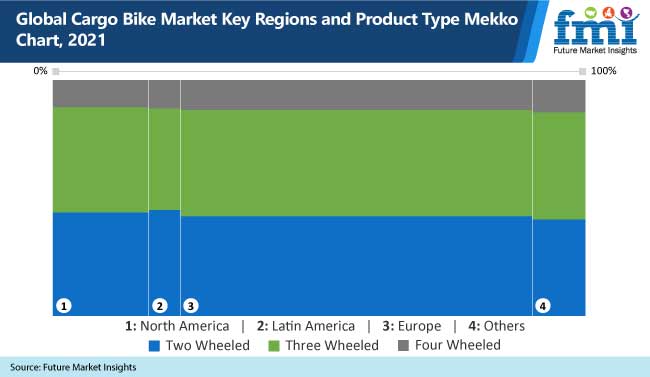 Over the last few years, governments, primarily in developed countries, have increased their efforts to address a variety of transportation-related concerns and their environmental impact. Various groups are encouraging the use of cargo bikes as an environmentally beneficial urban logistics transportation option.
As city roads continue to face increasing levels of congestion, cargo bikes have emerged as an efficient and convenient mode of transportation for logistics firms. According to the Future Market Insights analysis, the market will expand at 11.6% CAGR between 2021 and 2031.
What is the Commercial Potential for Cargo Bikes?
Several logistics and e-commerce companies, including DHL, UPS, and Amazon, have expressed interest in putting cargo bikes to the test in New York City and have launched trial programmes to reduce traffic congestion in select areas of Manhattan.
The New York City Department of Transportation, for example, is increasingly focusing on evaluating the safety and viability of cargo bikes. To support their market position, players are progressively focusing on growing their product portfolio and developing new vehicles.
Due to capabilities to traverse large distances with a high load carrying capacity, three-wheeled cargo bikes are expected to rise significantly. The number of passengers travelling by air is on the rise. Hence the use of cargo bikes for airport baggage handling will increase in the forecast period.
Which Recent Trends are Impacting Cargo Bike Sales?
With the technological race in the transportation sector, cargo bikes gearing to gain pace in the paddle-assist electric mobility vehicle segment. A tilting system provides a smooth, responsive, and agile ride.
The tilting mechanism is mainly seen in three-wheeled cargo bikes in order to improve handling and steering functions. Some designers such as Butchers & Bicycles and Veleon are taking an interest in tilting cargo bikes.
Major manufacturers are involved in the production of cost-effective and lightweight vehicles to improve the overall performance of vehicles. Cargo bikes have compact bicycle frames, are light in weight and are easy to handle.
When carton blocks are unloaded onto cargo bikes, drivers can adjust the position of the bike manually to facilitate easier loading of cargo.
What is the Impact of the COVID-19 Crisis on the Cargo Bike Market?
Lockdowns implemented in a number of countries have had a negative influence on the market. Obstacles have arisen as a result of limited production and transportation-related delays caused by travel restrictions. With successive waves of the new coronavirus wreaking havoc on the sector, recovery is projected to remain slow until 2021.
Nonetheless, numerous e-commerce and logistics companies are continuing to invest in crucial product deliveries by expanding their cargo bike fleet sizes to meet demand. Despite the challenges, economies are slowly but surely recovering from the pandemic. In light of this, the pandemic is unlikely to have a long-term impact on the cargo bike industry.
Cargo Bike Market Country-wise Insights
How is the Cargo Bikes market Faring in Germany?
Europe is predicted to remain one of the most attractive markets for cargo bikes during the forecast period, according to Future Market Insights. According to the study, Germany is expected to account for over 37% of the Europe market throughout the forecast period.
According to the European Cycle Logistics project, there are now 174 different cargo bike types available, and at Berlin's International Cargo Bike Festival in April, 50 different manufacturers competed for attention.
Germany is one of the leading markets for urban mobility in the world, making it a potential market for cargo bike makers. Rising concerns about carbon footprints, population expansion, and increased transportation in Europe will contribute to market growth.
Why is the Demand for Cargo Bikes Increasing in the U.S.?
Over the projection period, demand in the U.S. is expected to increase by approximately 10%. The country's urban transportation business is supported by the government and is backed by well-developed infrastructure. Consequently, the U.S. market is driven by relatively higher expenditure in North America.
According to the Future Market Insights analysis, the U.S. is a leading market for cargo bikes, and demand is likely to remain high during the forecast period. Furthermore, increased research activities, the presence of significant companies, and increased investments in product pipelines are providing appealing potential for the cargo bike market in the country.
How is China Contributing to the Market for Cargo Bikes?
China is one of the most lucrative countries for cargo bike production. By 2031, it is expected to account over 55% of cargo bike sales within East Asia. The Chinese government has invested in a variety of initiatives to promote cargo bikes.
Furthermore, the demand for cargo bikes is rising in East Asia, which is expected to push market developments due to the country's manufacturing sector. Changing economic rules in terms of pollution control would prove helpful for the regional market, with increased investments in infrastructure to satisfy the demands of the country's enormous population.
How are Government Initiatives in Australia and New Zealand Aiding Sales?
In 2021, Australia and New Zealand will account for over 67% of sales in the South Asia and Pacific region. Government initiatives undertaken to give incentives on buying cargo bikes are anticipated to supplement the development of the Australia and New Zealand automotive sector including cargo bike offerings.
Manufacturers have a competitive advantage since they have access to cutting-edge research to address previously unmet issues, with strategic portfolio expansion endeavours.
Cargo Bike Market Category-wise Insights
Which Product Holds the Highest Growth Potential for Cargo Bikes?
Based on cargo bike types, three wheeled products are the leading category, expected to account for 44.7% of the market by the end of 2031. Compared to two-wheeled cargo bikes, three-wheeled options provide superior stability.
Minors can also ride cargo bikes owing to the balance offered by three wheels. The two-wheeled segment is expected to generate a significant revenue share during the projection period.
Which Type of Propulsion is Favoured in Cargo Bikes?
Based on the propulsion type, electric cargo bikes are used most commonly, and are expected to account for over 73% of the market by the end of 2031. Electric cargo bikes are largely used in courier and parcel delivery operations
Applications in warehouse operations for inventory transportation owing to its high load carrying capacity supports the sales and adoption of electric cargo bikes.
Which Price Range of Cargo Bikes are Preferred by Consumers?
Based on price range, cargo bikes priced between US$ 3,501 to US$ 6,000 is expected to contribute a maximum revenue share of more than 44% in the global cargo bikes market.
This can be attributed to a larger product portfolio, long operational range, and high-performance cargo bikes considered in this segment. This can be attributed to rising awareness among manufacturers to provide best cargo bike experience within a budget.
Which Wheel Size in Cargo Bikes Aid Sales?
The 20"-24" and 26" wheel size segment is estimated to dominate, accounting for a combined market share of over 72% in 2021. In cargo bikes, smaller wheels provide for better speed, acceleration, and manoeuvrability.
Smaller wheels make the bike more manoeuvrable. They are more responsive to steering, and they are compliant with the road surface due to the higher pressure per square inch. On damp terrain and in tight turns, the greater manoeuvrability is especially useful. Small-wheeled bicycles are also sturdier as a whole, due to their general compact size.
Which End User Exhibits Maximum Demand for Cargo Bikes?
Cargo bikes are used by various businesses, including courier and parcel service providers, large retail suppliers, personal transportation, service delivery, and waste municipal services.
The courier and parcel service provider segment is notably responsible for growth in e-mobility transportation. The industry is expected to contribute a maximum revenue share of around 43%.
Cargo Bike Market Competitive Landscape
The worldwide cargo bike market is moderately competitive in nature, with the presence of numerous players operating in the landscape. During the forecast period, players are expected to expand their presence through acquisitions. Improvements in the global economic situation. The expanding automotive industry in emerging economies are expected to drive market growth, encouraging players to launch new products.
In November 2019, Pon.Bike acquired Urban Arrow to accelerate growth in the cargo bike market space
In May 2020, Red Power Bikes launched its newest iteration of its versatile RadWagon Cargo Bike. RadWagon 4 electric cargo bike offers enhanced strength, stability, and versatility.
In 2019, Accell Group N.V. company launched Carqon to provide cargo bikes to increase the revenue and sales footprint across the globe.
Scope of Report
Attribute

Details

Forecast Period

2021-2031

Historical Data Available for

2016-2020

Market Analysis

USD Million for Value

Key Regions Covered

North America, Latin America, Europe, East Asia, South Asia & Pacific, and the Middle East & Africa

Key Countries Covered

US, Canada, Mexico, Brazil, Germany, U.K., France, Italy, Spain, BENELUX, Russia, China, Japan, South Korea, India, ASEAN, Australia & New Zealand, GCC, Turkey, South Africa

Key Segments Covered

Product Type, Propulsion, Wheel Size, Price Range, End Use and Region

Key Companies Profiled

CERO ELECTRIC CARGO BIKES
DOUZE Factory SAS
XYZ CARGO
Butchers & Bicycles ApS
NIHOLA
Babboe
Yuba Electric Cargo Bikes
BODO Vehicle Group Co., Ltd. (LUXMEA)
Chongqing Mobimax Technology Co., Ltd.
Carqon (Accell Group N.V.)
XCYC (Gemeinnützige Werkstätten und Wohnstätten GmbH )
Riese & Müller GmbH
Urban Arrow
Rad Power Bikes Inc.
Tern Bicycles (Mobility Holdings, Ltd.)
Pedego Electric Bikes
Xtracycle Inc.
Amsterdam Bicycle Company
Triobike
Pashley Cycles
Nijland Cycling

Report Coverage

Market Forecast, Company Share Analysis, Competition Intelligence, DROT Analysis, Market Dynamics and Challenges, and Strategic Growth Initiatives

Customization & Pricing

Available upon Request
World's Most Profilic Intelligence Engine
Get Access To The World's Largest Market Research Database.
Sign Up Now
Cargo Bike Market by Category
By Product Type:
Two Wheeled
Three Wheeled
Four Wheeled
By Propulsion:
By Price:
Below US$ 1,500
US$ 1,500-3,500
US$ 3,501-6000
Above US$ 6,000
By Wheel Size:
Below 20"
20"-24"
26"
27.5"
Others
By End Use:
Courier & Parcel Service Provider
Large Retail Supplier
Personal Transportation
Service Delivery
Waste, Municipal Services
By Region:
North America
Latin America
Europe
East Asia
South Asia & Pacific
Middle East & Africa
Key Questions Answered in the Report
What is the current cargo bike market value?
In 2021, the cargo bike market is estimated to be valued at US$ 941.2 Mn.
At what rate did the cargo bike market grow in the last 5 years?
The market grew at 9.8% CAGR between 2016 and 2020.
What is the demand outlook for the cargo bike market?
The cargo bike market is set to reach US$ 2,829.5 Mn by the end of 2031, rising at a CAGR of 11.6%.
What are the key trends shaping cargo bike market growth?
Manufacturers are largely focusing on reducing the weight of cargo bikes to enhance efficiency and are investing in new technology such as tilting cargo bike offerings.
What are the factors fuelling demand in the cargo bike market?
Silent operation and low sound emission from cargo bikes, incentives and subsidies from the government, growing logistics and e-commerce sector, and traffic congestion in cities are factors increasing demand for cargo bikes.
What is the share of the top 5 players in the cargo bike market?
Accell Group N.V., Riese & Müller GmbH, Mobility Holdings, Ltd., Rad Power Bikes Inc., BODO Vehicle Group Co., Ltd. cumulatively account for a market share of 40%.
Which are the top 5 countries driving demand for cargo bikes?
Germany, the U.S., the U.K., Italy, and France consistently reflect high demand for cargo bikes.
What is the North America cargo bike market outlook?
The cargo bike market in North America is set to rise at a CAGR of 10.1% through the end of 2031.
What are the key statistics of the country driving demand for cargo bikes in Europe?
Germany holds the lead in the Europe cargo bikes market with a CAGR of 12.7%.
What are the statistics for the cargo bike market in Japan and S. Korea?
South Korea and Japan cumulatively account for 3% share of the global market in 2021.
Need specific information?
Our Clients