Introduction
Eco-friendly straws are witnessing remarkable adoption across a broad spectrum of end-use industries. Ranging from food services to household consumption, eco-friendly straws are gaining traction, especially among the carbon-conscious consumer.
Several prominent brands are transitioning towards using eco-friendly straws as part of their commitment towards environmental sustainability. For instance, Starbucks has announced a complete phasing out of plastic straws by 2020-end as its objective of contributing to environmental protection.
In 2018, Marriott International announced its decision to completely eliminate plastic straws from its 6,500+ hotels. Such initiatives are drawing notable attention to the use of sustainable materials in packaging and take-aways.
Tight Regulations on Plastic Consumption
The burden of plastic pollution has deeply impacted countries all over the world. In 1950, the world's 2.5 billion population produced 1.5 million tons of plastic. By 2016, this number increased nearly 200-fold to over 320 million tons, with the population rising to 7 billion.
Every day, about 8 million pieces of plastic find their way into the oceans, seas and other water bodies. There may be nearly 5.25 trillion macro and microplastic pieces floating in the oceans. These statistics have prompted the global community to implement strict legislations and impose curbs on generation.
In December 2017, at the United Nations Environmental Assembly (UNEA) supported a joint call for an internationally legally binding agreement on plastic and plastic pollution. Spurred by this commitment, member states are urging the food & beverage industry to stave off usage of plastic straws in a phased manner.
Growing Focus on Plastic Reduction
In 2018, 250 organizations responsible for one-fifth of the global plastic packaging produced around the world announced their commitment to reducing waste and pollution through the New Plastics Economy Global Commitment.
The initiative brings together a diverse group of members from such companies as H&M, Unilever, PepsiCo, L'Oréal, Nestle and Coca-Cola along with several high profile organizations like the WWF, WEF, the Consumer Goods Forum and others.
Such collaborations have been undertaking tireless campaigns and running awareness programs regarding the adverse impact of plastic pollution on the environment as well as on humanity.
As a commitment to uphold these regulations, industries globally are making major transitions in the materials used for packaging across major industries, including the food & beverages domain.
High Price Remains a Deterrent
Paper is the most extensively used material to manufacture biodegradable straws. Unfortunately, these are highly priced, leading to their limited uptake. Besides their elevate costs, paper straws are not as durable as plastic straws, becoming easily soggy and dissolving into the liquid.
Manufacturers in the packaging industry are offering paper straws at comparatively higher prices, as these require additives, binders, and high-quality papers. When the retail market is considered, a plastic straw is around 50 cents, whereas paper straws are nearly 2.5 cents.
Moreover, production of paper eco-friendly straws requires manufacturers to clear large amounts of forests, drawing sharp acrimony from environmentalists, government agencies and activists. Reducing forest cover also contributes to heightened pollution levels.
Based on these trends, the eco-friendly straws market is expected to witness substantial impediments to its growth in the upcoming forecast period.
Eco-friendly Straws Market: Regional Outlook
Europe Eco-friendly Straws Market
Europe is expected to emerge as the eco-friendly straws market hegemon, attributed to extensive awareness campaigns initiated by the government as well as non-governmental entities.
Additionally, stringent legislations regulating single-use plastic production are helping boost market prospects. The region is expected to account for ~30% of the global revenue share.
In 2019, the European Parliament approved a law banning single-use plastic consumption by 2021 throughout the EU. This 'Single-Use Plastic Directive' assigns greater degree of responsibility to plastic producers and new recycling targets for EU Member States.
Under the new law, the EU will require member States to achieve a 90% collection target for plastic bottles by 2029 and 77% by 2025. This legislation is expected to prove instrumental in eradicating the menace of plastic pollution to a major extent.
Besides, consumers are voluntarily switching over to more sustainable alternatives, specifically due to heightened awareness about the general level of environmental degradation and its subsequent damage on human health.
Request a sample specific to the European Market
North America Eco-friendly Straws Market
Sales of eco-friendly straws across North America are experiencing a major spike since the past half-a-decade. Nearly a quarter of the global eco-friendly straw sales are slated to be recorded across North America in the next decade.
Since January 2019, a blanket ban on plastic straws in restaurants and other service businesses was imposed across Washington D.C., US. This was preceded by Seattle banning plastic straws in July 2018. Such citywide initiatives are expected to pivot the national drive for banning single-use plastic.
Across the US, nearly 500 million plastic straws are used every single day, which poses a significant threat to the environment. To combat this, a cohesive nationwide legislation is required instead of jurisdiction-wide initiatives. This will help enforce a more effective ban.
Request a sample specific to the North American Market
South Asia Eco-friendly Straws Market
South Asia is slated to emerge as the fastest growing market for eco-friendly straws, expanding at a value CAGR exceeding 5% from 2020-2030. Among all countries, India represents the most lucrative opportunity, recording over 4,000 tons of straw sales by 2030.
India is one of the largest consumers of plastic products. As of 2012, approximately 12 million tons of plastic items were consumed annually. Despite the provisions laid down by the Environmental Protection Act (EPA) of 1986, plastic usage continues unabated, leading to immense volumes of non-biodegradable waste accumulation.
In 2011, the government initiated the Plastic Waste (Management and Handling) Rules and subsequent amendments to curb plastic consumption. Since then, significant progress has been observed.
Fast food chains are now offering paper and other biodegradable derived straws to their customers, contributing significantly to the market's growth.
Request a sample specific to the South Asia market
Category-wise Insights
Virgin Kraft Paper Remains Preferred
Despite their shortcomings, paper-based packaging is likely to enjoy a majority share across the eco-friendly straws market. Among the various types, virgin kraft paper is poised to be the most extensively used, recording a strong 6.4% CAGR throughout the forecast period.
A major advantage of kraft paper is its neutrality. Average pH levels vary from 6.2 to 7.8, which is considered neutral by most paper mills. Hence, its use in producing eco friendly green straws ensures that the beverage's pH levels are unaltered, rendering it a safe option.
Non-Printed Straight Straws are Lucrative
By product type, straight straws are expected to record maximum sales, expanding at a CAGR of 5.5% and capturing more than half of the revenue share by 2030. Within this segment, non-printed straws are likely to capture nearly 3/4th of the revenue.
Non-printed straight straws are especially popular due to the absence of any kind of marking on them. It has been observed in many cases that the ink from printed straws seeps into the beverage, which may lead to detrimental impacts on human health. Thus, to offset it, brands are focusing on using non-printed straws.
Foodservice Industry a Potential Green Space
With regard to end-use industry, the foodservice segment is scheduled to emerge as the primary consumer of eco-friendly straws throughout the assessment period. Nearly 5 out of 10 eco-friendly straws are sold to the food industry. Prominent brands such as McDonald's have made massive strides in this respect.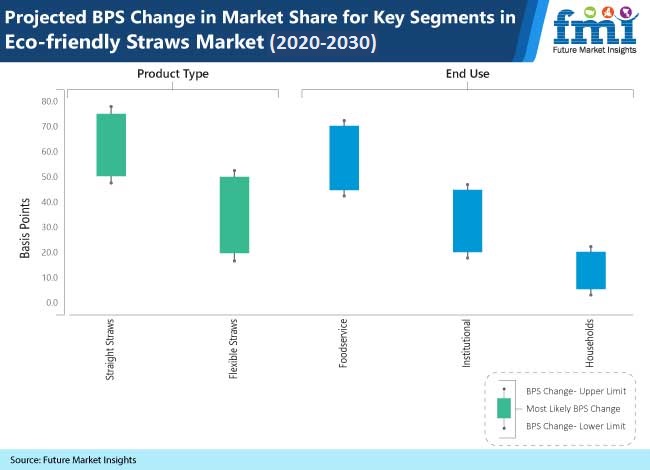 The global fast food giant has incorporated paper-based straws as an effective alternative to single-use plastic ones. However, several reports have emerged that these are not truly recyclable. Despite this, developers are accelerating production albeit with several modifications.
Demand for 7-10 mm Straws Growing
In terms of diameter, straws falling within the range of 7-10 mm are expected to register a prolific increase, reaching $US 6.3 Bn by 2030. A market share worth 35.0% is projected for this segment.
Additionally, 10-15 mm straws are poised to record the second highest sales in value terms, accounting for a little less than a quarter of the revenue share by 2030. A CAGR of nearly 5.1% is likely to be recorded for this segment.
E-retail is Fast Catching Up
Direct procurement from manufacturers and distributors is expected to remain the most preferred sales channels for eco-friendly straws. Growth is attributed to significant discounts offered by manufacturers for bulk purchases.
However, recent technological advancements and deepening internet penetration has opened frontiers for e-retailing. The segment is slated to reach more than US$ 2 Bn, expanding at a CAGR of ~4% from 2020-2030. Several companies are launching online platforms or partnering with e-commerce giants to sell their products.
Household Grade Eco-Friendly Straws Demand Continues to Surge
With the onset of the coronavirus pandemic, a definite hygiene oriented pattern has emerged within consumers' habits. Households are reallocating their budgets towards purchasing immunity and hygiene enhancing foods and beverages.
This trend of healthy drinking and eating also entails utilization of environmentally friendly straws utensils such as paper plates, bowls, straws and cutlery. Hence, demand for eco-friendly straws in household settings has witnessed a major spike since the past few months.
The imposition of lockdowns has compelled organizations to issue work-from-home directives. Subsequently, there has been an increase in the demand for fast foods and ready-to-drink beverages through online delivery platforms. This has impelled the sales of eco-friendly straws.
A moderate downswing is anticipated with the cessation of outdoor dine-in activities. Fears of community infection spreading has compelled hotels, cafeterias and restaurants to suspend all dining operations, decelerating demand for eco-friendly straws across the commercial sector.
Furthermore, rising concerns about the presence of microbes on non-biodegradable material such as plastic is prompting consumers to opt for safer alternatives. Hence, foodservice outlets are increasing eco-friendly straws disbursement.
Competitive Landscape
The eco-friendly straws market is fragmented, with top players accounting for nearly one-fifth of the global production. Key players are focusing on expanding their reach globally by diversifying their product portfolio.
They also undertake awareness campaigns to minimize usage of non-recyclable material and strategic partnerships with existing players.
Some of the key players in the eco-friendly straws market are*-
Huhtamäki Oyj.
Biopac (UK) Ltd
Sulapac Oy
The Paper Straw Co,
Vegware Ltd.
Hello Straw
The Blue Straw
JOVAMA
Wilbistraw
SAS OSTONE
EVOQ Sp. z o.o.
TIPI STRAWS
Stroodles
Papearth
*This list is only indicative- full list of eco-friendly straws players is available upon request.
Recently, in May 2020, Huhtamaki Oyj collaborated with WasteAid and announced a global partnership to drive community level circular economy innovation in key locations.
The collaboration aims to provide education and training on waste management and circular systems and work with key stakeholders across India, Vietnam and South Africa.
In 2018, Sulapac Oy joined forces with Stora Enso to develop renewable and biodegradable straws. This partnership is a product of both companies' commitment to combat the global problem of plastic waste generation. The straws are made from wood and natural binders, recyclable via industrial composting.
The Paper Straw Company launched the world's first 180 degree U-bend paper straw for individual drink cartons in 2019. This was done in collaboration with BillereudKorsnas, a Swedish pulp and paper manufacturer. These straws are specifically designed for carton-based milk, water and juices.
Eco-friendly Straws Market- Report Scope
Attribute

Details

Forecast Period

2020-2030

Historical Data Available for

2015-2019

Market Analysis

US$ Mn for Value and '000 Units for Volume

Key Regions Covered

North America, Latin America, Europe, East Asia, South Asia, Oceania and Middle East & Africa (MEA)

Key Countries Covered

U.S, Canada, Germany, U.K, France, Italy, Spain, Mexico, Brazil, China, India, ASEAN, GCC & South Africa

Key Segments Covered

Material, Product Type, Straw Width/Diameter, Distribution Channel and End-Use

Key Companies Profiled

Huhtamaki Oyj.
Biopac (UK) Ltd.
Sulapac Oy
The Paper Straw Co.
Vegware Ltd.
Hello Straw
The Blue Straw
JOVAMA
Wilbistraw
SAS OSTONE
EVOQ Sp. Z.O.O
TIPI STRAWS
Stroodles
Papearth

Report Coverage

Market Overview, Key Market Trends, Key Success Factors, Demand Analysis, Market Background, COVID-19 Analysis, Segmental Analysis, Regional Profiling, Market Structure & Competition Analysis

Customization & Pricing
Key questions answered in the report
What is the likely forecast for the global eco-friendly straws market?

The global eco-friendly straws market is poised to exhibit steady growth, expanding at a CAGR of 4.9% throughout the forecast period (2020-2030). A valuation of US$ 18 Bn has been predicted by 2030-end

Anticipate the probable impact of COVID-19 pandemic on the eco-friendly straws market.

The novel coronavirus pandemic is slated to stimulate the market for eco-friendly straws. This is largely attributed to rising hygiene consciousness among consumers. These straws are known to reduce the chances of the infection's spread.

However, while growth across the household sector is expected to spike, sluggishness is visible in the commercial segment, especially HORECA. Declining footfalls for dine-in due to imposition of lockdowns has impacted sales of these straws across restaurants and cafes.

Fortunately, this downturn has a limited impact as consumers are relying on home delivery services for food and beverages, thus sustaining revenue growth of the market

Predict the likely drivers propelling the market in a forward direction.

Rising concerns regarding plastic pollution in the wake of heightening environmental sustainability concerns is the principal driver for the global eco-friendly straws market.

It is estimated that nearly 500 million plastic straws are discarded on a daily basis throughout the United States. To rein in this wastage, restaurants and cafes are switching over to paper-based and eco-friendly material derived straws

What are the possible restraints hampering growth of the market?

High costs of paper-based straws combined with availability of alternative materials is hampering growth of the eco-friendly straws market. Moreover, to obtain paper-based straws, massive deforestation has taken place, drawing the ire of environmentalists and governments

Which region is expected to remain dominant in the eco-friendly straws market?

Europe is expected to emerge as the kingpin of the global eco-friendly straws market, capturing nearly 30% of the market share. Growth is majorly underpinned by increasing efforts to safeguard the environment from the adverse effects of plastic pollution

Outline the degree of market competitiveness in the eco-friendly straws landscape

The eco-friendly straws market is a fragmented market. The top players account for 15-20% of the global production. Expanding global outreach through portfolio diversification and establishing regional footprints are amongst the main strategies adopted by the players.

Some prominent players operating within this landscape include, but are not limited to: Huhtamaki Oyj., Biopac (UK) Ltd., Sulapac Oy, The Paper Straw Co, Vegware Ltd., Hello Straw, The Blue Straw, JOVAMA, The Great British Paper Straw Company, Wilbistraw, SAS OSTONE, EVOQ Sp. z o.o., TIPI STRAWS, Stroodles, and Papearth.
Enquiry before Buying
Is this research conducted by Future Market Insights?

Yes, the eco-friendly straws market research has been conducted by expert analysts of Future Market Insights through a combination of primary and secondary research. To know more about how the research was conducted, you can speak to the research analyst

What research methodology is followed by FMI?

FMI follows a methodology that encompasses the demand side assessment of the market, and triangulates the same through a supply side analysis. This methodology is based on use of standard market structure, methods and definitions.

Who are the respondents for primary research?

FMI speaks to stakeholders across the spectrum, including C-level executives, distributors, product manufacturers, industry experts. For a full list of primary respondents, please reach out to us.

What are the sources of secondary research?

FMI conducts extensive secondary research through proprietary databases, paid databases, and information available in the public domain. We refer to industry associations, company press releases, annual reports, investor presentations, and research papers. More information about desk research is available upon request.

Is a sample of this report available for evaluation?

Yes, you can request a sample and it will be sent to you through an email.

How can I buy this report?

FMI provides a secure online payment system to buy report seamlessly. You can buy the report securely and safely.
Key Segments
Material
Paper
Virgin Craft Paper
Recycled Paper
Pasta
Glass
Bamboo
Polylactic Acid (PLA)
Metal
Product Type
Straight Straw
Printed
Non-printed
Flexible Straw
Printed
Non-printed
Straw Width/Diameter
< 7 mm
7-10 mm
10-15 mm
> 15 mm
Distribution Channel
Manufacturers (Direct Sales)
Distributors
Retailers
Hypermarkets
Supermarkets
Convenience Stores
Specialty Stores
Discount Stores & Warehouse/Wholesale Clubs
E-retail
End-Use
Food Service
Hotels & Logistics
Bars & Lounges
Cafes & Fast Food Outlets
Cinemas
Airline & Railway Catering
Institutional
Educational
Healthcare
Corporate
Household
Region
North America (U.S & Canada)
Latin America (Brazil, Mexico, Argentina & Rest of Latin America)
Europe (Germany, Italy, France, U.K, Spain, BENELUX, Russia, Poland, Hungary, Slovakia, Czech Republic & Rest of Europe)
South Asia (India, Thailand, Malaysia, Indonesia & Rest of South Asia)
East Asia (China, Japan & South Korea)
Middle East & Africa (GCC, South Africa, North Africa & Rest of MEA)
Need specific information?
Talk Show:
The Rise of Intelligent Packaging
Personalized, Connected and Sustainable
November 18, 2021
11:00-11:45 AM PST (USA & Canada)
This is a LIVE session